I haven't started the second version of the Kashkuli carpet yet — first I wanted to finish a rug that I put aside when I started the Kashkuli. This design is from the book Oriental Carpets in Miniature by Frank M. Cooper. It's stitched over one on 36-count linen, for a finished size of about 4.5″ x 6.75″.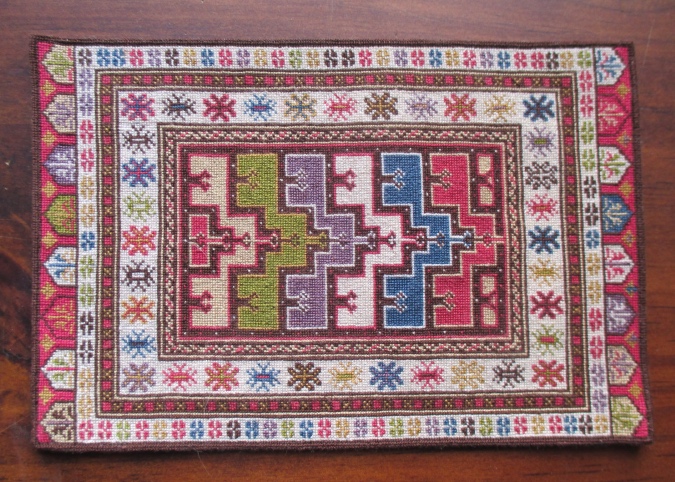 Here's what the book says about this design:
The spelling of the name of the town from which this rug came varies depending on the book you are reading or the map you are studying: Mujur, Mudjur, Mudjar—take your choice. I adapted this design from an illustration in the book Oriental Carpets by Ulrich Schurmann, and so I really should spell it his way, which is Mujur, but so many books and maps use the spelling Mudjar that I have decided to go with the majority.

The colors in Mudjar rugs are more varied than in others of Anatolian origin. In this design, you find mauve, pink, blue, green, and shades of yellow, which you may not find combined in other rugs from this area.

The series of prayer arches depicted in this rug is very rare to find. The original rug dates from the first part of the nineteenth century, and is in a private collection. The original rug, from which this design is adapted, measures 42 1/4 x 59 3/4 inches.
The pattern is supposed to be stitched with Paternayan wool yarn on 18-count canvas. I converted the colors to DMC based on the picture in the book, and my rug came out a bit more Technicolor than the original. I actually stitched this same rug years ago using yarn, and donated that version to my niece's dollhouse.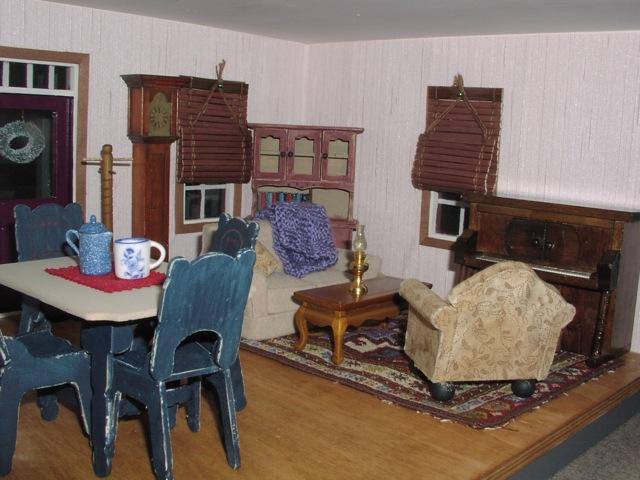 I had my sister send me a picture of the yarn version so I could compare the two. (Click the picture for a bigger version.)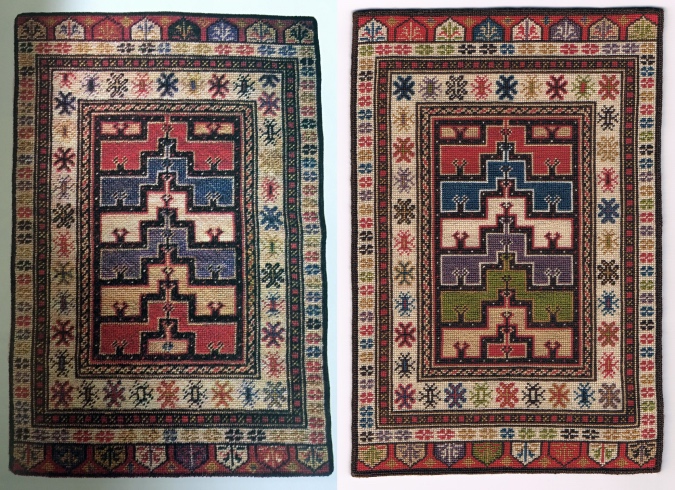 One change I'm glad I made was to increase the spaces between the motifs in the sides of the thick white border by one stitch, which allowed them to fit perfectly without having a half motif cut off at the ends.
A change I wish I hadn't made was to add a green block to the center. I thought it would look better if the center didn't have two big red blocks, but I was wrong. (I actually knew I didn't like it as soon as I did it, but petit point is way too hard to frog…) The green floss I used isn't even close to the original Paternayan green, which was much darker. If I'd been using a darker green I probably wouldn't have been tempted to put it in the center to begin with. Alas.
As usual, I have no idea what to do with this and it's going to go into the drawer with all my other rugs until I find a place for it. Here it is in the Victorianna just to give an idea of the size. It makes a nice large area rug in half scale, but could also work as a smaller rug in 1:12.