In January I posted about the Kashkuli Gabbeh carpet that I charted based on a picture I found online. I finished a smaller version in May, but the move got me distracted and I only just got around to taking pictures and cleaning up the charts. (Scroll to the end of the post for download links.)
This carpet is about 5″ square, which would make it 10′ square in half scale. It fits perfectly in the Rosedale's second floor living room.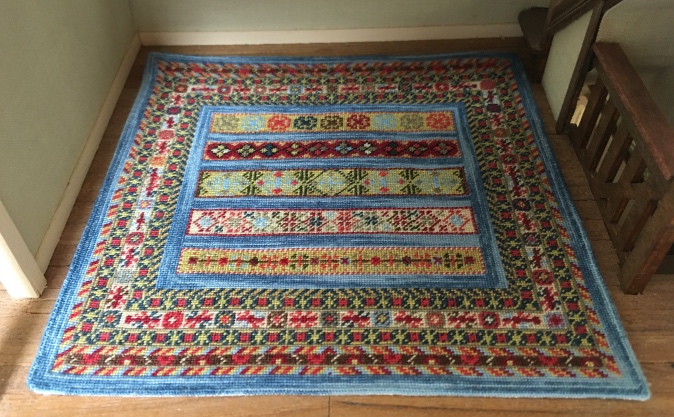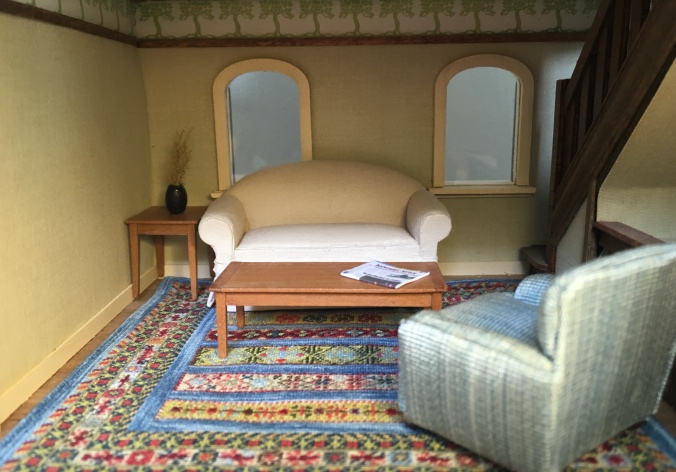 Here are the two carpets side by side (click the image for a bigger version):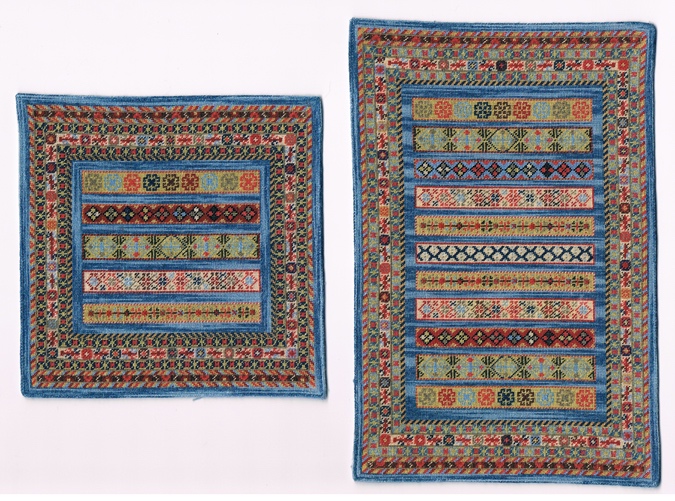 The larger carpet is 5″ by 7.5″. Both are stitched with one strand of DMC floss on 40-count Verdal evenweave. Of course, if you want to use these for 1:12 scale you can stitch them on a lower count fabric. The variegated blue borders are Weeks Dye Works Union Blue. If you don't to use the variegated floss, I think either the light blue or dark blue that already appear in the design will work as a substitution.
I made a few changes the second time I stitched it that are reflected in both charts. The dark red is a little darker, the light yellow is a little lighter, and I used dark blue in the borders with the red H motifs instead of the variegated blue. I also changed the spacing on the border with the light background, so none of the medallions get cut off.
One change that isn't reflected in the charts is that I stitched the variegated borders vertically instead of horizontally on the vertical edges. This strays from the look of the original rug and I'm not sure if it was the right call. It might have been better to stick with the horizontal rows, but to use much shorter lengths of the variegated floss so I didn't end up with blocks of solid color like I did in the large carpet. I'm not stitching it for a third time, though!
Here are the charts for the two versions (for personal, noncommerical use):
Large Kashkuli Gabbeh Carpet Chart
Square Kashkuli Gabbeh Carpet Chart