Soon after posting the pictures of the Rosedale's wallpaper borders, I realized the blue border downstairs clashes with the blue front door. Why didn't I put them next to each other before gluing in the border? Ah, that would have been too easy…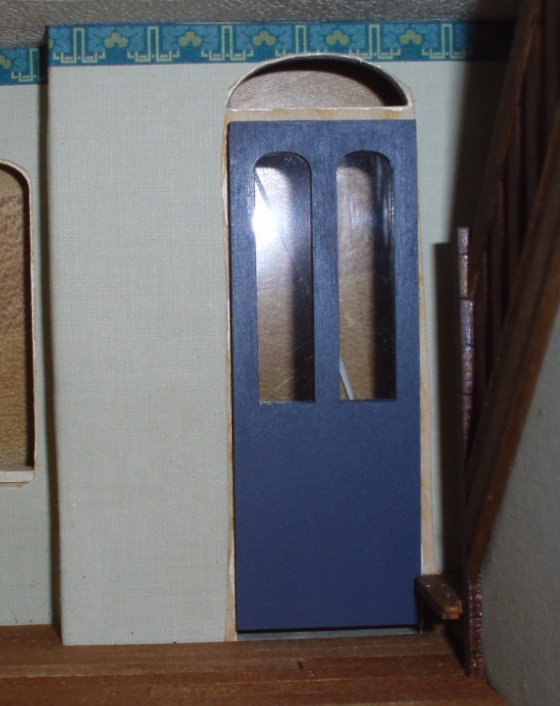 Since I'd used up the Brodnax designs, I found some nice samples of Arts & Crafts borders at Bradbury & Bradbury Art Wallcoverings and used one of these to make my own. (They have some really nice designs there; I'll probably hit up the site again when I get to work on the half scale bungalow I have waiting in the wings.) I sized the border so it would be slightly larger than the blue one and glued it directly on top.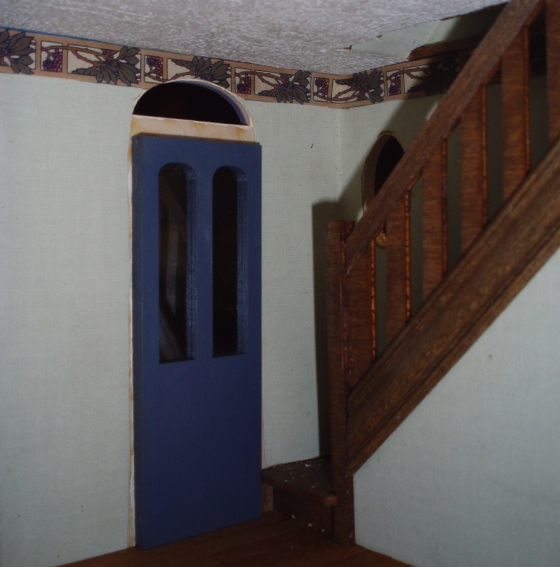 The colors complement each other much better. In the photo you can see the blue border peeping up from behind the new one in spots, but this isn't really noticeable in person. I also decided to extend the border across the stairs and added a piece of wood trim above.
I still do like that blue border even if the color wasn't quite right for downstairs, so I'm using it in the attic room instead.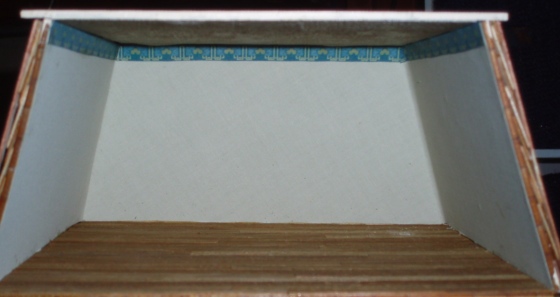 I also ripped out the border in the office. (Right after taking the picture below, in fact.) I just wasn't happy with it… it was much smaller than the others, and messy in the corner. It came off surprisingly easily. Maybe I didn't use enough glue. So I still have to figure out what to use there, and in the bathrooms. Maybe something else from the Bradbury & Bradbury site.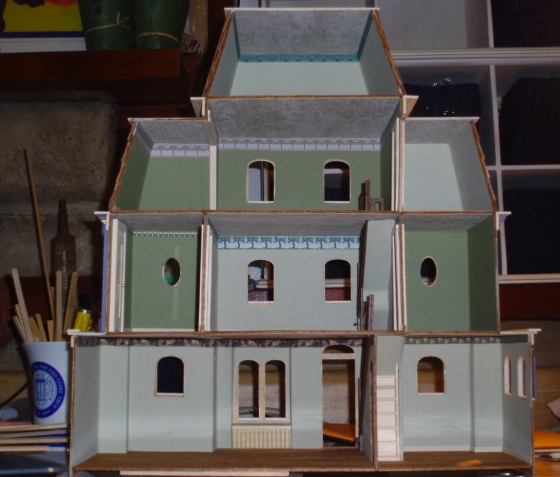 I'm also thinking about adding a very thin piece of trim above and below the borders to give them cleaner lines. I used wallpaper borders since it seemed like it would be quicker than crown molding, but in the end I don't think I've saved myself any time…