I just participated in my first mini swap, which combines the fun of getting chain letters in the mail (remember those?) with the fun of scoring a bunch of free minis. The swap was done by the Yahoo Half Scale group and there were 46(!) participants, meaning we each had to provide 46 of an item and got back a box of 46 varied items in return. The theme was "treasures in the attic" — so, anything that you'd find in an attic.
I made my item in a 3-day marathon over Christmas, but we've all just received our swap boxes so I'm finally allowed to show pictures now. I wanted to make something that wouldn't require a ton of special materials and that could (theoretically) be easily done assembly-line style, since I needed to make so many of them. I decided on record albums, because what self-respecting attic doesn't have some vinyl laying around?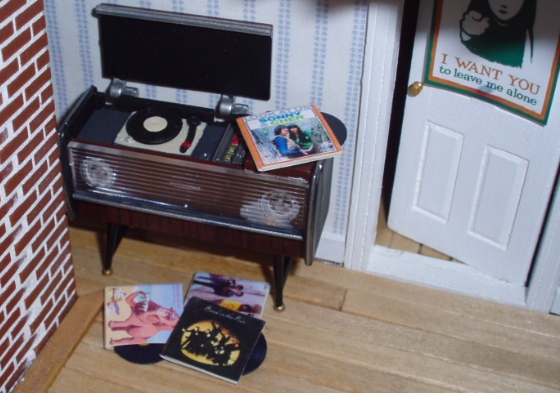 The albums look great with this retro record player magnet, which I got for about $5 on eBay.
The first step was to make the jackets. I found a huge archive of album cover scans online, belonging to a collector named Mick Schott. I decided to make three albums for each person (138 in total!) and originally planned on just three different designs, but the site had so many great choices I ended up with about sixty. This meant that no two swap recipients got the same selection.
I downloaded the art for the album fronts and backs and pieced them together in Photoshop. I reduced the image size by increasing the dpi (dots per inch), which results in better print quality than just shrinking the picture. The dimensions of each album cover are 1.2 inches wide by .6 inches high (360 pixels by 180 pixels at 300dpi). Remember this is half scale; if you want to make 1-inch scale records the jackets should be twice that size.
I printed out the jackets and sprayed them with matte sealer to protect the printout.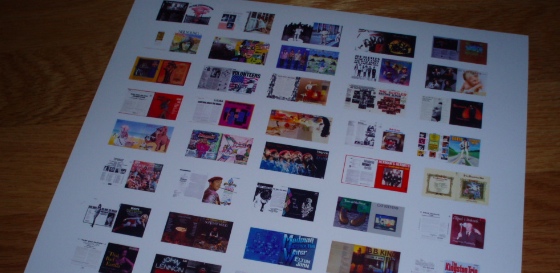 I wanted to print these on thick paper to make the jackets, but the paper I had didn't fit in the printer and it was Christmas, so the stores were closed. So instead I printed them on regular paper and used the thick paper that didn't fit in the printer to make little pockets to glue the album art onto. I started by cutting a strip about as wide as my album covers were high (approx .6 inches).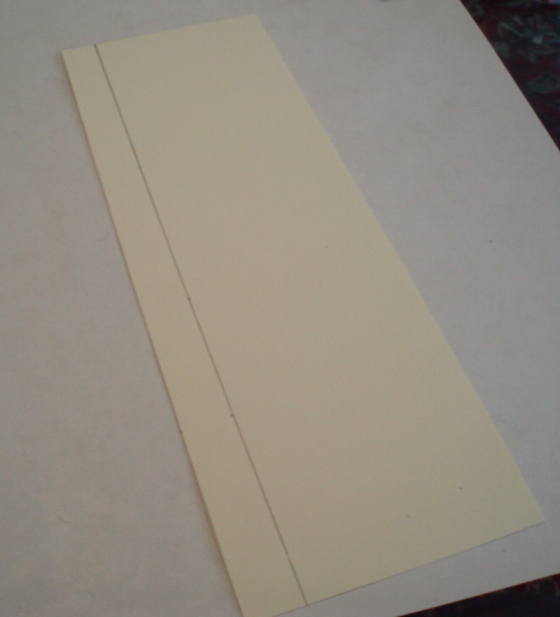 I then cut the strip into pieces the width of the album art (approx 1.2 inches).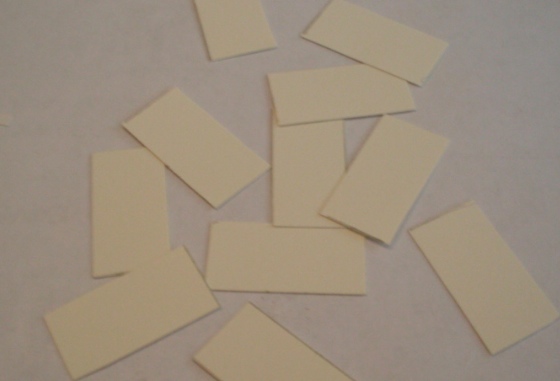 I folded each of these in half.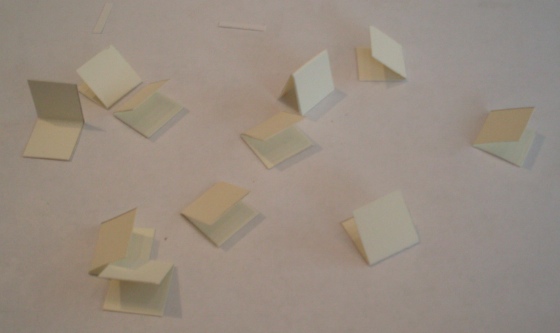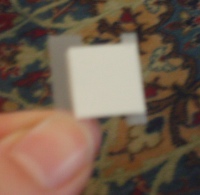 I used Scotch tape on the sides perpendicular to the folded edge, folding the tape over and then cutting off the sticking-out edges with nail scissors (my scissors of choice for tiny things!). This leaves one open end for the record to slip into. Sorry for the fuzzy photo, hopefully you can see what I'm talking about.
Here's how they look before the artwork gets glued on. It turned out to be a good thing that I didn't print directly onto the thick paper, because this way the artwork covers up the Scotch tape.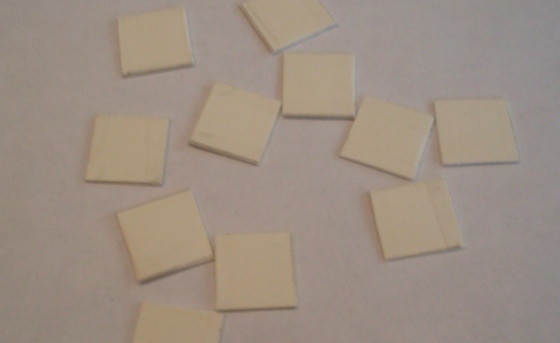 After cutting out the artwork with the nail scissors (you could also use an Xacto knife if you're good at cutting straight lines, which I'm not), I folded each one in half and used a glue stick to attach the art to the album covers. For some of these, the pouch needed to be trimmed a little before the art could be glued on — each one was done "to fit."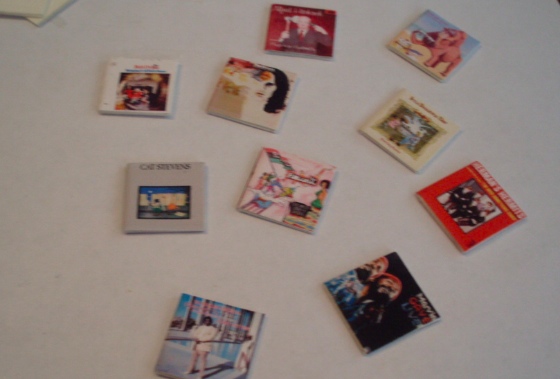 Next, the records. I found a few images online and resized them to .55 inches in diameter — slightly larger than the .5 inch I wanted the records to be. I printed these on glossy photo paper (since it's what I happened to have lying around) and then sprayed with matte sealer (which totally defeated the point of using glossy paper…)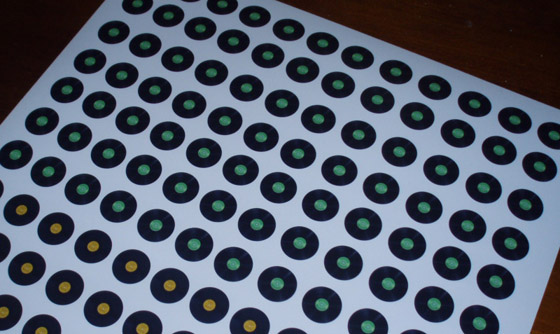 Since I had to make so many of these, I saved myself some work by investing in a 1/2″ circle punch. (If you're making 1-inch records, you'll want a 1″ punch instead.) This made it easy to cut out perfectly circular records.
Because the image was slightly larger than 1/2″ across, I didn't have to worry about lining up the punch exactly.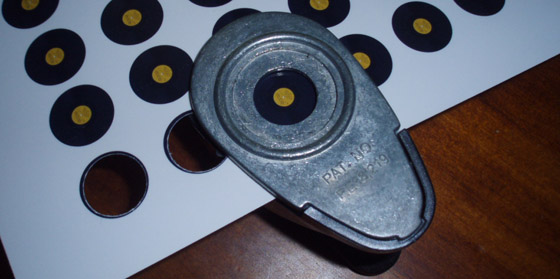 I cut out two of these per record — a front and a back. (So, 276 in total!)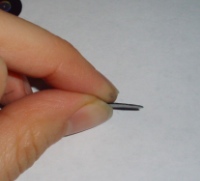 Again using a glue stick, I glued the record fronts and backs together. As you can see in this photo, the edge where the two pieces met was white. Nothing a black Sharpie couldn't fix.
Voila! A half scale record! (The album does fit all the way inside the cover, but it's hard to pull out without pinching it and damaging the printing, so best to leave it peeking out a little.)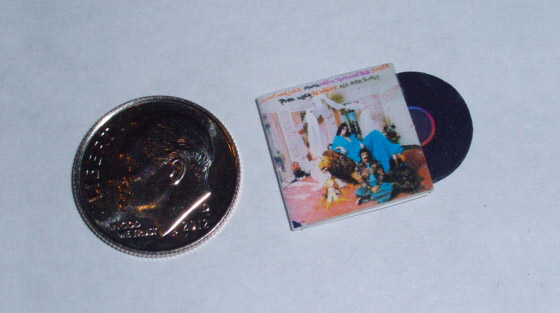 Then it was time to get the assembly line going. Here are my albums and covers, ready for packing.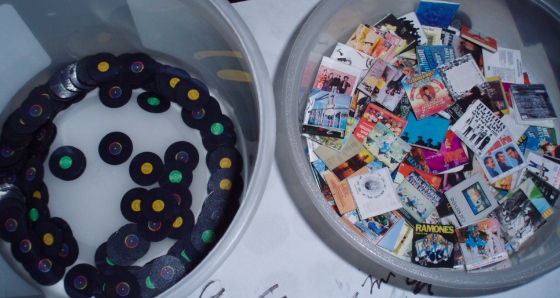 I packed up three per bag and sent them off to the swap coordinator, who divided them up and mailed out 46 boxes of goodies.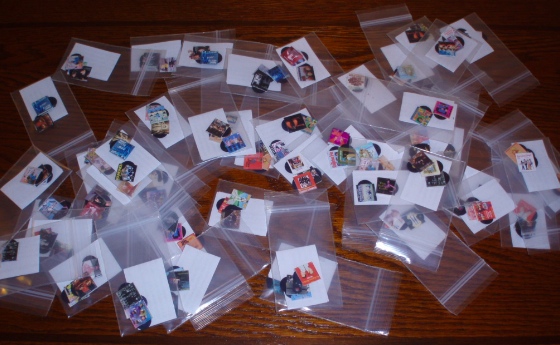 And, after a three month wait, here are those goodies! It's like Christmas all over again!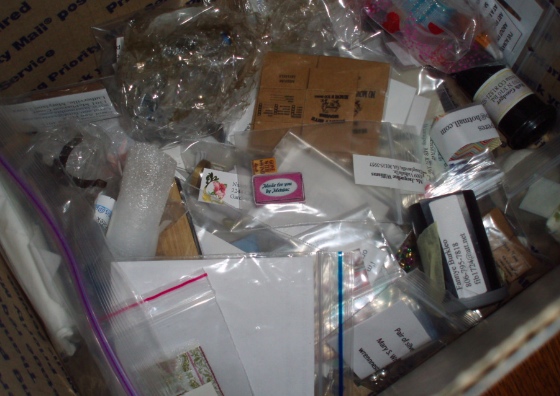 A few of them have found homes in my Fairfield and puzzle house already. The rest, I've set aside for safe keeping. Several are toys that will work perfectly in the toy store I plan to make someday, and others like rolls of insulation, a pair of skis, and boxes of Christmas ornaments will have to wait for a house with an actual attic! There's also some furniture, rugs, framed pictures, and a very cool aquarium that I'm sure I'll find a good use for in one of my houses. (There are pics of all the swaps here, but you need to sign up for the Yahoo group to be able to see them.)

Doll, Gone With the Wind book, and suitcase in the Fairfield's teen girl bedroom.
The doll is not quite hiding a broken spot that needs fixing on the headboard…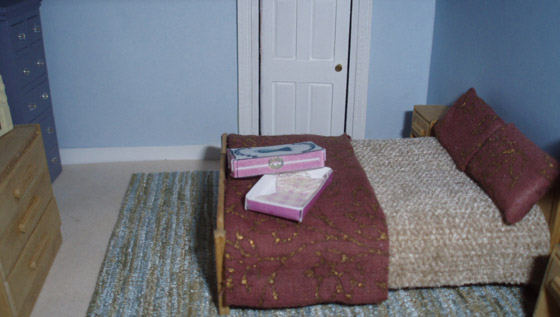 Lingerie box in the Fairfield's master bedroom.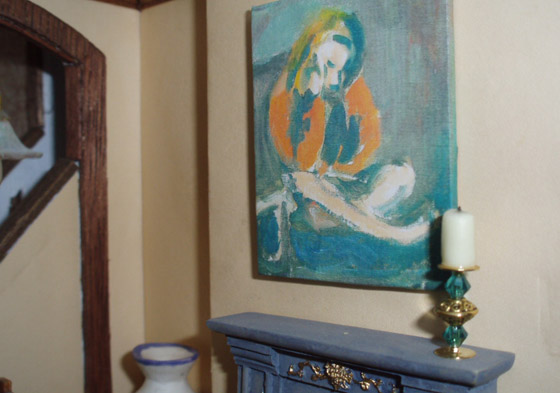 Candlestick on the Fairfield's dining room mantel.
It matches the colors of the painting that was already there perfectly!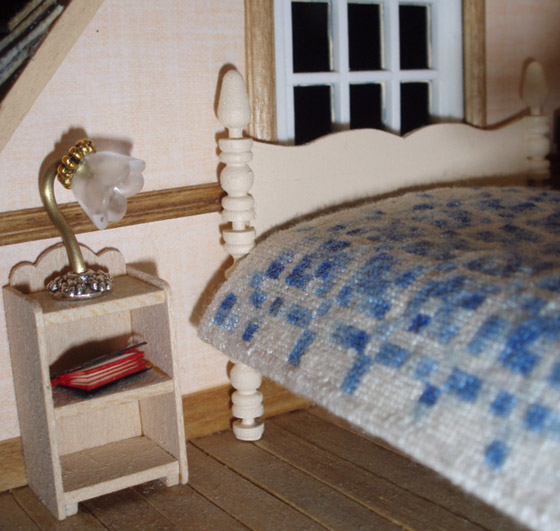 A bedside lamp for the puzzle house's master bedroom.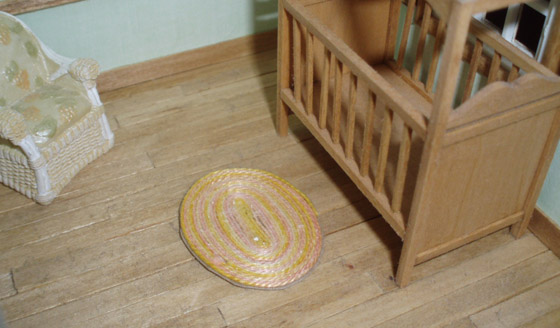 A "rag rug" for the baby's room.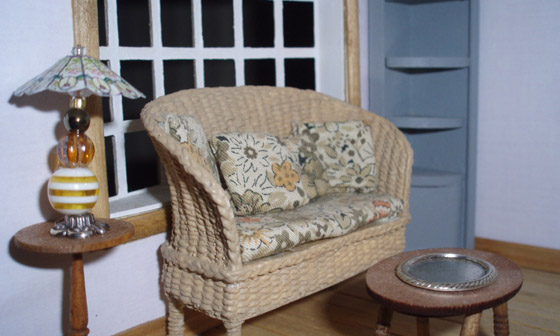 Tiffany lamp and tray for the puzzle house living room.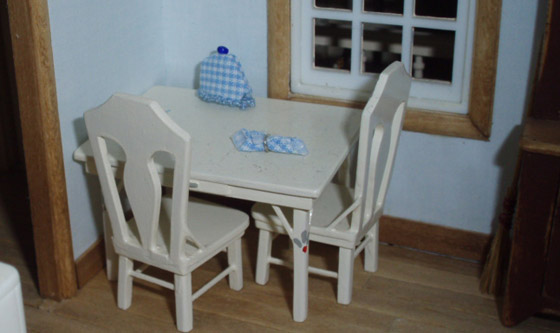 Napkins and tea cozy in the puzzle house kitchen.