May 2015: I started the Arthur as part of a Greenleaf community build in 2005, and at the time we blogged our progress on the Greenleaf forum. After a few site upgrades the old community blog has become hard to link to and I'm redoing my website anyway, so I decided to move those posts over here and backdate them. Sorry for any weirdness that results!
---
Ever since I've been working on the Arthur I've had this idea in my head that I'd like little leaf embellishments on the shutters. Why leaves? No idea, except maybe because the green accent color is kind of leafy. I'm not usually into "cute" houses but because I'm not planning to keep this one, I'm giving myself permission to do things to it that I normally wouldn't. And who knows… maybe the Arthur will cure me of my disdain for cute houses!
Last week I made a trip to the scrapbook store and bought a leaf-shaped paper punch. I have been looking for these for a while to do a wreath project Dollhouse Miniatures featured last year, and unfortunately the scrapbook store only had one style of leaf (maple), so I'm still looking. But the maple leaf was fine for what I had in mind for the Arthur.
First I tried using the paper punch to make a stencil, and painting leaves through the stencil, but it didn't work. The paint seeped through and it came out looking like a blob instead of a leaf! So I went on to plan B and painted a piece of posterboard with my accent green.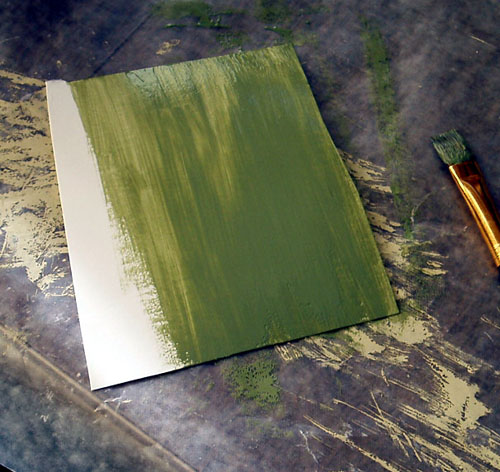 Once that dried, I used the paper punch to punch out a leaf for each shutter.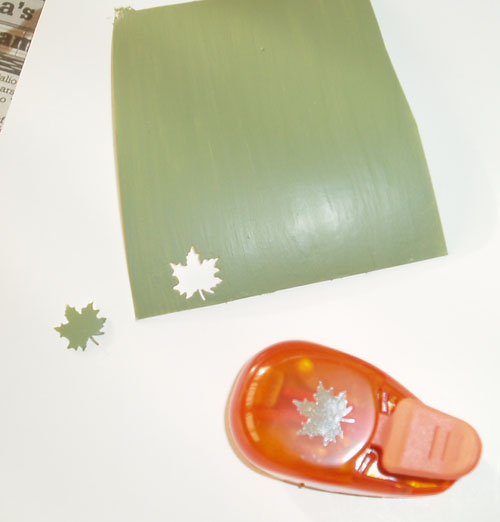 I glued the leaves onto the shutters, then painted the shutters with a coat of matte finish. This made the leaves more durable, so I'm not as concerned about the edges curling or peeling off.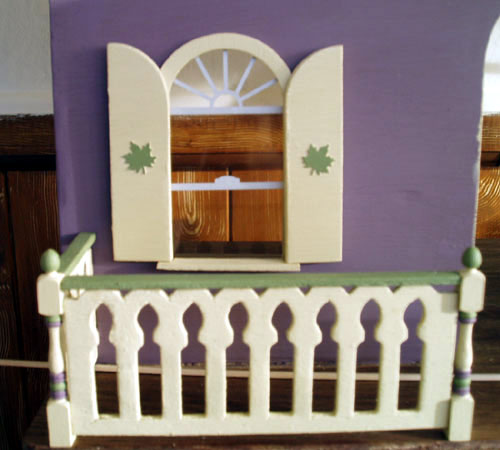 The other big thing I got done this week was shingling – my first ever shingle effort! I started by staining the shingles that came in the kit.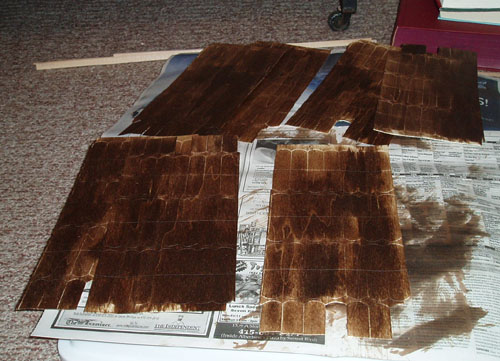 I started shingling with wood glue but it just made a big mess, with the shingles curling and slipping all over the place. So I decided to use a hot glue gun like Greenleaf's instructions suggest. I've heard horror stories about using hot glue on dollhouses but honestly can't imagine getting the shingles done any other way. The hot glue dries very quickly and doesn't warp the shingles. I will definitely use this method again on my next house!