This was a TOTALLY unplanned purchase. I had been going along my merry way on the Fairfield, having a great time working in half scale, planning out all the other half scale houses I'd build next. I went so far as to buy back issues of Nutshell News that contained half scale house and furniture plans. Then BAM! I came across this assembled McKinley for a reasonable price – less than half what the unassembled kit would cost – and I had to have it. I made a special trip to pick it up. My boyfriend commented that I'm the only person he knows who would go 60 miles out of her way to buy a dollhouse. (I've also been known to drive this far for baby hamsters. But that's beside the point! Anyway, I'm GLAD I'm the only girl he knows who would drive so far for a dollhouse…)
The house has clearly been loved over the years. I got the impression it's 20-30 years old. Here are the pictures the seller emailed me. She didn't say that it was a McKinley, but I recognized it right away…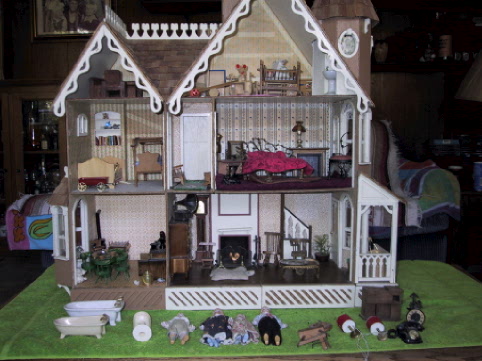 (The purchase price included all the furniture, too. Not sure how much of it I'll use… we'll see, though. There are always possibilities!)
I love the stairs in this house. They go up the back, out of the way.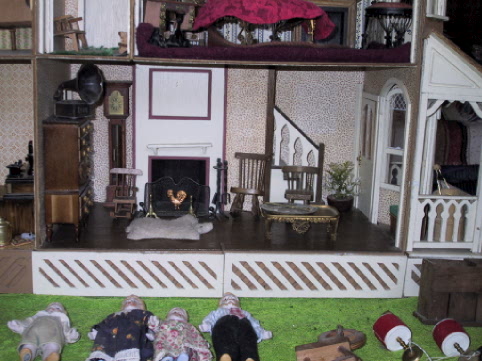 The attic might be a nice space for an artist's studio…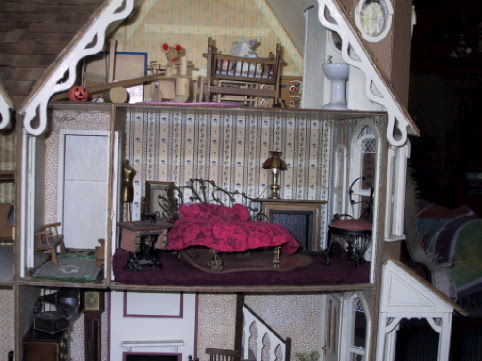 The house is a bit bigger than I expected. (I think I'm getting too used to half scale!) It's meant to hang on the wall. So the back of the house is flat. The front door is on the right side.
I have to think through everything I want to do to it. I have so many ideas… paint it to look like a victorian "painted lady," add siding and electricity, put stained glass windows in the tower. I may have to order some new window trim pieces from Greenleaf, because the windows are an odd size (Houseworks windows won't fit) and their shapes would make it hard to make my own trim.
Here are some more shots of the empty house once I got it home.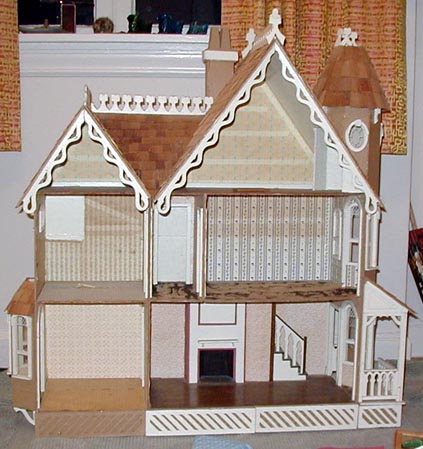 (Right after taking these pictures I ripped off all that gingerbread. I couldn't help it! My hands had a mind of their own…)
The "back" (left side) view.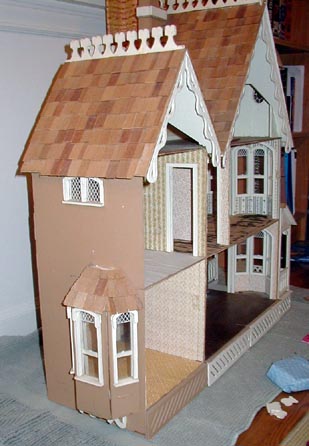 The "front" (right side) view. I may replace the porch posts and spindles with Houseworks pieces.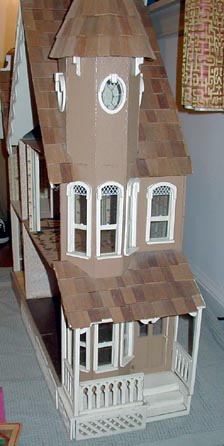 I'm hoping to put some of my orphan furniture in this house. Here are a couple pictures I took as I played.
I bought this tub for my Orchid and decided not to use it. The cabinet is left over from the Orchid's kitchen… I'm thinking of putting a vanity sink in there.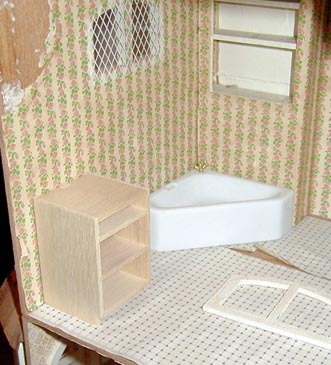 The tub fits perfectly under those shelves. I want to put a shower stall in the other corner.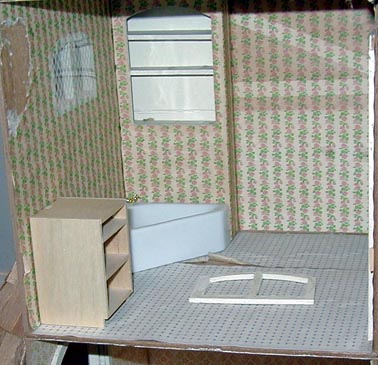 I got this fireplace for free with an order from the Dollshouse Emporium. I think it looks kind of nice there… and it fits perfectly!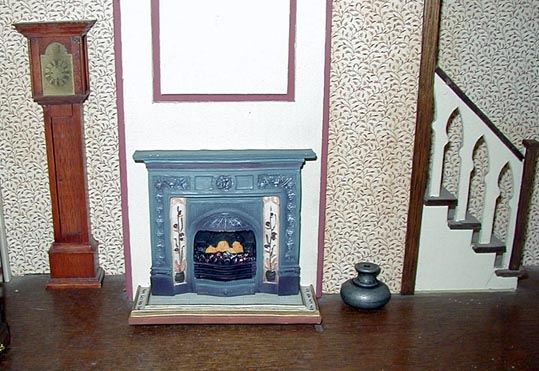 More pictures to come as I get to work on this thing…