I'm nowhere near putting the windows and doors in this thing… but HBS had a 50% off sale on April 1st, and I used my coupon to buy the "upgrade kit" for the Fairfield. It includes 11 windows, 4 interior doors, and 1 exterior door (all Houseworks pieces).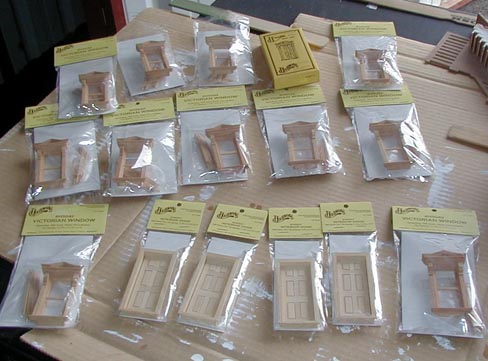 How they'll look. The windows are thicker than the width of the plywood, so I may add siding to the exterior of the house to compensate.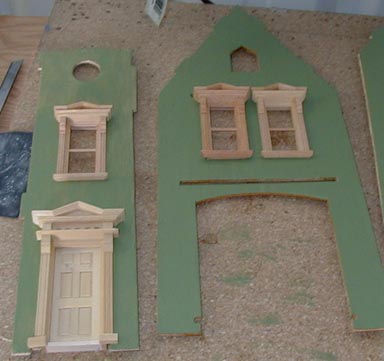 Dollhouse Miniatures had a how-to article a few months ago for doing stained glass windows. It was written by an artisan I like (whose name I can't think of right now, of course!) I once saw his work at a show and for years regretted not buying a piece. Finally I saw him again at another show and got a hutch with stained glass doors. I'm looking forward to trying the technique and comparing my results to his!
Update June 7: With the shell partially assembled, I decided to add the siding. Before gluing the shell together, I traced the exterior walls onto the siding so I could cut out the pieces. Over the weekend I covered them with sanding sealer so they will (hopefully) not warp when painted. (I coated the fronts of the pieces with sealer. Decided not to do the backs for fear it would interfere with gluing.)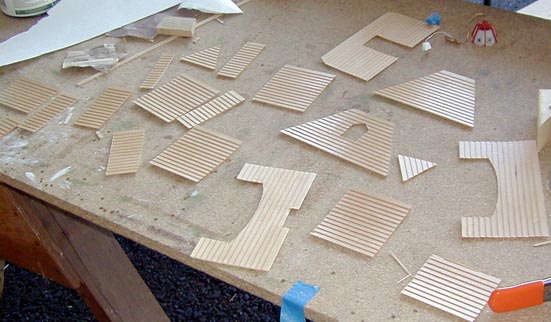 I had to weigh down the siding so it would dry flat. Geoff's C-clamps came in handy again! I only did this one wall. On my next trip to the hangar, I'll see how well it glued and hopefully do the other walls. Then I'm going to paint before I go any further with assembly.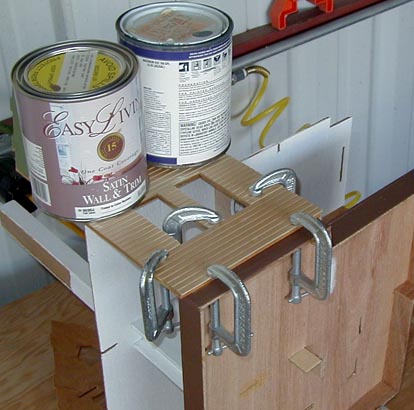 Here it is with one of the Houseworks windows in place.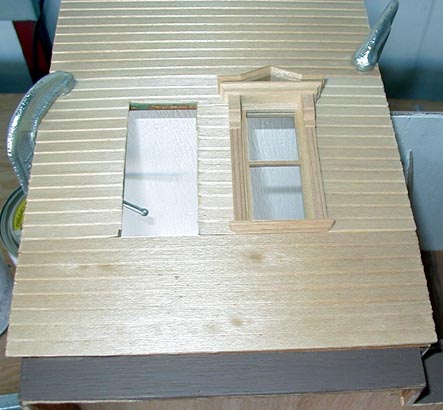 Based on this picture from an old Nutshell News, I decided I'm going to make some alterations to the windows. I really like how, in this picture, all the pediments are consistent, even over the French doors. I want to buy extra Victorian windows and bash them to half the size for the tower and attic windows (which is, I assume, how this lady did it for her house). I may also bash a Victorian door to make a French door leading to the second story porch I'm planning.