I just moved from a house that had a dedicated dollhouse workshop to one that doesn't. Eventually we will build a room of some sort into the garage but for now I have a corner of the garage that doesn't have all the storage and shelving I'm used to. Last weekend I was able to get it sort of organized…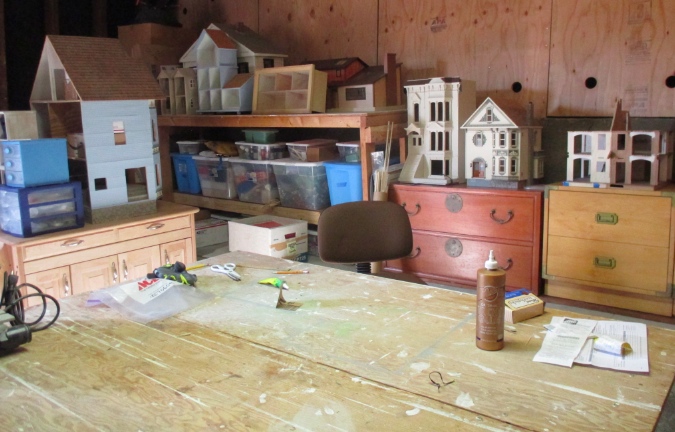 When we moved, I got a bunch of see-through bins and tried to pack them in a logical way, since these will be the storage for all my supplies for the foreseeable future. Geoff pushed two tables together to give me a big workspace and I set up the houses in progress where I can reach them easily. The more finished houses are all upstairs in the house (kind of all over the place, though – no dedicated place to display them at the moment).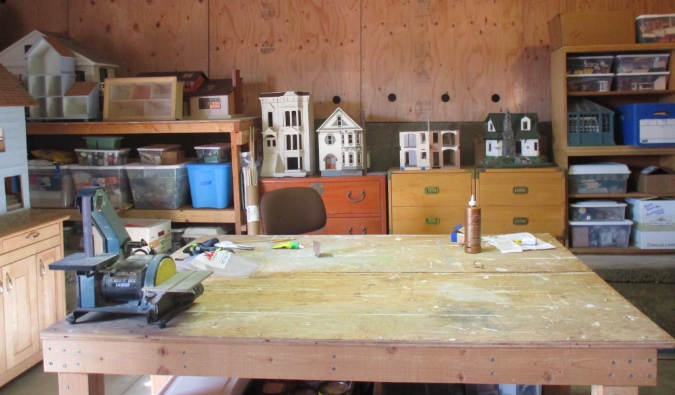 Time to test out this new setup with a new project! My parents are coming to visit in a couple of weeks and my mom and I are going to decorate faux gingerbread houses, which I will assemble and paint before she gets here. She makes real gingerbread houses every Christmas but we tried it here once and the air was too moist – the house basically caved in overnight. (Still yummy though!)
We'll use these two Creatology puzzle house kits, which I bought at Michaels several years back. I don't know if they're still sold (if yes, they're usually stocked in the spring/summer). I built the one on the right a while ago as a half scale cottage (the blog posts about that build are here if you're curious). The one on the left, I haven't done before.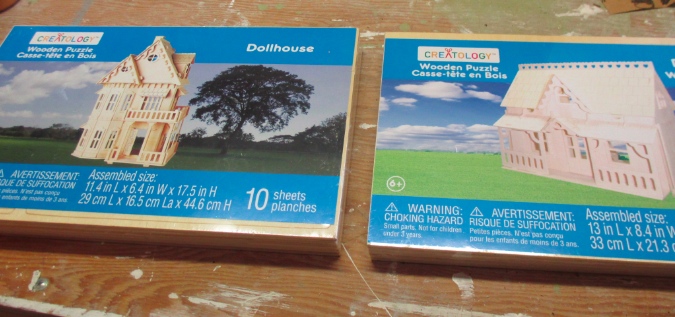 We'll be decorating with fake candy, also from Michaels. Most of it was 40% off in a "pre Black Friday" sale.