I've been doing small stuff on the Victorianna that hasn't really been blog-worthy, including a lot of thinking and looking at pictures to figure out how I want to handle the porch. Like with everything else in this house, I'm not following the directions.
CatColorado's Victorianna gallery on the Greenleaf forum has some good pictures of how the porch roof is supposed to be assembled. The porch roof wedges up against the tower in a way that crowds the windows, which I'm not crazy about since I want to add lots of frilly embellishments to the bay windows.
Looking at pictures of real Victorians got me thinking about turning the porch roof into a second story balcony so I can have more pretty railings and trim. I did the same thing on my Fairfield, leaving off the roof pieces so the intended base of the first story porch ceiling became a second story porch floor.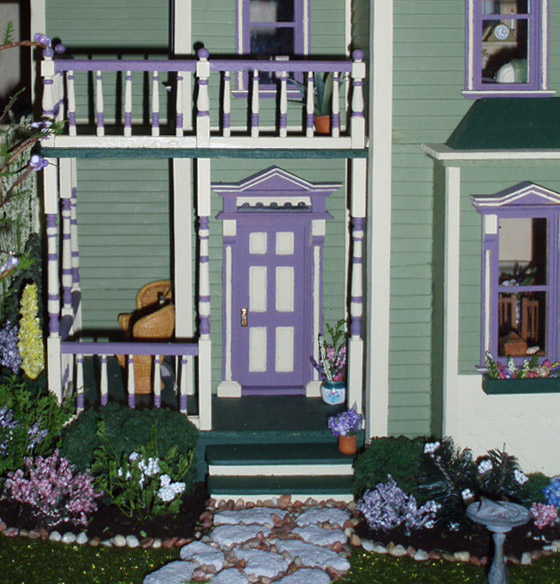 I made that decision near the end of the build, when it was too late to add a balcony door. With the Victorianna I still have time to add a door.
Here's the front of the house before I made any porch modifications. The porch roof assembly has a bottom piece with tabs that fit into the open slots, including at the base of the triangular support piece. There's also a top piece rests on the slant of the triangle.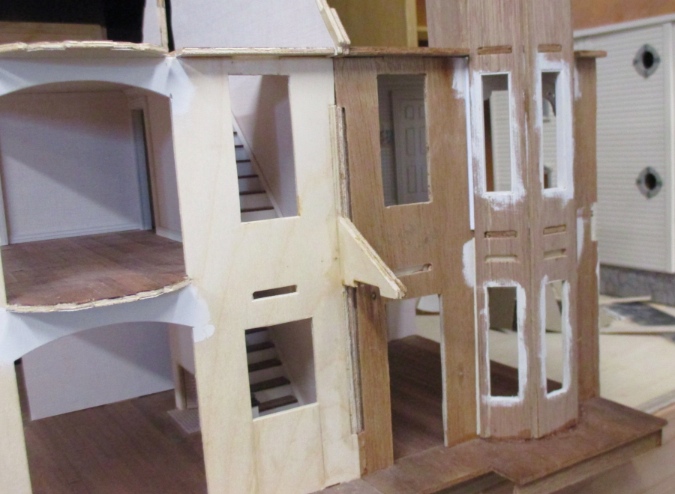 Geoff used an oscillating multi tool to cut off the triangular support, and to enlarge the window hole into a door hole. This gives a nice view of the stairs I worked so hard on. Notice the slot about an inch under the door. This is where a tab on the bottom porch roof piece would normally fit. Keep that in mind for farther down in this post.