I think die cut dollhouses look best when the plywood is covered up. It takes a lot of sanding and prep work to give luan plywood a nice finish, and I've never managed to completely hide slots/tabs no matter how much wood filler I use. My back to back Victorianna is half birch plywood, which is a step up from the luan quality-wise, but the two sides need to match, so I've been planning all along to cover up the bay windows somehow.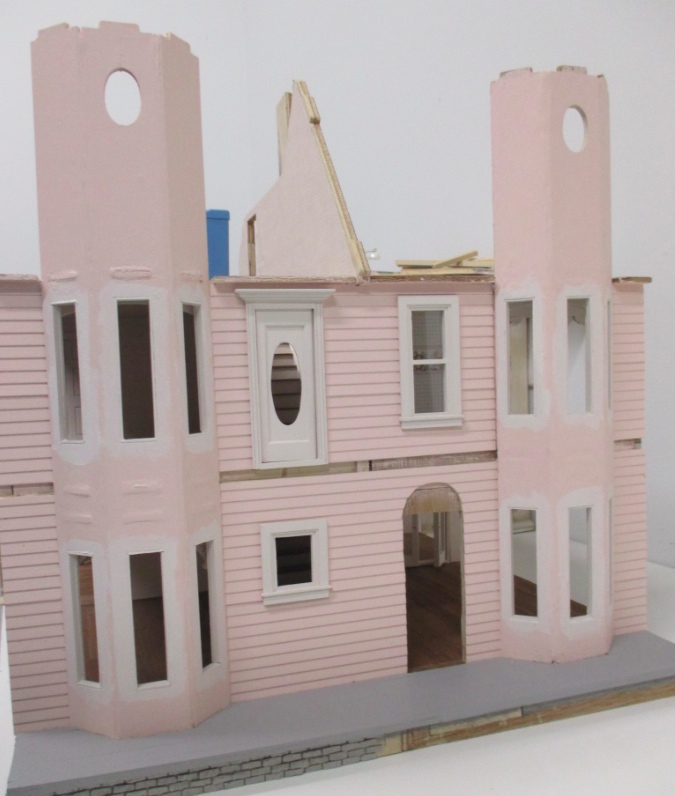 I looked at a lot of real houses to figure out how to tackle this. (Dollhouse bay windows rarely look like real bay windows…) Luckily, living in San Francisco, I see tons of bay windows just walking around my neighborhood, so I took inspiration from some of those. Also pictures like this (from a page about Victorian house styles) and this (from Houzz) gave me ideas.
After months of putting this off, I finally came up with a plan and went to Dollhouses Trains and More for the wood. Those little pieces add up! I spent about $50 on strip wood (not all of it's for the bays, but it is all for the Victorianna…)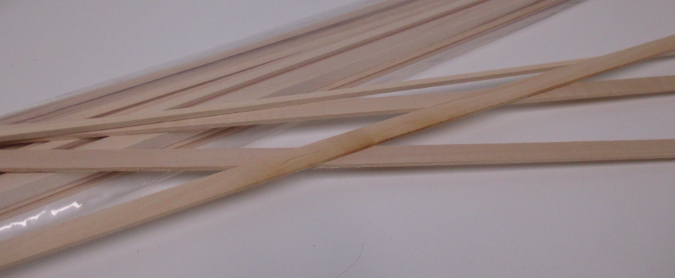 I wanted some kind of cornice for the top and bottom of each bay window. It needed to be around 1/4″ tall, 1/8″ deep, and have a flat edge on the top and bottom. I couldn't find anything like what I wanted, so I ended up getting a flat trim (chair rail maybe?) and gluing it to a piece of 1/4″ x 1/8″ strip wood. Here you can see the two pieces at the bottom, and a glued together piece sitting on the porch.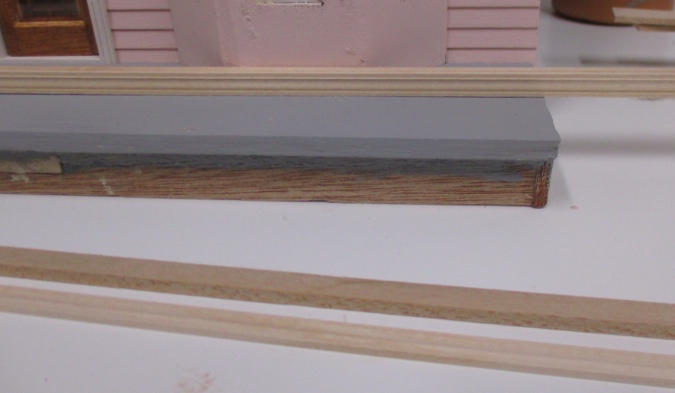 I'm using 1:12 corner blocks as a decorative element. These were a bit too thick for my purposes so I sliced off the backs with a utility knife. Some got a bit mangled but I managed to cut them all without destroying any completely.

Here's the concept. The vertical pieces are 3/8″ wide x 5/16″ deep, with a piece of quarter round filling the gap between them. The window acetate will be glued to the exterior walls, sandwiched under the strip wood.