(Not that kind of stoned. If a Google search brought you here, my apologies.)
When I made the front steps for the Gull Bay, I impulsively made the stairs brick and painted the treads the color of the house, thinking "there must be stairs like this in real life, right?" I should have done some research first, because it appears that brick stairs with wood, house-colored treads don't really exist in real life.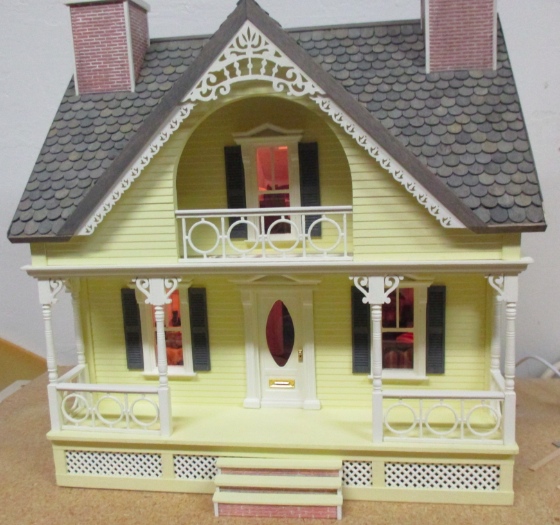 My dad suggested that the treads could be stone instead, and I started thinking about how I could do that without destroying what I'd already built.
I started by masking off the brick so it wouldn't get messed up. Then I spread watered-down wood filler over the treads, as you can see on the top step in the photo below. I used my finger and a piece of egg carton to give the wood filler a rough texture.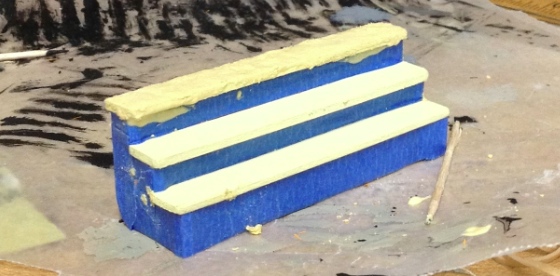 Next I painted a base coat of gray. (On the left is a planter for the Rosedale that I painted at the same time.)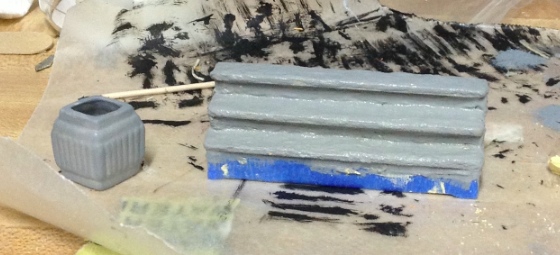 When the base coat dried, I did my usual "fake stone" painting technique, splatting on different shades of gray with a dry brush. I included a dark blue/gray slate color that's similar to the Gull Bay's stained shingles and shutters.