Continuing with the linen closet that only exists because I cut a piece of wallpaper badly: I painted the door and the closet Tuscan Beige, the trim color I'm using throughout the house. It looks white when there's nothing white near it, but here you can see how different it is from the bright white that the door was originally painted.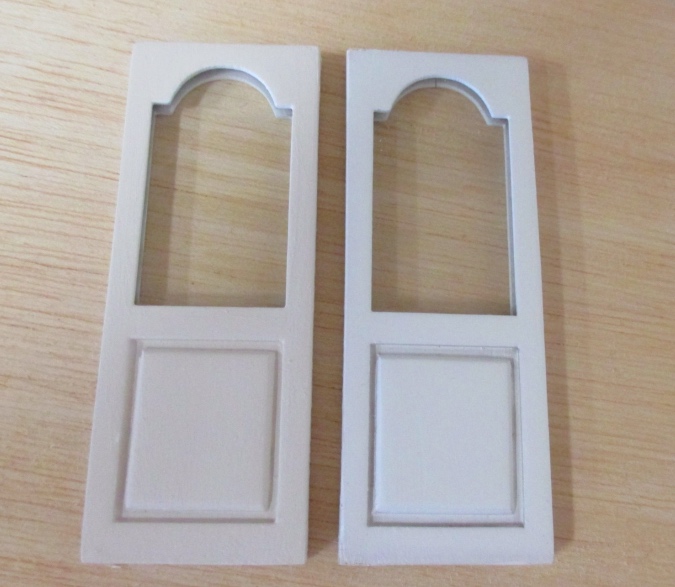 To pin hinge the door, I laid it in the frame and used the micro drill to drill a hole through the bottom of the frame and up into the door.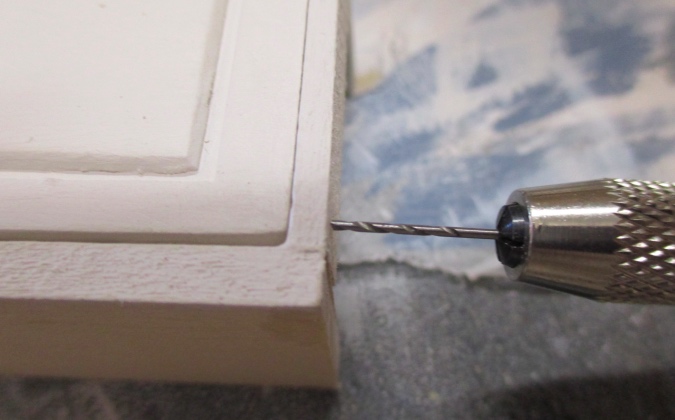 This resulted in a hole pretty close to the side and front of the door. I'm glad I drilled them both at the same time, because my instinct would have been to make the hole closer to the center.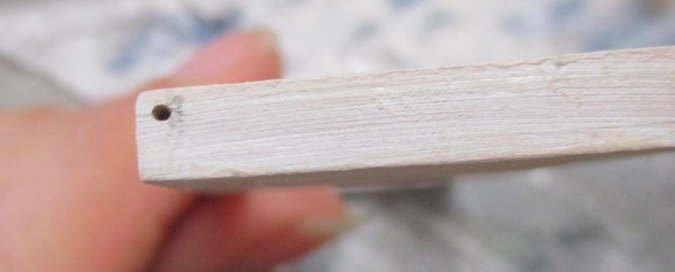 The top of the closet is much thicker than the bottom, so I couldn't drill through the top piece the same way. Based on the location of the hole on the bottom, I drilled a hole at the top in about the same spot. Then I cut down a pin and stuck it into the hole with the pointy part sticking up.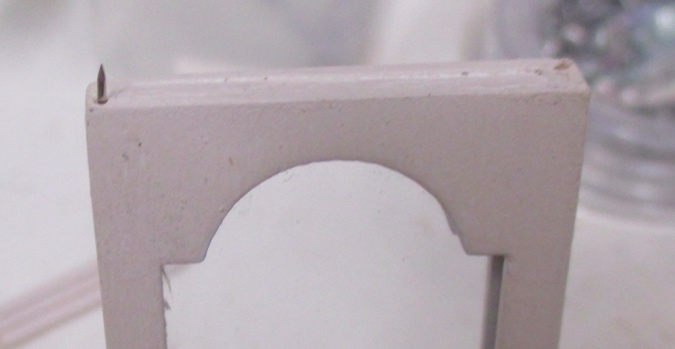 I slipped the door back into the frame, stuck in a piece of wire from the bottom to act as the hinge (to ensure the door was positioned correctly), and pushed the door upward so the pointy pin made a hole in the top of the frame.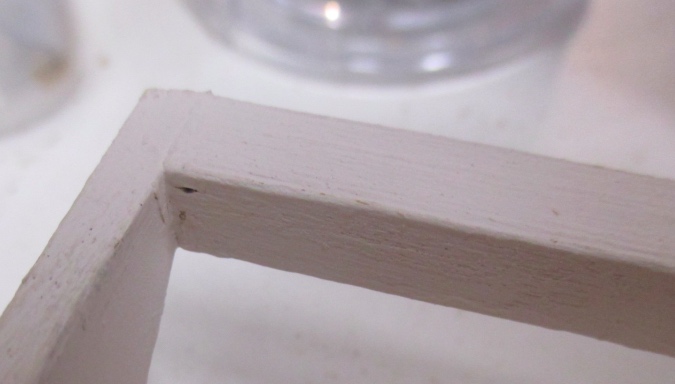 Next I added a knob made from a cut-down pin (the other side of the pin I'd cut down for the upper hinge) and a clear seed bead. The towels inside are cut from a chenille Dollar Store washcloth. I glued them in, since the closet will be very hard to access once it's glued into the house.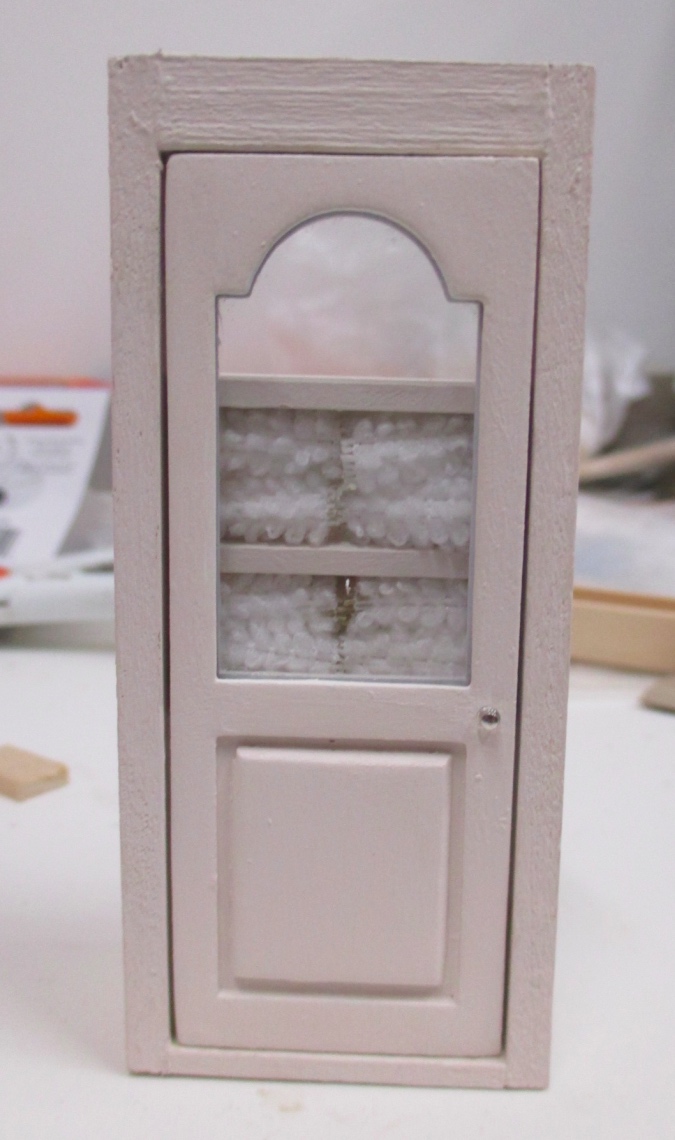 The top shelf doesn't quite meet the ceiling, so there's a visible gap behind the shelf. Rather than try to make the closet a perfect fit, I can hide that gap with stuff on the shelf.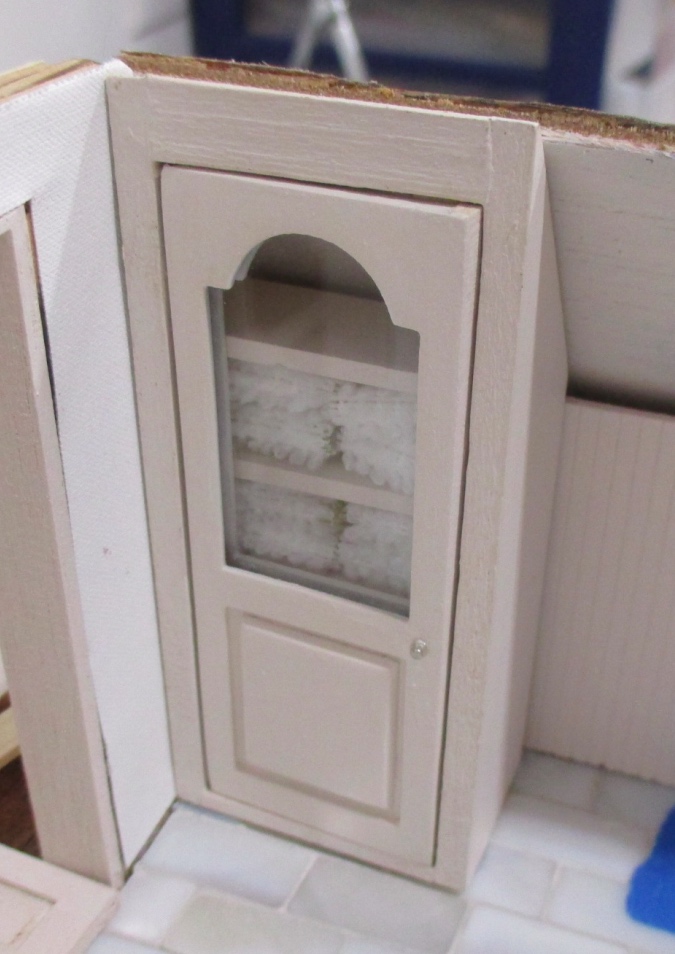 I still have toilet paper rolls left over from last year's half scale swap, but I didn't want them to be loose on the shelf, so I made a basket to hold them.
I started with a piece of scrap wood and a strip of fabric out of my cross stitch stash. I think the fabric is waste canvas — it's stiffer than normal evenweave, more like needlepoint canvas, but with a high thread count that seems appropriate for a 1:24 basket. After I cut the strip, I ran a bead of anti-fraying glue along the top edge to secure it.