About a month ago, I started working on wainscot and flooring in the rowhouse attic. I actually made good progress with it that very weekend, but then hit some unexpected snags that have only now been unraveled. Once again, electricity has proven to be my nemesis. But I'm getting ahead of myself.
The stain I'm using for this house comes in a can rather than a stain pen (my preferred tool for staining small trim pieces), so when I need to stain, I try to do a bunch of stuff at once. This particular batch includes the attic windows and door, trim pieces, and the inside of the roof. (I had planned to wallpaper the inside of the roof but didn't have enough paper, and even if I had, the paper was only 12″ square, like most scrapbook paper, so I couldn't have papered the inside of the roof with one continuous piece. I didn't want a visible seam staring you in the face when you flip the roof open.)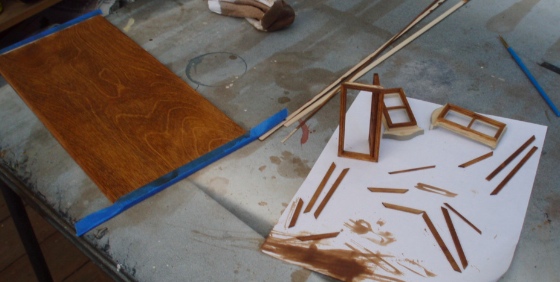 Through no fault of my own (for once), the door had some glue spots on it that prevented the stain from taking. I dry-brushed brown and black paint over these to make them less obvious.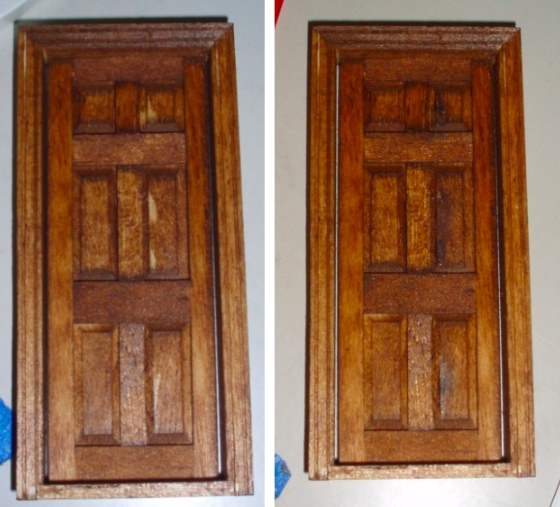 I used a small piece of basswood in the corner to cover up where the two pieces of wainscot weren't quite meeting.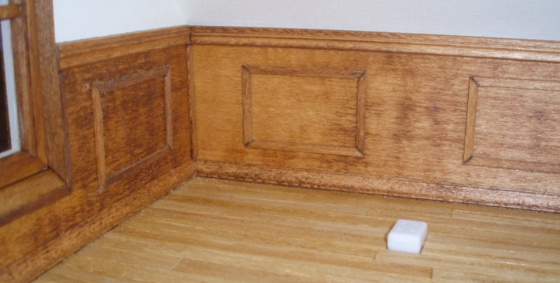 I also added basswood against the window trim to cover up the imperfect hole I cut for the window. As you can see in the second picture, even with the added basswood it's not quite perfect, but it's impossible to see the window straight on and it looks fine from the vantage point you have into the room.