Tragedy struck my $1 Horace Jones sink. I'd left it in the countertop (not glued in) and I picked up the cabinet and tipped it slightly to look at something and the sink fell out and hit the floor. Before this happened, I'd actually thought to myself that I shouldn't leave the sink in the countertop, for this very reason. So I only have myself to blame!
I heard the faucet go flying and spent about fifteen minutes looking for it on the floor, but couldn't find it. Then I went back to the sink and discovered one corner had broken off. I tried sanding it to a curve but it's still noticeable.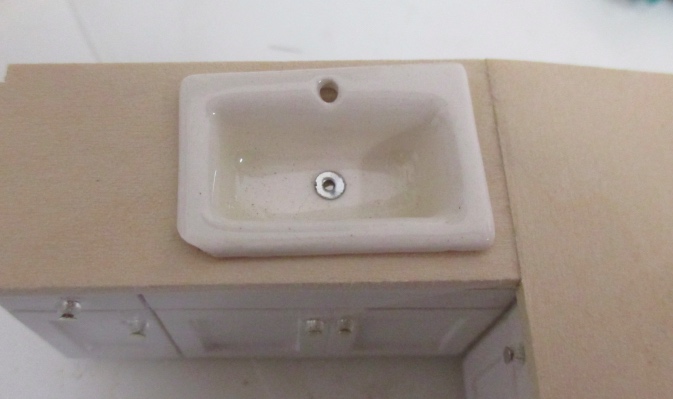 Especially from the side/front. If it had been the other corner it wouldn't have mattered as much, since you can't see that corner with the cabinet in place. But this would be glaring.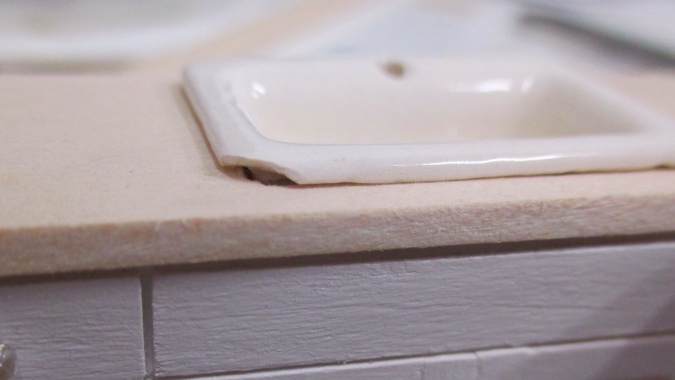 While I was pouting about it, Geoff found the faucet on the floor, which made me feel a little better. At least I can use the faucet on another sink someday. And I did only spend a dollar on it. Easy come, easy go. :(
Conincidentally, the day before this happened I had placed an order with Elf Miniatures for an exhaust fan and various other 1:24 items that are being closed out, including a sink with a built-in drainboard.
This is 1.5″ wide, the same as the sink cabinet. The Horace Jones sink was slightly smaller, so I had to enlarge the hole. Added bonus: the right edge of the sink mostly covers up the seam where the two counter pieces meet up.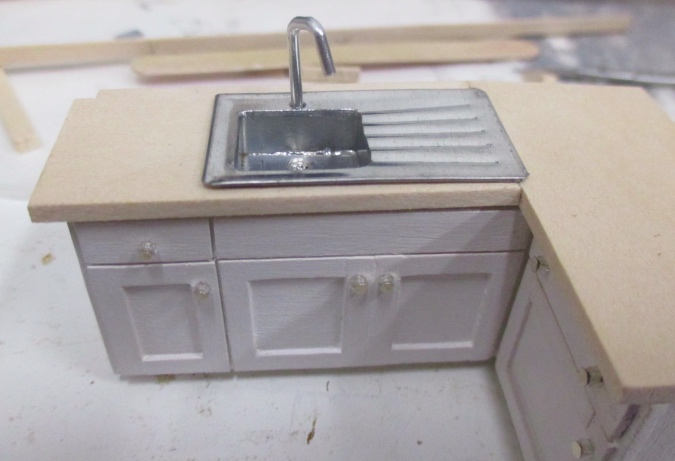 Even though the sink is centered in the cabinet, the faucet isn't centered under the window. Normally that would bug me, but you can't really see the sink head-on, so it's not obvious.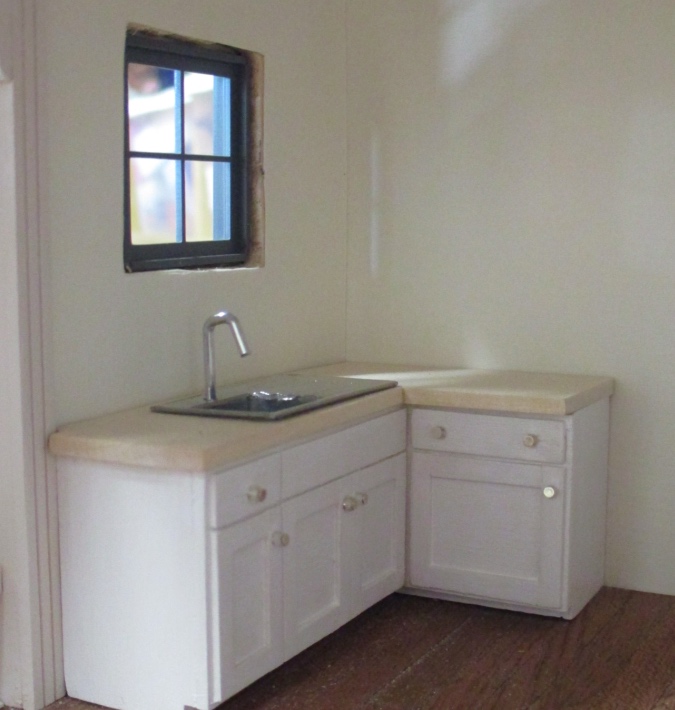 Here's the exhaust fan. It's slightly wider than the oven, so I was waiting for this before I finished the upper cabinets, to get the width of those cabinets exactly right.