After my first post about the breadbox roombox I kinda stopped talking about the broken lid. Surely all of my readers are dying to know what happened to it, so here you go! When we last saw the roombox lid, it was sitting snugly in a gluing gig. The corners weren't quite right and Geoff fixed them for me with power tools. We glued the pieces back together with wood glue.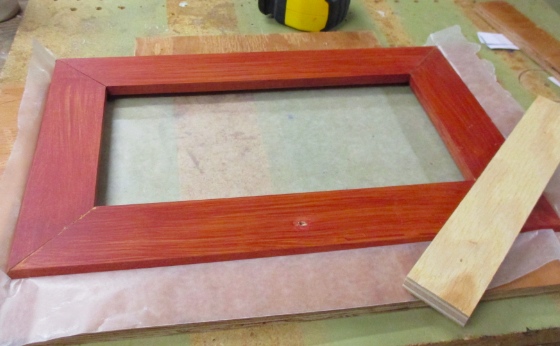 When the glue had dried, he took it out of the gig and sanded it for me with the mouse sander to make it (and especially the joints) nice and smooth.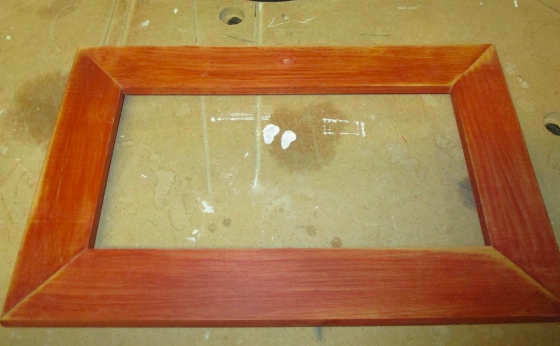 I then went over it with another coat of stain.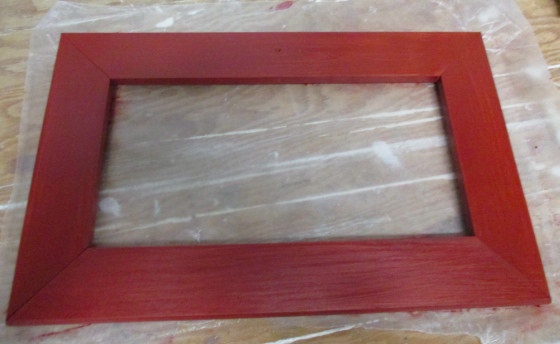 The 45-degree angles weren't perfect, so the seams at the corners were kind of obvious. I tried filling them with sawdust, but when I brushed on the stain it all stick to the brush and came out.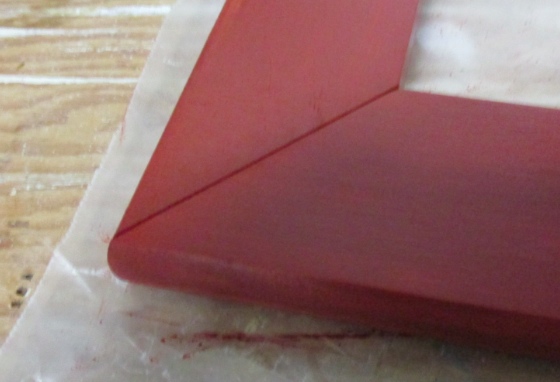 Luckily this is water based stain and, unlike oil based stain, it takes to wood filler. So I filled the seams with woodfiller and stained over them, and now the corners are cleaner. (In the pic below, one of those seams hasn't been filled yet…)
Time to put the plexiglass back in! The piece that came with the roombox was scratched up, so I went to the local Tap Plastics to buy a new one. The acrylic I got is a tad thicker than what came with the roombox, and they cut it to size for me, for a grand total of $2.19. I was nervous about getting goop on the front of the plexi, so Geoff glued it for me using clear Lexel silicone caulk adhesive.