My oldest friend, Michelle, just had her first baby. (We've known each other since nursery school!) When my sister's kids were born I cross stitched Teresa Wentzler's Castle Sampler and Noah's Ark Sampler, which I loved doing, but I always feel a little presumptuous giving someone a big framed piece with the expectation that they'll want to hang it on the wall.
In late July I saw a package of Anne Cloth (cross stitch afghan fabric) at a thrift store and it gave me the idea to stitch a baby afghan, which I've never done before. I bought the fabric and went online to look for patterns.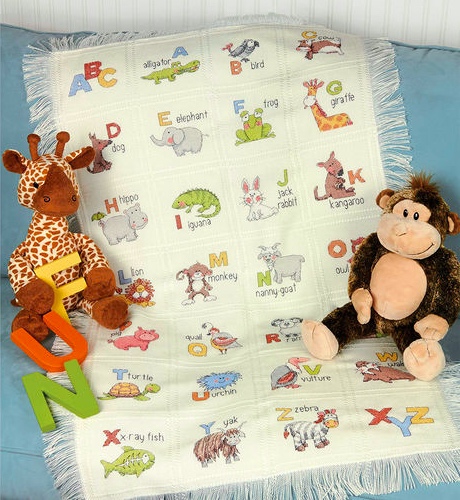 To my surprise I found very few standalone afghan patterns (what's the point of Anne Cloth without patterns to stitch on it?), but I fell in love with Dimensions' Animal ABC Afghan kit. Most of the baby afghans I saw were super cutesy and pastel, but this one has a cartoony Dr. Seuss look with bright colors. And I like that it incorporates the alphabet with animal pictures *and* names, so as the baby grows she'll get different uses out of it — learning letters, then the animals' names, and then even how to read/spell them.
I've been cross stitching for twenty years (yikes!) but these days I hardly ever stitch from kits. I like being able to choose my own fabric and replenish the floss if I run out. (I'm out of wall space for cross stitch, so lately I mostly do petit point for my dollhouses.) Before ordering, I looked around online for pictures and impressions of the Dimensions Animal ABC Afghan kit and wasn't able to find any, so I'm posting my own experience for anyone else who might be considering this kit.