My Victorianna has a deep living room in need of a couple of modern couches, but the pickings are slim in half scale… so I made my own! These are made with wood and suede scrapbook paper that looks just like the suede/microfiber that's so popular on couches lately. They're kind of time intensive, with a lot of steps, but the end result sure is pretty.
After making the larger one as a prototype, I perfected the process with the smaller one and took oodles of pictures so I could post a tutorial. These are 1:24 scale, but of course you can use the same method for a 1:12 couch if you double all the dimensions.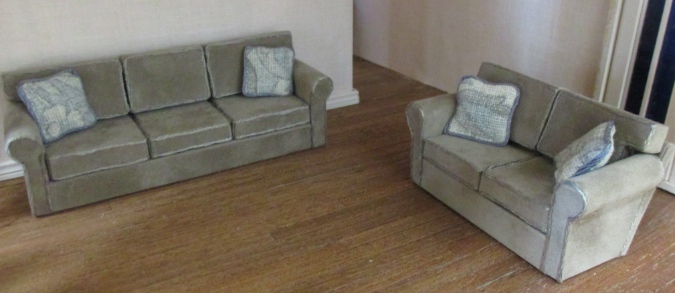 Here's the smaller couch with a Lee's Line sofa for a size comparison. Most half scale couches are loveseat sized; that's why I wanted to make a bigger one as well. (I actually started out planning to make a sectional, but mis-cut something early on and abandoned the idea…)

This is how they'll be positioned in the Victorianna. Since the back of the larger one is on display, I had to make sure it looked good from every angle.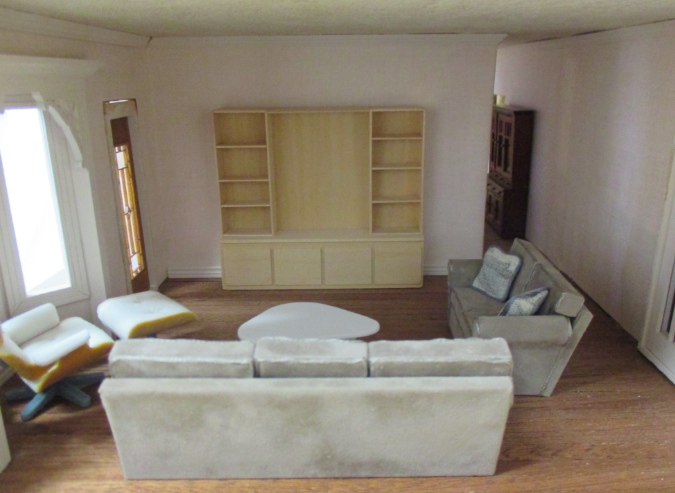 Read on for the tutorial, then go make your own!