The ink cartridge I was waiting for finally came in the mail, so I was able to move forward on the breadbox interior. The first step was staining the floor. This is a Houseworks flooring sheets that I got in a Freecycle haul this summer. I stained it with Minwax English Oak.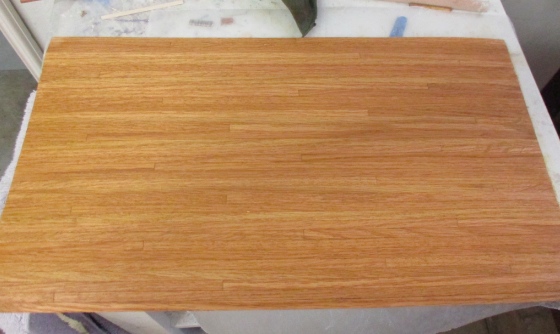 When the stain was (mostly) dry, I glued it in and weighed it down with heavy books. (I always knew Shakespeare would come in handy!) I put down a piece of wax paper since the stain was still a little tacky.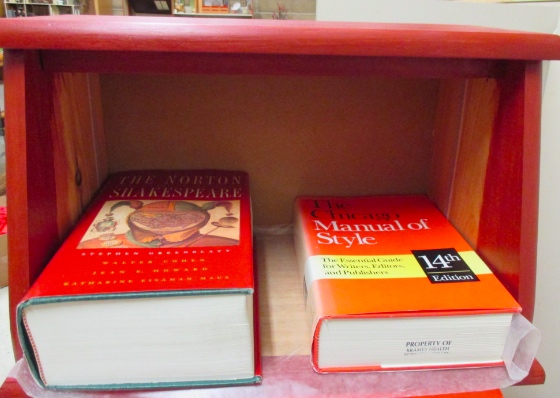 Meanwhile, I glued wooden spacers to the back of the foamcore I'd cut to make a false back wall. The casement window extends 1/4″ from the back of the foamcore so I used 1/4″ wood to make the spacers. (The square window is not quite as deep as the casement window.)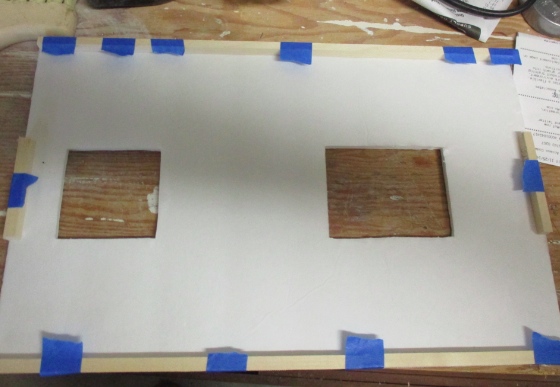 So here's why I needed the ink cartridge — to print out a winter scene for behind the windows. This is a photo of the view out my parents' front door after a snowstorm. My dad sent me a bunch of pictures and initially I wanted to use two different ones, but since the windows are next to each other, they had to be similar (same scale, road running through in the same place, etc.) It turned out to be easier to use one photo big enough that I could grab a portion for each window.
I printed out two copies and messed around with the windows until I liked the placement.