My first experience using Gallery Glass was in the Oak Shadow roombox, in a Guys from Texas class a million years ago. This was a 1:12, Craftsman style window with a very simple design, and we used silver tape to create the lead lines. I never got around to creating a gallery for this roombox, but here are a couple of pics.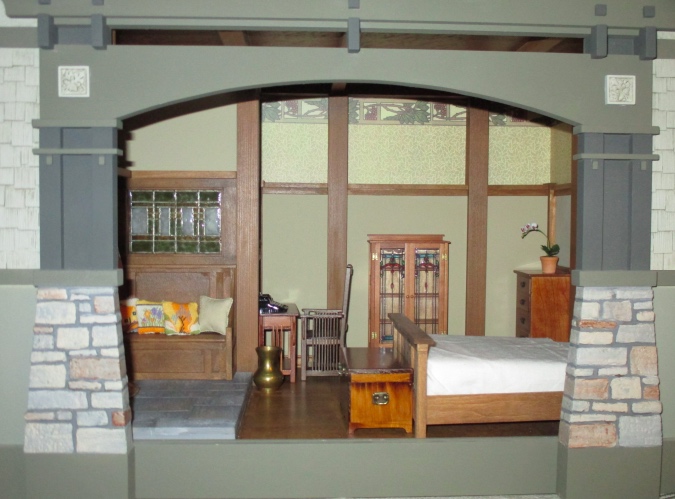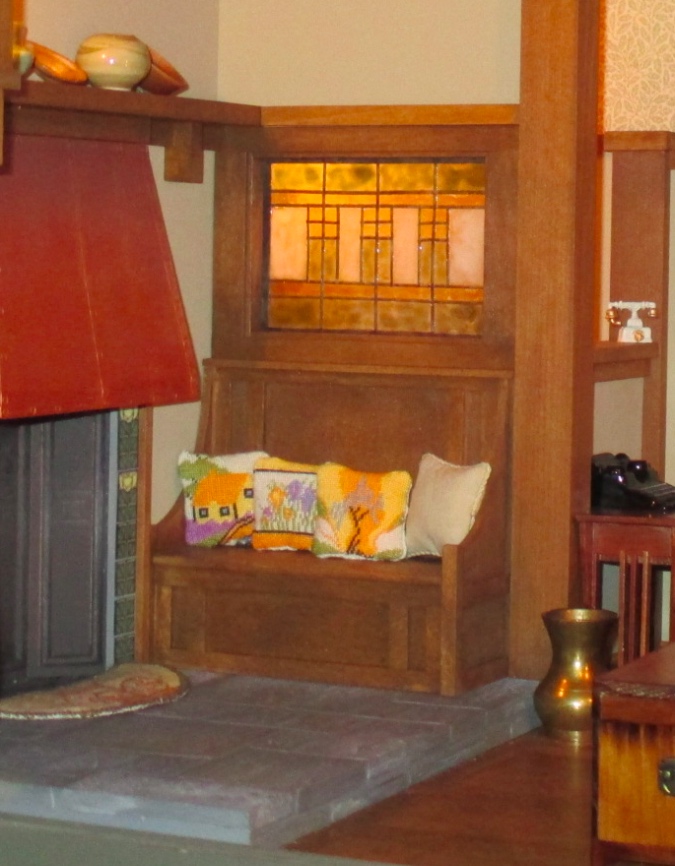 Since then, I've had these bottles of Gallery Glass on my shelf (plus a few more I picked up on clearance at Michaels), all sad and neglected. Now that I'm working on the oval windows in the Victorianna's towers, I decided to give them a chance to shine.
In theory, making a stained glass window is easy — you just lay down the lead lines and then spread Gallery Glass paint between the lines. But the lines are where I get tripped up. The Gallery Glass tape or lead tape you can buy is too thick for miniature lead lines, so it would need to be cut into thin strips, and I don't exactly have a steady hand when it comes to cutting straight lines. Also I'm not sure how to use the tape to create curves. I've seen beautiful results that other people have done with tape, I just don't have the skill to achieve it myself.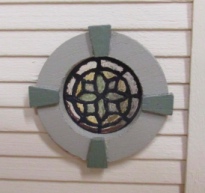 Last year I invested in some Gallery Glass Liquid Lead, thinking that would work better than tape for the lines. I tried making stained glass windows for the two round windows in the Queen Anne Rowhouse. The result was… not great. But practice makes perfect, right? (Well, maybe if you actually *practice* it does…)
For the Victorianna, I found a simple pattern online and scaled it to fit in the oval windows. Here's what I managed to do with the Liquid Lead, which I spread with the tip of a toothpick.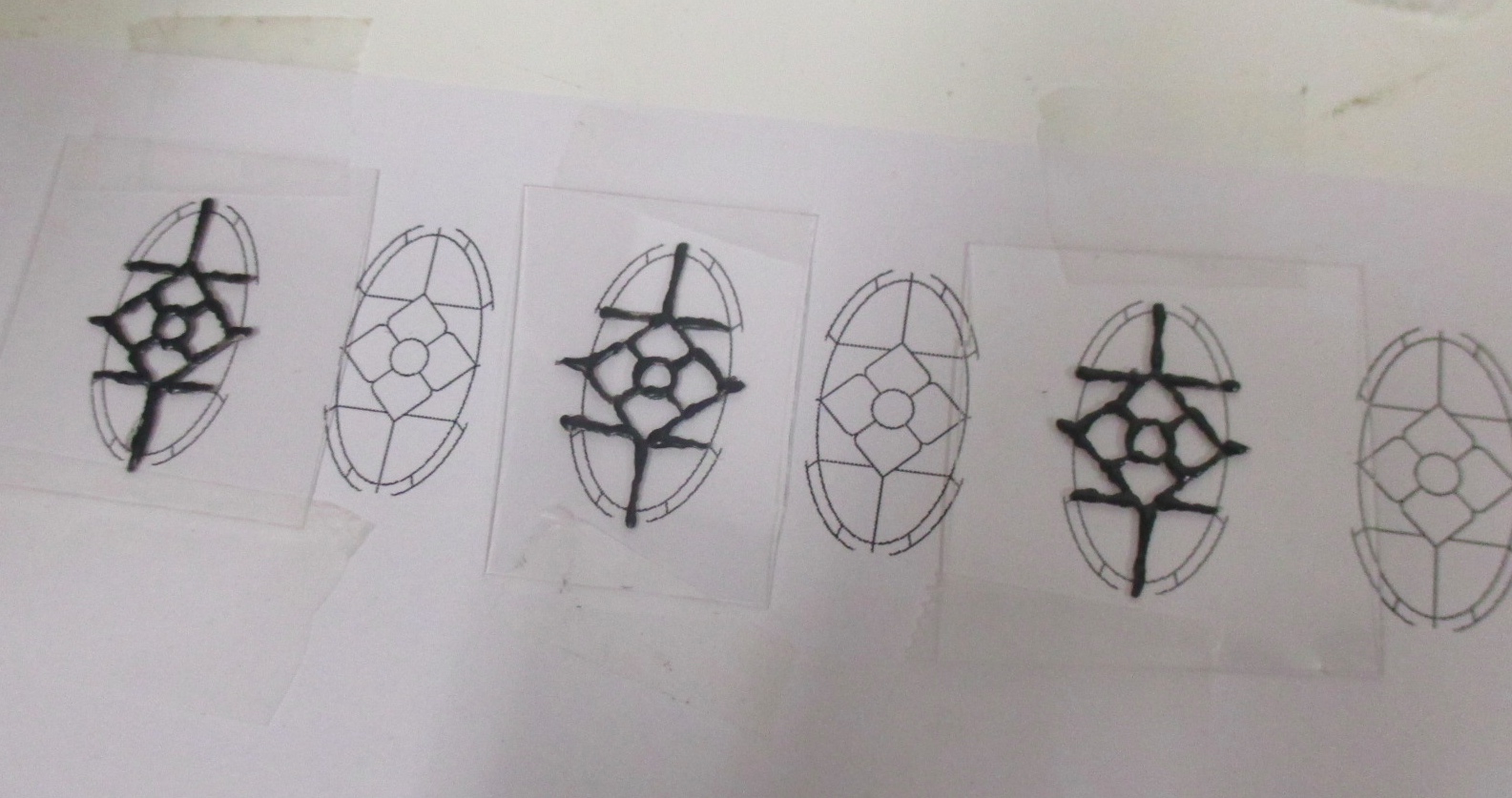 Um, no, that's not gonna fly. Nice try, though.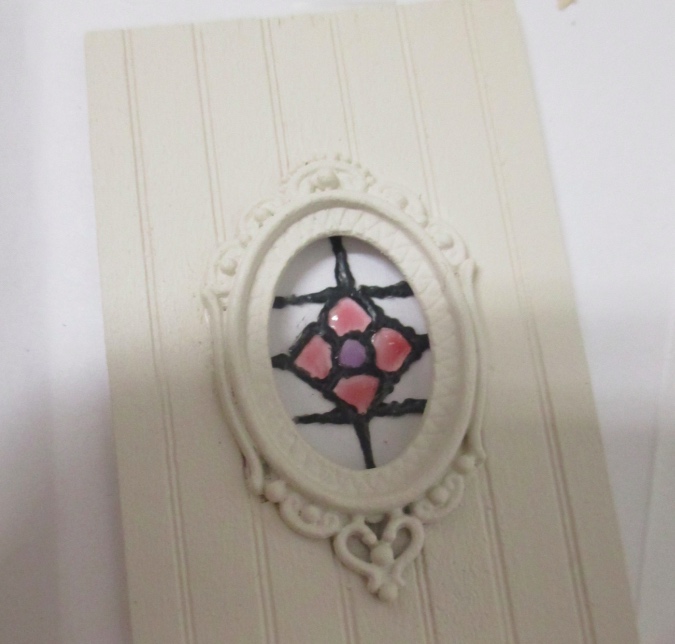 I was just about ready to nix the stained glass window idea and put the Gallery Glass bottles back on the shelf for another 10+ years when this eBay listing for stained glass inserts showed up. (Hi, karma! *waves* Thanks for stopping by!) These inserts are printed on acetate — something I'd opted not to do myself due to the expense of buying the special ink jet printer transparency sheets and replenishing my color printer ink and finding an appropriate design. I contacted the seller, Carol, and she agreed to a custom order for six window inserts, plus a larger panel for the oval door on the second floor.
Here's how the transparency looks in the window frame. The size is perfect, and I like the design. The color is a bit "thin" though (even more so when it doesn't have a white background behind it), and it definitely has the flatness of a printed design rather than the thick, wavy texture of stained glass.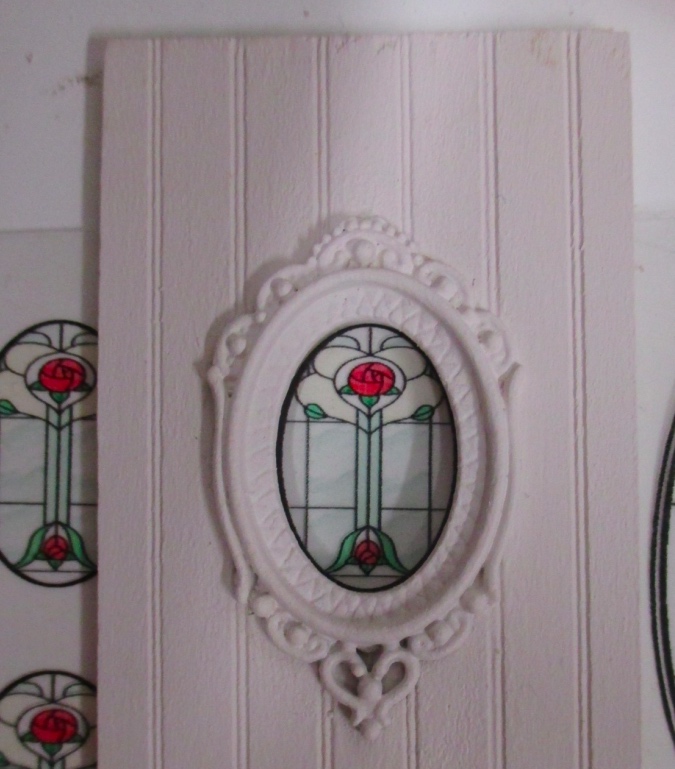 So that got me thinking… what about using Gallery Glass on the transparency? I wasn't sure if it would mess up the ink or the acetate somehow, but a quick search on the Greenleaf forum revealed that Gallery Glass on printed acetate is indeed an acceptable practice. Hey, I may not be able to make straight lead lines, but I can paint by number!