I decided to "save myself some work" by using Houseworks staircases in the Victorianna, instead of building the kit stairs. I don't know if it really saved me any work, but the first floor stairs are finally finished and they look good!
I started by gluing strip wood to the side of the staircase, to make up for the prefab stairs being slightly narrower than the kit stairs. Then I glued the staircase assembly to the wall, using clamps to hold it in as it dried.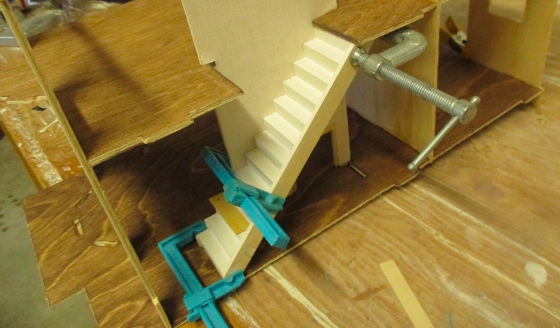 Possibly because the kit pieces are slightly warped, the staircase is not quite at a 45-degree angle and a little crooked. At the bottom, it overhangs a tiny bit into the space where the back wall will be, so I'll have to sand down the strip wood there to allow a good fit. The crookedness shouldn't be noticeable once everything's put together, however you can see that the bottom four stairs are slightly off from the stair cutout built into the wall.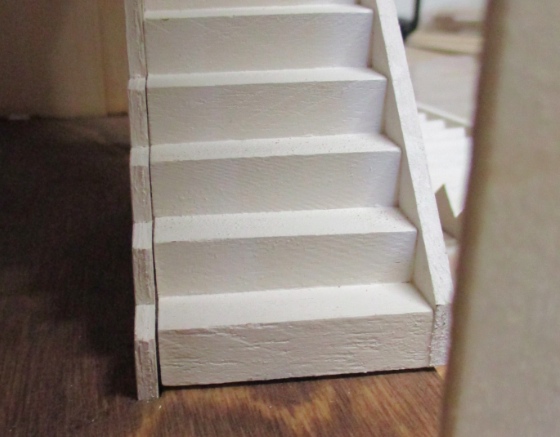 The bottom two were the worst, and I cut pieces of strip wood to add to the fronts to mask the discrepancy.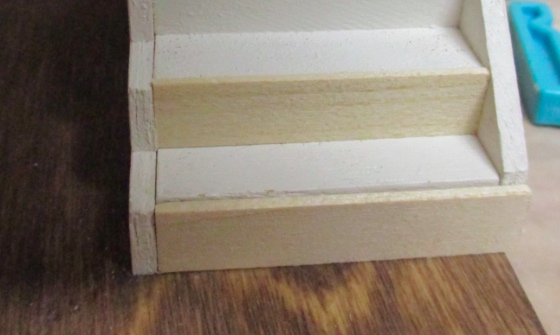 Next I got to work on the treads. I couldn't use the ones that come with the stair kits, because the bottom four need to be slightly wider, and the rest of them won't have spindles and therefore don't need the pre-drilled spindle hole. (If I were painting them maybe I could have filled the holes with wood filler, but I'm doing dark stained treads.) I went to the dollhouse store looking for strip wood the same dimensions of the tread — 1/16″ thick and 7/16″ wide — and, guess what, that dimension doesn't exist in commercially available strip wood. Bah.
I bought a grab bag of 1/32″ black walnut veneer off eBay thinking I could use it for both the staircase treads and the hardwood floors. Turns out it's not going to work for the floors (more details here) but it worked for the treads. Since the wood is half the thickness of the original staircase treads, I cut two pieces for each tread and glued them together.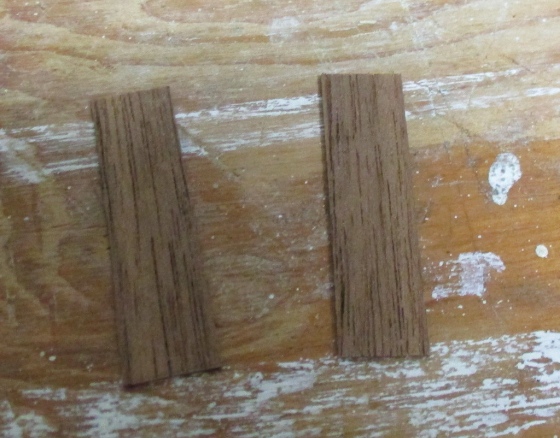 Then I stained the treads with Minwax Natural, which enhanced the dark color of the wood.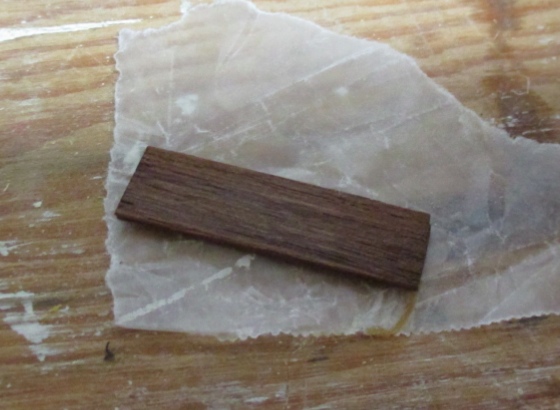 I cut these with scissors and ended up with some not-quite-straight edges due to the grain, but they're close enough to being square, especially considering they'll be very hard to see once the house is put together.