As 3D printing is becoming more common, I'm tempted to buy a 3D printer for use in minis, but the technology is too new (and too over my head) for me to feel comfortable being a guinea pig early adopter. I recently bought some 1:24 scale 3D printed furniture from Pretty Small Things and Shapeways, two stores that do the printing for you, and thought I'd post about the experience for miniaturists who are on the fence.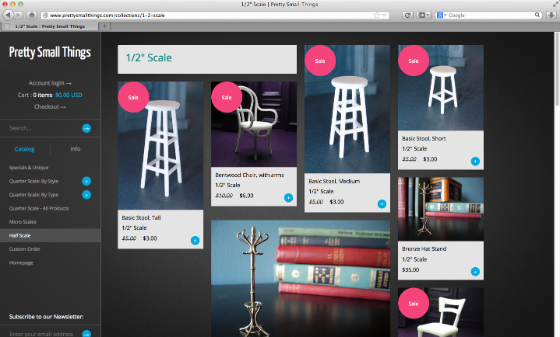 I placed my Pretty Small Things order around Thanksgiving, when they had a Black Friday sale — discounted prices plus free shipping plus a grab bag if you spent over a certain amount. It looks like their half scale inventory is still discounted, which I hope doesn't mean they're trying to clear it out for good.
I bought six "Moderne Dog Bone" chairs, a console table, and a little stool. They're all made from relatively smooth white plastic.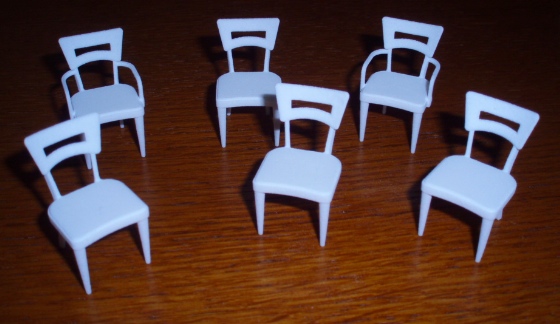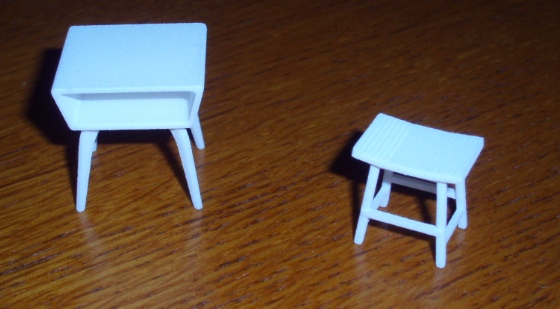 The grab bag included six tables made from a rougher, off-white plastic. I think these were seconds or prototypes the seller was trying to get rid of. Right after I opened the package, I dropped the coffee table on the floor and one of the legs broke off, but I was able to glue it back on. Lesson learned, though — these are delicate, especially when dropped on a hardwood floor!