Continuing the Victorianna roof project, I cut holes for the second pair of skylights in the small slanted section of the roof.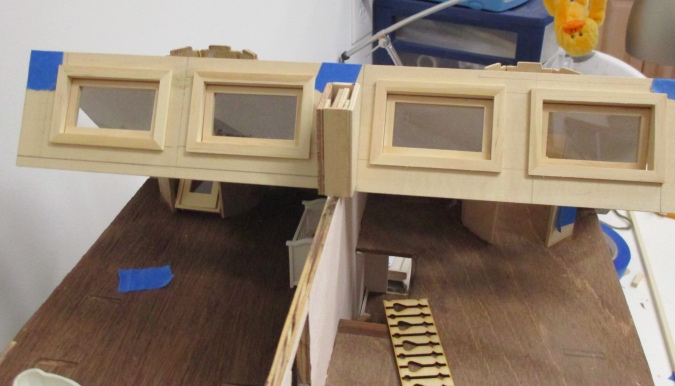 Then Geoff cut me a flat roof piece from from a scrap of 1/4″ plywood left over from a house project. I messed up the measurements the first time so he had to do it twice. Oops.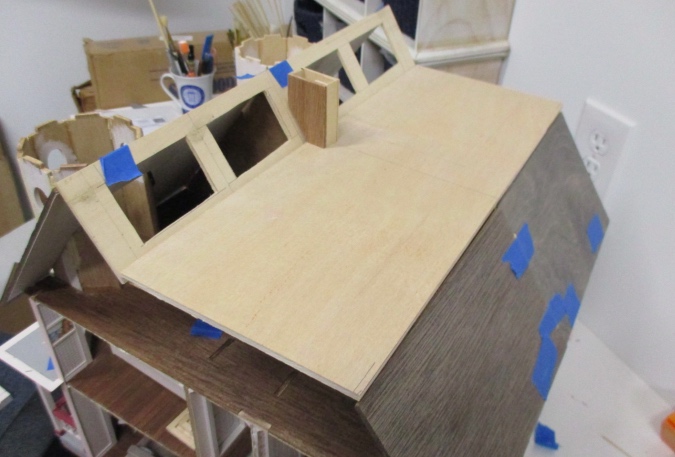 There's still a lot to do inside before I can attach the roof pieces. Time for some more no mess hardwood floors!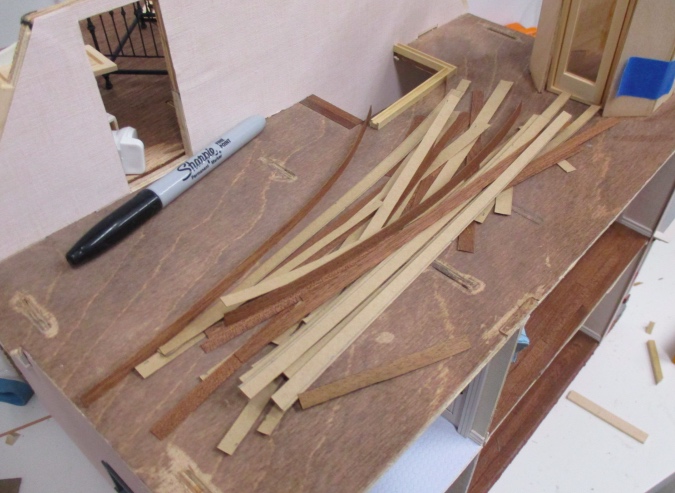 The inside of the tower was the only hard part. I'll have to decorate the entire room from above before attaching the tower roof.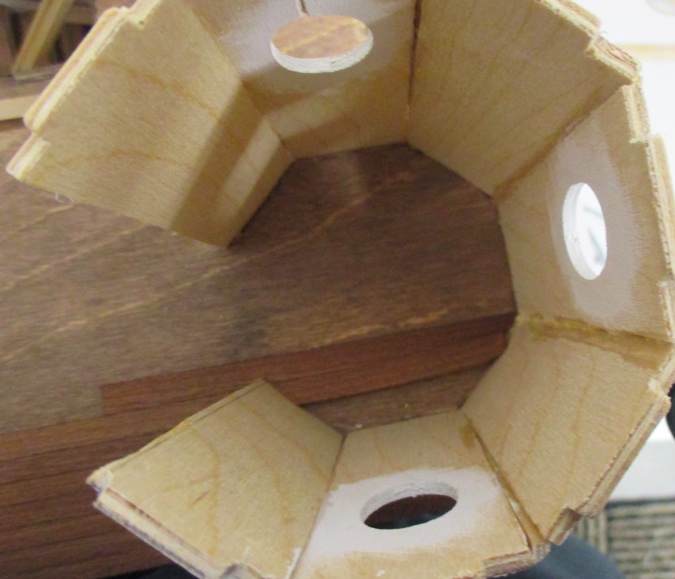 The railing is a "Hearts and Diamonds" pattern from Heritage Laserworks. I also used Houseworks porch railing and made my own newel post, to more or less match the stairs on the ground floor.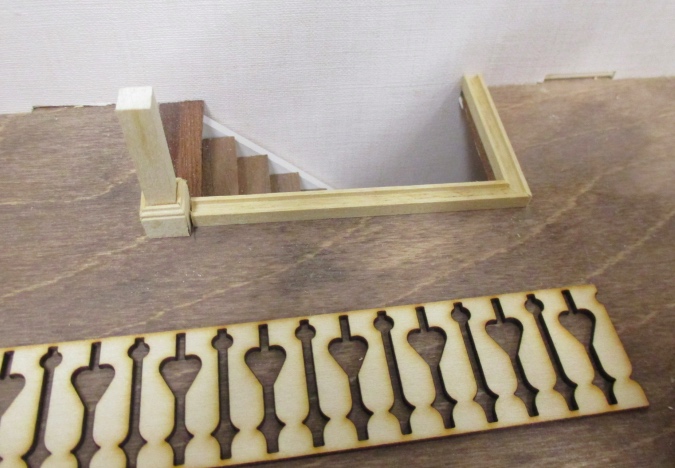 My initial thought was to stain the bottom railing piece to match the floor. I had already trimmed out the inside of the stair hole with the walnut veneer in anticipation of this. But once I saw it, knowing the the newel post and baseboard would be painted, the stained railing base seemed wrong.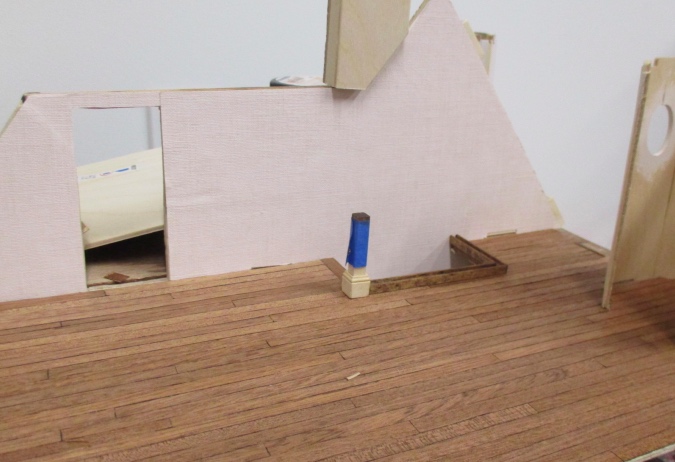 I painted over the stain and re-framed the inside of the stair hole so there wouldn't be a wood-colored stripe between the railing base and the ceiling below.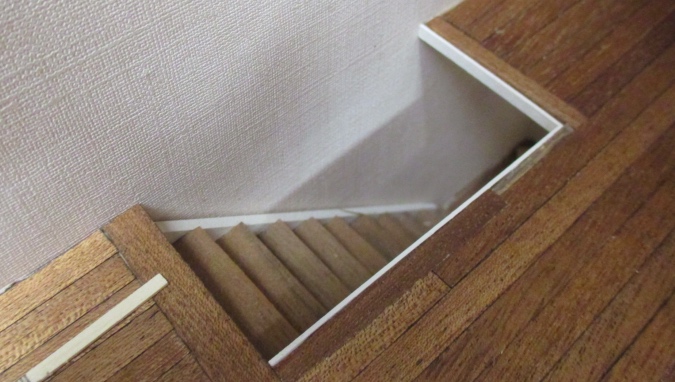 The newel post is similar to the one downstairs, but with different baseboard and a different finial. I used the Minwax Dark Walnut stain pen on the first newel post and didn't like how dark it turned out compared to the railing, so this time I made a point of staining everything with the lighter Minwax Special Walnut.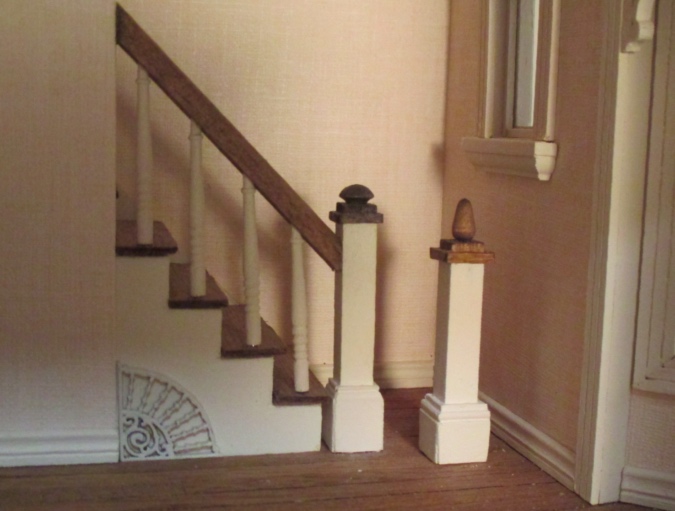 I didn't use the same finial, which was cut off the top of a Thin Classic Newel Post. I only have five of those left and am planning to use them on the upstairs porch, which will need all five.
Instead I used the tip of a Tiny Turnings stick. I cut it off with the little peg still attached and glued the peg into a hole I made with the micro drill. (Slightly off center, alas.)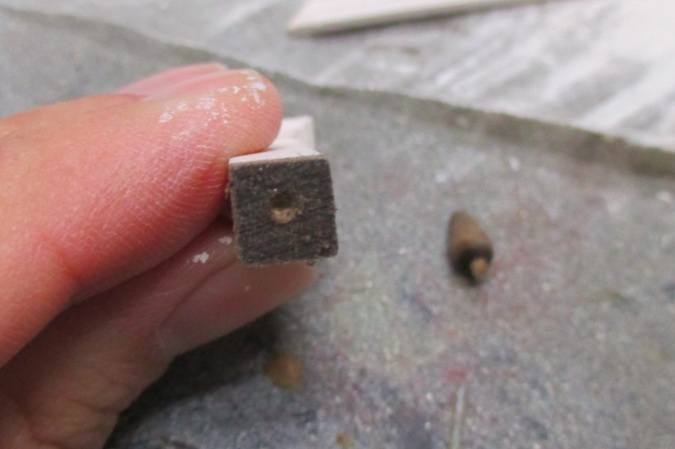 I had to cut a little bit off the base of the first baluster to fit around the base of the newel post.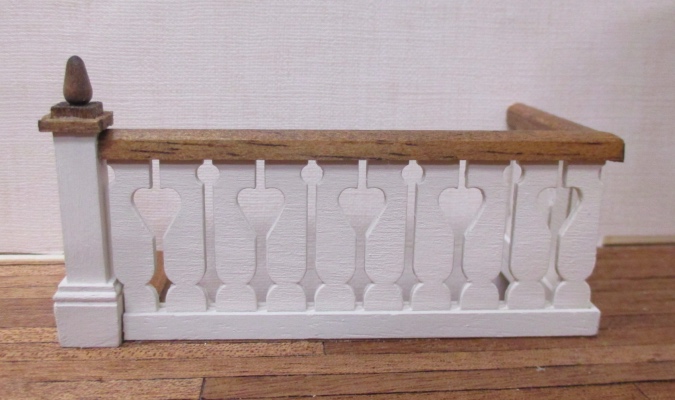 I need to figure out what to do with the small area behind the railing and next to the tower. That's another "need to do before the roof gets glued on" task.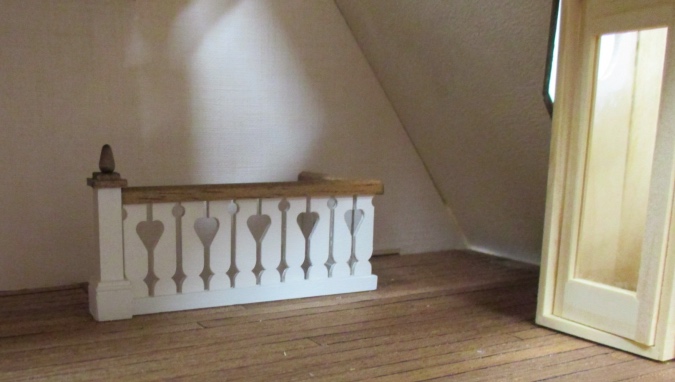 Here you can see how much the roof darkens the room, even with the skylights. I'm going to add some big (1:12 scale) windows to the flat part. I bought two Large Cottage Windows from Dollshouse Emporium — they're 4″ x 6″ and each flat roof segment is 6.5″ x 7.5″, so almost the entire flat part will be opened up again.