After landscaping the Fairfield, I finished up the fiddly trim bits inside, so the house is officially "move-in ready." I posted a gallery on Greenleaf's forum that shows all of the empty rooms. I'm especially happy with how well the trim I added to the edges of the plywood hides the massive warping on the second floor.
Now comes the fun part: decorating. I've been collecting furniture for this house for almost as long as I've been building it, but some of it's still in kit form. This week I put together furniture for the attic, which is intended to be a family / rec room.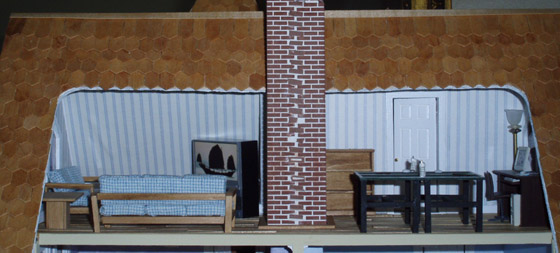 The couches, tables, and ping pong table are SDK Miniatures kits. The bookcase behind the chimney is part of the Cassidy Creations campaign bedroom. I'm using the rest of that bedroom set in the teenager's bedroom, on the other side of the attic wall, but the bookcase wouldn't fit on top of the desk due to the sloped ceiling, so I decided to use it here instead.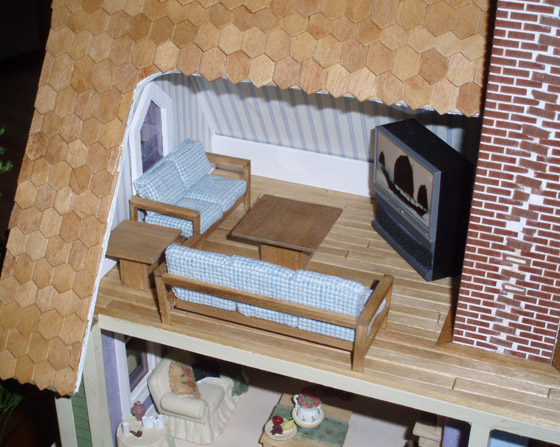 I ran into a few problems (read: a chain reaction of disasters set off by my own frustration) while putting the couches together, but overall they were fun kits and I'm happy with the result. I bought the kits directly from SDK, but plans for these couches and tables appear in the July 2004 issue of Dollhouse Miniatures, too. I'm planning to clutter up this area of the room with pizza and takeout cartons and maybe a Wii and some games.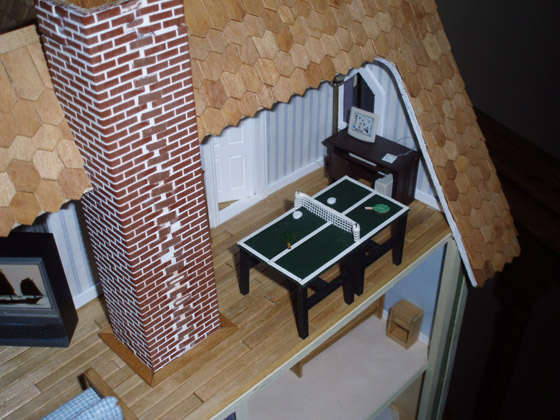 The desk and computer were purchased from Miniatures.com several years ago. They look a little small compared to the rest of the furniture. I might swap out the desk with something else that's more to scale.
I'll post some more pics as I work through the rooms.