This isn't a new purchase, but I didn't post about it at the time. Back in September I went to a miniature flea market in Benicia, CA where I bought this half scale shell for $30.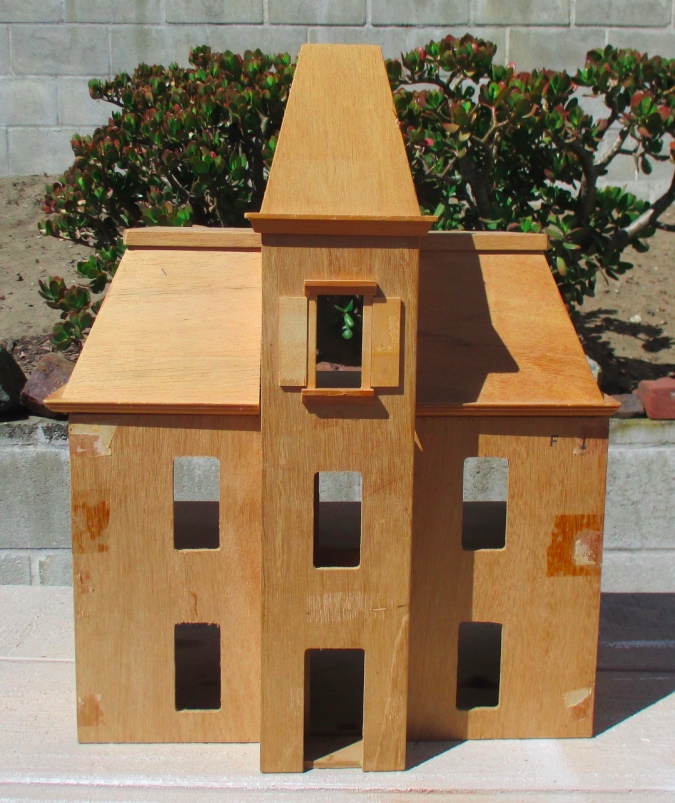 The front of the house is stamped F1. The tower section on the front is removable, and there's a flat wall behind it.
I was pretty sure it was a Real Good Toys house, because it was sitting on a table next to the RGT First Lady, which has a similar tower.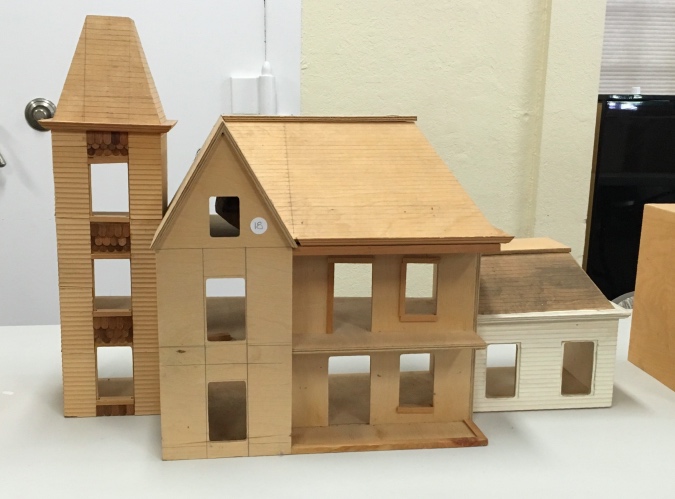 (I bought a First Lady kit on eBay earlier this year, so I passed on this one. I hope it found a good home!)
I sent an email to RGT to get more information about the house and heard back from Gary Root, who has worked at the company for a long time. Here's what he said:
That is a display model for the 'dollhouse center' line of houses. The original concept for the dollhouse center series was designed around modular components that could be mixed and matched to make a variety of houses… so a basic unit (F4: the side walls, interior walls, and floors) could accept a variety of fronts and roofs, and one selection of parts could be used to pack many, many different houses. This house has a full front (the F1) plus a tower (A50) and a 4100 series roof (E2 and D95) so that it looks like one of the 4100 series from the dollhouse center line; the most popular 4100 house was the 4107 Norcross Manor.

The half scale models were used at sales shows to demonstrate the way a selection of parts could magically create lots of houses and lots of 'looks', and a few shops bought the demo sets for their own displays. I believe this was one of those (that's why there's a wall inside the tower).
So it turns out my $30 find is a rarity that was never commercially available! The front wall isn't attached (it's currently held together with tape), so should will be easy to cut out the portion where the tower goes — then the tower portions will be part of the main rooms rather than closed off as they are now. The main rectangle of the house is assembled with molding in the corners to keep it square, which is a bit strange, but I have ideas for adding false walls and building in cabinets and recessed shelving.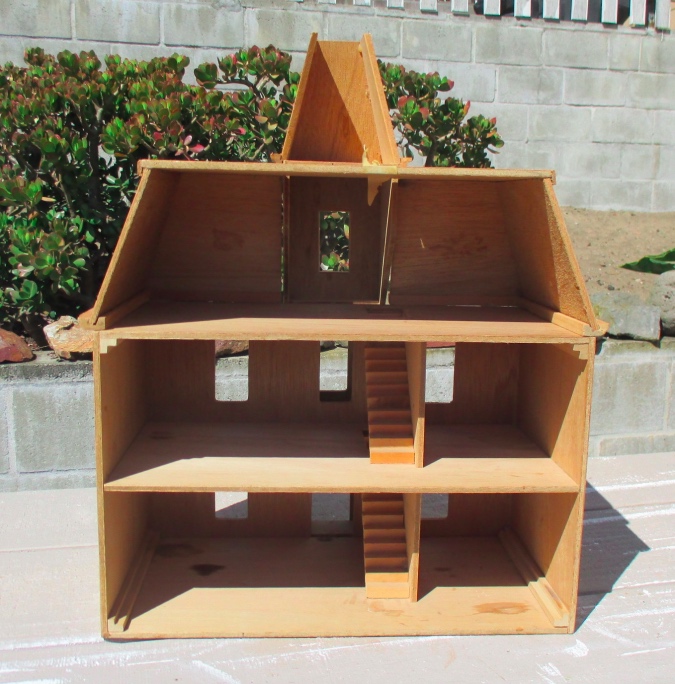 After I posted about the house on the Half Scale Minis group, a member there sent me this scan from the fifth edition of "The Miniatures Catalog". This is the 1:12 equivalent of the house I bought.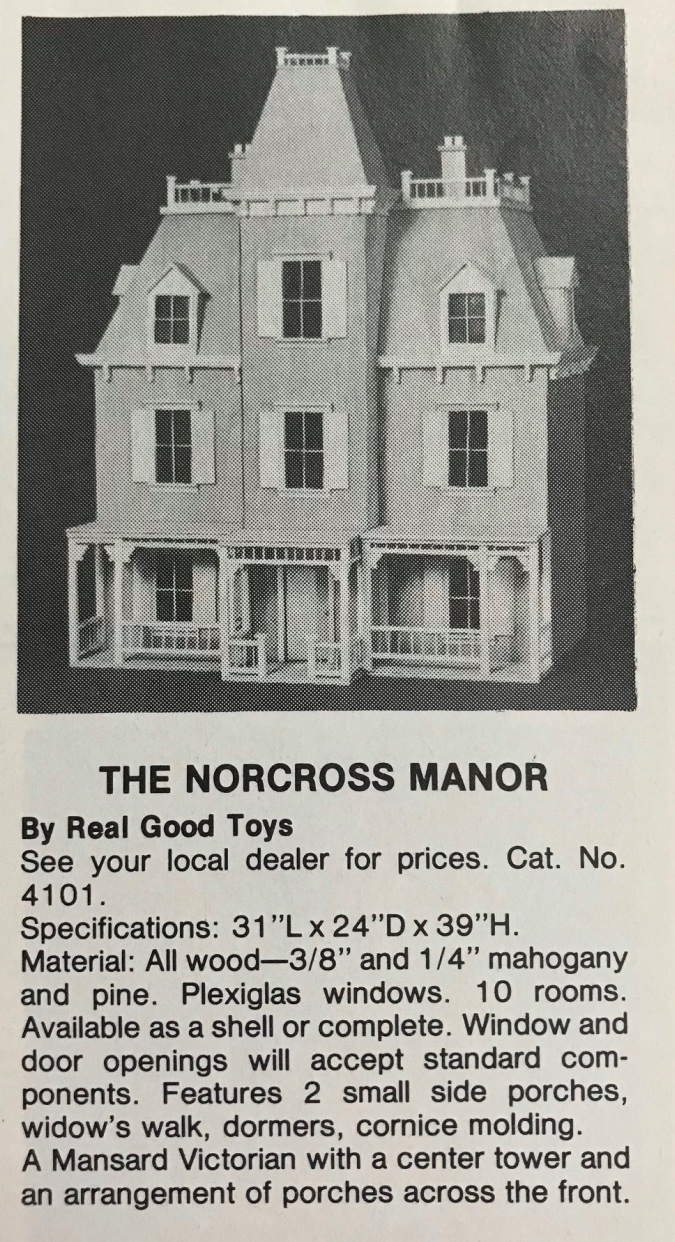 And here's a picture Gary sent me of the more recent version of this house (also 1:12 scale). At some point the name changed from Norcross to Montgomery.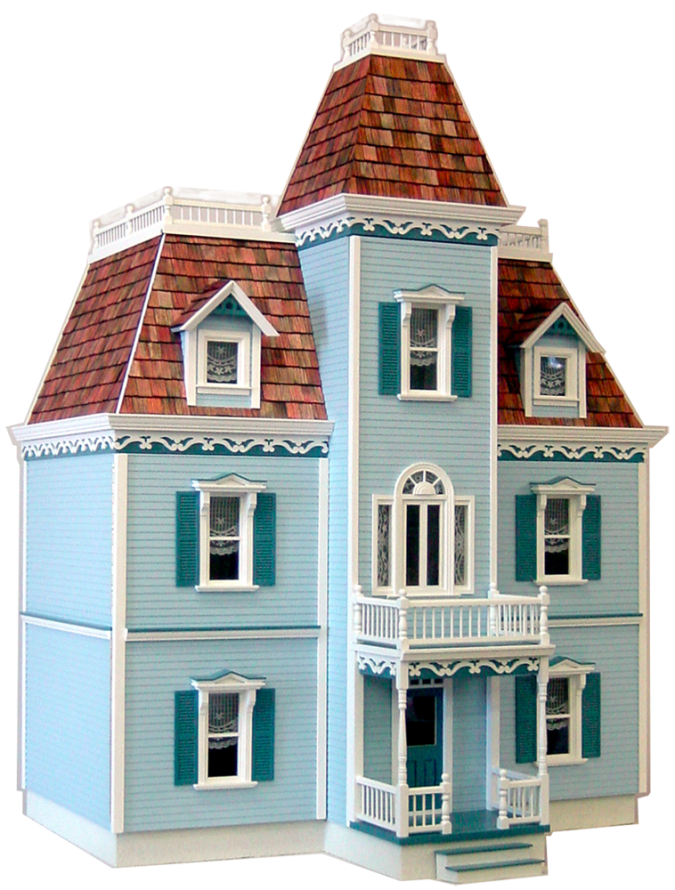 Since it's had different names over the years and my house isn't actually one of these houses but a sample that looks like them, I'm not sure what to call it. For now I'm thinking of it as the Second Empire, since that's what style it is.
Searching for Second Empire houses on Google, I came across this image of the David Davis Mansion in Illinois, which gives me some ideas of what I could do with the exterior.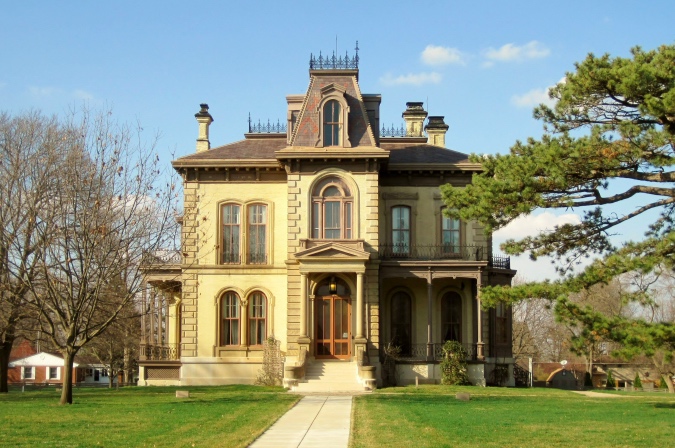 I'm not planning to start on this yet — I really need to finish the Victorianna before I do anything else! But after the Victorianna is done I want to spend some time finishing houses that are already built rather than starting on a new kit, so I'll revisit this one then.