Last summer I tackled the big project of re-wallpapering the stair room in the Queen Anne Rowhouse, but I never completely finished it. I realized that once the railing was glued in, I wouldn't be able to remove the bookcases, which meant the shelves needed to be filled and the bookcases glued in before I could go further. Deciding what to put on those shelves permanently was a daunting prospect.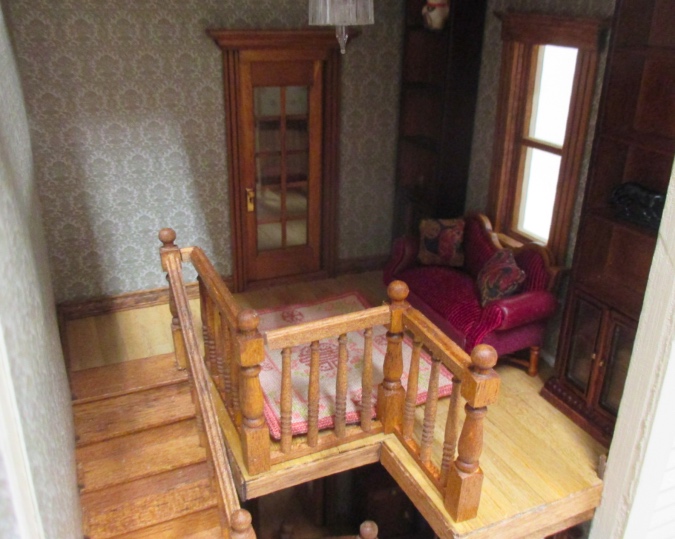 Since then I've been collecting little things to go on the shelves, and I finally have enough to move forward.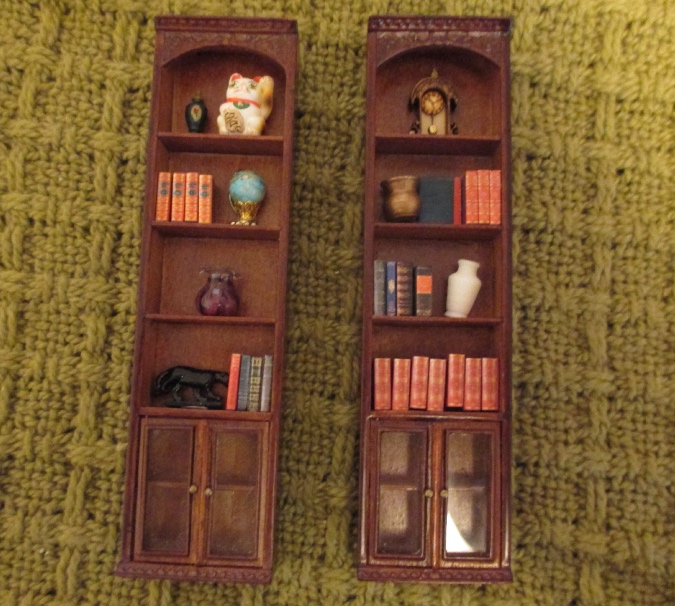 To make the books, I sized the covers in Photoshop and then sprayed them with UV sealer. After that dried, I did the added step of painting over them with satin varnish — maybe overkill, but since the books are going to be glued in for eternity I wanted to make sure the covers were protected. I glued the covers over pieces of wood, some with "gilt" edges (made with a gold Sharpie) and some with "paper" edges (antique white paint).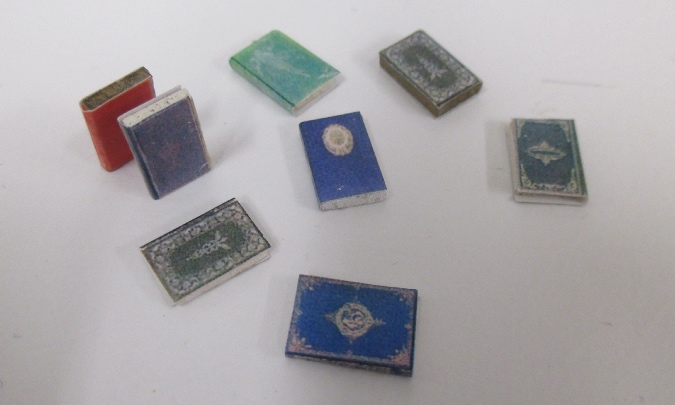 Of course, when the books are set up on the shelf, you can't even see the covers! I glued batches of books together before placing them on the shelves.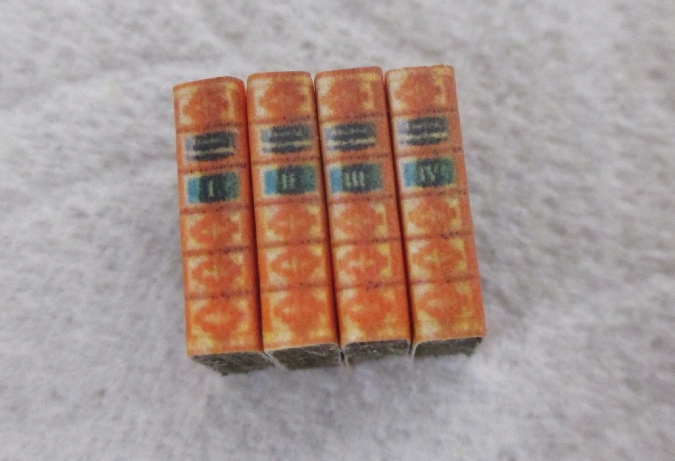 Most of the book covers fit over 5/16″ or 3/8″ strip wood, but books of those depths got in the way of the glass doors. So I also made a bunch out of 1/4″ strip wood, chopping down the covers to fit.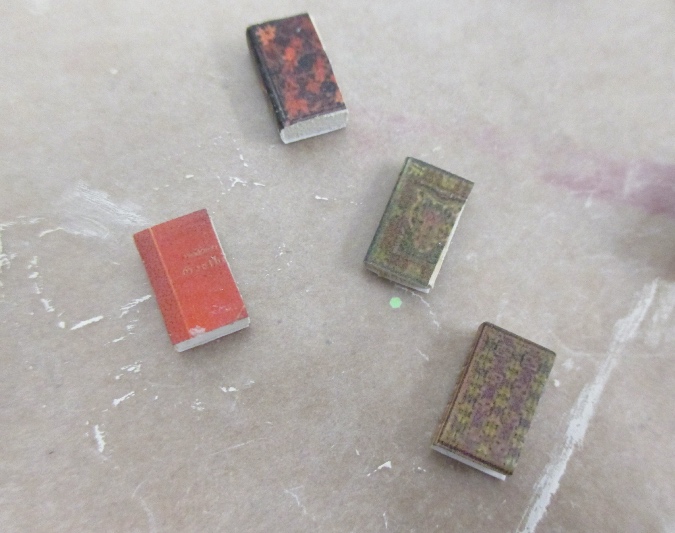 When they're lined up, you can't tell.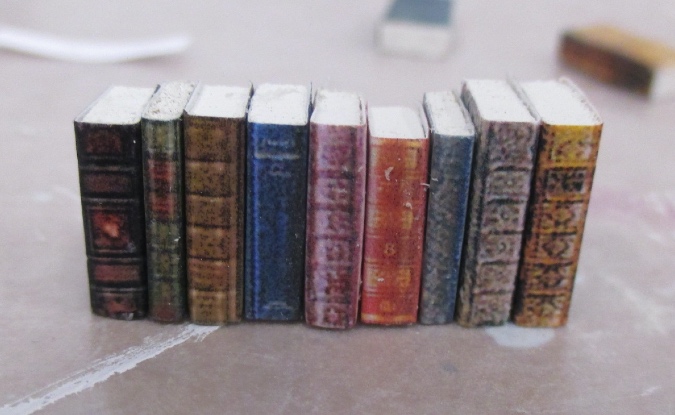 Oops. I neglected to take the doors into consideration when I glued these together!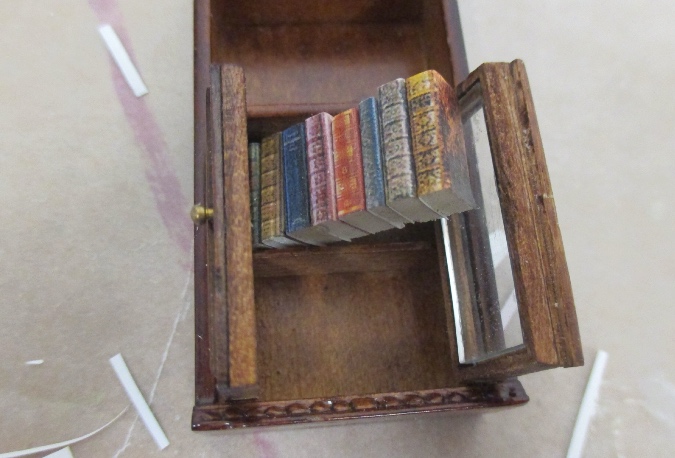 To get the rows of books into the shelves, I glued together two batches, put those on the left and right sides of the shelf, and then wedged a final book in between.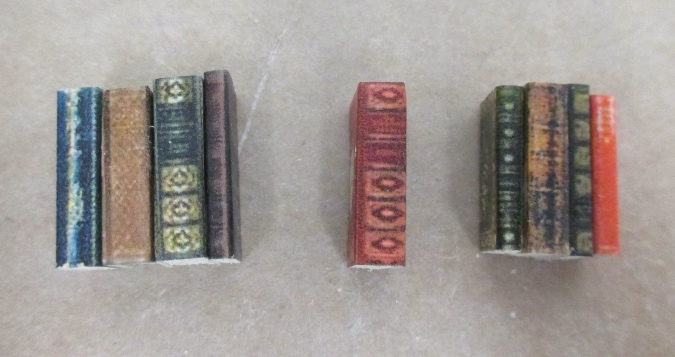 This a lot of work for something you barely see behind closed doors, but I like them.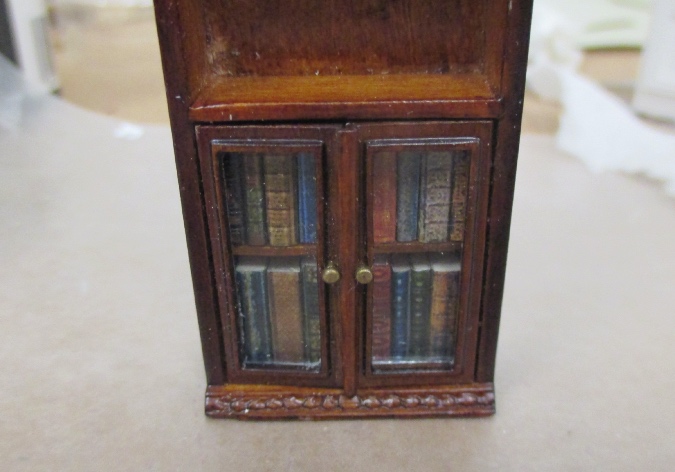 These vases are 3D printed. (I got them from Miniature Mercantile on Shapeways but sadly they're no longer listed.) I painted the vases with a clay-colored paint and the ginger jar (center) with off-white, then applied a purple wash, then coated them with clear Gallery Glass to make them shiny. The texture of the 3D printing and the gloppiness of the Gallery Glass have a nice pottery effect.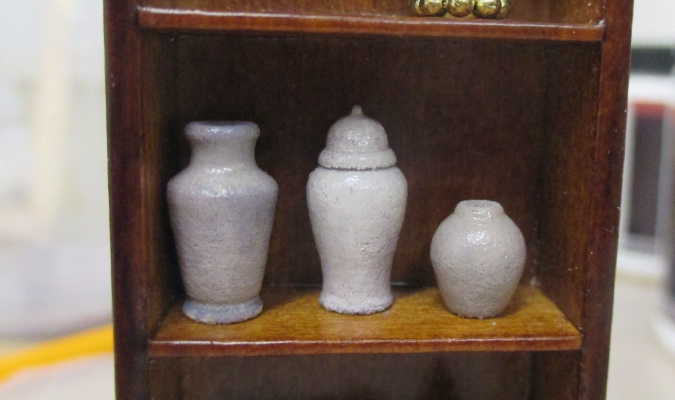 The Japanese cat was a gift from Donna (jbresr on the Greenleaf forum). The rest of these items came from swaps. I glued everything in and hope they'll stay put, because if anything falls out it will be pretty much impossible to fix once the shelves are installed permanently.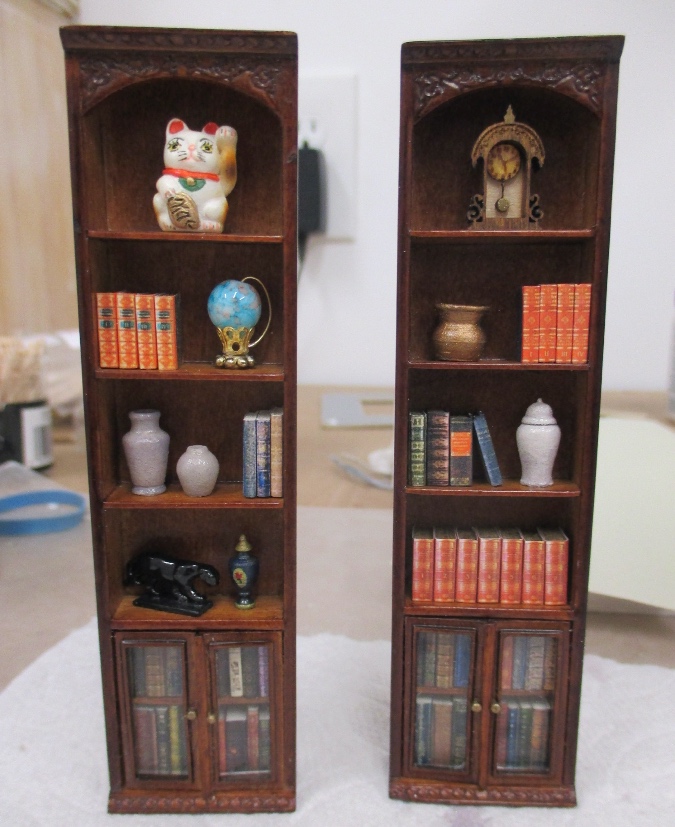 Here's how they'll look. Unless I get distracted by something shinier, I'll glue them in and finish the trim in the room this weekend.