I really intended to finish the Victorianna this year, but I'm just not feeling it right now, so I've turned my attention back to the Seaside Villa. The last time I posted about this house, I had painted it with Glidden Belgian Waffle, and didn't like it.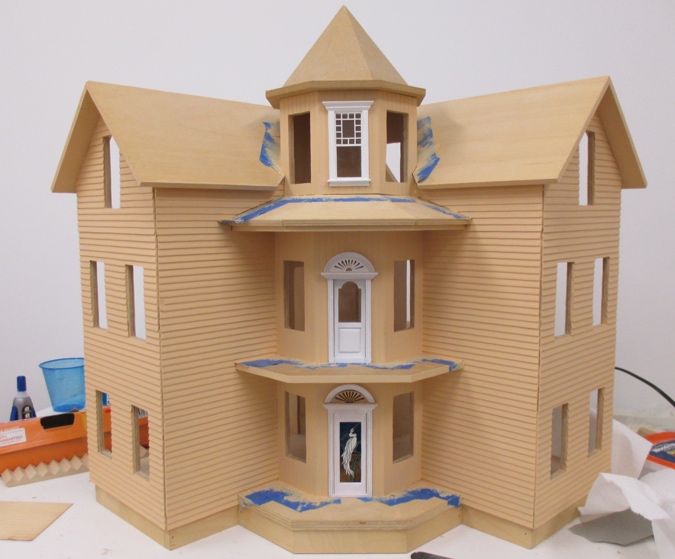 I repainted it light gray. This is a Behr paint sample named Fast as the Wind.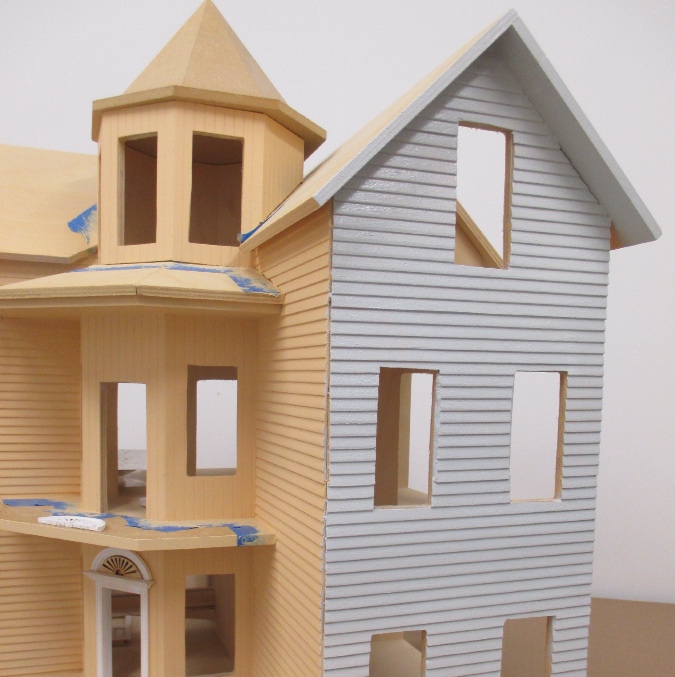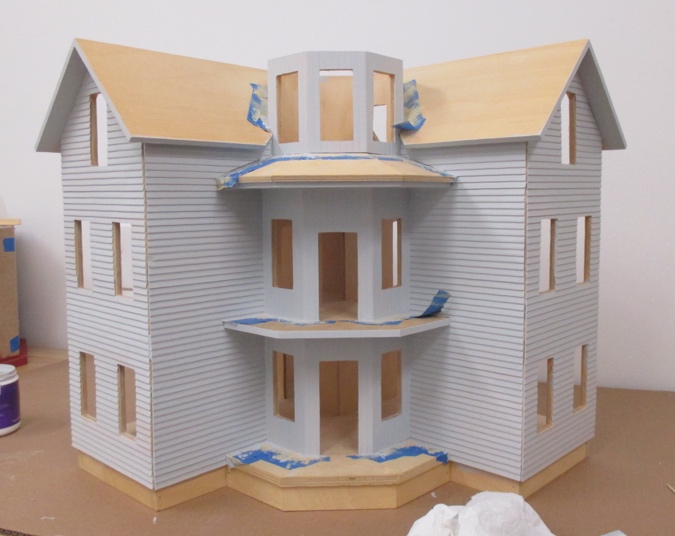 This looks better with the white trim.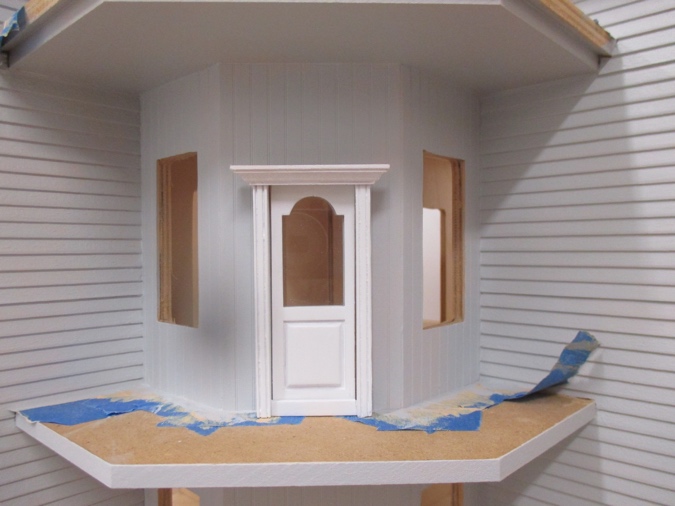 I had taken one of the Majestic Mansions doors to Home Depot to try to match the white for the rest of the trim. According to their computer it was plain old white. The guy handed me a sample tub (the white base color they mix dyes into) without mixing anything in.
I didn't like it. I'm not sure if you can tell from this picture, but it was a harsh white that looked noticeably different from the Majestic Mansions trim.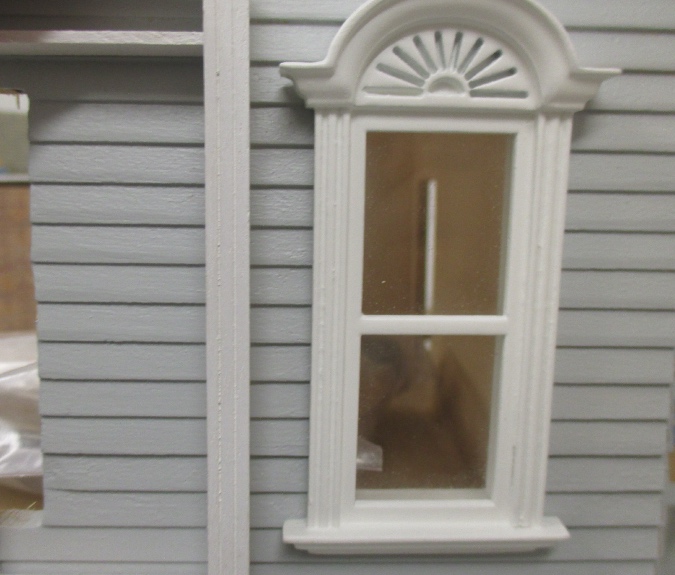 I also didn't like how the stained glass door panel looked with a white door.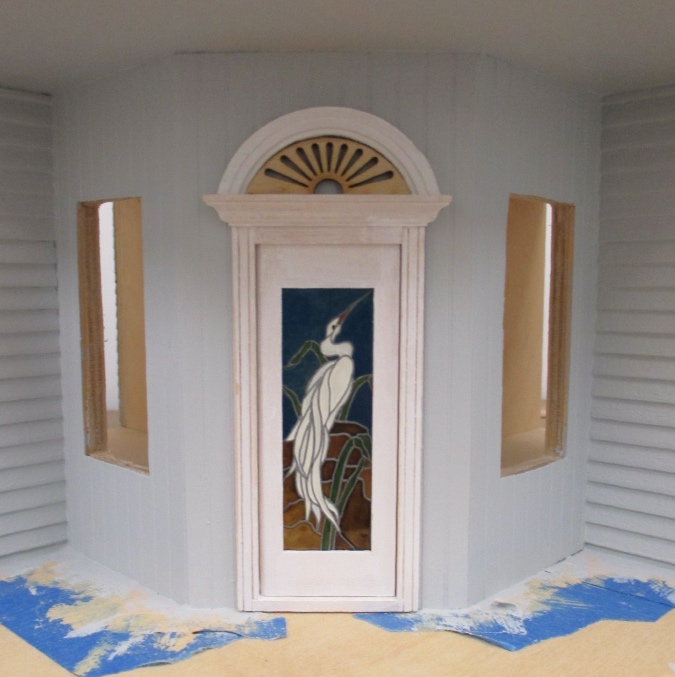 This has all been sitting untouched for months, but last weekend I decided to play with the paint. I redid the pieces I'd painted with the bright white with another shade named Bleached Linen. I'd previously used this on the Victorianna's kitchen cabinets and it seemed like a close enough match.
I was having trouble with the paint looking rough inside the routed lines of the trim. This always happens, and I always do coat after coat thinking it will fix itself. This time I decided to spread wood filler inside the lines.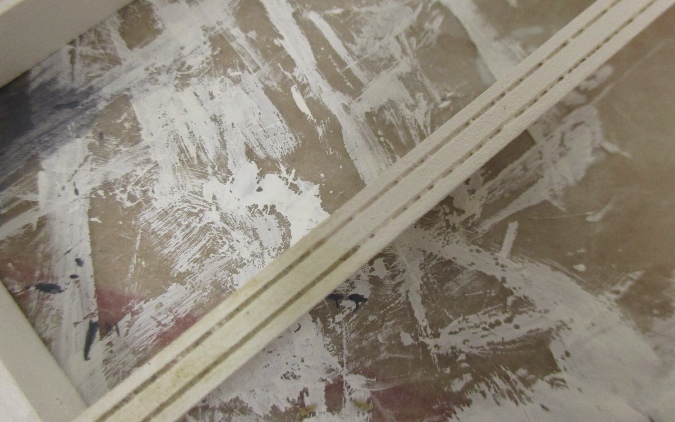 That looks much smoother! (Well, except for those spots that need touching up.) The downside is that the routed lines are much less visible.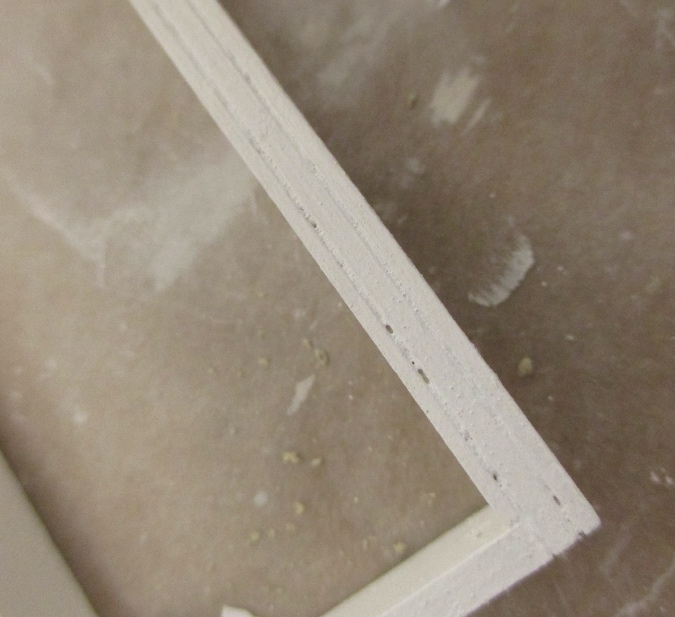 I painted the doors dark blue.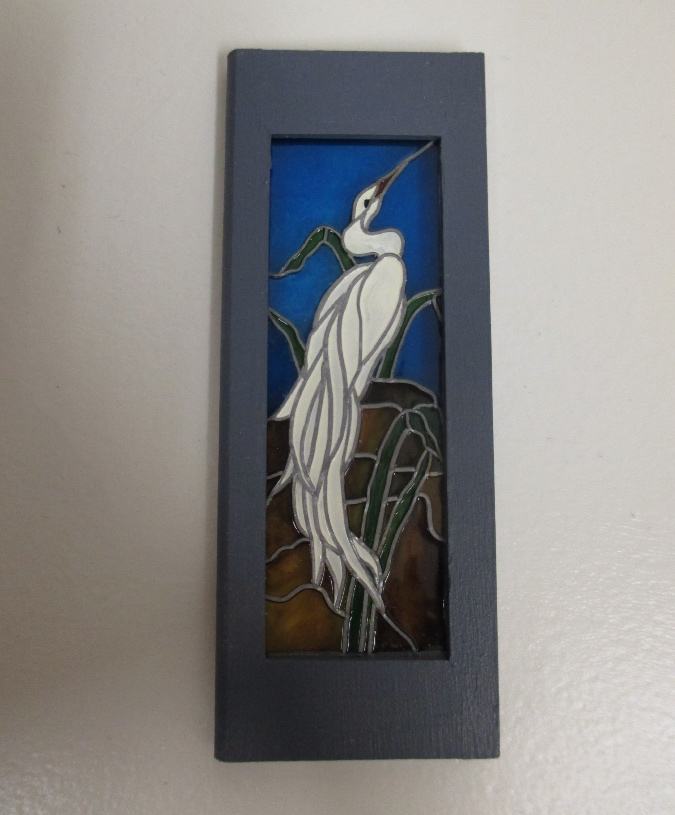 For the Majestic Mansions door (which is a piece of a Newport door that I disassembled for the Queen Anne Rowhouse), I carefully painted the edges by the glass. But since the glass is permanently installed in this door, I unfortunately can't get the white parts that are sandwiched against the glass.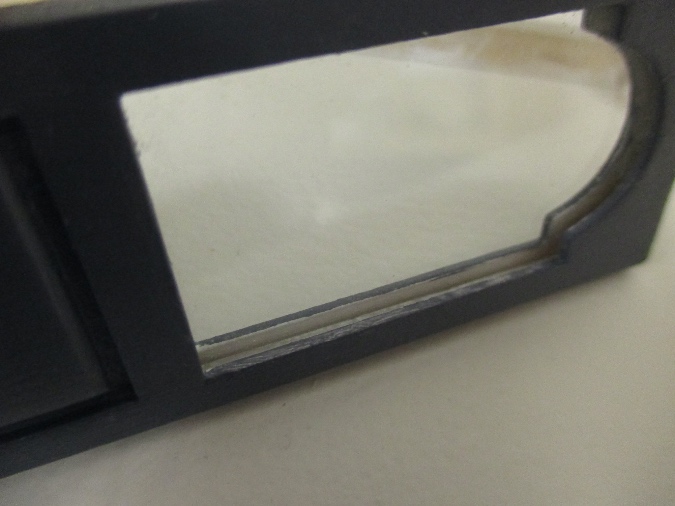 From an angle, you can see the white when the door is in place. Annoying, but there's nothing I can do about it.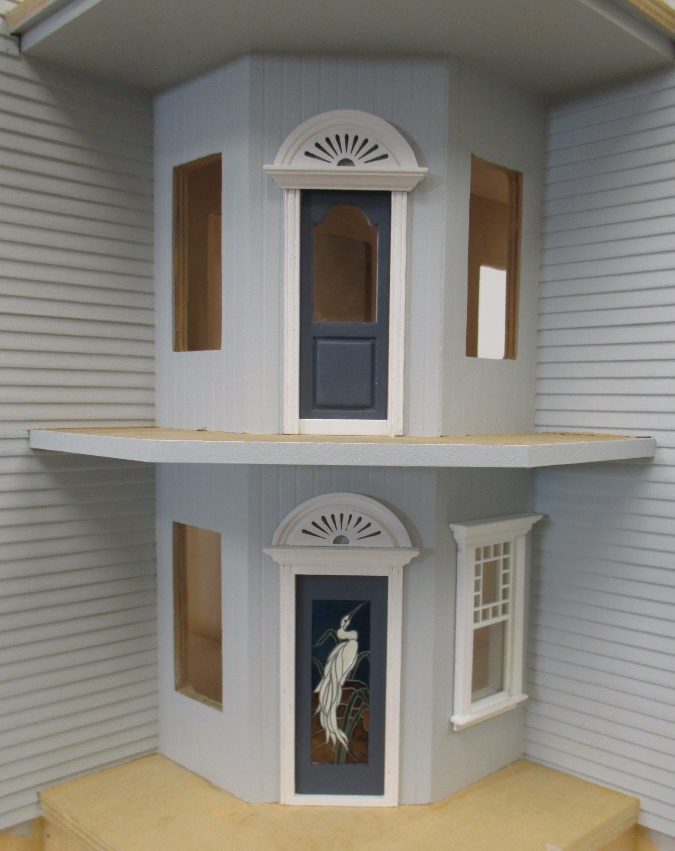 I wanted to take a picture with all the windows in, but I didn't feel like taking them out of their boxes and sanding the holes to make them all fit. I'll be adding apex trim, grillwork, and porch railing from Victorian Dollhouse Woodworks.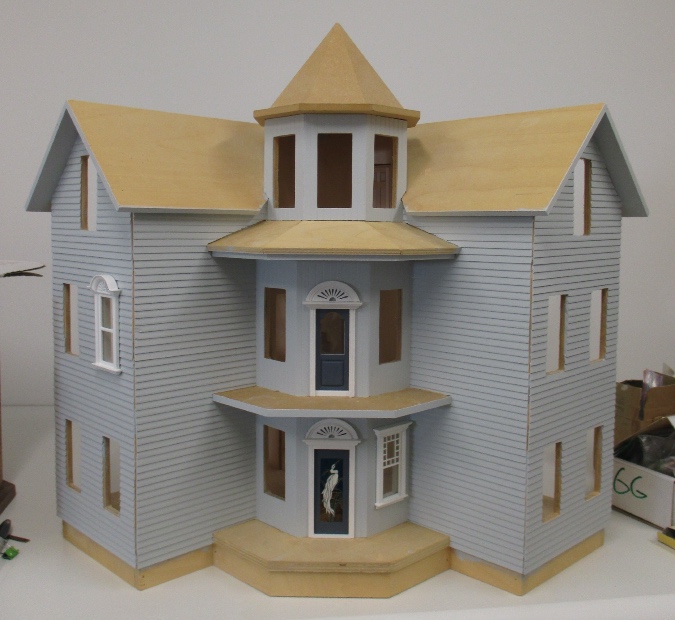 I painted the back door blue as well.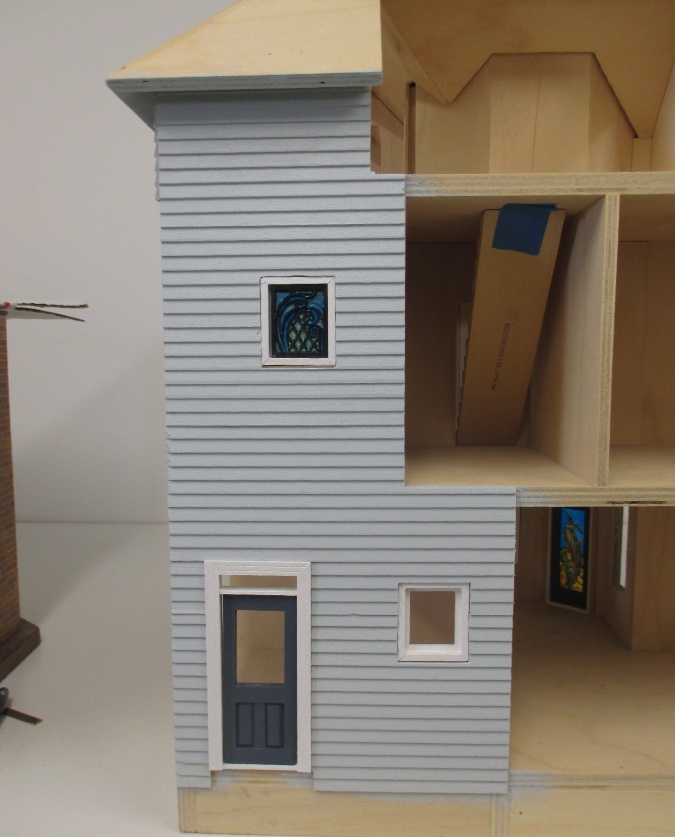 The stained glass looks pretty with the light shining through.