A week ago, I set myself the goal of finishing the inside of my Fairfield before my parents come to visit at the end of April, so my mom can help me landscape it and the little house can finally go on display. All I have left to do is hardwood floors in the kitchen and attic, the kitchen pantry, and some trim odds and ends… totally seems doable. I've been working on the Fairfield off and on for six years, and am looking forward to declaring it "done" so I can finally get back to work on the long-neglected Westville and my puzzle house.
Why is it, then, that today I'm $150 poorer, and there's a giant 1:12 dollhouse sitting at the foot of the stairs that yesterday belonged to someone other than me? (I'll give you a hint. It has something to do with willpower.)
I regularly troll Craigslist's classifieds, curious to see what dollhouses are up for sale in the area. Sometimes I see really good bargains and share them with the Greenleaf community, because you never know what someone else might be looking for. About a month ago I came across an ad from a woman seeking furniture for a house she's donating to charity, and I sent her some pieces I knew I'd never use, and in return she sent me a gift certificate for a free European facial. Good karma tends to come from Craigslist ads. Right, that's what this was. Karma.
A couple of days ago, I came across an ad for this house. I'm fairly familiar with the various brands and styles of mass produced dollhouses, but I'd never seen one like this before.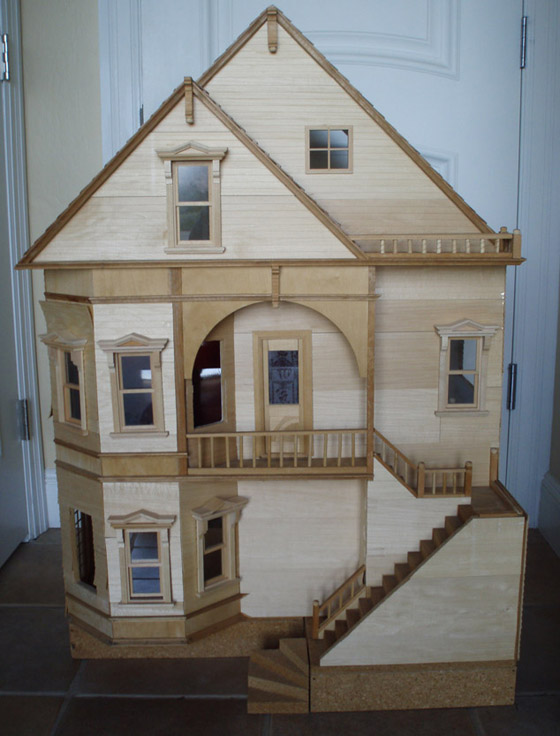 The seller wanted $150 for it. Even before I saw it in person, I could tell that it's worth more. If I've never seen anything like it before, it must be rare. Also it's made out of cabinet-grade plywood, which sets it apart from most dollhouses. Plus I really liked the design. Although Victorian houses are by far the most popular style of dollhouse, most of them don't look anything like the Victorians we have in San Francisco. This one does.
I posted a link to the ad on the Greenleaf forum, thinking maybe someone else would want it. I really didn't think of buying it for myself at that point. Then a couple of people asked why I didn't just buy it myself. And I started thinking about it. And I realized I really didn't want to pass it up.
The hardest part of the decision was accepting its size. This house is HUGE, at least compared to my others. Its dimensions are 40″ x 28″ x 22″. It's also heavy. I'm used to houses I can pick up and move around easily—houses that fit through the door with more than an inch clearance on either side.
I emailed the seller and asked if he knew anything about the house. He wrote back that the brand name is MiniWright, and the model is Hillside Victorian. All I could find with a Google search was a link to this PictureTrail album, which has a small scan of an ad for the house, presumably from an old catalog. Best I can guess, MiniWright was a small company that's no longer in business, and their houses were of a fairly limited run. According to the instructions the company was based in Simi, California.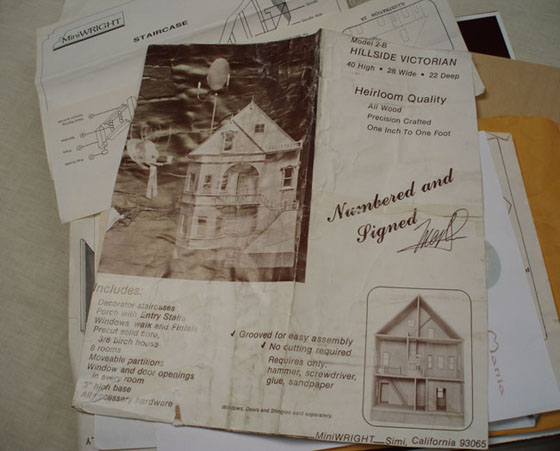 This morning I went to look at the house. At the very least, I wanted to see it with my own eyes, maybe take some pictures. I knew it wouldn't fit in my car, so I thought I was safe. But as soon as I saw it, I knew I had to have it. If I turned it down, it would haunt me forever. I asked if they'd hold it until next week when could come back and pick it up in a truck, thinking that still gave me time to come to my senses. Then the seller offered to drive it back home for me in the back of his SUV. It was an offer I couldn't refuse. I bought myself a house.
I was already thinking $150 was a pretty good deal for such a unique house, especially considering its size and the type of wood it's built from. In the original photos on Craigslist, the windows weren't in place, and I didn't realize those would be included. The house also came with extra shingles, paint, a brand new tube of Quick Grip glue, an interior staircase, a double French door, and a really pretty front door with an etched window. These components easily cost over $100. Plus it's already shingled and the siding is on—the hard work has already been done!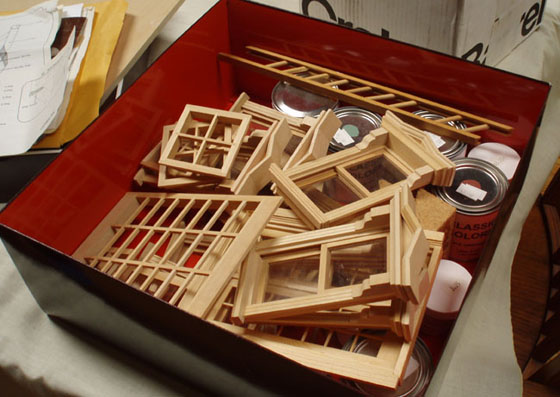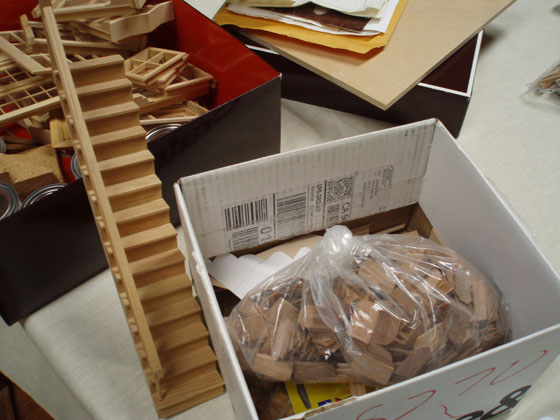 So, yeah. I now have a huge new house to play with. Just as soon as I finish the interior of the Fairfield. *grin*
A few more pics below…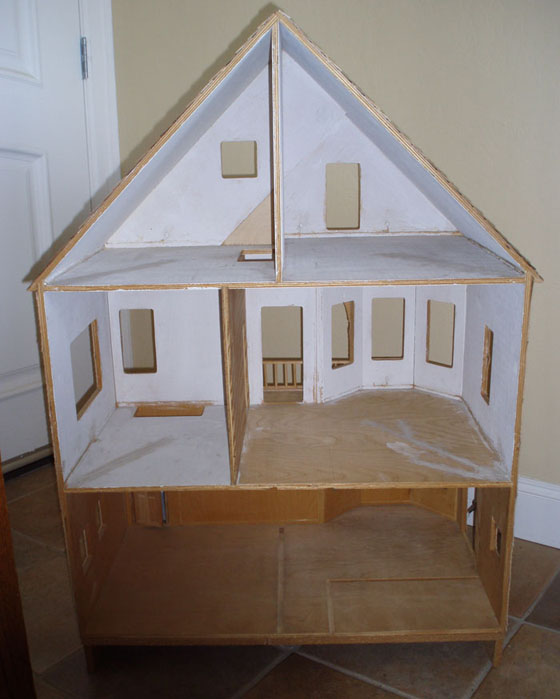 The layout is a little odd, since the front door is on the second floor. This is actually common in some San Francisco Victorians; I used to live in a garden apartment of a house that had the main entrance on the second floor. But I don't want the downstairs to be a separate apartment, so I'm going to have to figure out what layout makes the most sense. Maybe living room and kitchen upstairs, and bedrooms downstairs?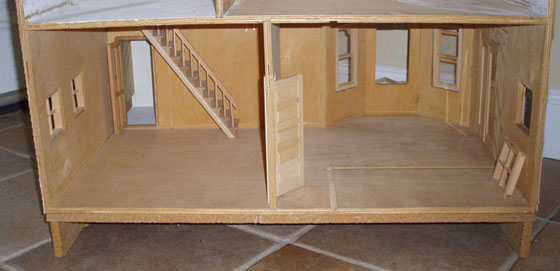 On the first floor, there's a funny little room behind the main room that you can barely see into (under the stairs in the photo above). Based on the instructions, it seems like the exterior wall was supposed to be hinged there so you could access that room from the side. The siding has been glued over that area but underneath the siding it feels like that panel has not been glued in. So I might end up making that work the way it's supposed to. It might work as a bathroom. I always want my houses to have bathrooms, but then get annoyed by how much space they take up.
The L-shaped groove in the floor is for a partition that the house didn't come with. I suppose I could easily add one but I'm not sure I want to. Seems like it would just make the rest of the room harder to see. I'm thinking that room could be the master bedroom due to the French doors on the side. I'm toying with the idea of adding a deck that the French doors open onto… maybe this one, or maybe I'll build my own.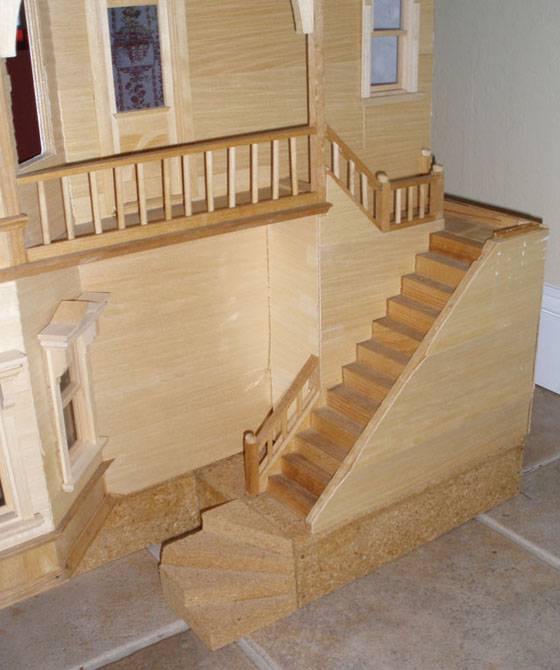 I love that the front stairs go up to the side, but there's a weird little nook between the bottom stairs and the front of the house that bothers me. Maybe a good place for some foliage, a bush?
I might also want to add a garage to the right side of the house, beside the stairs. I've had a Timberbrook garage kit for years and years that could go there… now that I'm into half scale, who knows when I'll have another opportunity to use it! I'm thinking the garage could be bashed to have a flat roof that serves as a little deck or balcony area, accessible from the top of the stairs, or maybe it could be windowed in to serve as a sunporch or greenhouse / conservatory. Then again, adding a garage to this side of the house would cut off access to the funny little room (bathroom?) on the first floor, since the garage would be up against the part of the wall that can be hinged. So maybe not.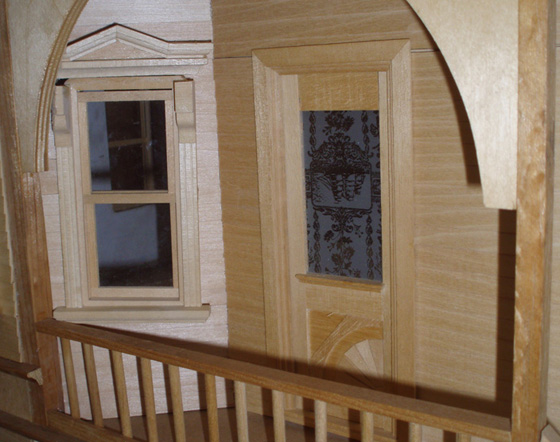 So that's the new addition to the family. Rosy already got her teeth on one of the windows… I think she's jealous. (No worries, the damage is nothing a little glue won't fix!)
I'll post more pictures as I work on it, but in the meantime I'm really hoping to learn more about the history behind MiniWright and the Hillside Victorian, and maybe even see some pictures of the finished house. I know that this one was purchased about a year ago from Shellie's Miniature Mania in San Carlos, California. I emailed Shellie to see if she knew anything more about it but unfortunately she doesn't. Since Google's pickings were slim, I'm hoping some others who have this house and are looking for pictures will stumble upon my blog. If you do, please contact me!