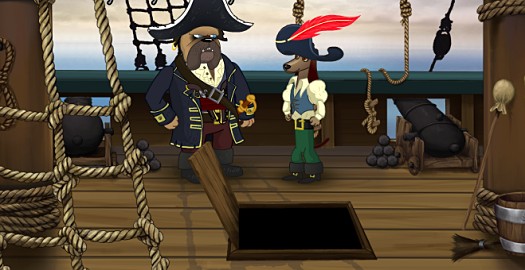 This morning Adventure Gamers posted my early impressions of Jolly Rover, an independent game I saw at GDC. (Yes, GDC was three weeks ago. I blame the cold from hell.)
Jolly Rover is a comedy game about pirates—scurvy dogs, the lot of 'em! It will be out for PC and Mac in June. As you might surmise from the graphic above and my awkward attempt at pirate humor, the game's cast is made up of all sorts of dogs. He isn't visible in any of the screenshots that have been released so far, but there's even a chihuahua. Well, a "toy dog" that looks an awful lot like a chihuahua. Except he speaks with an Irish accent.
But I digress. Go read some actual information about the game, sans lame pirate jokes, right here!