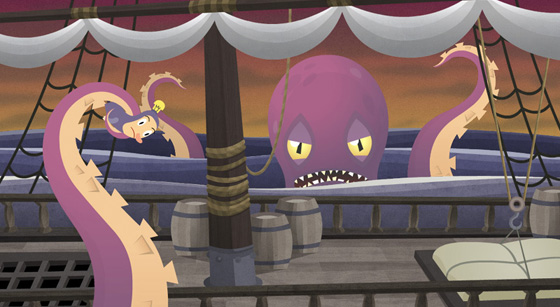 I'm doing contract PR for Alawar Entertainment, who just released an interesting game named (deep breath) Hamlet, or the last game without MMORPG features, shaders and product placement.
When I first heard about this game a few months ago, I was interested to check it out because I'm a big fan of media that comes at Hamlet from a new perspective — stuff like Rosencrantz and Guildenstern Are Dead
and Shakespeare in Love
. So it was sort of a happy coincidence that I had the opportunity to help out with the game's PR.
Hamlet was created by Russian indie developer mif2000 (real name Denis Galanin). It's an adventure game, but not in the traditional "talk to lots of people and fill your pockets with random crap" sense. The puzzles are mainly logic-based, the storyline is presented by comics throughout the 25 levels, and the visuals are… well, not what you'd expect in a stage production of Hamlet! (Very eye-catching, though.)
The game can be downloaded from Alawar's website and comes with a free 1-hour demo. If you want to play the full game, you can unlock it for $9.95. This trailer will give you an idea of what you're in for…
For more details about the game — along with a couple of Hamlet references that I'm absurdly proud of — read the announcement press release. If you're a member of the press looking for more info about the game, please contact me!