Recently someone found my blog via a Google search for "chihuahua Italian greyhound mix dogs." I thought that was strange because up until now, I've assumed that Rosy was the result of a forbidden rendezvous between an unlikely pair of star-crossed lovers who hopped over a fence—or climbed under one, as the case may be.
I did my own search and discovered that the Italian Greyhuahua is a type of dog. Not one that's recognized by the American Kennel Club, mind you, but I now think that Rosy's parentage was probably not due to a chance encounter. My search turned up some photos of other chihuahua / Italian greyhound mixes that look just like her. So it turns out my funny-looking rescue dog is sort of a designer dog. Who knew?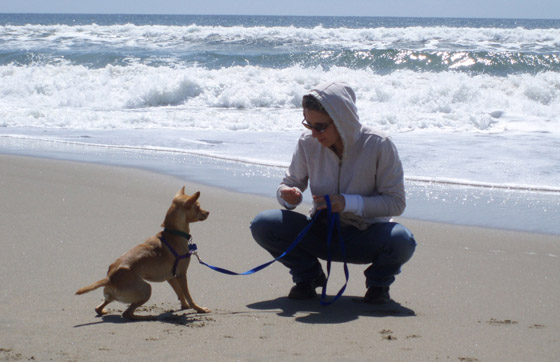 A few days ago Geoff and his mom and I took Rosy the Italian Greyhuahua to Limantour Beach at Point Reyes. (Am I the only person who thinks a Limantour should be one of the monsters in a Final Fantasy game?) As far as we know this was Rosy's first visit to a beach, and within the first few minutes she was running around in the sand like a crazy person dog. She tends to be reserved in new situations, so this was a great first impression (and very cute, but we weren't quick enough with the camera to capture it…)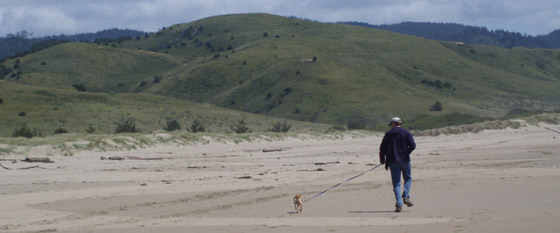 Rosy's terrified of water (we're working on it), but she enjoyed running up and down the beach and trying to get her teeth around all the crabs, mussels, and other sand critters scuttling around. Her very favorite part, though, was plopping down in the warm sand to work on her tan.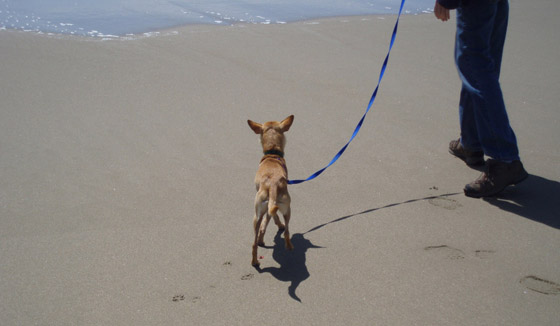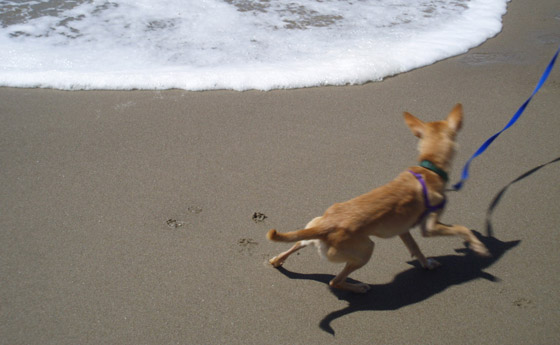 Here she is in action. Yes, I'm posting videos of my dog on the beach. God help us. (Sort of funny: when we play these back with Rosy in the room, she gets very concerned and starts to growl at the computer…)
Update January 2012: A lot of people end up on my blog after searching for "Italian Greyhuahua," so in the interest of full disclosure I should mention that this might not be what she is. See the results of her DNA test here.