The front of the Turret House has a patch of fishscale shingles that I wasn't sure what to do with. They're neatly applied, but the sides need some sort of trim. I'm sure whoever put this house together had a vision for how to finish this area but without knowing what they intended, I had to improvise.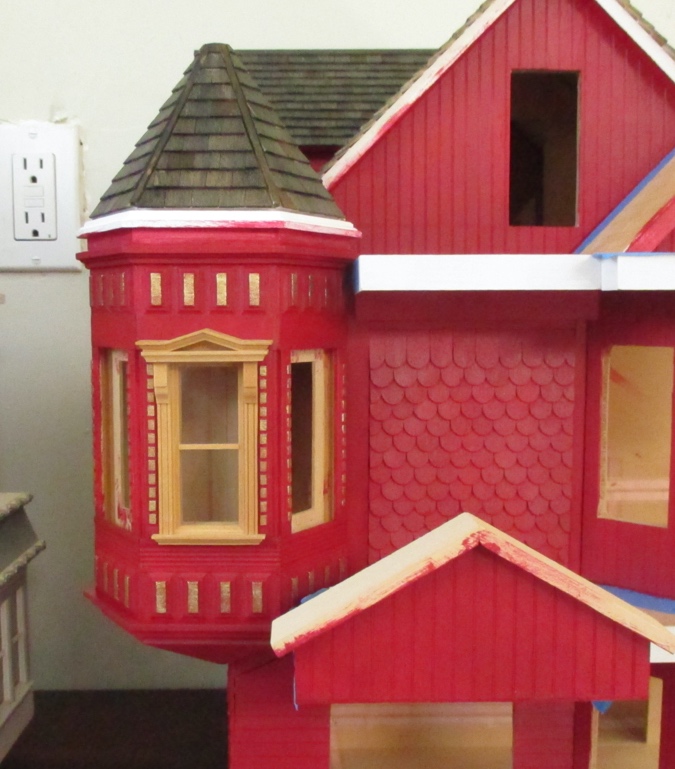 I thought about adding porch posts, but the one on the right interferes with the window.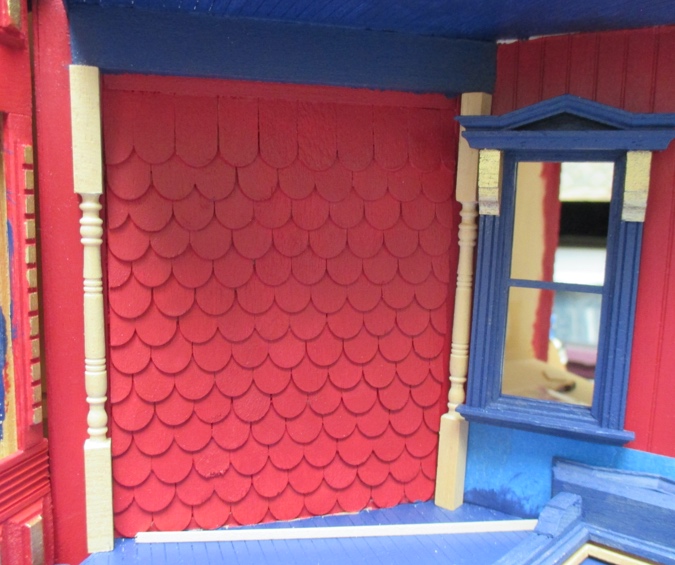 A Tiny Turnings stick worked a little better, but I didn't really like the look of this (and it still bumped into the window).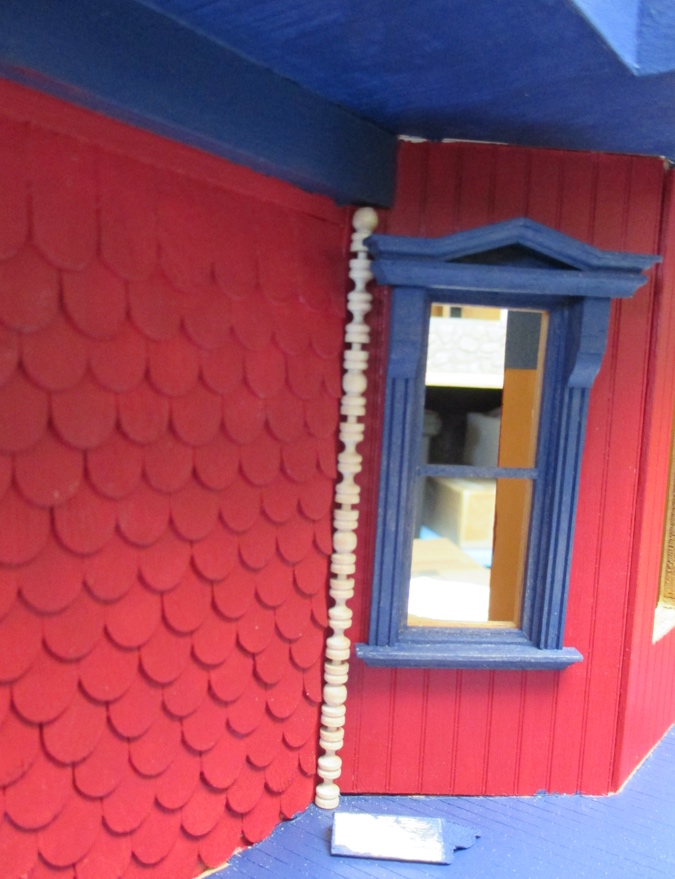 The space on the right is only 3/16″ wide — not a standard trim size. I looked through my stash to see what I had that I could use, and found this running trim that I'd bought for the Victorianna and ended up not using. With the points cut off, it's 3/16″.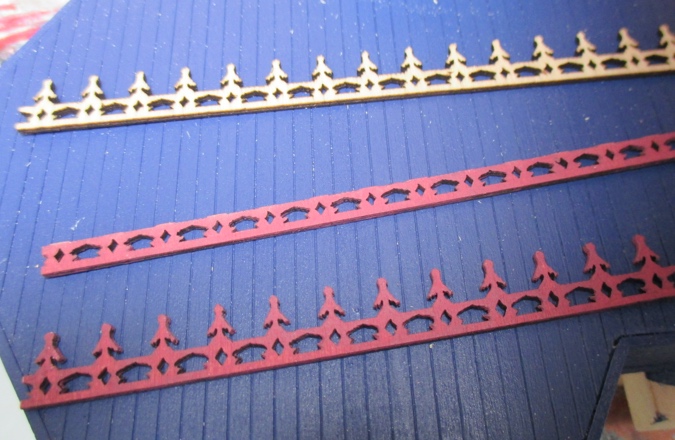 And it's thin enough that the window doesn't bump it.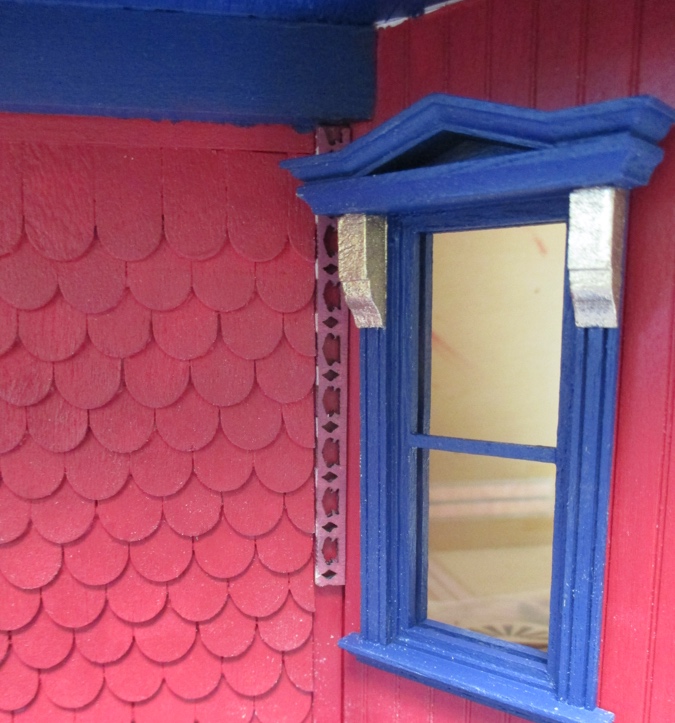 Here's what I came up with.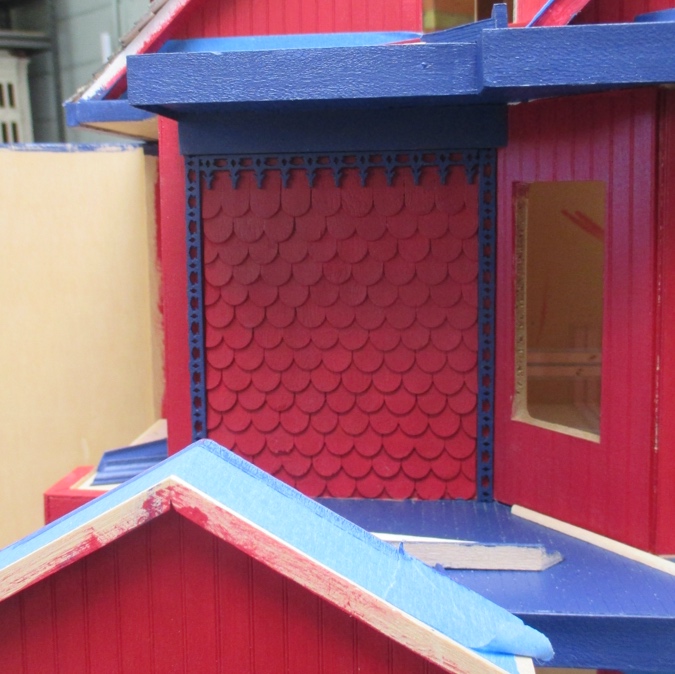 As you can see, the paint is a bit rough at the bottom where I couldn't get the paintbrush completely under the shingles.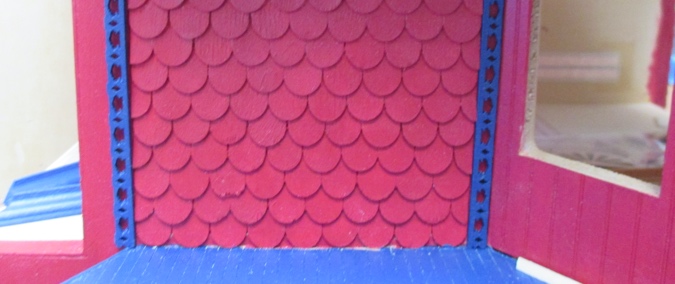 I decided to cover the bottom edge with quarter round.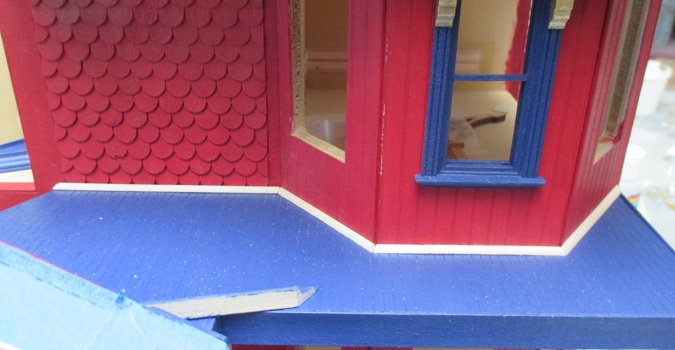 The cutouts on the modified roof trim gave me an opportunity to add more gold accents, so I painted the areas behind that trim gold before gluing it on.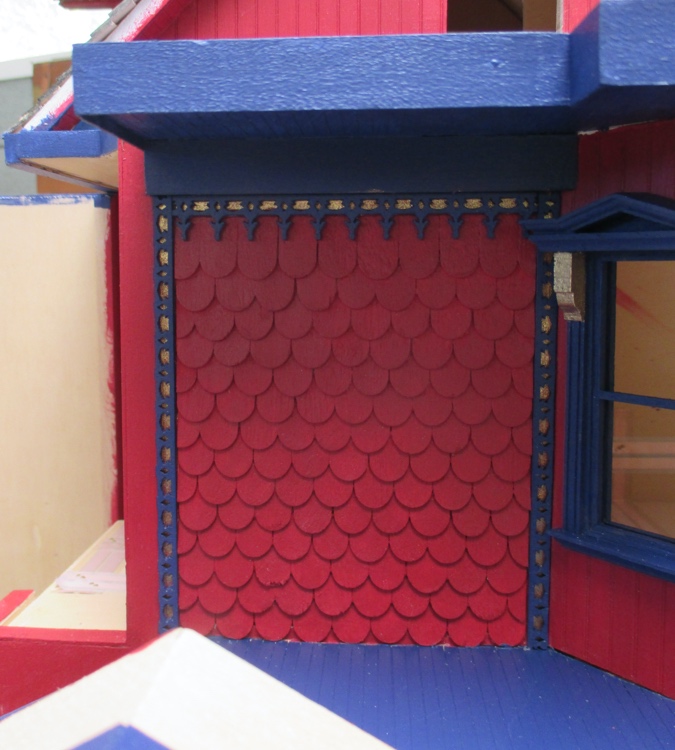 A few weeks ago I'd painted these pieces — the red is quarter round to clean up the seams in the bay window, and the gold is for the front edge of the porch roof.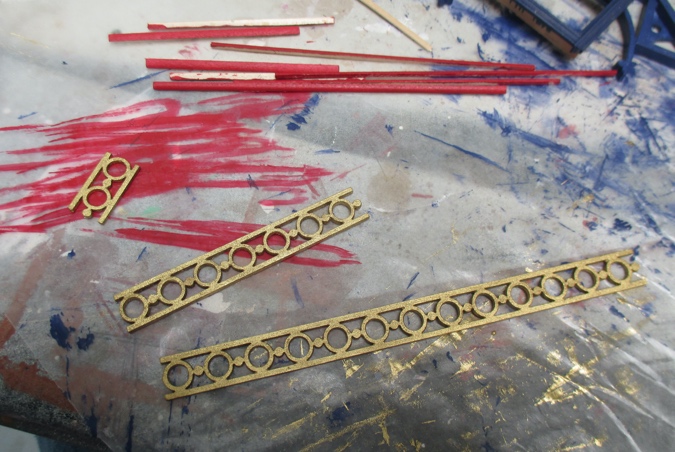 Here's how the gold trim looks.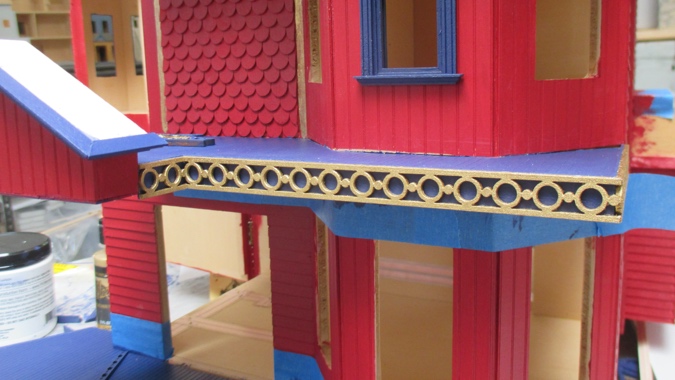 I added 1:12 crown molding to the peak above the door. The decorative piece is a 1:12 center bracket (intended to go upside-down on a porch spandrel).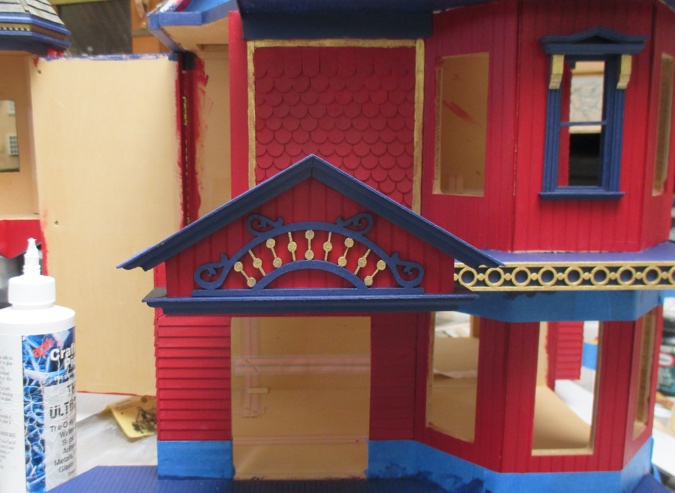 I've been holding on to these gold brackets for a while. Miniatures.com sells them as bookends, but at 1/2″ tall, they're a good size for 1:24 corbels.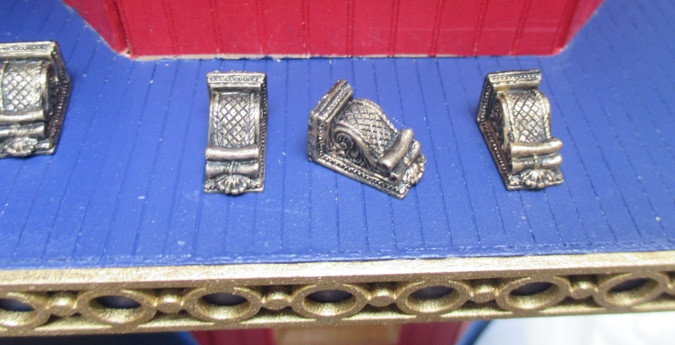 I glued them in above the fishscale shingles. I can't decide if they're too overwhelming.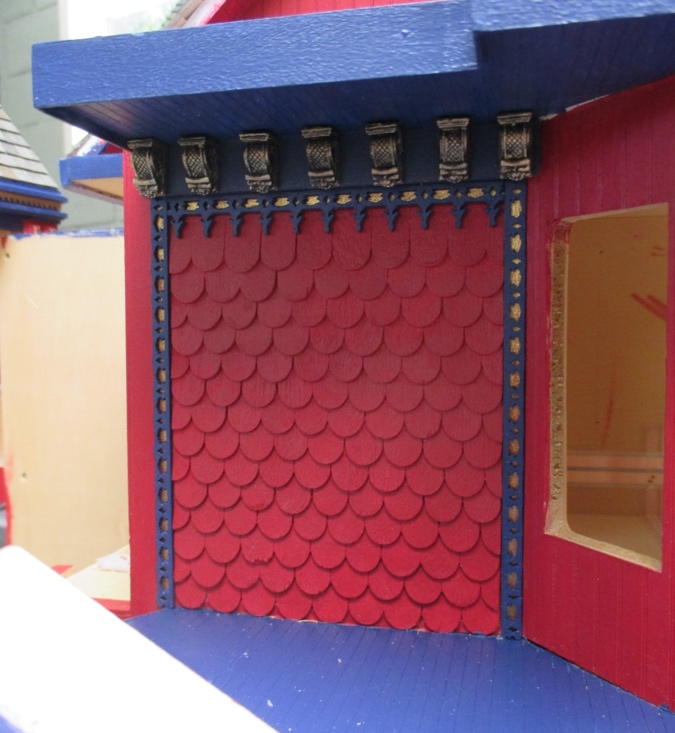 Next I glued in the quarter round pieces between the bay window panels, and around the bottom edge of the bay window and fishscale shingles.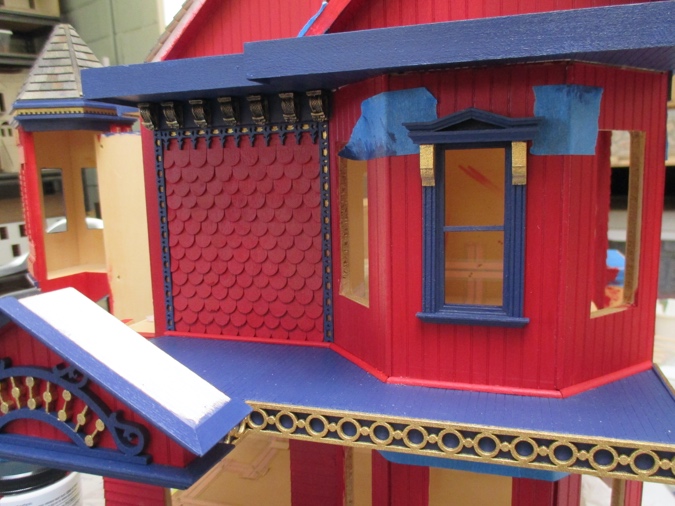 I'm not sure what else I could have done with the shingled area, but it turns something into a focal point that maybe shouldn't be a focal point…? I don't know if I like it, but it's hard to see the big picture right now. More trim is coming, so I'll reserve judgment.