I had some trouble with my website recently but I think it's fixed…? Also it's possible that a setting in my graphics program got messed up and my pictures have been bigger than they should be lately. If you're having trouble with slow load times, please let me know in the comments!
---
Working on the attic trunk roombox a few weeks ago inspired me to add more clutter, and I placed an order for several Jane Harrop kits. To justify the shipping cost, I ordered several other kits that I'll tuck away for a someday project (and hopefully be able to find when the time comes), but here's what I ordered for the attic: birdcages, suitcases, a croquet set, and a sled.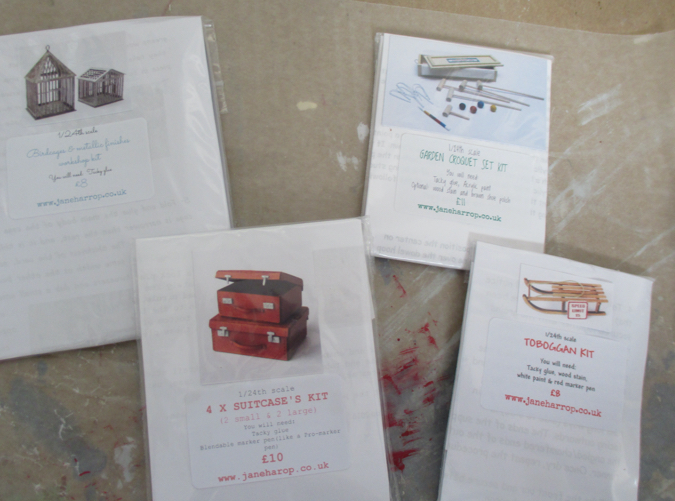 These are nice kits with thorough instructions. They come with sandpaper, and the birdcage kit even came with a silver Sharpie. The cages are made out of thin laser-cut card.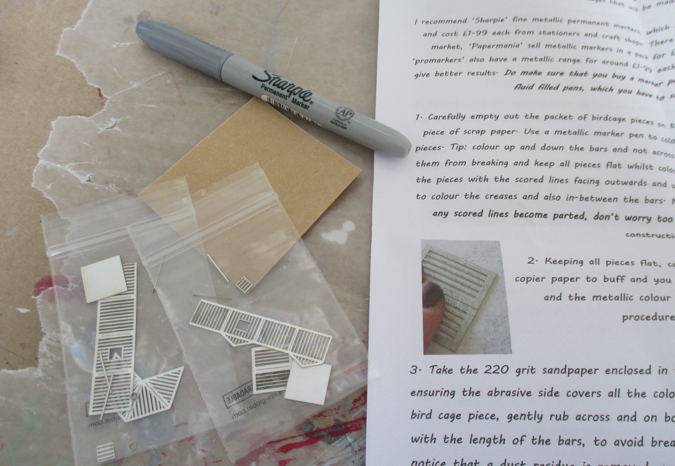 This kit is super simple to assemble. You just color the card, sand and buff it to dirty it up a bit, and then fold it into shape and glow.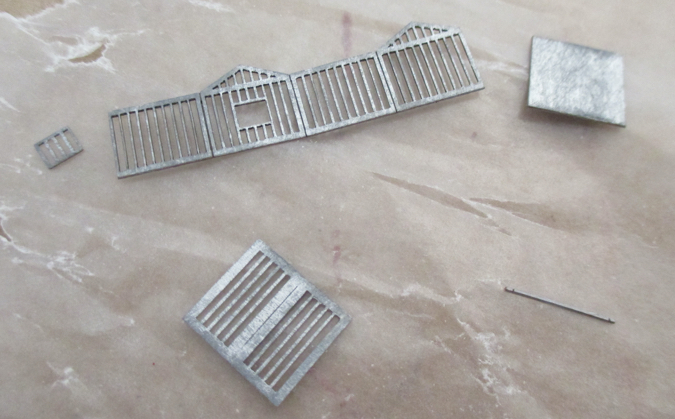 I used a gold Sharpie for the second birdcage.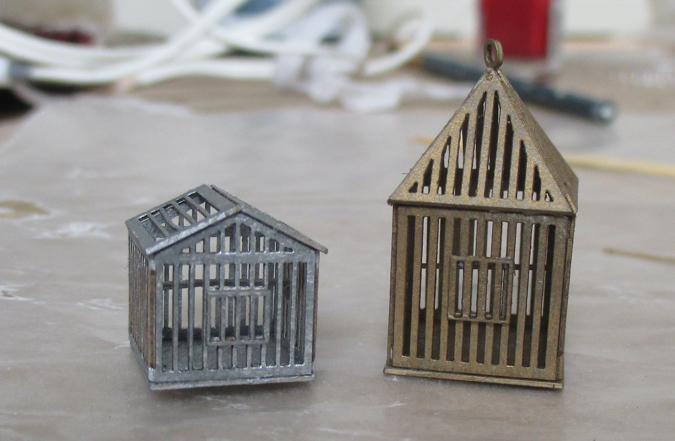 Next I put together the sled. This comes with a guide for assembling the pieces, complete with thin strips of double-stick tape to hold the pieces in place while you glue them.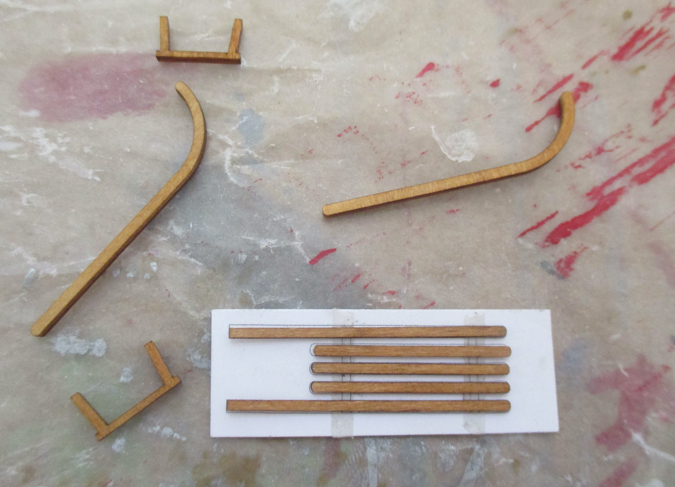 I decided to leave off the tongue-in-cheek Speed Limit sign so I can put it elsewhere in the attic. My dad used to have (maybe still does?) some road signs in his basement workshop that fascinated me as a kid — how did they end up in our basement?! (Really, Dad, how did they end up in our basement…?) The Speed Limit sign reminds me of those.
[UPDATE: Here are those signs! My dad commented below on their origin.]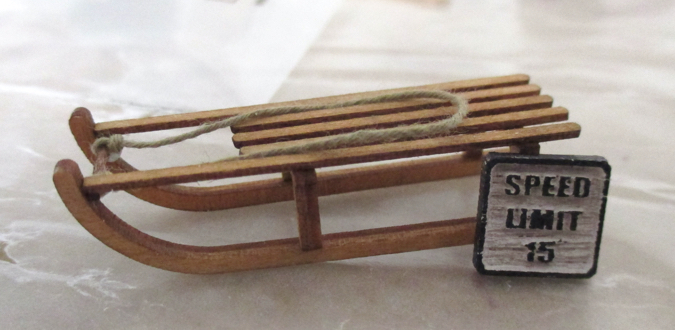 The suitcases are also made from thin cardstock, but this kit didn't come with a marker. The instructions recommend a Promarker. While searching for a store that carried those, I came across a similar brand named Copics, which are sold at Michaels. When I got to Michaels I found Artist's Loft Sketch Markers for a few dollars less.
The kit comes with two pairs of suitcases, so I got two different colors.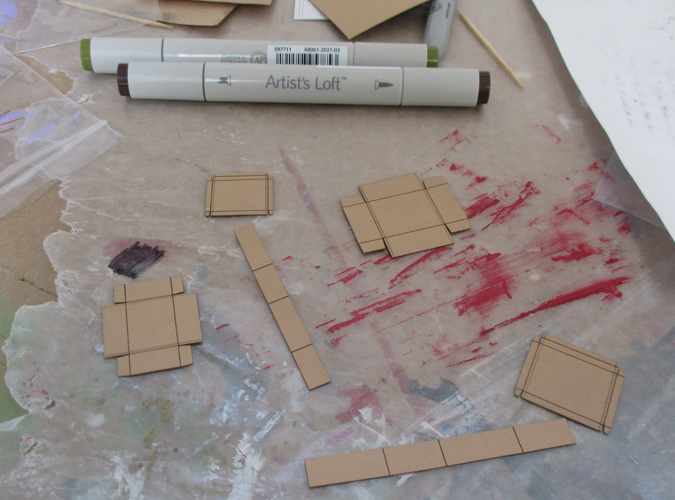 I like the look of these! While I was trying to hunt down the right type of marker, I wondered if it would really make a difference or if I should just use whatever I had on hand, but these do have a mottled leather look.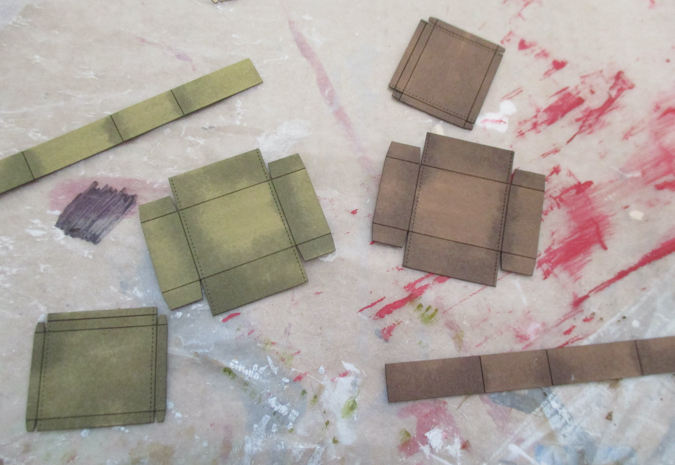 Here are the finished suitcases. I added a coat of matte varnish that wasn't called for in the instructions, which makes the colored cardstock even more leather-like. The clasps were already colored silver, or I might have done one set in gold or bronze.

Finally, here's the croquet set.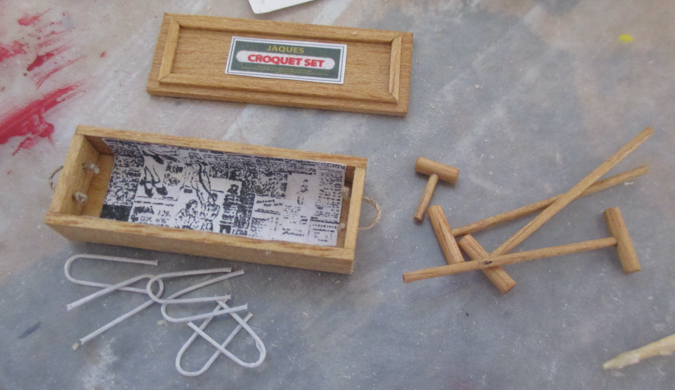 Neatly painting the stripes on the stake was the hardest part. Also, I followed the picture in the kit, but I just googled "croquet stake" and it looks like the stripes should have been farther up on the stakes.

Eh, whatever. You can barely see it inside the box. I could make another one out of a toothpick, though.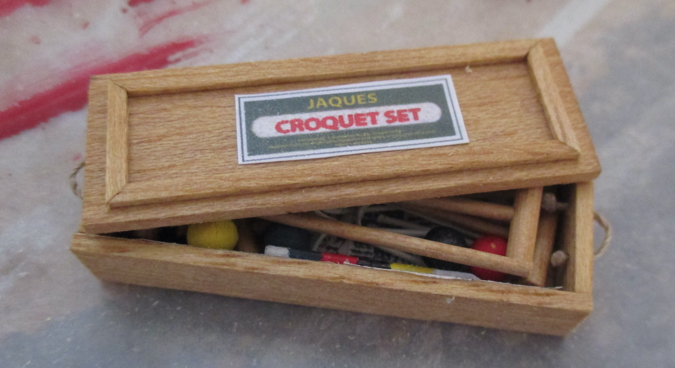 These kits were fun, quick projects to do on a weekend. I haven't been able to work on minis the past few weeks, but I'll get back to the Turret House soon.