I'm not much of a gardener, but last summer I discovered that growing vegetables is a lot of fun. (And yummy!) This week Geoff's mom helped me pick out and plant veggies for a second round.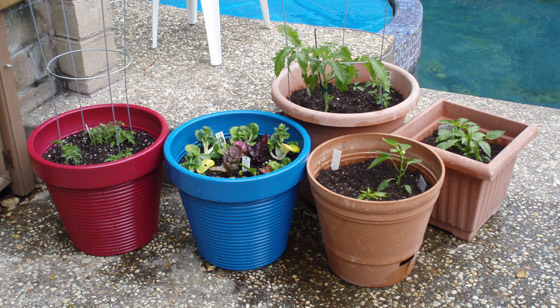 This year's garden includes three types of tomatoes: one plant each of Juliet grape and "brown berry" tomatoes, plus four cherry tomato plants. I'm staying away from herbs since they didn't do so well last year, and am instead trying Swiss chard and bok choy, since some ladies in the Novato garden club told my mother that leafy greens do well in this climate.
In the pepper department, we planted two types of hot peppers for Geoff (Hungarian wax and Thai) and two varieties of sweet red peppers for me (Marconi red and sweet cherry). I'm still hunting around for a habanero plant (Geoff's favorite) to add to the hot peppers. We also planted a few varieties of mint in the flower beds, to satisfy my summer mojito cravings…
Even though it's only been a few days, I'm not sure the bok choy is going to work out. Since we planted them on Wednesday, the stalks have shot up, and one is already flowering. I've read that once bok choy goes to seed it's not good to eat—exactly the problem I had last year with my herbs—and I'm worried that only five days into the experiment they might already be a lost cause. (Anyone reading this ever grown bok choy? Please weigh in!)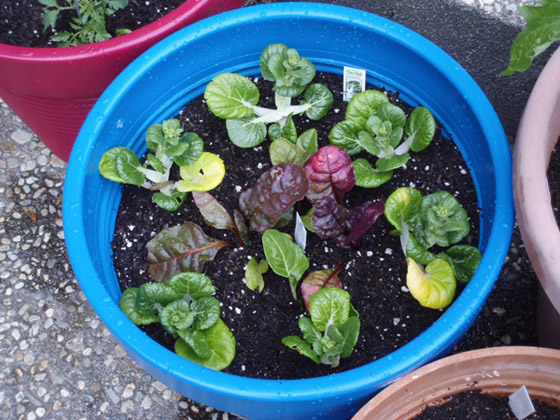 Day 1. The bok choy is around the edges and Swiss chard in the middle.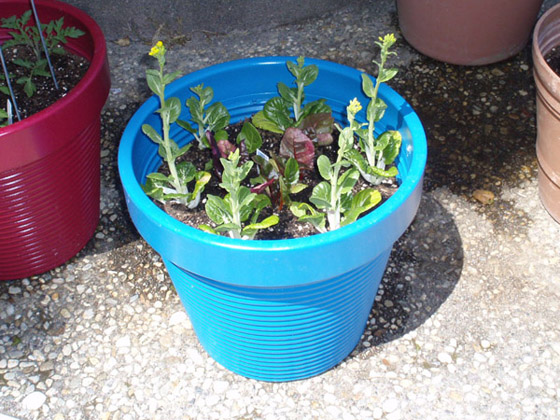 Day 5. Three of the six bok choy plants have grown to 12″ tall and the one on the left is flowering.
So that's what's blooming in real life. Spring has also arrived in the miniature world, in the form of some plants I made today out of cheapie Dollar Tree plastic flowers.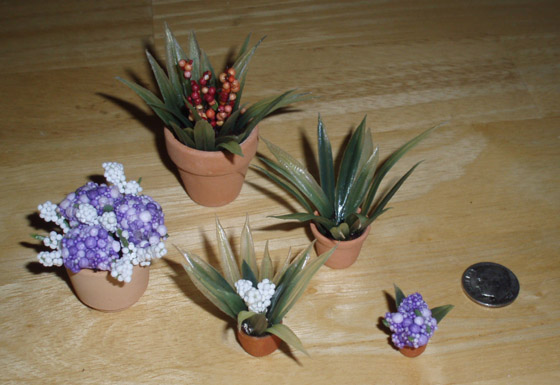 These are mainly made from the pieces of one particular plastic plant, which is named "berry bush" according to the label. The flowers are like little purple bouquets, and it also has leaves that look like miniature fern leaves. A piece of the plant is pictured here; the one I bought today (for a dollar!) has twenty or thirty pieces like this on it.
After I checked out, I saw another one on one of the displays near the door that was the same style but the flowers were a mix of pink / peach / white. I didn't want to stand in the interminably long line again to buy it but now that I've seen how versatile the plant is, I might go back for it. I only had terracotta pots on hand, but I think these would also work well (maybe even better) in flower boxes and planters.
I'm not sure yet where these will go, but I staged a few pictures to give an idea of the scale. I think two of them will end up being used in 1:24 settings and the other three in 1:12 settings.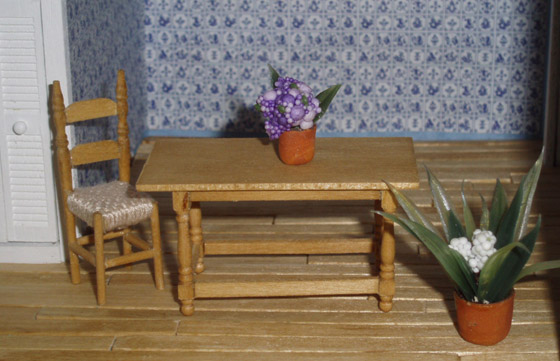 1:24 scale, shown in the (unfinished) Fairfield kitchen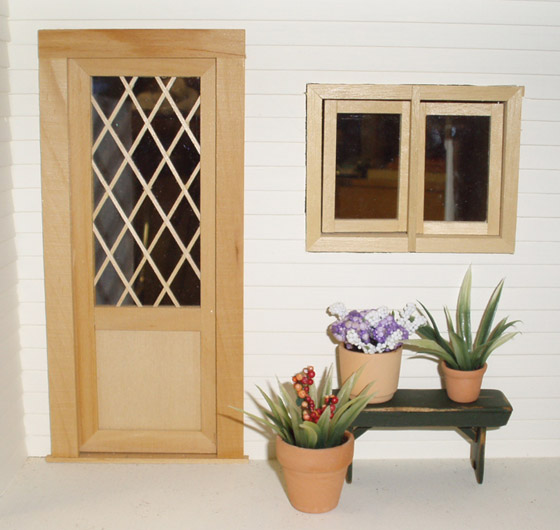 1:12 scale, shown on the (also unfinished) Westville front porch
To make these, I filled the pots with air dry clay, then added a layer of glue and sprinkled coffee grounds on top for soil, then stuck in the plant pieces. I suppose I could have used real dirt, but I was working in the kitchen and coffee grounds seemed like less of a hassle.
After taking these photos, I sprayed the finished plants with matte sealer for added protection. This had an unintended effect: the matte sealer built up on the plastic leaves—some of which were almost see-through at the tips—and gave them a whitish / frosted look. I wasn't expecting it, but luckily the plants still look okay!