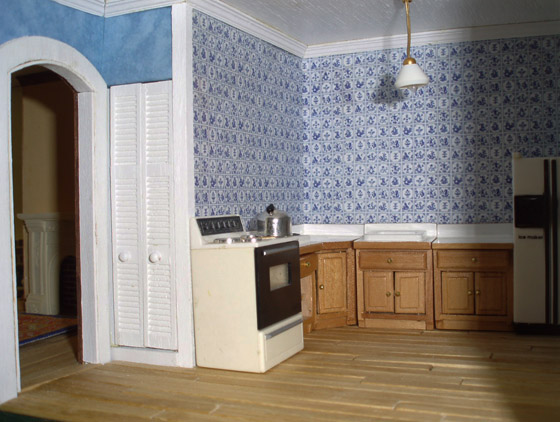 I've been working my way through the Fairfield's rooms, trying to get the interior finished so I can put the house on display. My most recent accomplishment is completing the trim, flooring, and some finishing touches in the kitchen.
I've always had a vision in my head of how I'd finish the pantry, and finally got around to making it real. The doors are made from half scale shutters. I used four shutters altogether, cutting the top portions off of two of them and putting them on top of whole shutters to form the doors.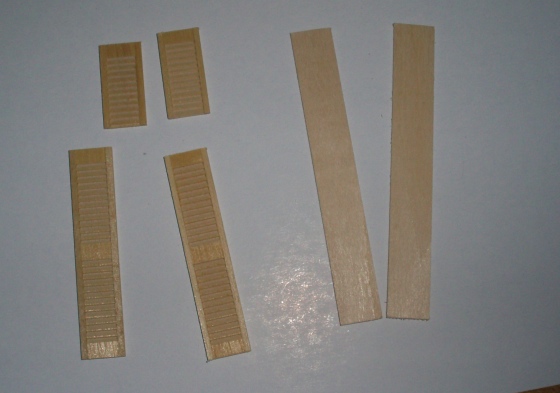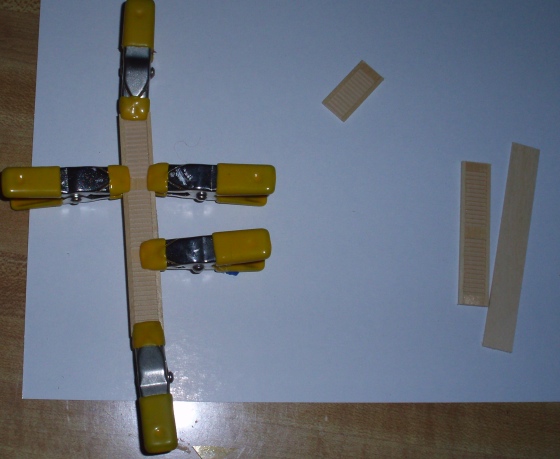 The knobs are 1:12 wooden knobs. They're a little large, but even so I thought they would look good centered on the doors like that. At first I had them unpainted and they looked kind of weird, but after painting them white, I'm pleased with how they turned out. The doors are pin hinged and can be opened to reveal shelves.
Next came the hardwood floors, which are skinny sticks that I stained with Minwax Golden Oak. The planks are a bit thicker than in the living and dining rooms, which were made out of coffee stirrers, but that's okay—I figure those floors were original to the house, and the kitchen floor was done at some later point. (Which is true!)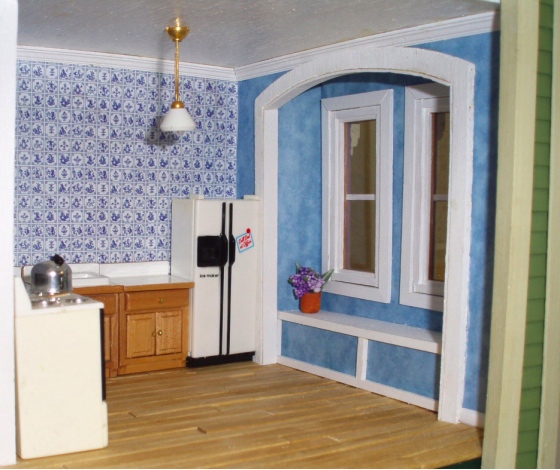 At the last minute I decided to add a window seat to the bay window. It was easy to do and I think it adds visual interest to the room. I started by gluing two pieces of strip wood together at a right angle, using a scrap on the back to help keep the assembly square.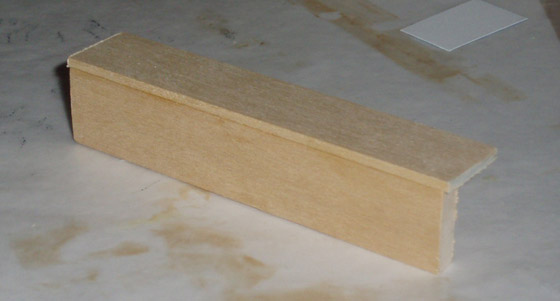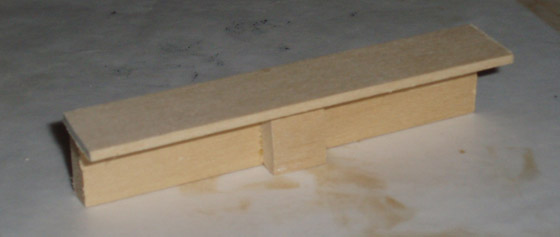 Then I painted the top and wallpapered the front. The seat wasn't quite snug in the bay window so I got creative with trim to make it fit better.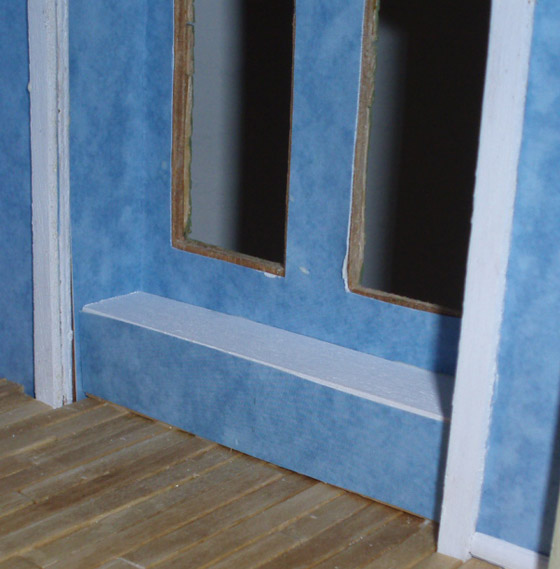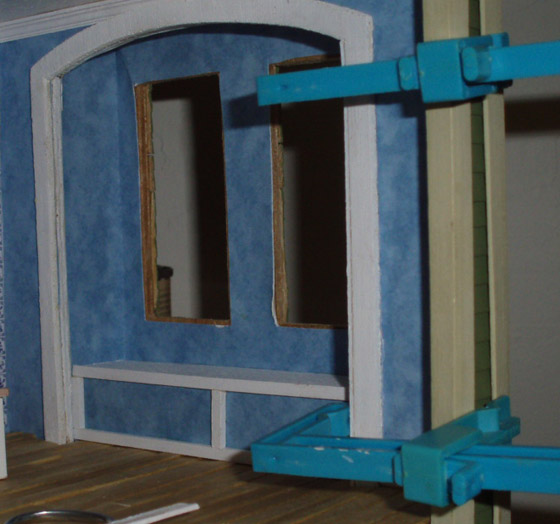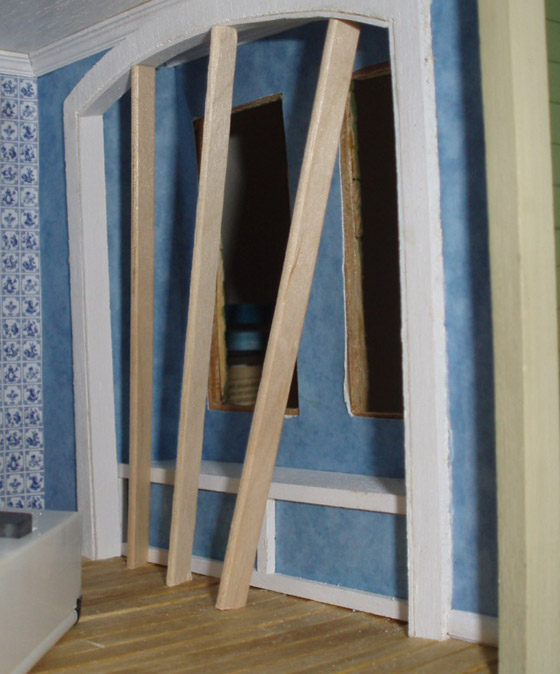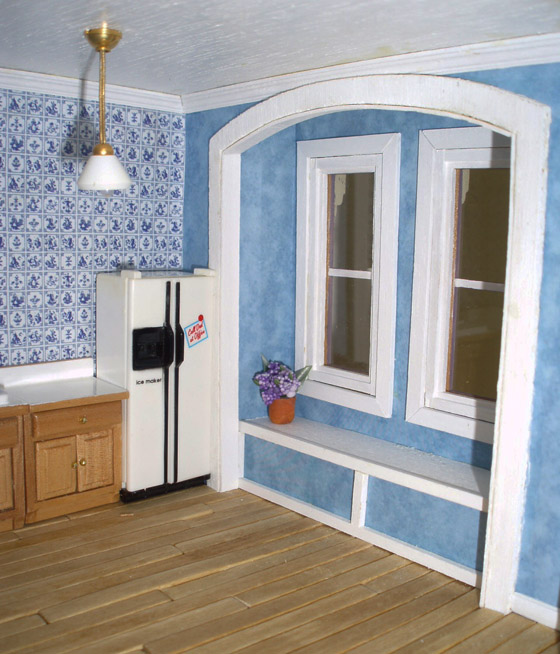 I'm still planning to build new cabinets for this room—the ones in these pictures are temporary—but the layout will be the same. The fridge and stove are Acme brand magnets. They're not available at retail anymore but frequently turn up on eBay.
With the kitchen complete, the last big project is the hardwood floors and trim in the attic rooms, which I'm hoping to do this weekend. More pictures to come!