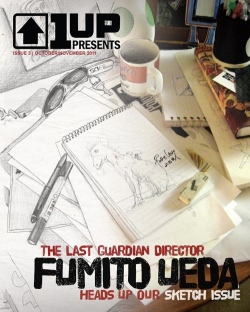 Today I received my copy of 1UP Presents issue 3, a beautiful print-on-demand magazine put together as a labor of love by Matt Leone and others at 1UP. It's also, sadly, the last issue they're planning to do. I can sort of understand that because "print is dead" (yadda yadda) and because, by its very nature, print-on-demand is more expensive for the consumer than you'd expect to pay at the newsstand even for the priciest of magazines (this one clocks in at $23 for 100 pages). On the other hand, when you flip through such a gorgeous magazine—with the high-quality paper and lack of ads, it's really more like a book—it's sad to think that this pet project had such a short run.
So I'm honored that an article I wrote is in it! It's named "Paper and Discs," and it's an exposé (err, sort of) about retail game manufacturing. When Matt approached me this summer about writing a feature about the making of retail games, I thought it sounded easy-peasy. I used to be involved in the process during my Telltale days, and it seemed like no-brainer publicity for game publishers… something they'd be happy to talk about. Thus began one of my most difficult article writing experiences to date.
It turns out that video game operations is a hush-hush topic. With the exception of Telltale (thanks guys!) and some indies who didn't end up making it into the piece (sorry guys!), none of the publishers I approached were willing to talk about this, not even off the record. Calling in favors with colleagues and even my next door neighbor led to dead ends. In the end I got what I needed. But the future was hazy for a while there, which makes me doubly excited to finally see the piece in print, so nicely laid out in this hefty magazine.
The article talks about the nuts and bolts of the manufacturing process (along with some cool pictures that show games on the assembly line), major changes that have occurred to packaging over the past ten years (spoiler: a lot of them are Wal-Mart's fault), and the fate of packaged games, as predicted by those who make them. Other articles in this issue include a piece about the Japan earthquake's impact on the industry, a story about what went down behind the scenes at now-defunct indie publisher Gamecock, and other meaty features that I haven't read yet. There's also a gorgeous "sketch gallery" from various game artists, made even nicer due to the magazine's heavy paper.
(Hey, did I mention the paper? It's awesome. This magazine book will be living on my coffee table.)
Anyhoo, there's more info about the issue here (including an explanation of why this will be the last one), and you can buy it here. I'm told the articles will appear on 1UP's website in the near future as well.