King Midas got his hands on the Hillside Victorian today. But first, I finished up the front door. This morning I bought a piece of strip wood that's the same width as the blue stripes on the windows. (It pays to have a miniature store in the neighborhood!)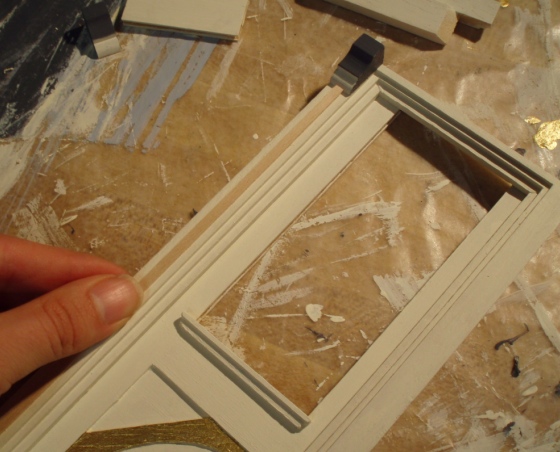 And here's the end result. The shoulder thingies could stand to be a bit longer to match up better with the windows, but I think it turned out pretty good for something that was cobbled together.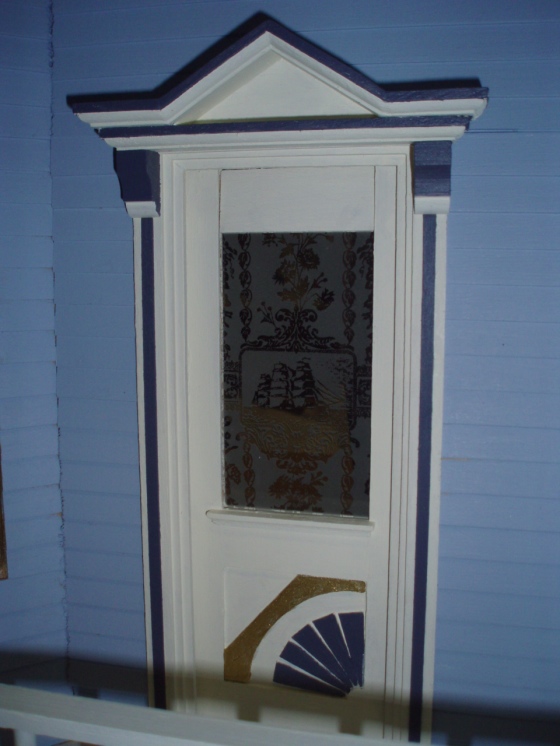 The other thing I've been working on for the past few weeks, which only started looking impressive today, are pieces of trim to cover up the paint mess where two colors meet. I'm using small crown molding at the edges of the white panels on the bay windows. (Actually, it's "picture frame," but it's essentially the same thing as crown molding.) This creates a nice clean line and gives the house's relatively plain trim a little oomph.

I bought two styles of resin appliques to decorate the white panels. The brand name is Unique Miniatures and they were $4.20 for a package of two or four, depending on the design. Altogether I spent almost $30 on these things—the result better be worth it!
First step was to paint them gold.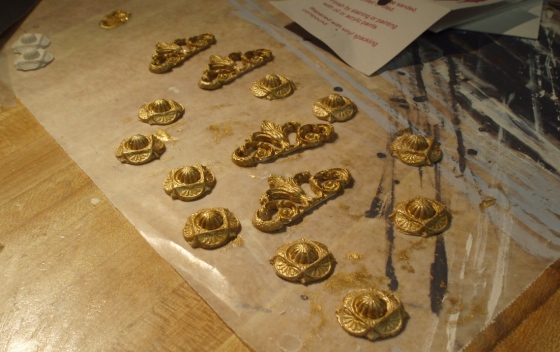 I used the round ones on the bay windows. Since the panels aren't all the same width and math makes my head hurt, I visually lined them up with the edges of the windows rather than measuring. A gutsy move but I think it worked out okay.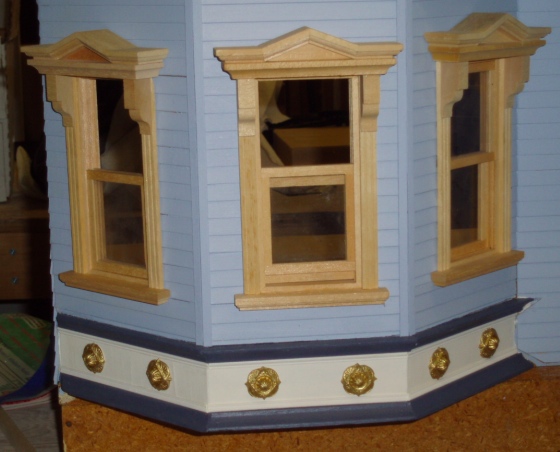 Before I could add the crown molding to the top panels, I had to deal with a crack where the roof pieces didn't quite meet.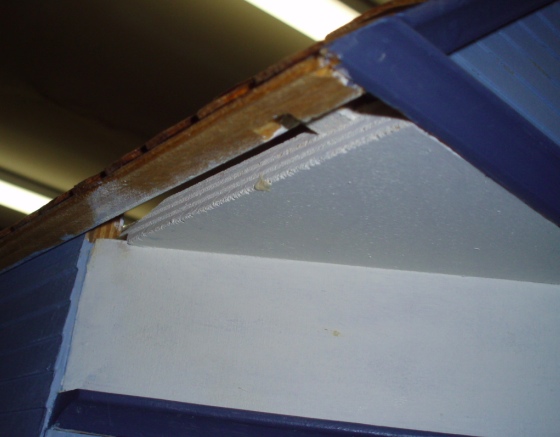 I cut a piece of scrap wood to fit in the hole.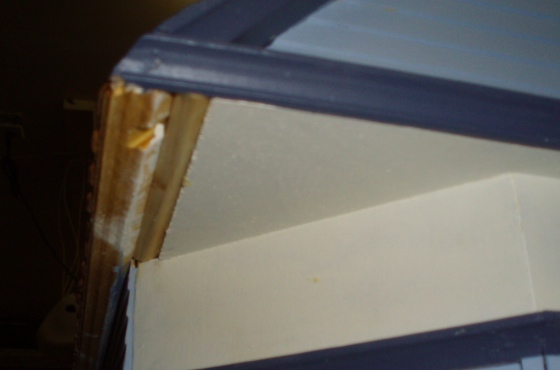 I painted the piece white, then inserted it and added wood filler where the two pieces meet.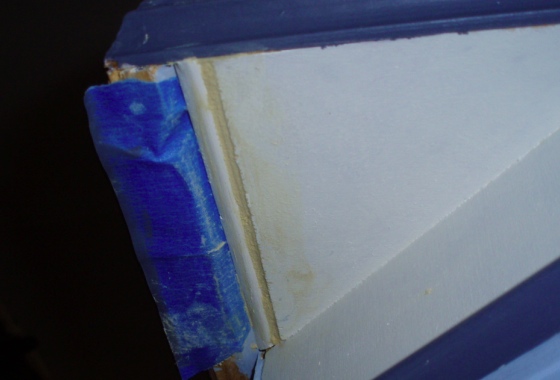 There's still a bit of a seam between them… I could have done a second coat of wood filler, but on the assumption that people won't be spending a lot of time looking up under the roof, decided it's good enough.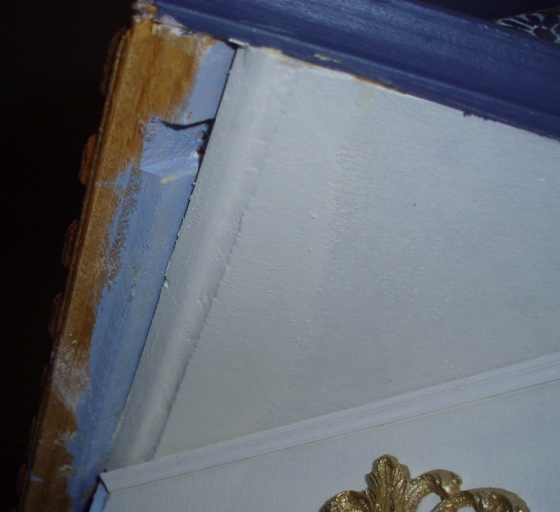 And here are the top panels with trim and appliques.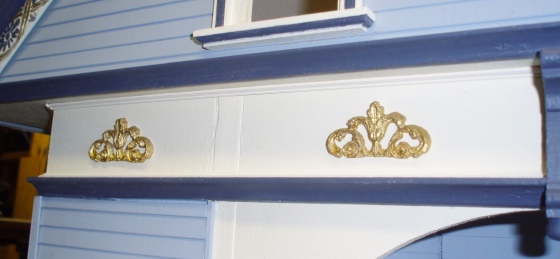 Front view with various elements in place. (It's not obvious from this distance, but I haven't added the crown molding trim to the top right panel yet.) It's starting to look like I see it in my head!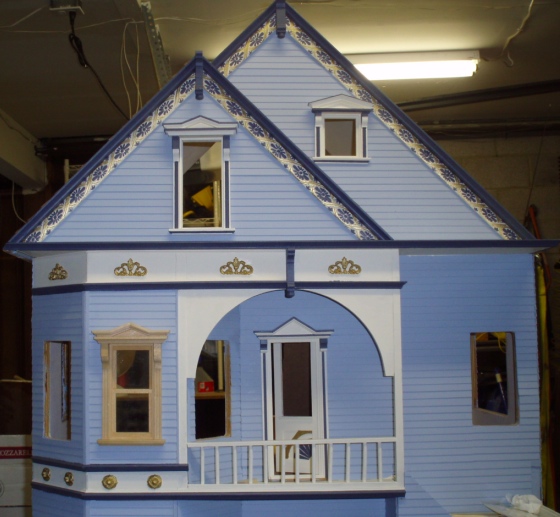 For the appliques at the top, I centered them within each panel, but from a distance you can't see the thick (white) border separating the two panels on the left side, so it ends up looking like they're not spaced evenly. Not sure if I need to do anything to fix that. (The appliques are glued on tight at this point, but I could add a piece of strip wood to give the edges of the panels more definition.)