Haven't had much time for mini-ing lately, but this week I finished a petitpoint carpet and a few weeks ago Geoff helped me cut some wood to make ceilings and knee walls for the rowhouse's attic rooms, so here's a hodgepodge of pictures for all of my restless readers.
The Queen Anne rowhouse has two large attic rooms that I plan to use as a bedroom and a rec room with a pool table. I wanted to add ceiling lamps but the peaked ceilings makes this tricky. And I never really like dollhouse rooms with slanted walls, they just don't seem realistic to me. So, I wanted to cut pieces of plywood that could be used to create a flat ceiling, and a short wall.
Since these pieces will meet the ceiling at a 45-degree angle, their edges need to be cut at 45-degree angles. Geoff did this for me with his table saw. (What a guy!)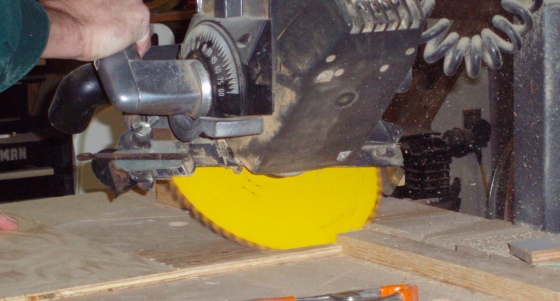 We used scrap plywood that isn't the nicest, but it's going to be covered up with wallpaper and ceiling paper. The house isn't quite square so it took a few attempts to get the sizes right.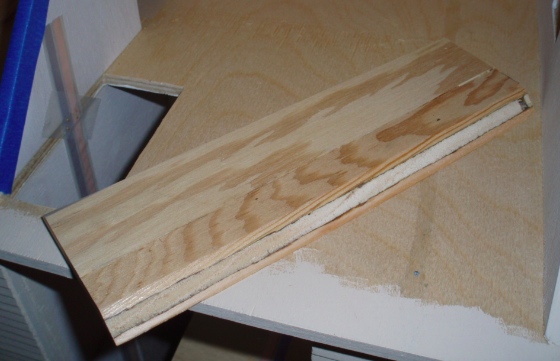 The ceiling piece is about 2-1/2 inches across and fits right into the triangular area above where the roof piece that swings opens is hinged. The wall piece is 1-7/8 tall. (I read on Wikipedia that a knee wall is usually under 3 feet tall, and these would be almost 4 feet tall. So maybe it's not technically a knee wall.)
Here's the basic idea.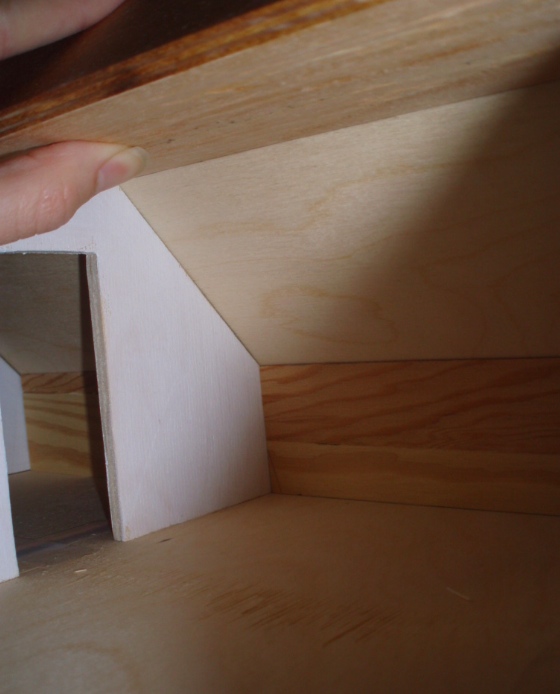 The ceiling is only truly visible if you duck and look up from underneath, or through the window. But it will make it much neater to add ceiling fixtures in here since now I can hide the wires.
On to the carpet! I stitched this from Pamela Warner's Miniature Embroidery for the Victorian Dolls' House.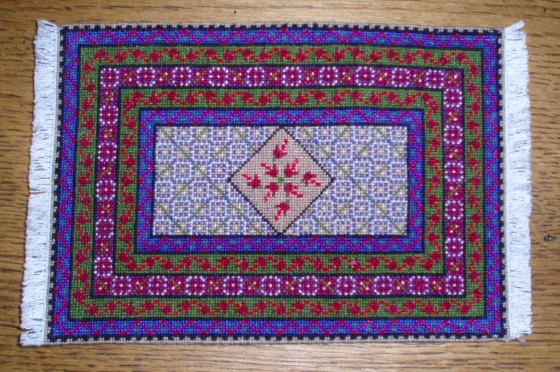 It's stitched over-one on 32-count fabric and the finished size is approximately 3-1/2″ by 5-1/2″. Here's a peek at the back. To finish the edges, I left the third row unstitched until the end, and then turned the fabric under and stitched the row through it.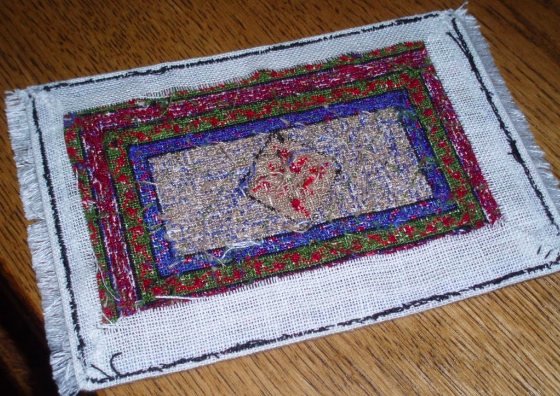 I did the fringe with overlapping Turkish knots following this tutorial. I'm not sure if white was the right color to use… it does appear in the design, but it seems kind of bright. Is fringe always white? The other option would have been beige, but then it wouldn't have contrasted with the border.

Anyway, I think this carpet is going to go in the larger attic room, possibly under the pool table. I like that even with the pool table on top of it, you can still see most of the design.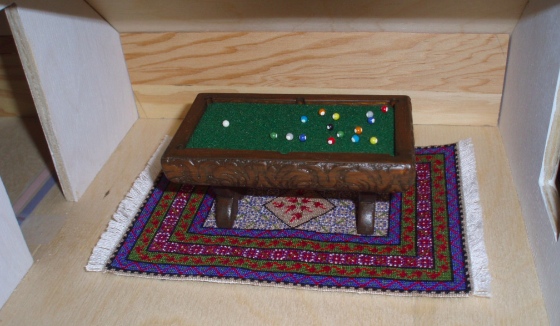 (The pool table was an estate sale find, I saw a picture of this very same piece in a Nutshell News from 1981 or so, so it's an oldie. The balls are glued on. There are sticks, too, I just didn't have them out for this picture. Didn't come with a triangle, though, so I'll have to figure out how to make one of those on my own…)
This carpet is a little bold for the overall color scheme of the house, but it's Victorian and the house style and wallpaper etc. I'm planning on is Victorian, so I figured I could make it work. Next I'm going to start another Victorian carpet from the same book for the other attic room, that has a more muted color scheme.