Satisfied with my last experience shopping at Shapeways, I placed another order a few weeks ago. Pretty Small Things had just added some office type furniture to their shop including a file cabinet, which is an item I'd been wanting for the Rosedale's home office. While I was at it I also ordered an industry stool and rolling desk to go under the window, and a few other pieces to take advantage of the flat rate shipping.
The order had an estimated shipping date of March 25, which came and went. When you log into your account and view your order, Shapeways shows you each item's manufacturing status (Processing, In Production, and Complete). I kept an eye on it for a couple of days and noticed that the industry stool and file cabinet kept going from "in production" back to "processing". On Monday I emailed to ask what was up and I got a response the next day saying that the stool had finally been successfully printed after several attempts, but the file cabinet would have to be canceled since it kept breaking. :(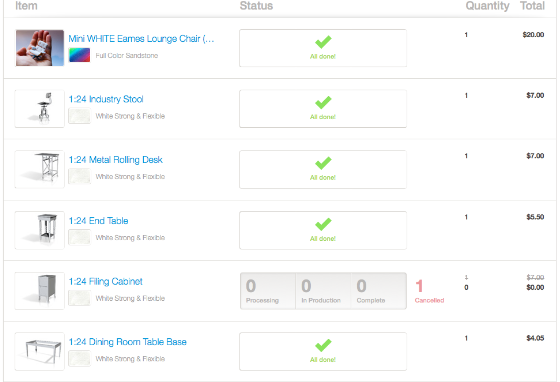 The customer service rep did say that if the designer uploaded a new version of the file I'd be able to reorder it. Like last time, they asked if I wanted a credit or a refund through PayPal. With no new version of the file available, I opted for the refund. They apologized for the inconvenience and immediately shipped out the rest of my items.
The next day I got an email from Pretty Small Things letting me know that there was a new version of the file cabinet available. Argh! I emailed Shapeways again and asked if they'd waive shipping so I could reorder. And they did! One day later, my original order showed up — they'd upgraded it to overnight delivery. Once again: excellent customer service. I've placed my re-order for the file cabinet (plus a Windsor settee I was on the fence about ordering last time) and those are now showing as "in production". Fingers firmly crossed, since that file cabinet was what I really wanted in the first place!
In the meantime, here are the rest of the goodies. The big splurge was this Eames chair (which comes with a matching ottoman). This is printed in color, and although the coarse texture isn't quite right for the "wood" or the "metal" base, I think it makes the white part look convincingly like upholstery.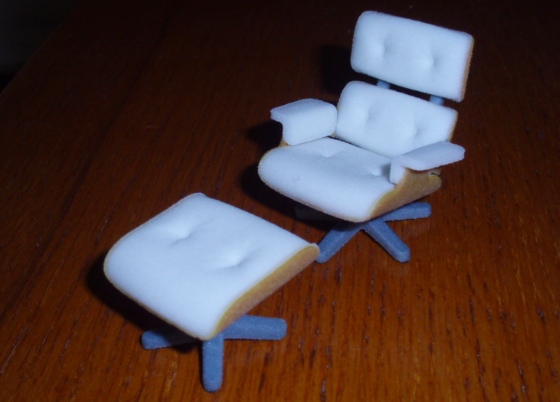 Not sure if this is where I'll use it, but here it is in the Rosedale with an IKEA-inspired sofa I made from basswood and paper.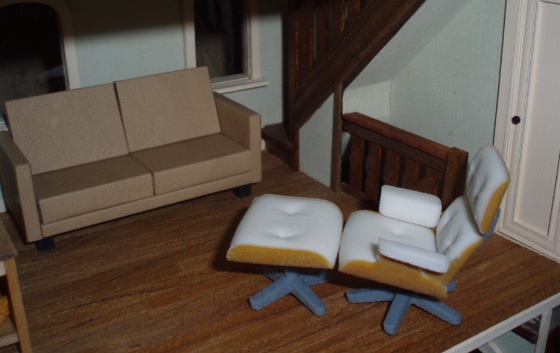 Here are the industry stool and desk. These are very delicate and the stool actually has a small break at the bottom where the ring attaches to one of the legs. I hope I can paint it without destroying it.
When I first put these in the room they looked smaller than I was envisioning, but seeing them again in this picture I think they work. I plan to paint the legs metallic silver and the tabletop, chair back, and seat black. Assuming Shapeways can print the file cabinet this time around I think it'll fit underneath the computer desk.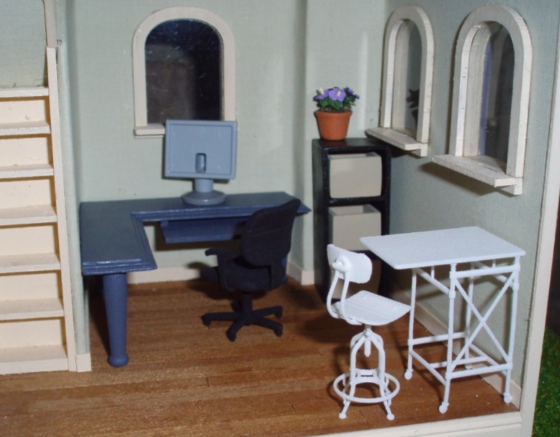 This is an end table from Pretty Small Things, next to a Cassidy Creations nightstand for comparison. (I asked the designer if she plans to add any of these items to her online store and she said no, but hopes to keep expanding her half scale line through Shapeways, so that's good news.)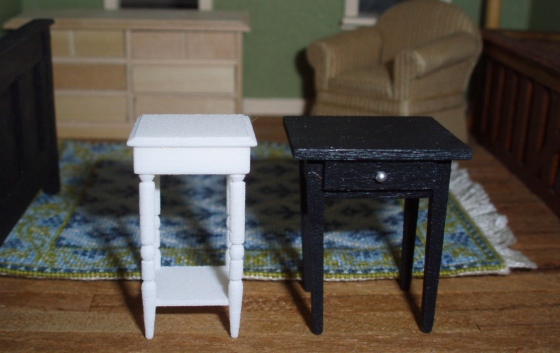 Finally, I got this table base with plans to make a glass-topped dining table for the Rowhouse. I'd already bought a set of modern chairs and needed a table to go with them. My plan is to paint the chair legs/arms metallic silver and even though I could easily make a base like this out of basswood, I thought it being the same material as the chairs would look more consistent.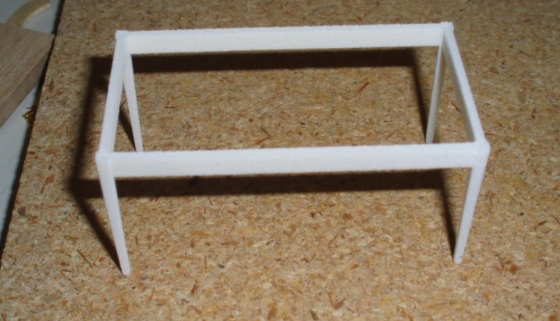 I found 3″ acrylic ovals on Etsy and after Googling something like "formula for fitting a rectangle inside a circle" and plugging in the dimensions of the base and the oval, I thought the oval would *just fit* on the base. Not so much.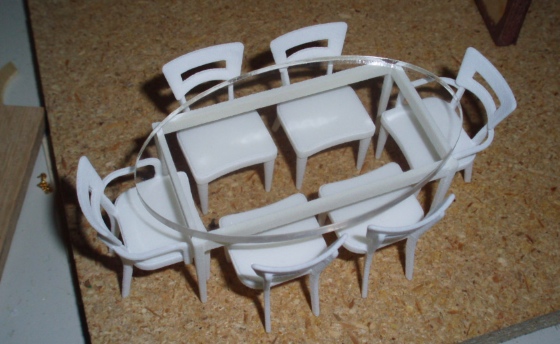 The same Etsy seller offers 5″ ovals but those would probably be way too big for this base (and for the space). I really like the glass topped table idea so I think I'll hold onto the base for something else and make my own legs — maybe just cut and paint some dowels to look like this (but without the leaves).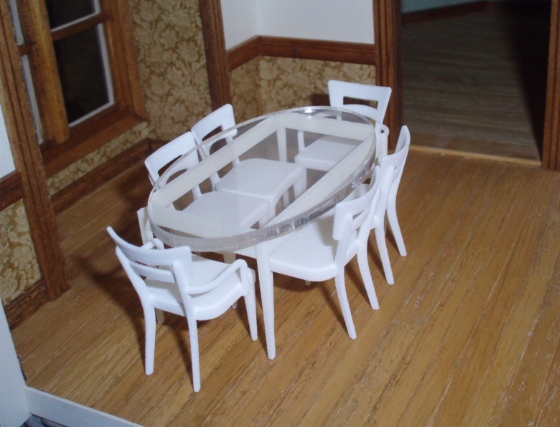 After two Shapeways orders (soon to be three) and one directly from Pretty Small Things' website, I'm amassing quite a collection of unpainted plastic furniture. I should really get on that one of these weekends…