The Tomy Smaller Homes dollhouse (also known as "Smaller Home and Garden") is a split-level ranch that looks a lot like the Brady Bunch house from the outside, with a distinctive 1970s style to it. I never had one of these as a kid and don't remember any of friends having one, either. In fact, I didn't learn about this house until around 2002, when I saw it and some of the furniture that went with it on eBay.
That's when I realized that I had some Tomy furniture — a sectional sofa, coffee table, lamp, and entertainment center with a removable television, given to me by my grandmother as a birthday gift. I'd been using the furniture in my first dollhouse for years, but it was slightly too small (3/4″ scale, I later learned) so all but the TV, lamp, and an end table had been relegated to my "spare parts" bin.
When I learned there was a house out there that went with my living room, as well as several other gloriously groovy furniture sets, I became borderline obsessed. The stuff sold for high prices on eBay and I was sure I'd be able to find it cheaper than that, maybe at a garage sale or thrift store. I started scouring Craigslist and Goodwill stores.
In 2003, after I'd been looking for a year or so, I lucked out… or so I thought. Someone on Craiglist was selling a Tomy house plus furniture for a good price. She said she and her sister had played with the dollhouse as children and she recently found it in the closet at her mom's house and wanted it to go to a good home. She was about an hour's drive away, but I was willing to make the drive. I planned to pick it up over the weekend.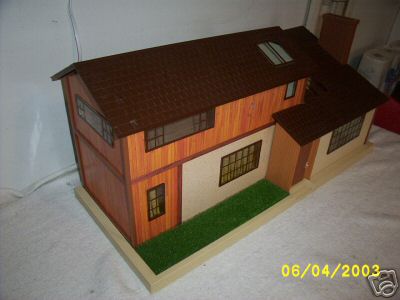 The next day I received an apologetic email from the seller. Her sister had found out she was planning to sell the dollhouse and wanted it. On the one hand, I could relate — if it had been my toy as a child and I found out my sister was selling it for a measly fifteen dollars, I would have been annoyed, too. But I was disappointed, because I really wanted that house.
(The house pictured above is the one I thought I was going to get. I held onto the picture, even after the seller told me she was letting her sister keep it. From time to time I'd look at it and feel bummed that it hadn't worked out.)
More time passed. I made a few bids for Tomy houses on eBay but the auctions always went higher than I wanted to spend — $150 to $200 for houses with broken pieces, etc. I wanted it, but not that badly, plus I still had a hunch that someday I would find this house locally. My busy job had taken me away from minis for a while so I wasn't looking as hard, but occasionally I would troll Craigslist, and lo and behold, in the summer of 2007 I came across an ad posted by a couple who was selling off their daughter's old Tomy house for $15. Again, it was about an hour's drive away, but I wasn't going to miss out on another opportunity. I went down there a few days later and bought the house. They told me they'd already sold the furniture separately, but I figured I could pick that up on eBay, since the furniture tended to be easier to find (and cheaper) than the house itself.
The house had a bit of structural damage. In particular, the wall with the chimney was cracked. A few of the windows were damaged, too. Nothing I couldn't fix. I brought the house home and…. it sat on my office floor, untouched, for a year. Really. I had some ideas for it, but didn't have the motivation at that point to start working on it. (I wasn't really working on any minis at the time, so this wasn't too unusual.) I got so used to walking around it, I think I sort of forgot it was there…
I did keep watching eBay, though, and the following summer I won an auction for a bunch of Tomy furniture and spare parts. The auction included the bedroom, kitchen, another living room set, bathroom, some odds and ends, plus several walls and windows. I got it all for $35, and half of that was shipping. Another good deal…
When the new furniture and spare parts arrived, I finally got to work on the house. I stripped the house down to the studs, re-carpeted the living room, and replaced some of the pieces with the spare parts from eBay.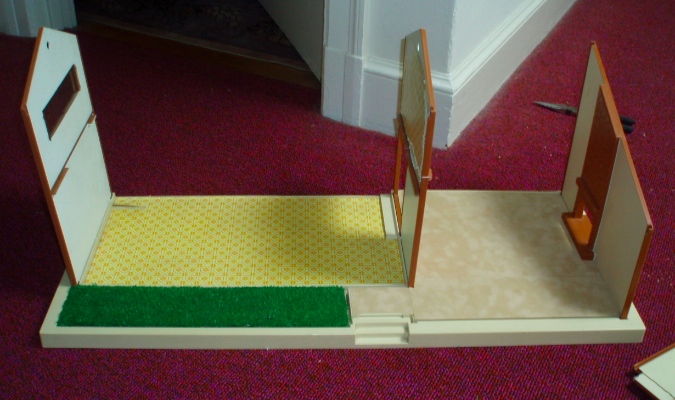 Here's the new wall, next to the one with the crack in it. Some of the parts had been super glued and took some muscle to pull apart!
It really didn't need a lot of work. I replaced the cracked side wall and a few of the windows. The second floor was sagging (very common in these houses) so I got Geoff's help cutting a new one from plywood. I redid all of the wallpaper and flooring. I toyed with the idea of redoing the exterior of the house, which is papered to look like it has stucco and wood paneling, with actual stucco and wood paneling. Maybe someday I'll do that. But maybe not. The front of the house is in good shape and it looks pretty nice the way it is.
The eBay auction included the living room set I already had, plus the stereo cabinet, which I didn't. So the furniture in this room is a mix of "old" and "new".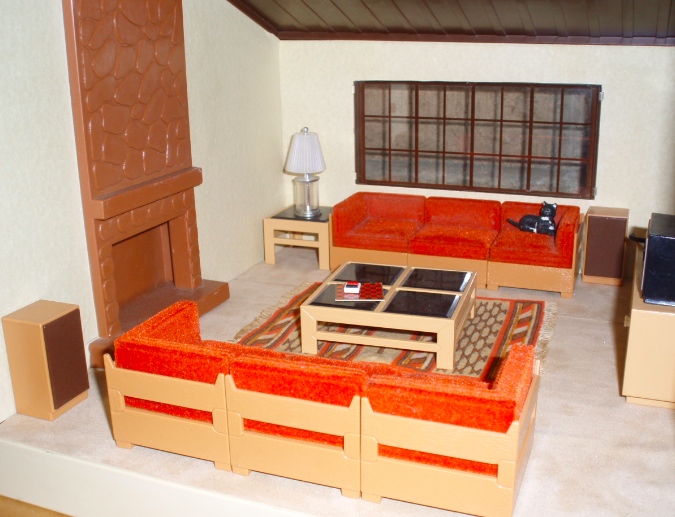 I repapered the walls with tan scrapbook paper and replaced the carpet. This is my favorite room in the house.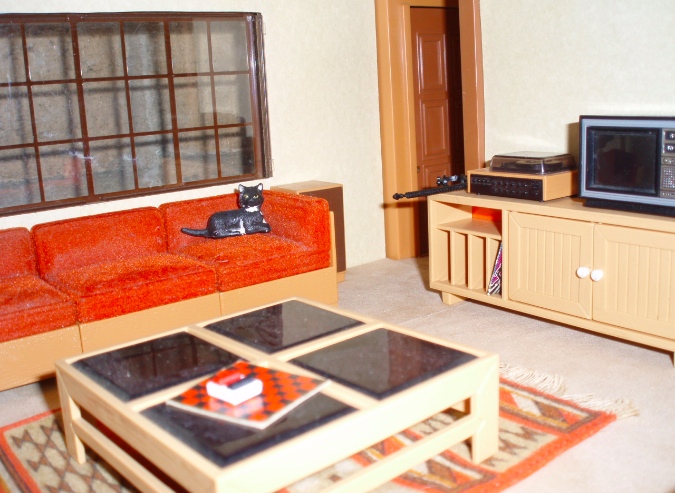 Even though I replaced the second floor, my replacement also started to sag, so I added a pillar to hold it up. (I plan to stain it eventually.)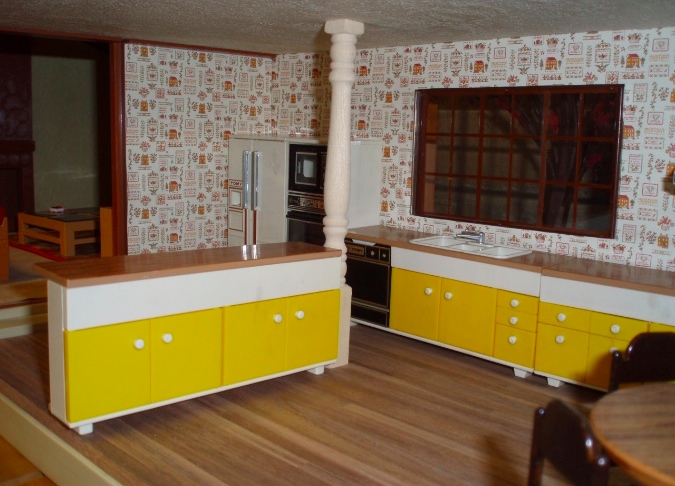 I removed the stairs to make some extra space in the kitchen. The flooring and wallpaper are new.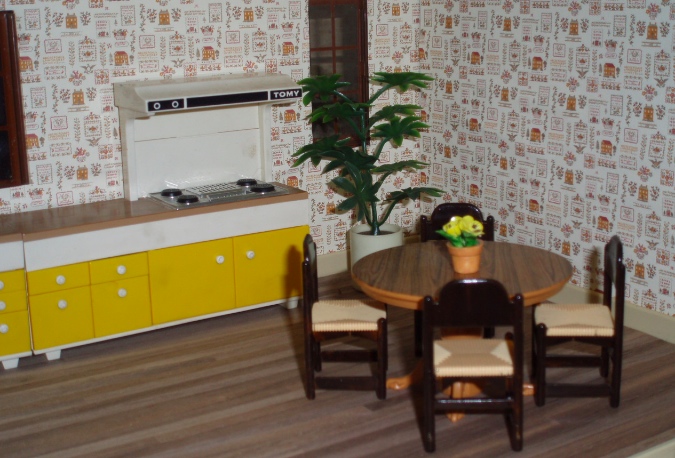 The Tomy furniture sets have varying degrees of realism. The living room and bathroom sets are very modern and realistic. The kitchen is kind of borderline and the bedroom furniture looks very much like toys. I wanted to use the authentic Tomy furniture but also wanted a realistic house, which meant making a few modifications.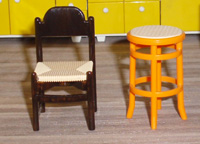 One of these modifications was to paint the ugly orange kitchen chairs a dark brown, to better match the brown table. I used Testors model paint, which worked very well on the plastic. I haven't painted the bar stools yet but plan to. I may also end up painting the cabinets.
The bathroom. I might add a shower curtain at some point.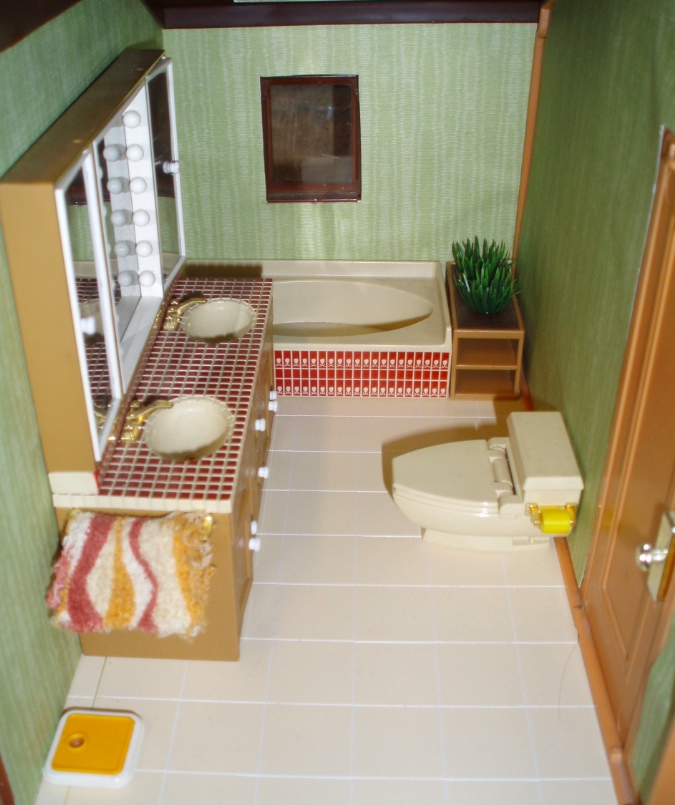 I'm using the extra entertainment center as a "bed" right now. (Not too comfy for the little people who live here!) I'd like to get or make a real bed that matches the decor.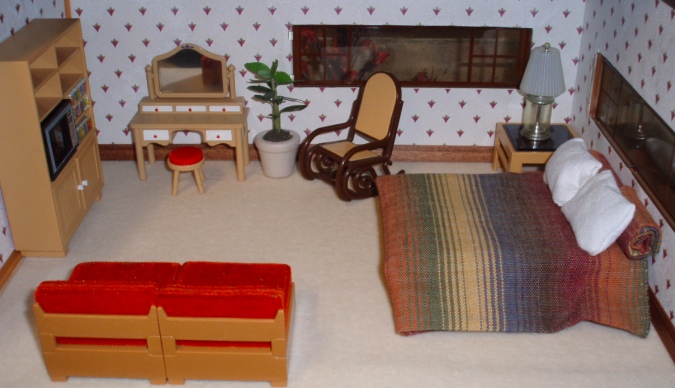 My very own Tomy Smaller Homes dollhouse. Finally!