One of the things I decided to do with the McKinley is to make as many of the furnishings as possible. I felt if the house is going to be displayed (on the wall, as intended, or more realistically on a shelf because we have flimsy plaster walls), it makes sense that it should be displaying some of my own work. I intend to do a bunch of cross stitch pieces from Traditional Needlework in Miniature by Annelle Ferguson, and Miniature Embroidery for the 20th Century Dolls House by Pamela Warner. I also have plans to build most of the furniture for this house, either from kits or from scratch.
For the bedroom, I'm following these plans for Mission-style furniture. I started with the bed. I did hit a few snags – a few of my spindles weren't quite the right length – but overall, I think it came out well.
The headboard and the footboard. I cut and stained all the pieces first, before assembling.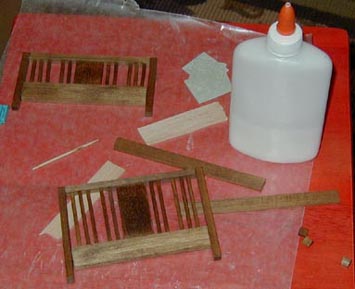 The assembled bed. The spindles aren't spaced exactly right, but it's hard to tell.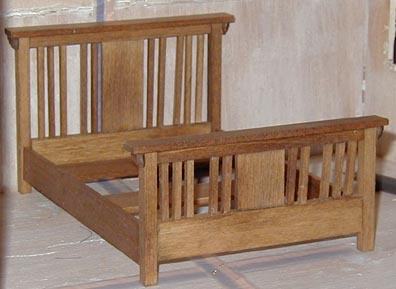 For now, I've made the bed with a simple mattress and sheet. I've started stitching a bedspread from Pamela Warner's book.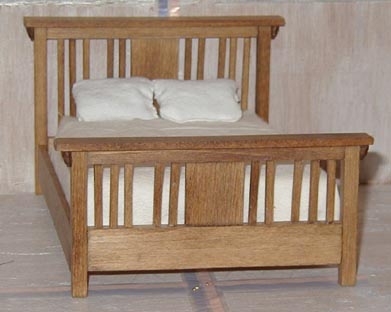 The first design I tried from the Pamela Warner book was this art deco "panel." It's stitched over-one on 54-count linen. It was supposed to be done on a lower count (so the design would be bigger) but I thought that would be too big. As it is, this is very large for a 1:12 wall hanging!
This is the finished piece (probably larger on your screen than actual size). Click the image to see an enlarged scan with more detail.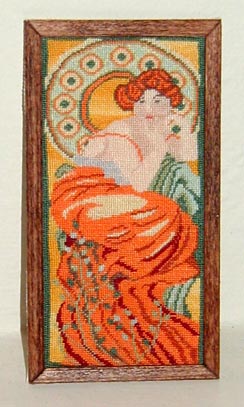 I made the frame out of chair rail. The book also has a chart for a matching panel. I haven't decided yet if I will do it (I haven't even decided where to hang this one, let alone a second one!) But I cut and stained extra pieces so I'll be able to frame the other panel in a matching frame, if I decide to make it.
August update: I got a $25 gift certificate for Hallmark and decided to buy the oven ornament I'd been eyeing. This drove me to start planning the cabinet layout. I want to add a French door but this takes up a lot of space that could be used for cabinets, so I've been going back and forth. For now, I think I've decided on this arrangement: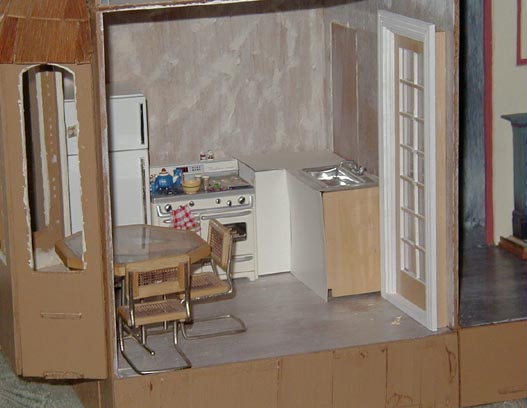 The sink, fridge, and table in this picture are borrowed from my other houses. (I dropped the sink into a mock-up cabinet to see how it would look.) I plan to put in upper cabinets, too. The stove has a plug on the back that's meant to plug into Christmas tree lights. I'm going to drill a hole in the back of the house and run the plug through. Geoff said he'll help me attach a normal plug so it can plug in to an outlet and light up. I briefly considered trying to run it through the same electricity as the rest of the house, but setting it up to plug in separately seemed like it would be much easier.
I have also started decorating the attic, which is going to be an artist's studio. These paintings are miniatures of paintings done by a friend of Geoff's. I plan to add more (maybe by her, maybe by other artists… haven't decided yet). I'm going to put art supplies in the bookshelf and build a utility sink into the tower.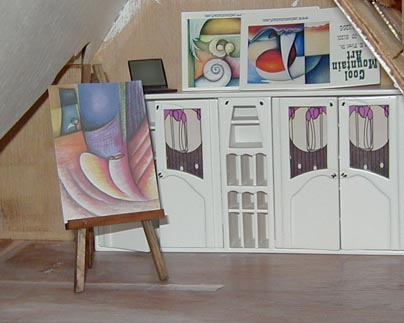 I still have to cut the two paintings on the bookshelf out. I may try adding a ply of tissue to the surface to make them look more like canvas.