I got started in half inch scale because I received an Avon furniture set as a gift. I bought a few more sets off eBay but was disappointed to find they were not exactly in scale. Then I stumbled across a few auctions for Popular Imports furniture sets… and my wallet has been suffering ever since! These sets are not as readily available as the Avon sets. They tend to be closer to half inch scale and have more pieces than the Avon sets (on average, around twelve). The eBay seller also sent me a 1996 brochure from Popular Imports… click here to see a scan of all the sets available in that year. I'm now on a quest to find as many of these as possible. (Please contact me if you have any available or know where I can find them!)
Here are some of my ideas for using this furniture in the Fairfield. Most of these pieces are from the Crimson Parlor set: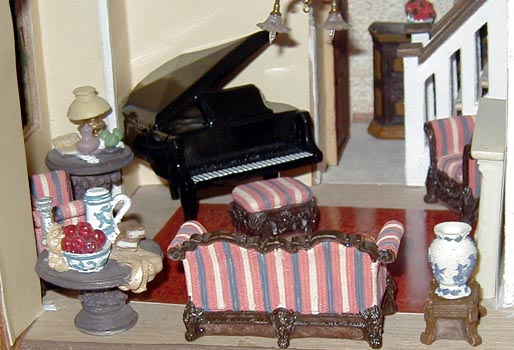 The piano is a Christmas ornament.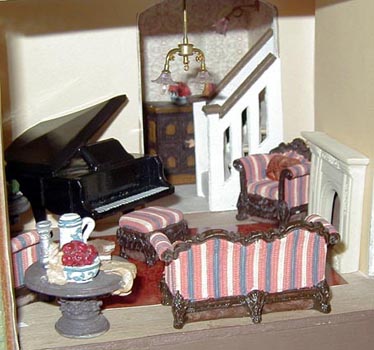 Another possibility for the living room, but I think I like the striped furniture better with the wallpaper. (Guess I'll just have to build another house for this setting!) These pieces are from PI's French living room and library sets.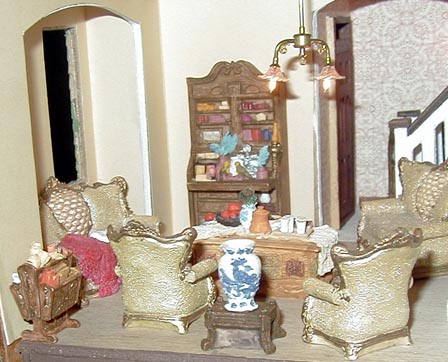 If I did use these pieces, I'd consider painting the couches and chairs to give them more contrast.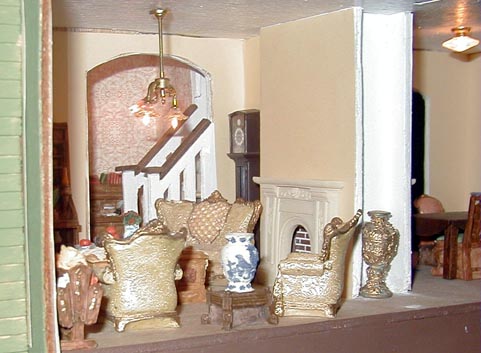 And here are some dining room possiblities. The table in these pictures is actually a 1:12 coffee table. Since taking these pictures, I have acquired six chairs that all look the same, and will build a table to fit them.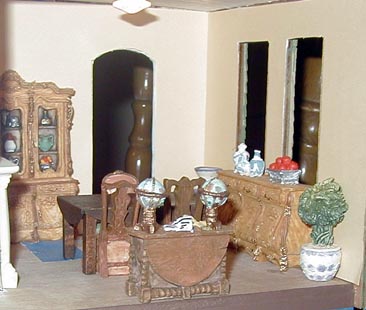 I may paint the hutch and sideboard to make it look like darker wood.