The semi-finished house, in its new home on a shelf in my kitchen: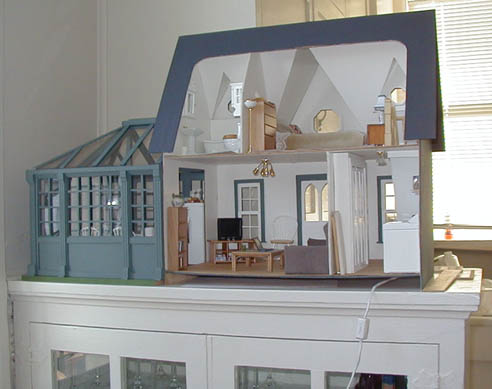 Now that I brought the house home, I'm having a lot of fun with the decorating… The first thing I did was finish the bed. I made the mattress, bedspread, and pilows. The pillow with the pattern was a Janet Granger kit.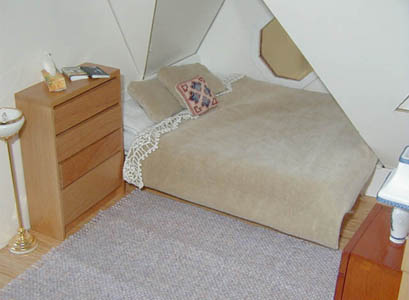 And here is the bathroom. I put a piece of plywood behind the tub so it's not up against the slanted ceiling. May also build a little windowsill / shelf so there's somewhere to put the shampoo bottles. This is the green flooring I bought awhile ago. Having trouble finding something that matches for the walls around the shower (I don't want hexagons on the wall…) I did find some nice peach and white tiles at a dollhouse store in New Jersey when I was there for my friend's wedding… might wind up using that instead of the green. I will be adding the shower curtain and fixtures once I tile the walls around the tub.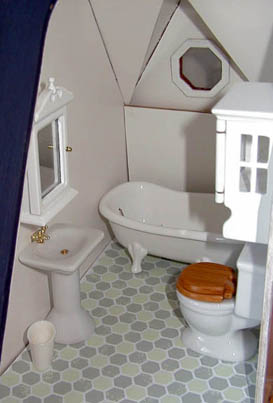 Here's the living room with my IKEA table, new TV, and first attempt at a couch… I used the measurements from an IKEA couch to try to make my own. Unfortunately, I wasn't left with enough fabric to make the cushions (which are needed to cover the seams). I'm also not thrilled with how big it turned out. So I'm still looking for a couch, or may try my hand at making another one… if I find some more fabric that I like as much. This was a suede-like material I got from a toiletry bag given in first class on a United Airlines international flight…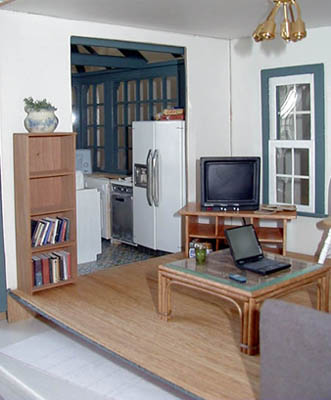 I'm planning to make a VCR and some other electronics to go on the shelves under the TV.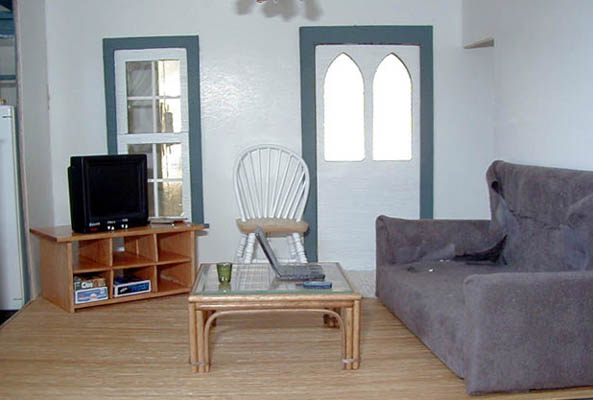 I'm already thinking of ripping out that blue trim and replacing it with white… and maybe papering this room with some kind of print wallpaper. I like the concept of white walls, but they make the room look kind of bare…
I'm currently stitching an oriental rug to go in here. I'd started one several months ago, converting Paternayan wool to DMC floss, but the colors looked really weird. So I've started over using the Paternayan wool that the pattern calls for. I'll scan the rug when it's done.
Finally, I added a shelf above the washer and dryer. Still my favorite room in the house!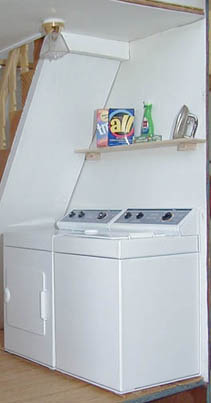 The big chunk of work I have to do now is get the kitchen cabinets and island done. They're halfway there, but I might bring them to the hangar so I have something to do while Geoff putters…