The bedroom was the first room I decorated when I finished the house, and nothing's really changed since then. I am planning to put some trim up on the seams of the wall joints. I'm also going to make a Chrysnbon rocking chair for this room.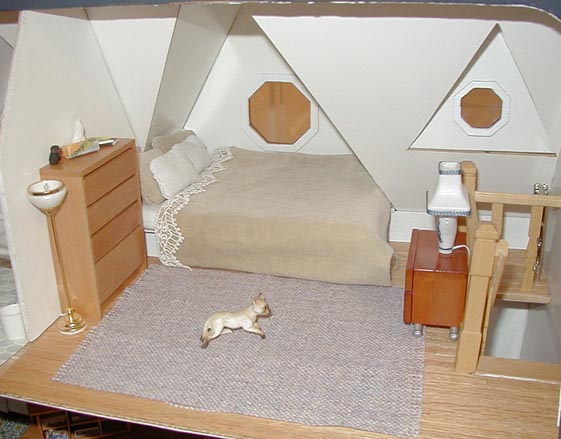 ---
Lo and behold, the bathroom has been papered! After months of putting it off, I finally made a last minute decision to use this green scrapbooking paper. Tried two other colors before this and was about to rip out the floor and replace it with something else when I realized this green, which I was planning to use in the Contemporary Ranch (should I ever get around to building it), would look nice here. The "shelf" around the room is crown molding. I got the idea to use it that way after seeing something similar in the Pottery Barn catalog.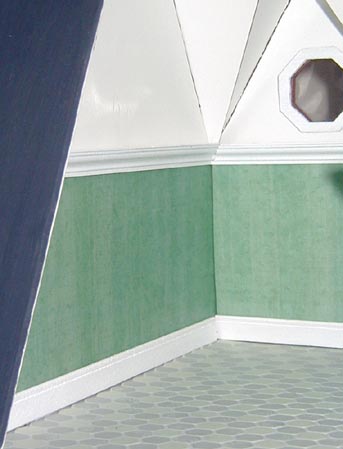 I added a back "wall" under the window because it looked weird to have the tub / shower up against the sloped roof.
Here's the quasi-finished bathroom. I had trouble getting a good picture because the room's so small.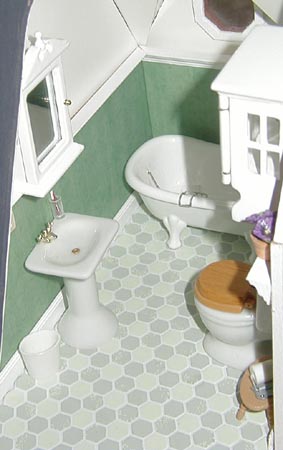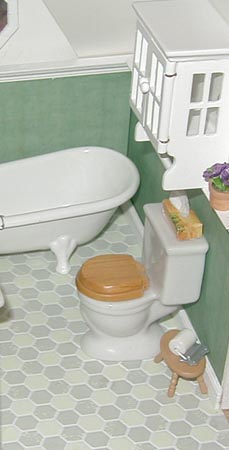 I'm planning to clutter the shelves with shampoo, lotion, a blow dryer, and other "girly" stuff. Still have to make towels and hang the toilet paper holder (which is from the Chrysnbon bathroom accessories kit).
Awhile ago, I started looking for decorative wall outlets for the Orchid. I originally wanted them to cover up two little mistakes downstairs (one has since been covered up by the new wallpaper). The only outlets I could find were the working ones by Cir-Kit… these were too big and bulky, and I didn't actually need them to work. After a lot of searching, I finally found some… they'd had them at Dollhouses, Trains, and More all along! I just never looked carefully at that particular display (it was a display of doorknobs… why should I have expected to find wall outlets there?!) They're made by Island Crafts & Miniatures. I bought almost all the outlets and decorative light switches that were in stock. I'm planning to put them throughout the house but the bathroom is the first room where I've used any.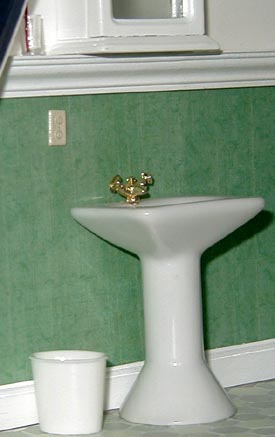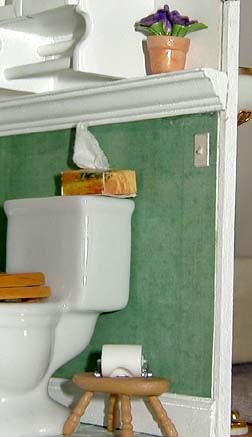 At some point I will be adding a shower curtain, shower head, etc. I'm going to make the rod for the shower curtain out of a metal holder thingie that came with my hamster's new water bottle…