The living room, like the rest of the house, originally had white walls. But after a few months I decided I wanted to jazz it up a little bit. I wanted a modern look and couldn't find any wallpaper I liked, so I started looking at scrapbooking paper. I finally found this green paper I liked at Ben Franklin. It reminds me of the green paint on the walls at a gorgeous apartment I saw recently (which, unfortunately, was rented to someone else…)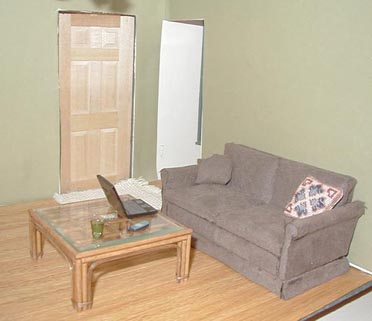 I will be painting the door white, and adding trim around the doorways and window. I'm also going to add crown molding and baseboards.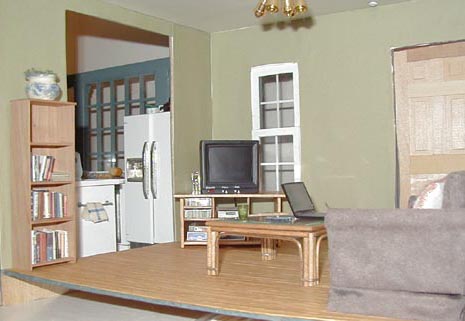 [Note from the future: At some point I decided I disliked the original door and started to replace it, but never actually finished that particular project…]
Once I'm done with the trim, I will be adding curtains to the window and doorway into the kitchen. I saw some curtain rods I liked in the Pottery Barn catalog (the type with decorative ball thingies on the ends) and decided to make my own with beads.
I was surprised that I couldn't find a couch I really liked. I wound up ordering a Realife living room kit on eBay (circa 1974) and making my own. It's not perfect, but I'm very pleased. I used a suede-like fabric that used to be a toiletry bag from a United Airlines international flight. Here's a close-up.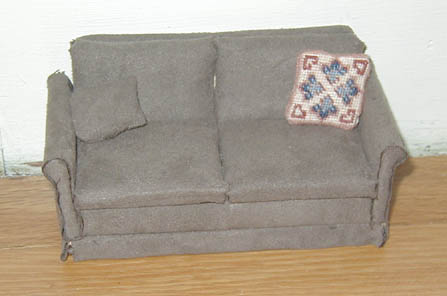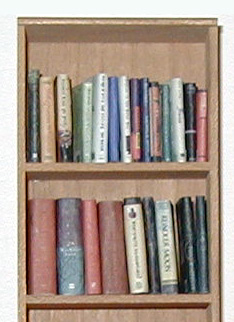 The bookshelf in this room contains a lot of the same books that are on my own shelves. For awhile now, I have been scanning the dust jacket of every hardcover book I can get my hands on, and shrinking them down to 1:12 scale. I've almost filled up the bookshelf. Whoever lives here has excellent taste in literature…
[Note from the future: I eventually wrote an article about how to make books for Miniature Collector, which you can read here (posted with permission from Scott Publishing).]
---
On to the laundry. The woman who lives here has something I may never have… her very own washer and dryer. I'm so jealous.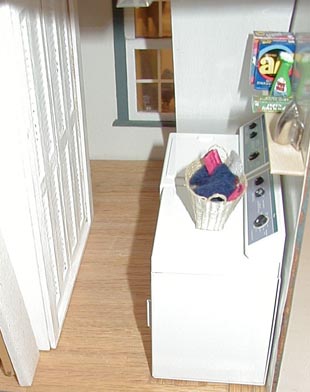 Ultimately I'd like to add a vacuum cleaner to this corner. That's about it for this room. I think I'm going to leave the blue trim on the window because I don't want to rip the paper (I'm going to leave the wall white). In any case, I'll probably add some sort of window shade.