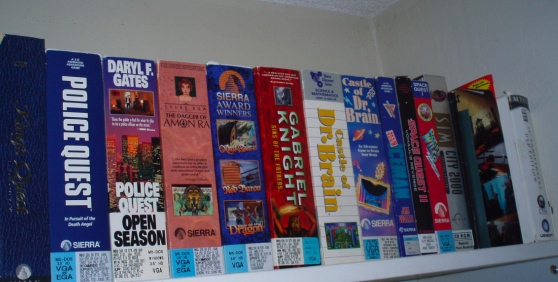 A sampling of my closet collection. SimCity 2000 is one of the few boxes from my childhood that I didn't throw away; the rest were picked up at thrift stores.
Old game boxes. Oh, how I love them. The hand-painted artwork on the outside, the manuals and trinkets and registration cards inside, the bigness and thickness of the boxes themselves, before shelf space was such a commodity. I'll admit it. I am borderline obsessed with old adventure game boxes.
Just like the kid whose mom made him throw away his later-to-become-valuable baseball cards, I threw away my Sierra game boxes. Except nobody made me do it. I honestly thought I didn't need them anymore. They were taking up space. Big game boxes were becoming a thing of the past. I clearly remember packing the floppy disks for each of my Sierra games into ziplock bags, along with the manuals, and flattening the boxes and throwing them away.
Almost instantly, I regretted it.
I don't know what it is about those boxes. Maybe I like how they refer back to a simpler time—a time when you could walk into a software store (Egghead was my store of choice), browse a shelf, and pick up a brand new adventure game—possibly one you never even knew about until the moment you saw it in the store. Game boxes remind me of being a kid. And childhood trips to Egghead were the holy grail, for me.
The first game I bought with my own money was King's Quest I for the Apple IIGS, at age 10. I remember sending a thank-you card to my grandparents, who had sent me the money as a birthday gift, telling them I'd used it to purchase a "3-D Animated Adventure Game." King's Quest IV came a year later. Then we switched to a Mac, and I acquired a couple more Space Quest and King's Quest games, the first Quest for Glory, 7th Guest, Myst. All of them had big, beautiful boxes. All of those boxes, I threw away.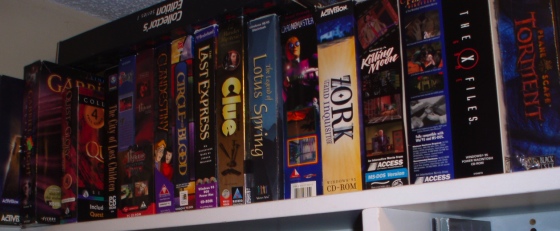 More of the closet collection. Ahh, precious boxes…
I'm not exactly sure what triggered my renewed obsession with collecting game boxes. It might have been seeing some at Goodwill for just a few dollars a piece. However it started, once I'd started to rebuild the collection, I was hooked. For a couple of years I was regularly hitting Bay Area thrift stores, looking for game boxes. I picked up a ton of old Sierra games—which is fortunate since those happen to be my personal favorites—as well classics like the 7th Guest and the 11th Hour, Zork Grand Inquisitor, Star Trek: A Final Unity, a couple of Tex Murphy games, and many others. I tend not to pay more than a few bucks for these and I don't bother with eBay. The thrill of the hunt and getting them at a bargain are what makes it fun.
(Oddly, although I've found many LucasArts games in jewel cases, I haven't come across any big LucasArts boxes in my searches. Since I live near LucasArts' office I would have expected a lot of employees to be tossing their big boxes over the years. I hate to admit it, but maybe LucasArts fans just have more sense than Sierra fans, and know they should hold onto their stuff.)
After several years of good fortune, it seems the thrift stores have more or less been cleared out of big game boxes. Maybe the statute of limitations for keeping old boxes around has passed, and anyone who wanted to get rid of them has by now. But recenty I had the good fortune to pick up five old boxed games that I've never played, courtesy of the GameBoomers Trading Post.


Left to right: Wonderland, Eric the Unready, Star Trek Judgment Rites, Star Trek 25th Anniversary Edition, and Cruise for a Corpse
A couple of these games are on floppies. Floppies! And while I do have an old Windows 95 machine with a 3.5″ floppy drive, I have to admit, I'm not sure if and when I'm ever going to play these. I already have a ton of old games I haven't played. But the boxes… the boxes! Then last week I grabbed a few more…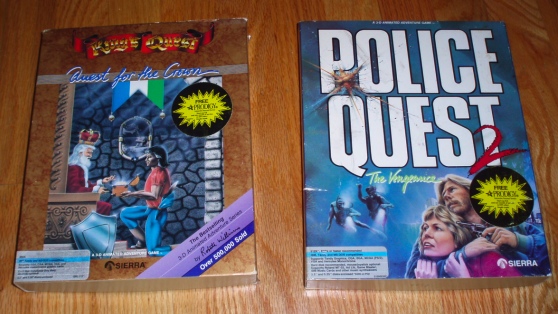 King's Quest I was the first game I ever bought, the first game box I ever owned. How could I resist? As for Police Quest 2, I never owned it legally. I originally played a pirated version that my dad copied from a friend. (The horror!) Twenty years later, I have redeemed myself.
Both of these come with floppies. In fact, the Police Quest floppies are 5.25″, which I can't use even on my Windows 95 machine. But that doesn't matter. I have more King's Quest and Police Quest compilation disks than I know what to do with. Playing the games isn't an issue. And now I have these pretty boxes up on my shelf—for posterity, this time.
My game box collection has outgrown the bookshelf it used to live on. I've moved it to some shelves at the top of the closet. The man of the house keeps asking if we can get rid of them to make space. Um, no. I'm taking these game boxes with me to the grave.