Back in June, I started the porch on the Craftsman bungalow vignette. Then I realized I should finish the interior windows and paneling before attaching the porch, while I could still easily put the vignette face-down on the table.
Here's where I left off.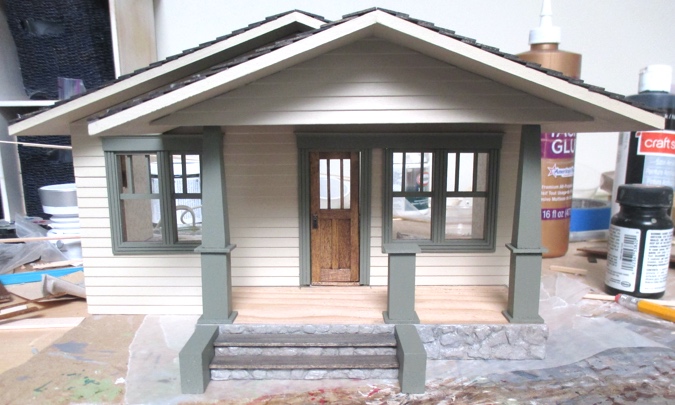 I positioned the porch so there would be the same amount of space between the posts and the corners of the porch roof. I drew pencil lines at the outer edges of the door trim to make sure I lined it up correctly when gluing.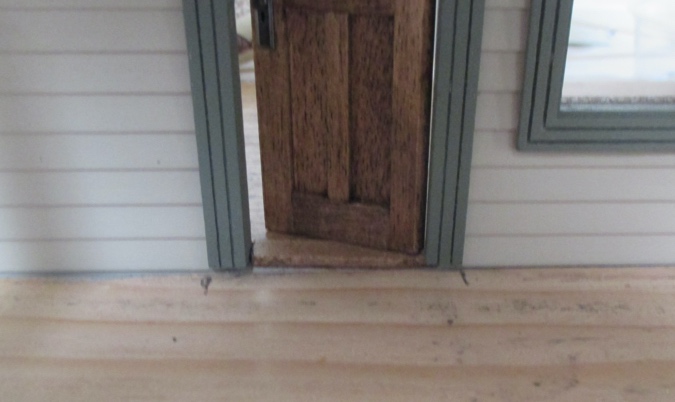 The directions just said to glue the porch to the front of the house, without any tips for how to do that. The porch is made from a solid block of wood. I didn't have high hopes that regular glue would hold it, but gave it a try.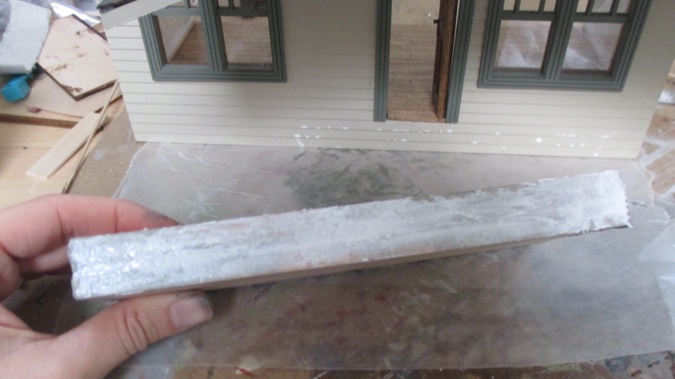 As predicted, that didn't work. Because the porch is being attached to siding rather than a flat surface, the glue didn't have much to adhere to. I could have gotten out the big clamps and clamped it into position to dry, but I just didn't have a good feeling about the glue holding, so I wiped it off while it was still wet and asked Geoff for help.
My initial thought was to nail the porch to the house through the bottom of the foundation. Geoff held the nail gun in there and found that it would fit, with the nails going in at an angle.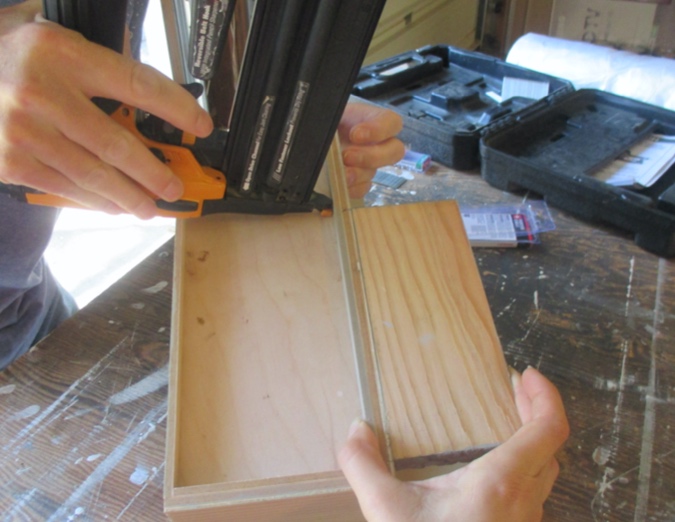 Because he likes to over-engineer things (in a good way), he suggested using construction adhesive in addition to nails.

We turned the house upside down on the workbench. I used the lines I'd drawn around the door to position the porch, held it in place while flipping the house over, and then drew a line on the bottom that extended from the porch to the underside of the foundation. This way, when it came time to glue, I just had to match up the two lines.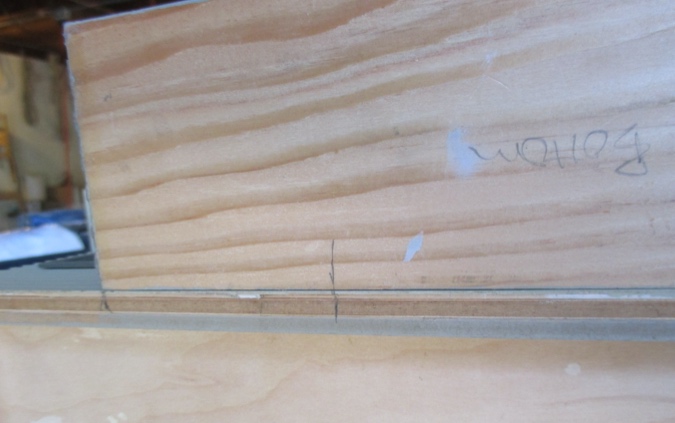 (I also labeled the bottom of the porch "bottom" because attaching it upside down totally seemed like something I would do.)
To make sure the bottom of the porch was flush with the bottom of the foundation, Geoff clamped a metal straight edge to the porch to use as a guide.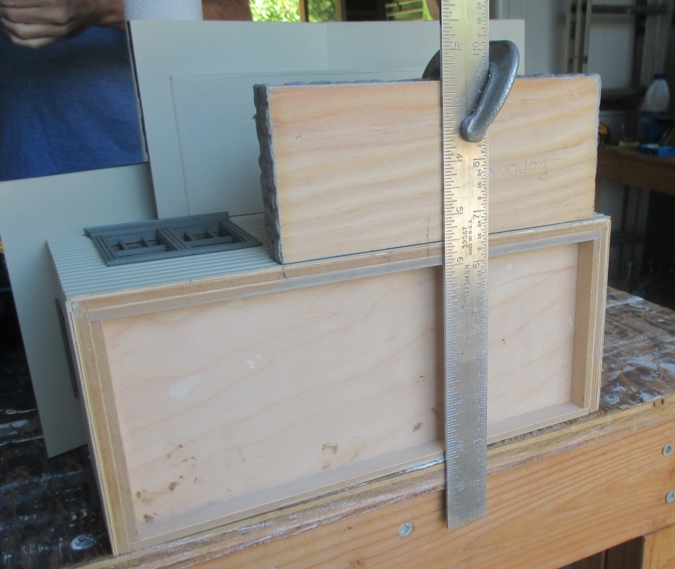 He squirted on the construction adhesive.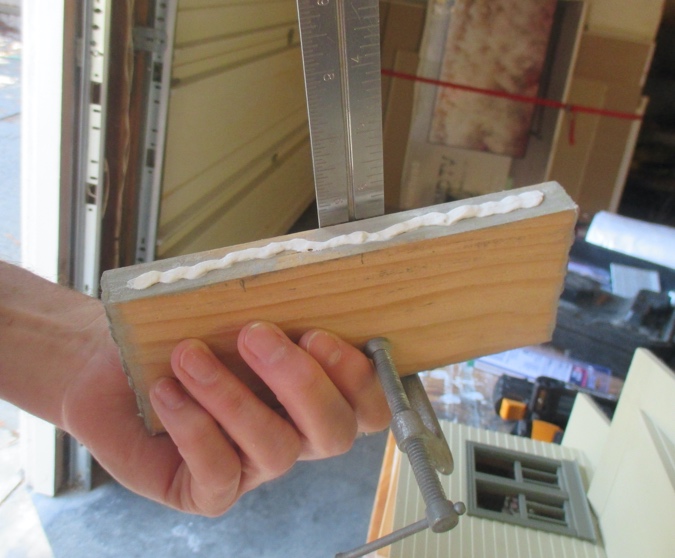 And then clamped the porch in place.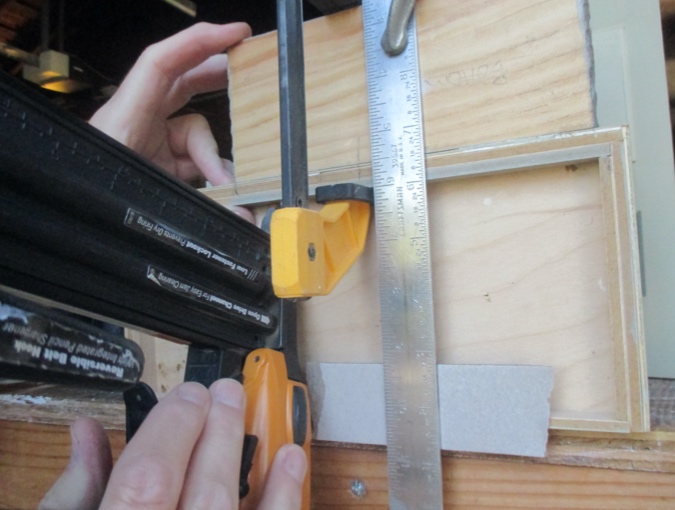 We let it sit for a few minutes, and then he shot in some nails. He did the outer edges first, and then removed the clamp and did the center. It probably didn't need that many nails, but see above re: over-engineering. (I'm not complaining!)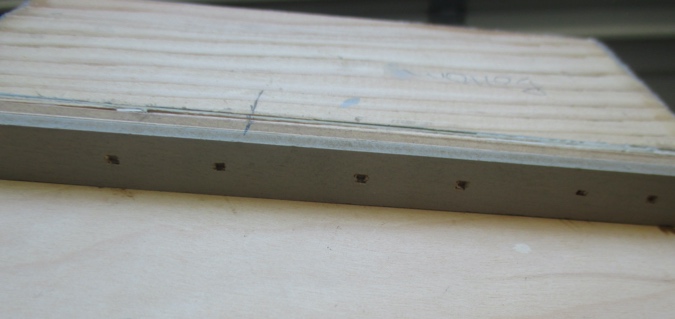 Once the porch was nailed in, we turned the house right side up again.