There are a lot of leaf punches available for scrapbooking but they're usually too big for dollhouse stuff, especially half scale. I went on a hunt for alternatives and found punches for tiny leaves at a European store named Green Stuff World. They have supplies for wargaming miniatures that can be used for dollhouse landscaping, too. (They also have a lot of steampunk stuff!)
The one I bought makes four different leaf styles each time you punch the paper. Here are some of the tiny leaves next to leaves punched out with a regular scrapbooking punch. Much better for half scale!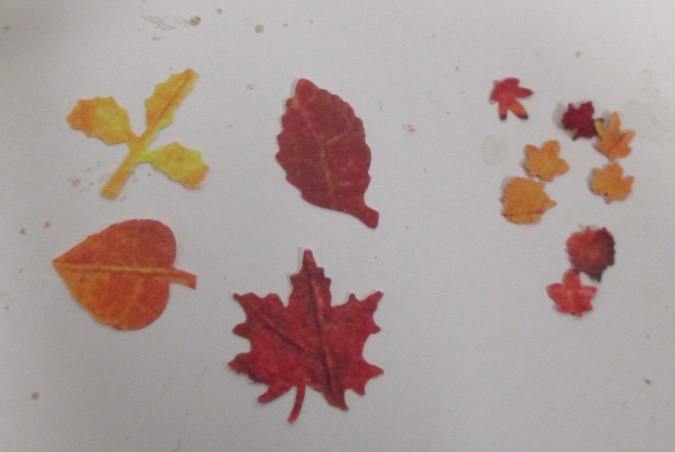 I used the punch on a piece of fall leaves scrapbook paper, after first painting the blank side of the paper red. I'm not finding this paper online so I'm not sure if it's still available. It's made by Recollections. I bought a couple of sheets years ago at Michaels.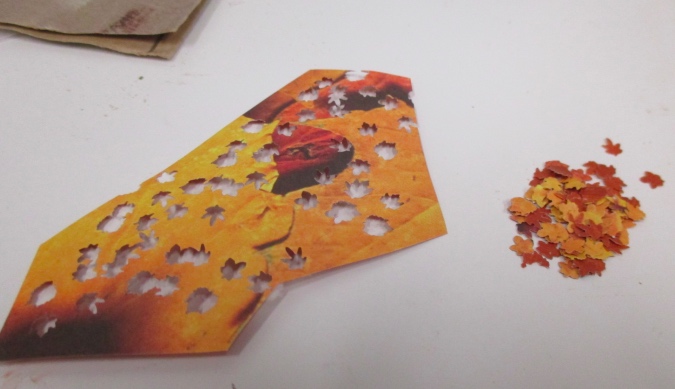 Here's the general idea of what I'm going for. I like that there are four styles of leaves, so they're not all the same, and the size is good. But it doesn't look authentic yet.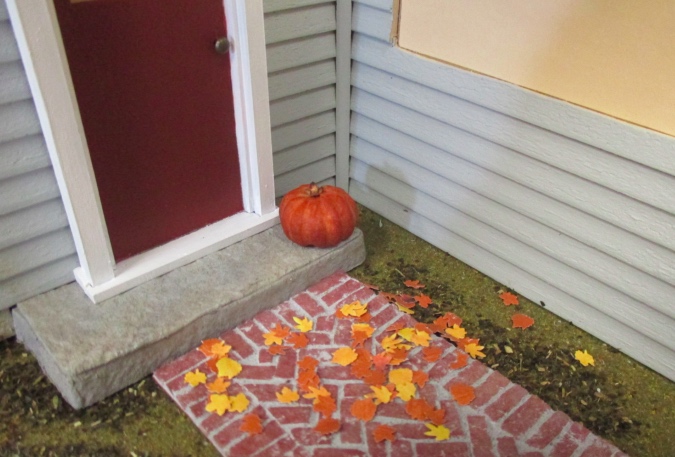 That's where the leaf litter comes in. I also bought this from Green Stuff World, but based on some stuff I read online I think it's made from the innards of birch tree seed pods, so if you have a birch tree handy you could make your own. They look just like little dead leaves.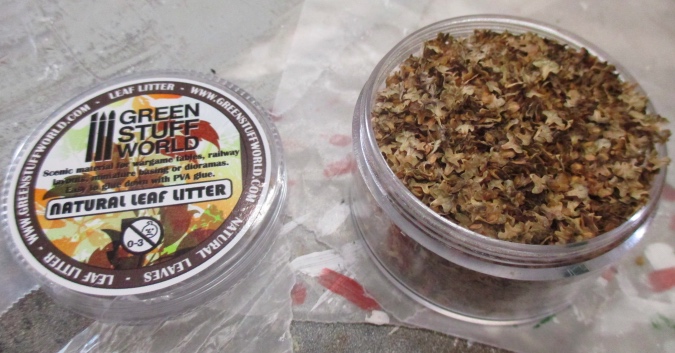 I rolled some leaves around in red paint and dabbed off the excess with a paper towel.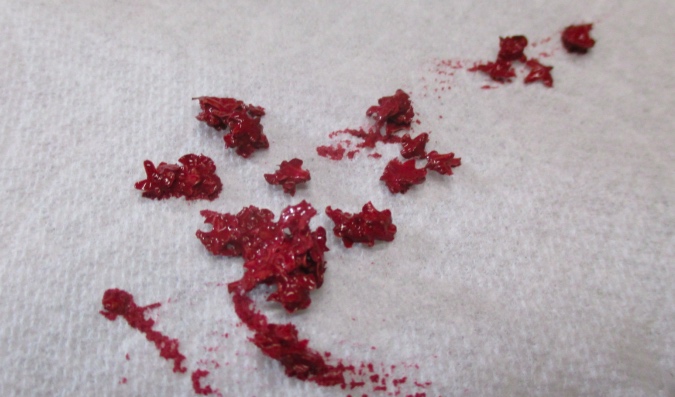 Then I transferred them to a piece of wax paper and let them dry overnight.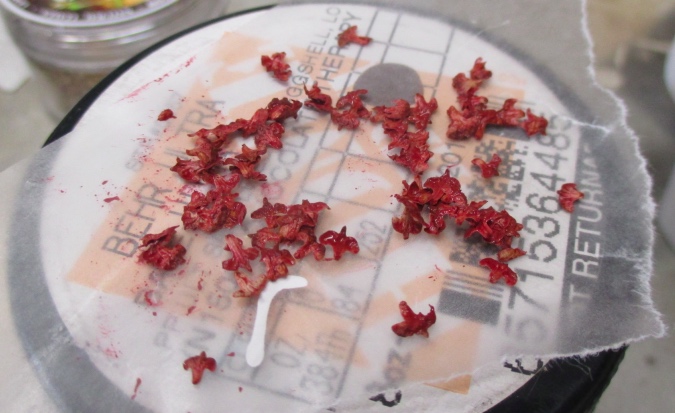 I did another couple of batches with different colors of paint, and then mixed them in with the paper leaves.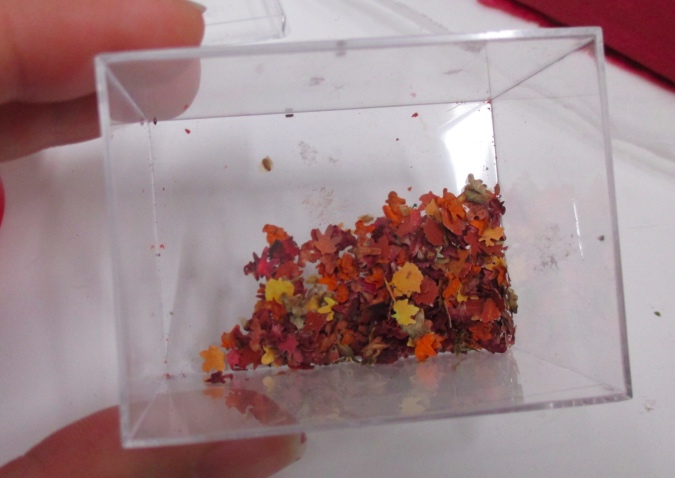 That's starting to look more realistic.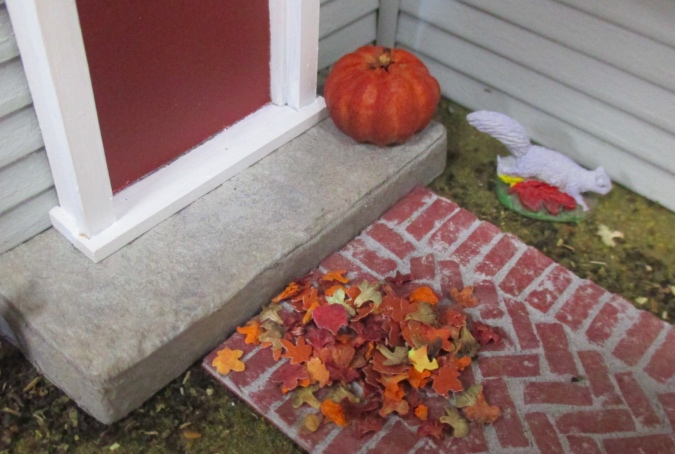 Of course, a leafy scene needs a rake. Island Crafts makes a nice snow shovel in half scale, which I used in the winter scene. They also make a nice leaf rake in 1:12 scale, but no leaf rake in half scale. I tried making my own out of green wire but abandoned that pretty quickly — my wire was too stiff to bend easily and I couldn't figure out a good way to fasten the pieces into a fan shape.
I recently bought a pair of fancy bracket thingies from Miniatures.com intending to use one of them as a decorative element in the Victorianna. The extra was lying on the table while I was trying to figure out how to make a rake and I realized that it sort of looked rake-like.
I painted it green and glued it to a skinny dowel. Here it is next to the shovel for comparison. This clearly wouldn't be a functional rake, but maybe it's a good enough lookalike?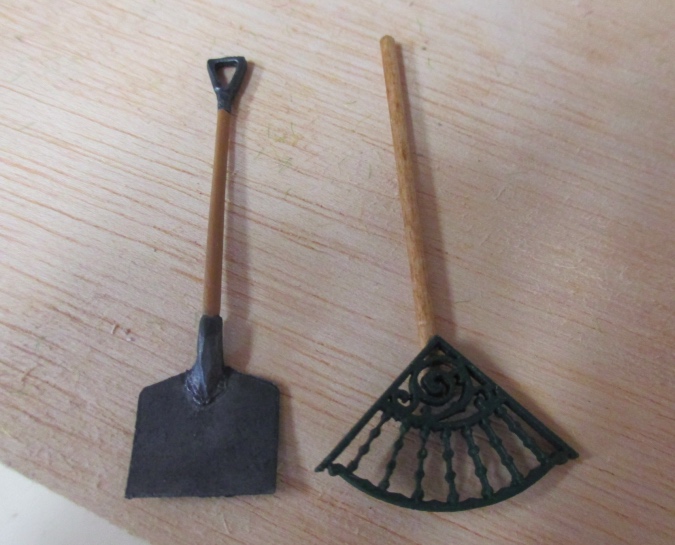 Here it is half-buried in leaf litter… are you fooled?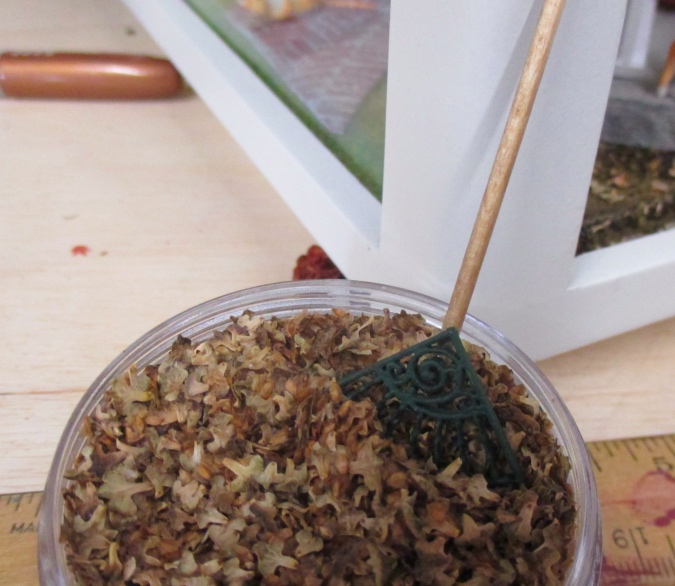 With my leaves and rake ready, it was time to make a big leafy mess. Here's the scene I started with.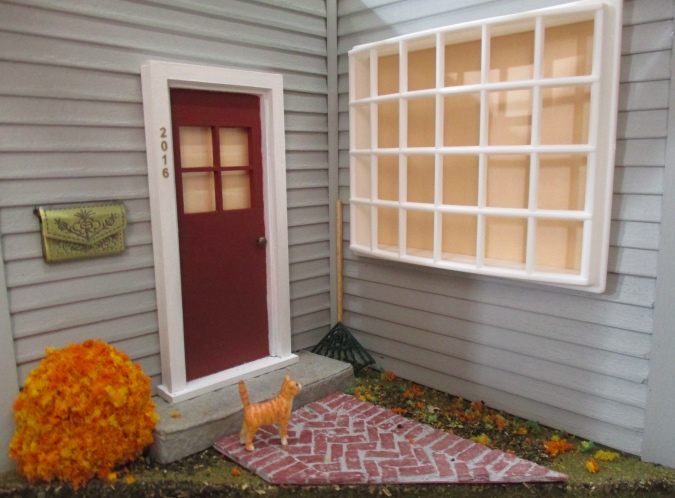 Here's my leaf mix, which includes paper leaves, painted leaf litter, unpainted leaf litter, and scraps of orange and yellow foam that shed off the bush when I was making it.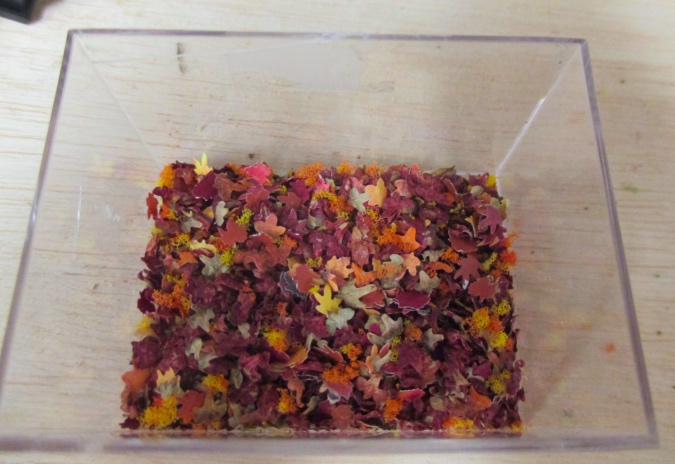 I started by brushing Mod Podge onto the ground.

Then I sprinkled leaves over it. Not all of these got glued down — there's a bottom layer, and then additional loose leaves on top of that. I would have liked to glue them all down but leaves kept sticking to my fingers instead of to each other.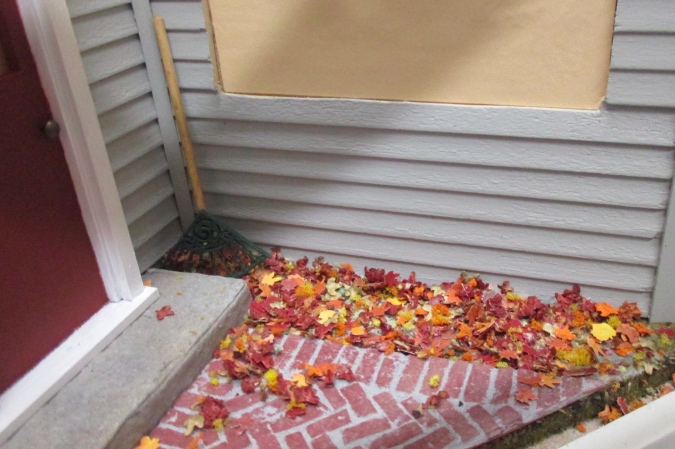 I covered the bottom of the rake in Mod Podge, added a dab of tacky glue to the top of the handle, and glued it in leaning up against the house. Then I added some more leaves around the bottom of it to hide the un-rake-like bottom edge.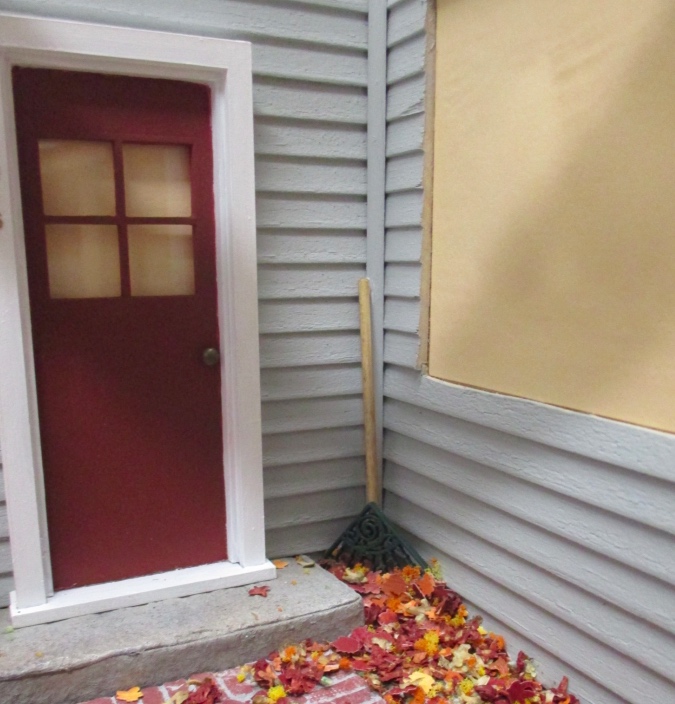 I added splotches of Mod Podge to the path and covered those with leaves.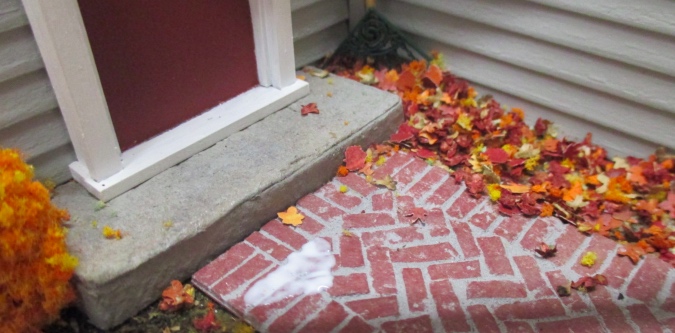 I added some dots of tacky glue to the stoop to glue down individual leaves.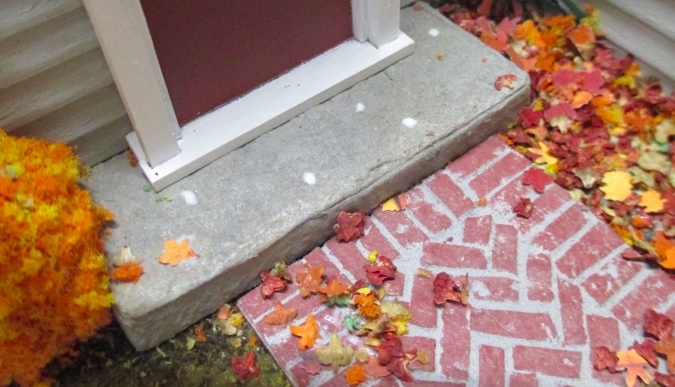 Here's the path and stoop sprinkled with leaves. Again, not all of these are glued down, but enough are that it won't matter if the loose ones shift around.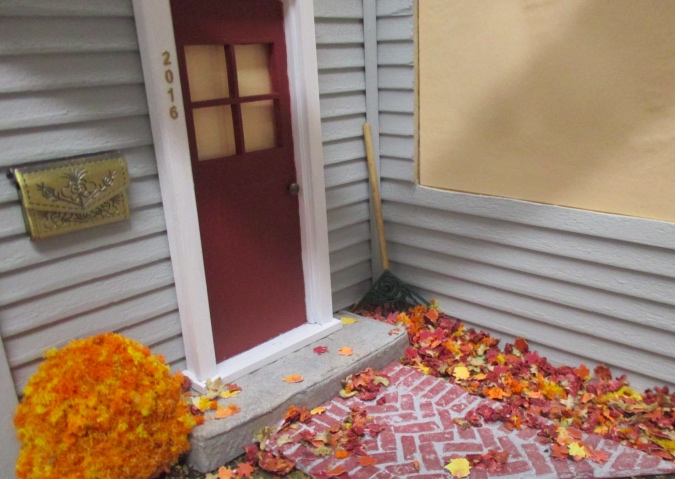 I also glued leaves to the top of the door.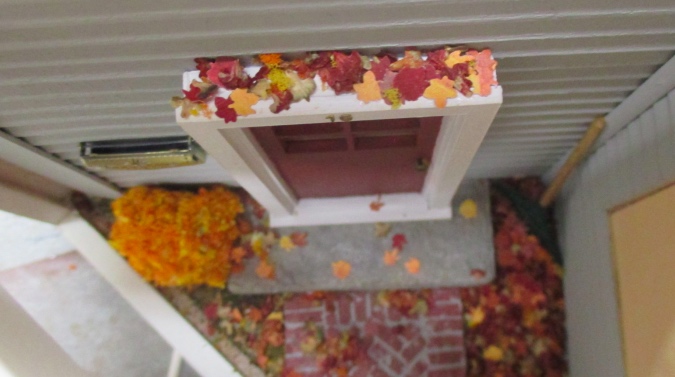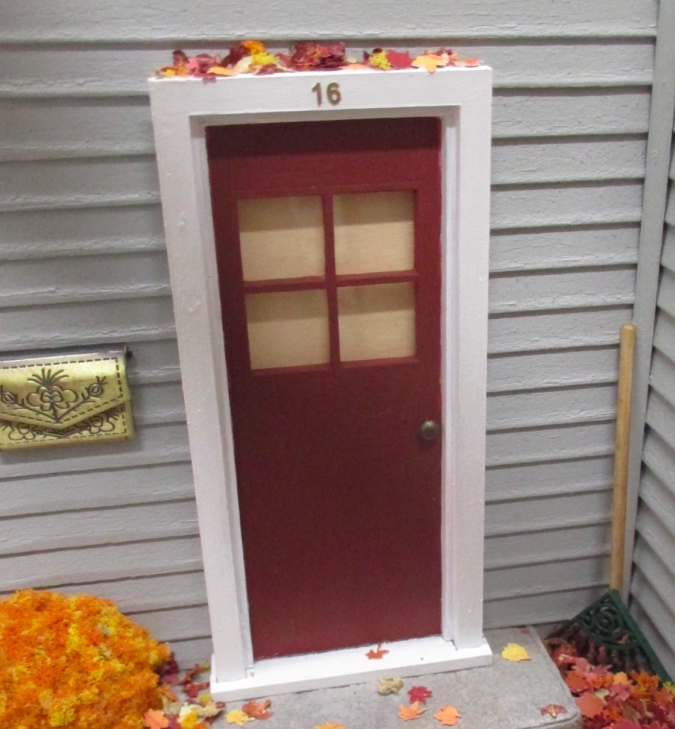 I have a couple of resin squirrels from a set of Department 56 autumn accessories I bought at Goodwill years ago. One of them is on a base that needed to be covered up. (You can see the squirrel with the base in one of the photos above.) I forgot about this until after I'd glued down the leaves, but the Mod Podge hadn't dried yet so I was able to clear off a spot for him. I glued the squirrel to the ground and dabbed glue around the base.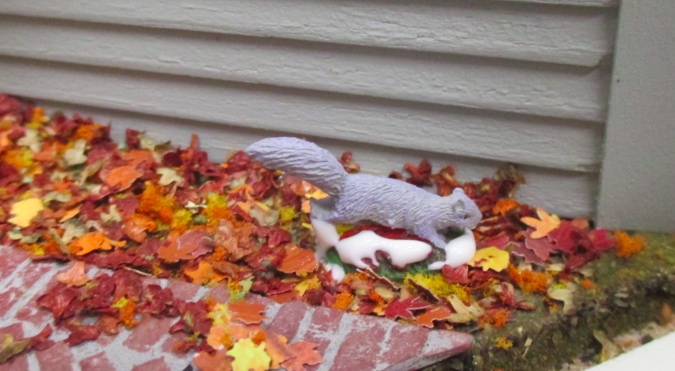 Then I shoved more leaves up around the base so it looks like he's running through them.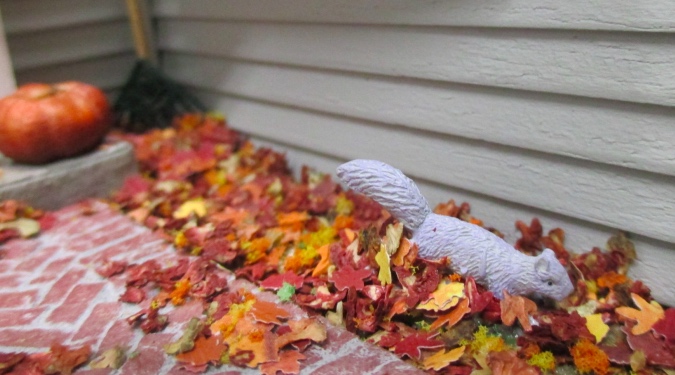 The other squirrel will go on top of the window, with the cat keeping an eye on him. I'm planning to add leaves to the top of the window, too, but I can't glue it in until I've decided what to add to the inside.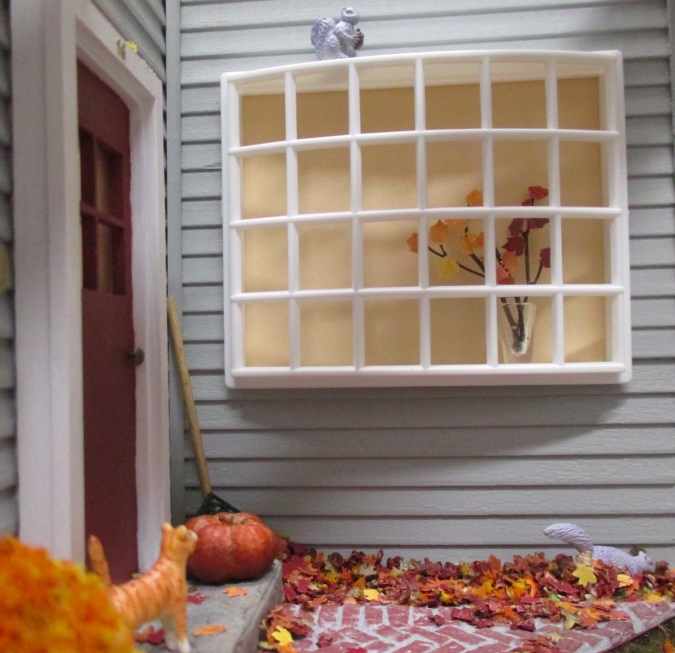 Speaking of that, I did glue some of the paper leaves to "branches" made of caspia basil stems painted brown (the same as the snowman's arms). I glued these inside a vase made from a 1:12 drinking glass, thinking it could go in the window.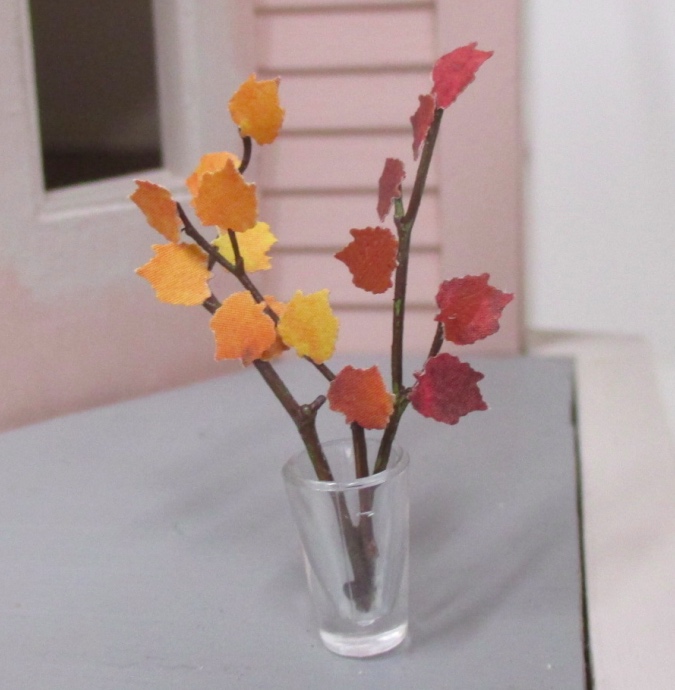 With all the leaves on the ground, though, this seems like leaf overload. Also the leaves aren't very well glued onto the branches (there's not much of a surface to glue!) and I'm worried about them falling off. Once the window's attached, that wouldn't be easy to fix. So I'll probably replace this with something else, and I'll find another setting to display the leaf bouquet.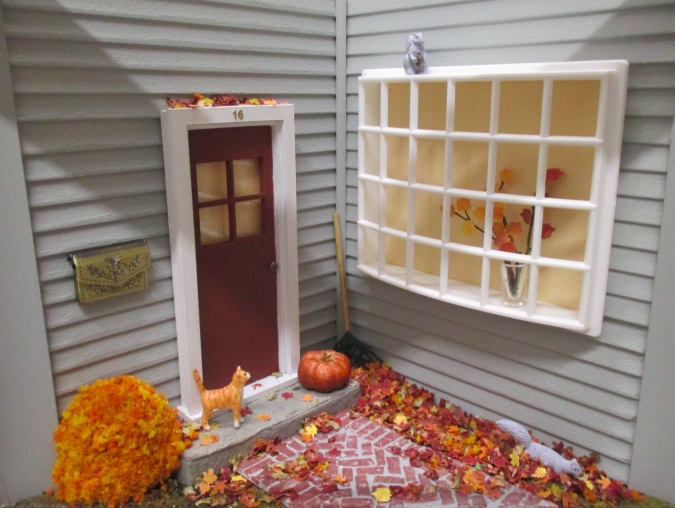 (Notice how the grass sheet I bought special and painstakingly covered with tea leaves to make it look fall-like is totally covered up? Oops.)
Here's one last aerial shot of the path. The pumpkin is a putka pod.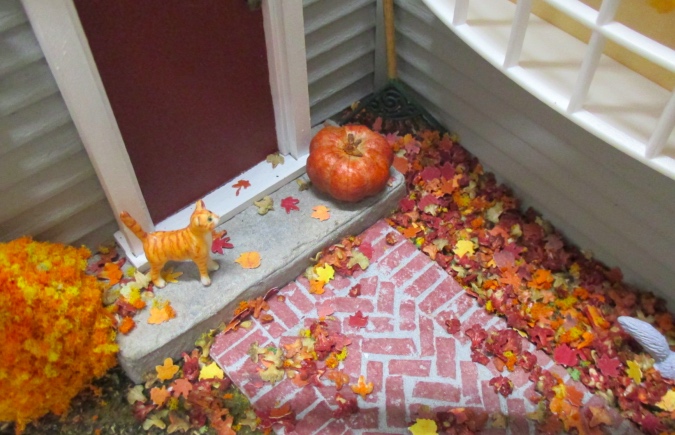 When I posted about the winter scene, I forgot to put the cat in the window. Here he is. (More window decorations are forthcoming!)