My goal with the four seasons roombox is to show the same scene as if it's progressing through the year. There isn't a ton of space for landscaping, but the front door has space next to it for a bush. I've made bushes before by covering round prickly things out of a jar of potpourri (or off the sidewalk) with clump foliage for model train layouts.
I dug through the potpourri jar and these are the four biggest ones I have left. I decided to use the largest for winter, since it won't have any foliage to bulk it up.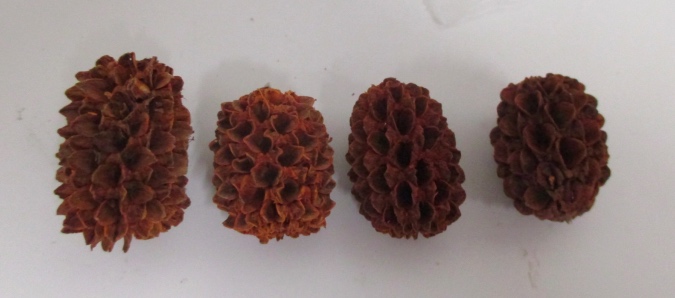 To make spring, summer, and autumn different from each other, I used different colors of foliage. This spring mix is finer than what I've used for bushes in the past, more like grass. I chose it because the light green seemed spring-like, and the yellow mixed in could be flowers. To stick this stuff on, just cover the prickly thing in glue and roll it around.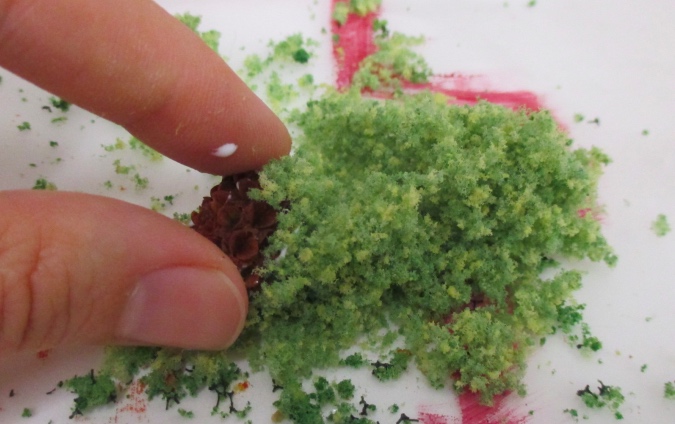 The summer bush is dark green. This stuff is clumpier and was a bit easier to glue on.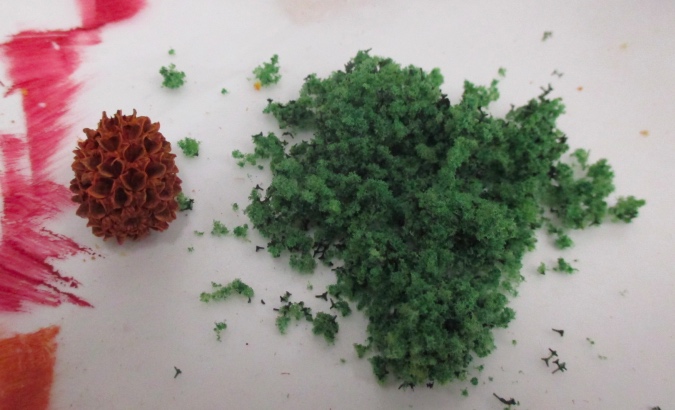 For autumn, I'd bought what I thought was orange/yellow clump foliage, but it's actually a sheet. (I'm not sure what this is supposed to be used for?) I cut off a piece and wrapped it around the prickly thing. When that didn't look bushy enough, I added a second layer.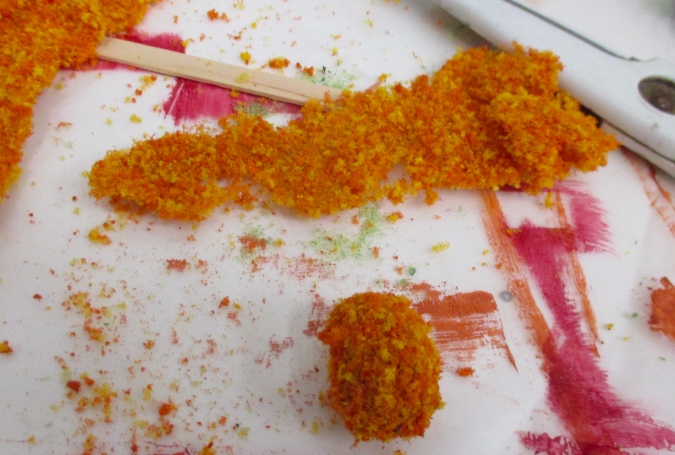 Here are the four bushes. Unintentionally, it looks like the bush gets fuller with each season. (Someone needs to do some pruning!) These prickly things came out of a harvest potpourri so they're orange. I painted the winter one brown, and it will also have some snow on it eventually.

The other thing I did this week is add house numbers and mailboxes. I have not been able to find many mailbox options in half scale. I started looking at charms and somehow stumbled across envelope locket charms on Etsy. Unlike most mini mailboxes, these open! The ones I got are about 3/4″ wide (approximately 18″ in half scale). I bought antique brass for the four seasons vignettes, and also a couple of silver ones for future houses.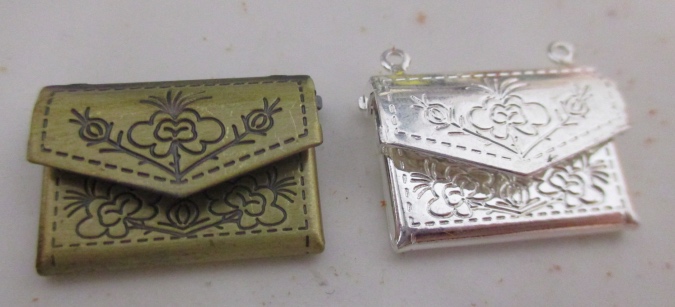 I used wire cutters to snip off the rings at the top, then used one of Geoff's metal files to shave down the nubs. There are catches on each side of the lid that hold the lid in place and make it hard to open. I used needlenose pliers to fold these under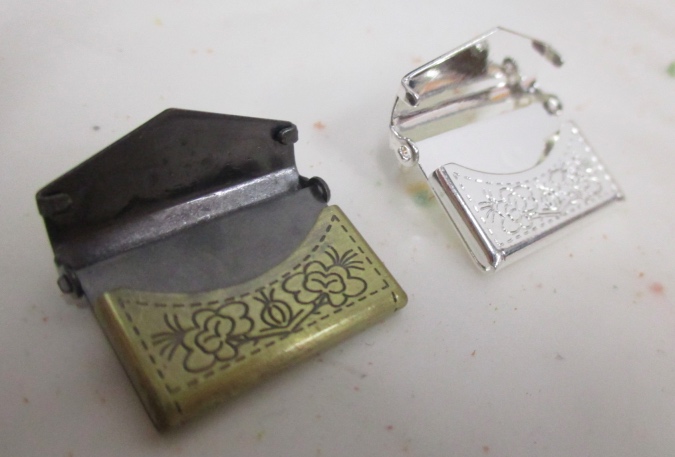 I positioned the mailbox on the siding so that the lid opens. It has to be set down slightly from the bottom of a siding strip, otherwise the back edge of the lid will run into the bottom edge of the siding. I don't know if I'll actually put mail in any of these, but it's nice to have the option!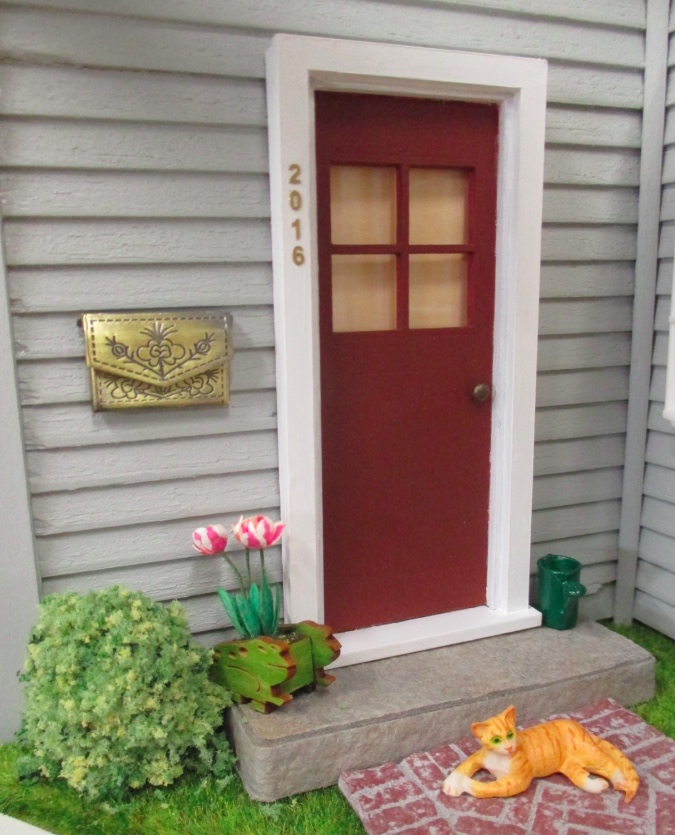 The house numbers are from Miniatures.com and come with four of each number — exactly what I needed. These are not marked as being half scale but they seem to be (in fact they're almost too small), with each number about 1/8″ tall.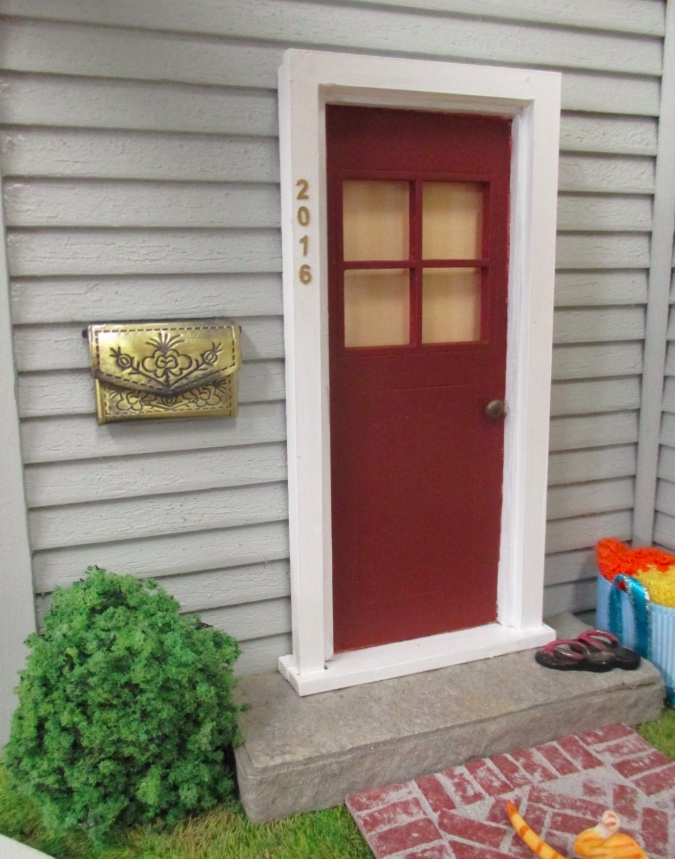 I like house numbers on dollhouses to mean something. I tend to create a number out of the month and year the house was finished, but I didn't have enough 1s to do 1116. I decided instead to do 2016… but now I'm not sure I like it. All I see when I look at it is a year, not a house number.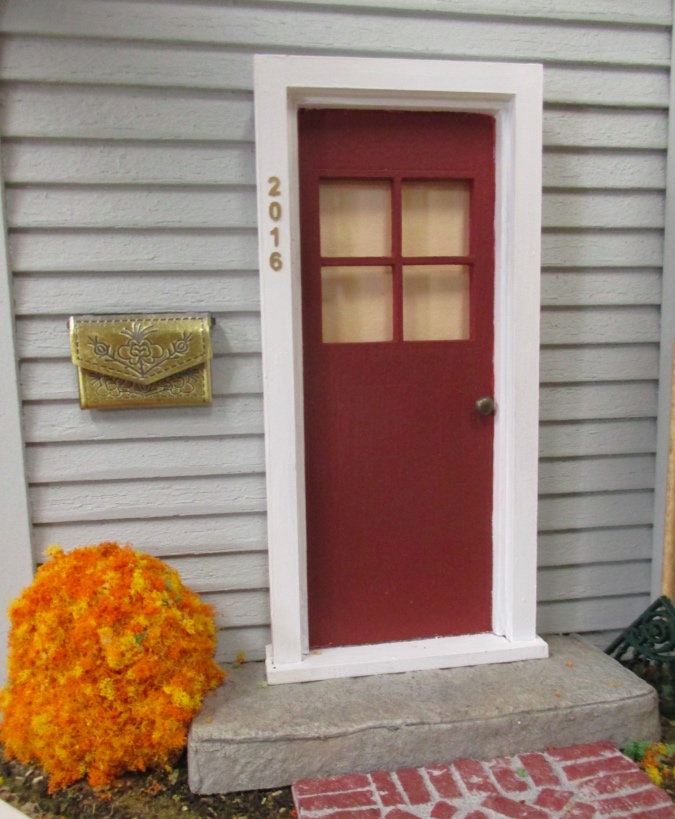 I'm tempted to change them all to 16 (and possibly to move the numbers above the door). Now that I'm thinking about it, the sheet numbers sheet includes an extra set of 1s, so I *could* do 1216. (The project won't be finished before December!) Decisions, decisions…