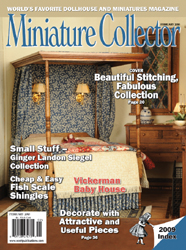 An article I wrote for Miniature Collector, entitled "Cheap & Easy Fish Scale Shingles," will appear in their February issue. I received my sample copies a few days ago and I'm guessing the issue will show up for subscribers in the next week or two, so if you subscribe, keep an eye out!
This article describes a step-by-step process for making decorative fish scale shingles out of posterboard, like I did on the sides of my Fairfield. I learned this technique from Pam Junk, who suggested it to me when I was complaining that my Fairfield was looking… well… too green. Cutting out the shingles is a bit of a chore, but these are a lot quicker to apply than individual shingles, and from a cost perspective it's a no-brainer.
This is my second article for Miniature Collector. The first came out back in 2006 (before I was freelancing for a living) and gave instructions for making miniature books by scanning the covers of life-sized books. Scott Publications gave me permission to post that article as a writing sample, so you can view a PDF there if you're interested. I hope to write more for them in the future.
Update, Sunday afternoon: I went to the dollhouse store today on an emergency trim mission, and the the February issue is in stock now.