When I left off with Mr. Spatula's water cooler, I'd made a rather sad attempt at using resin and decided that would not be a good way to achieve a water effect. My second attempt was going to be a snow globe, but I was concerned about the castle (which is a metal charm) rusting in the water. Mr. Spatula wouldn't like that.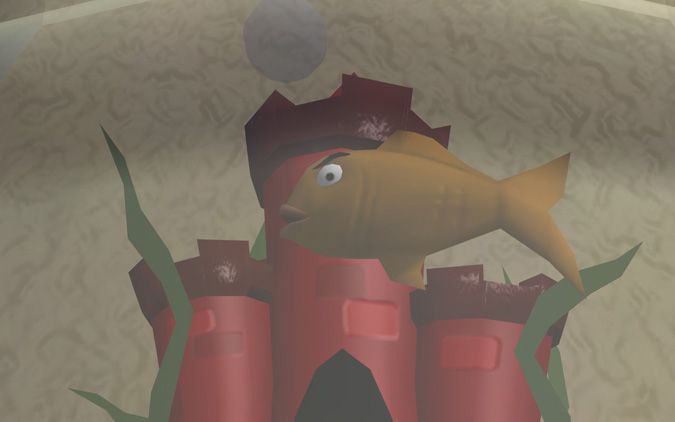 Snow globes are made with regular water plus a few drops of glycerin, a clear gel-like substance that adds weight to the water so the snow/glitter/whatever in the globe drifts when you shake it. My aquarium won't have any drifting pieces, but I planned to make my snow globe the same way (because why not?) and bought a little jar of glycerin for that purpose. In the comments on my last post someone suggested using just the glycerin and not the water, so I wouldn't have to worry about the castle rusting. Hey, good idea! (Why didn't I think of that?!)
I painted another castle and put together another base. (If you're just tuning in, you can read about the process of making the base here.) This time I used the waterproof Silicone Sealant and Adhesive to glue everything down. I don't know if "waterproof" applies to glycerin, but it seemed more likely to hold up in wet conditions than regular glue.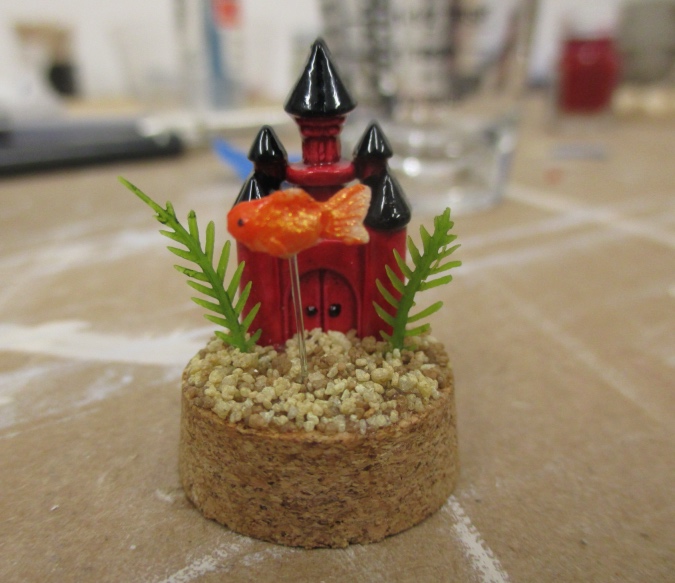 I used monofilament to attach Mr. Spatula to the base this time. It's more invisible than the plastic shopping tag thingie I used last time.
I covered the top edge of the dome with masking tape, to prevent getting glycerine on the glass where I would want glue to stick.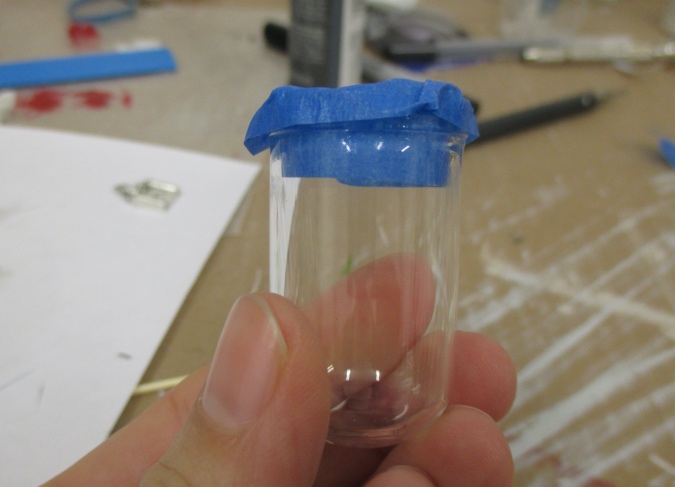 I measured slightly more than 1/2 tablespoon of glycerin into my little shot glass measuring cup and used a funnel from the kitchen to pour it in. (The glycerin is food safe — it's used in cake icing.)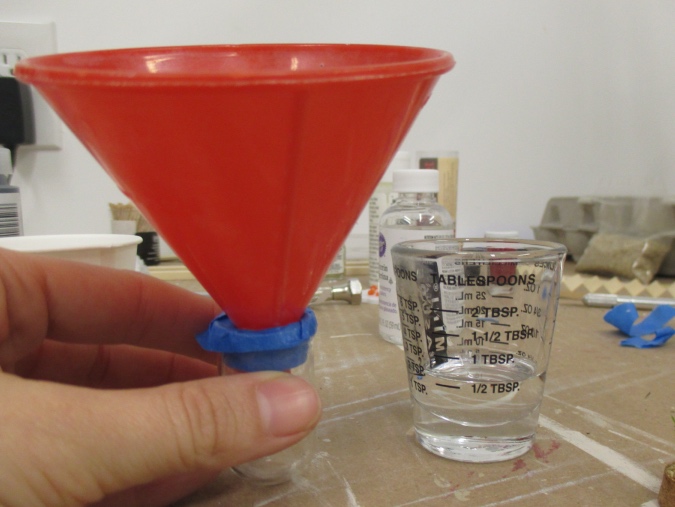 Like with the resin, I wasn't able to get all of the thick glycerin out of the shot glass and the funnel, so I ended up with less in the dome than I wanted. I even added another few drops out of the glycerin bottle, but I didn't want to overdo it. I added the silicone adhesive to the cork and pushed it in.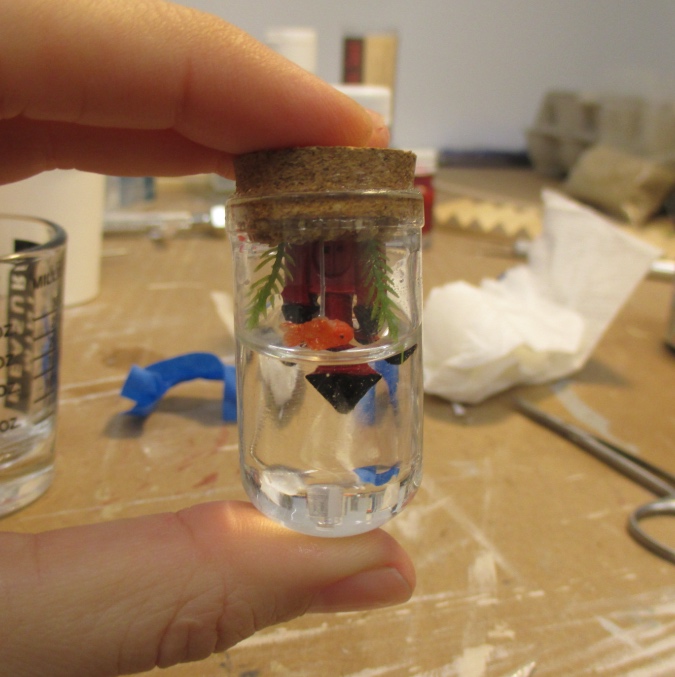 Some big bubbles formed when I turned it right-side up, but unlike with the resin, I can pop these by tilting the globe.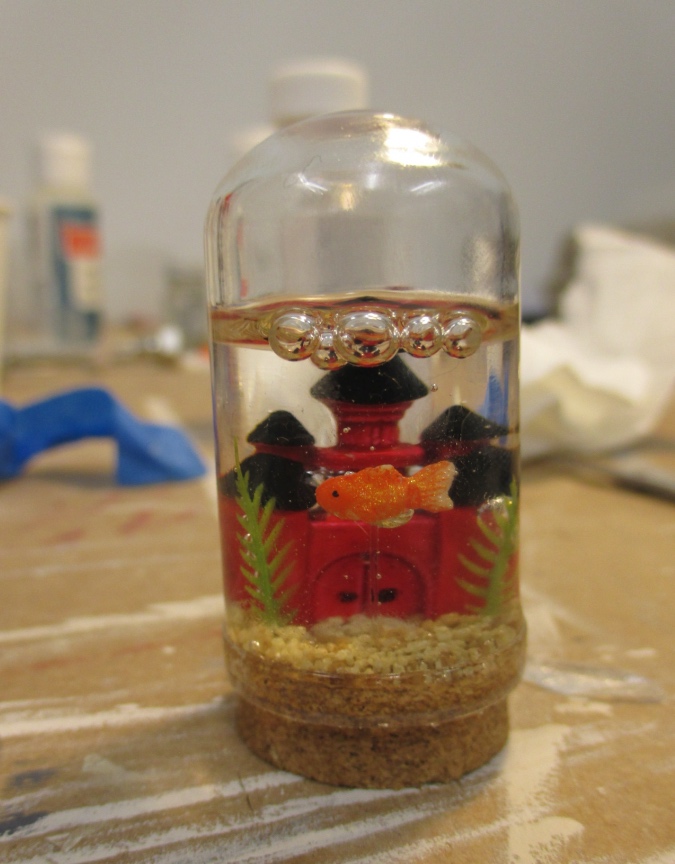 Some bubbles also gathered in the back of the castle, which is fine since you can't see them there.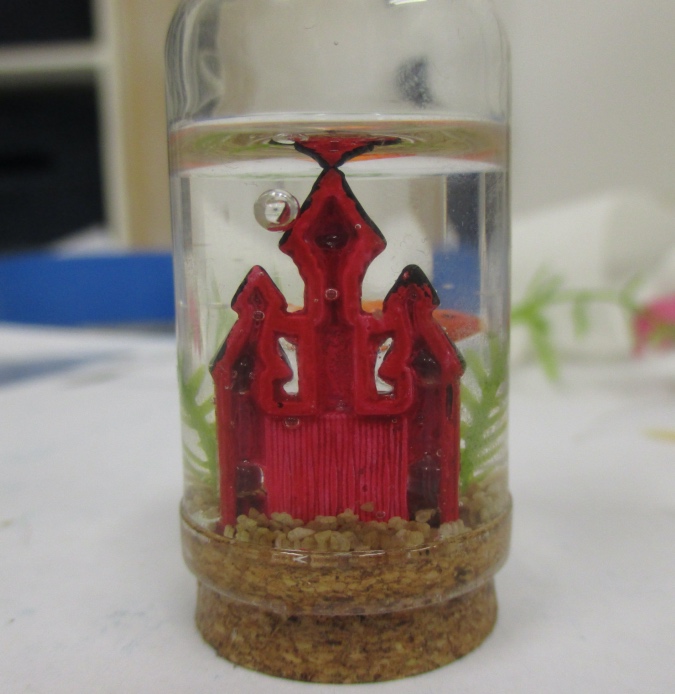 I don't want air to seep into the dome over time, so I decided to coat the entire bottom of the cork with the sealer. Then I left it upside down in a cup overnight to dry.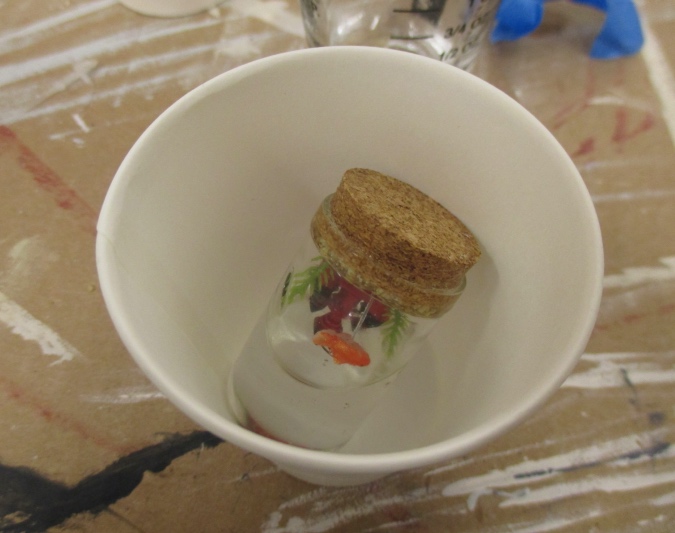 This attempt turned out much better! The castle is still comically large due to the curve in the dome, but I don't think I can do anything about that.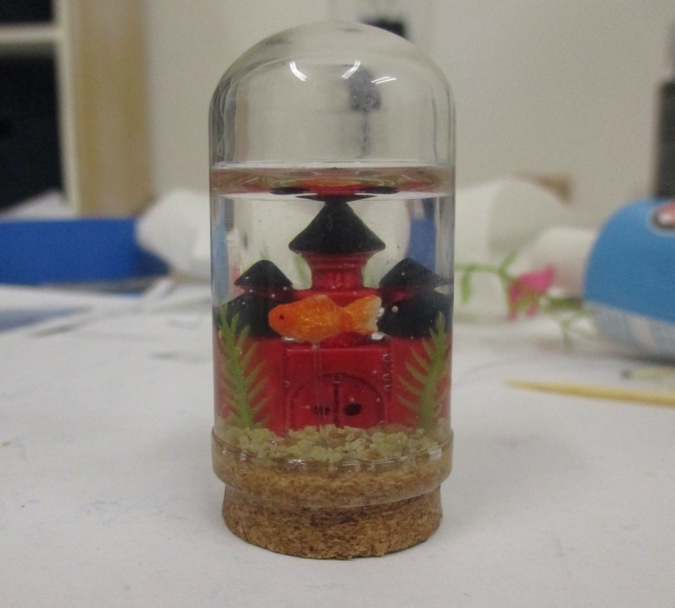 I'm going to make another one since there are two things I'd like to do differently: 1) Adding adhesive to the cork before pushing it in meant I wasn't able to shove the cork in as firmly as it can go — it has a kind of spongy fit. It doesn't seem to be leaking, but I would feel better about it if the cork were pushed in more firmly. So next time I will forego gluing the cork and instead push it in tight, and then add the silicone around the bottom edge.
And 2) there's still not quite enough liquid in here. The glycerin just reaches the top of the castle, and it needs to come up a little higher so there's less of an air gap at the top. Next time I can hold this one up next to the dome I'm pouring into and use it as a guide for how much glycerin to add.