With the apex trim figured out, I turned my attention to the Turret House's turret. Here's how it looked the last time I took a picture.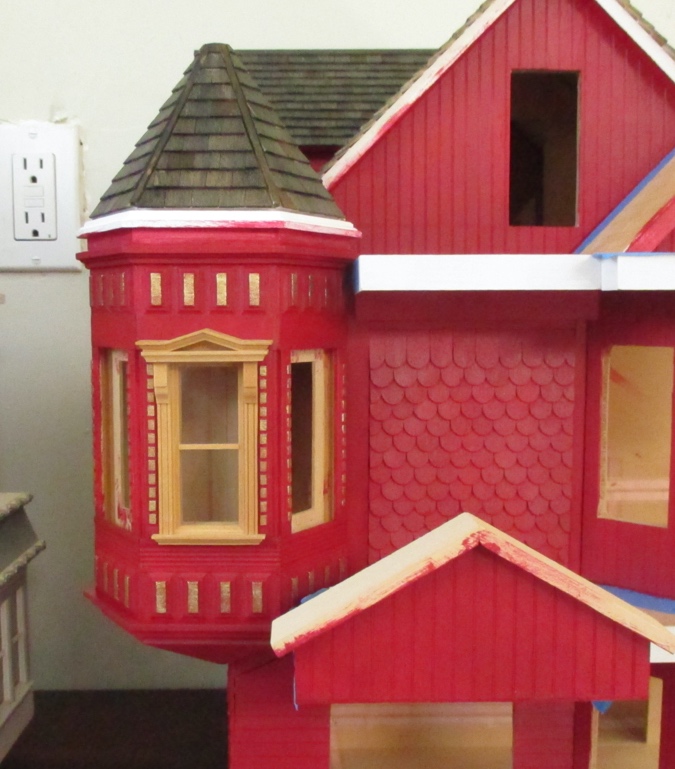 Since then I painted the top and bottom with the dark blue trim color. I also painted the wood inside the window holes, which is visible through the windows.
There's a bit of a gap where the turret's panels meet up.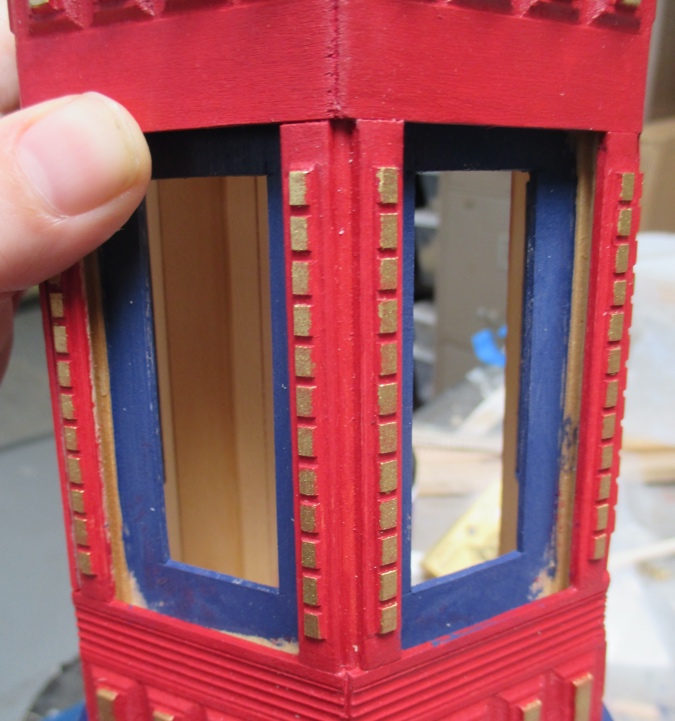 I cut pieces of quarter round to fit in these gaps and create more fluid corners.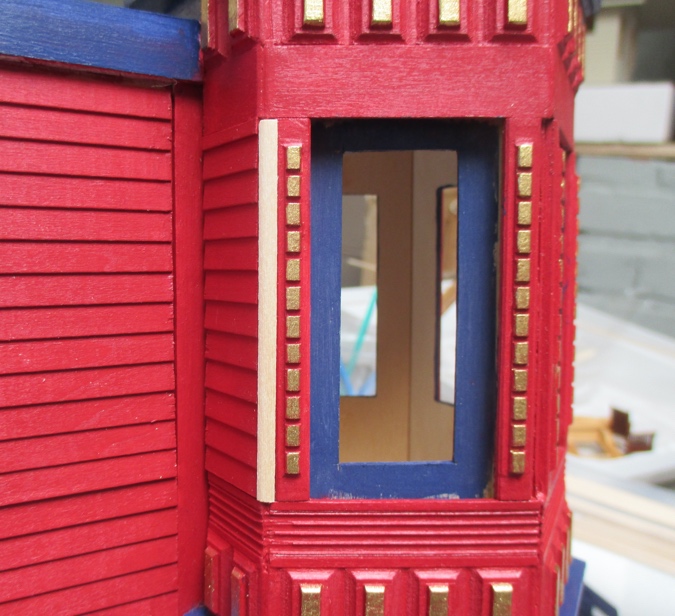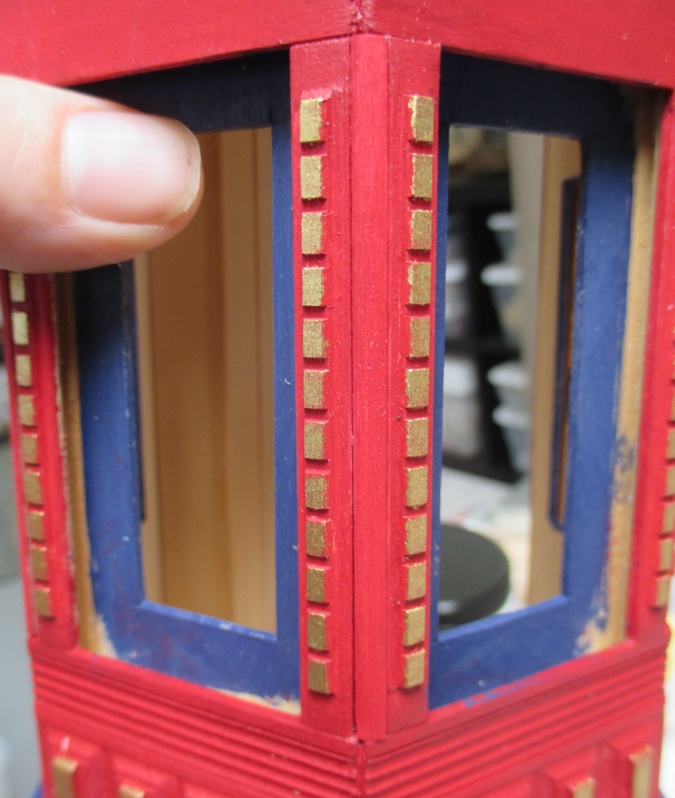 After gluing in the quarter round, I filled in the cracks around the edges with wood filler.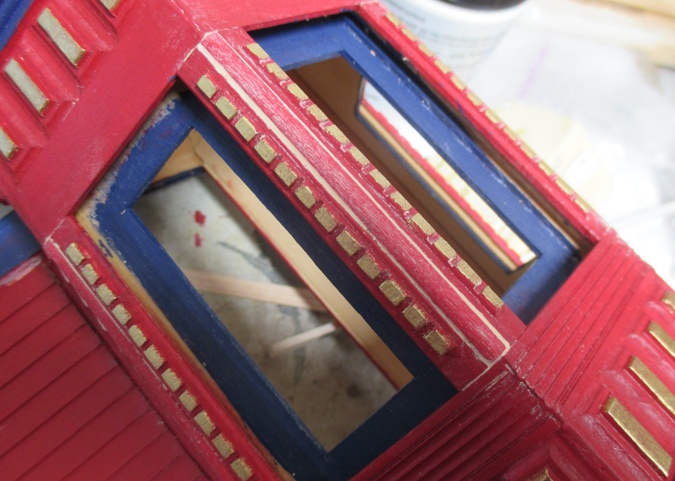 Then I painted over it. The corners look neater now.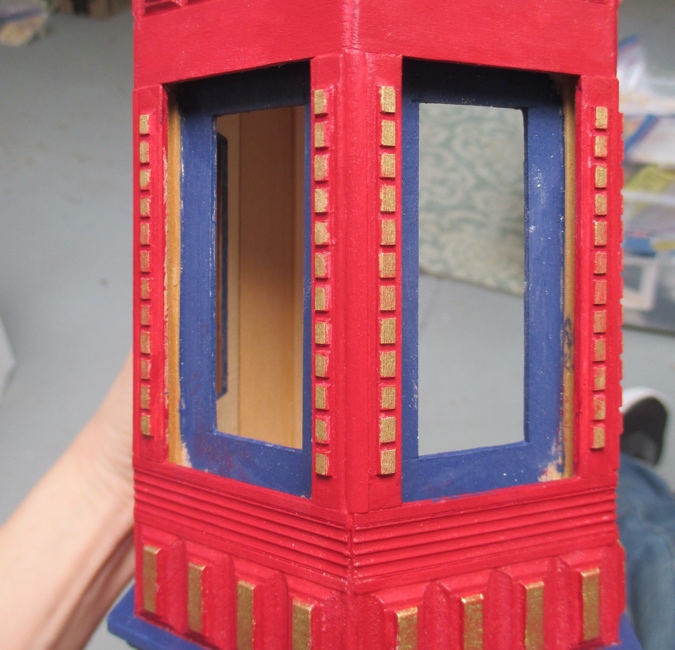 I painted the windows blue with gold corbels. Now I'm not sure if I should keep the ridges next to the windows gold, or if it's too much gold. Opinions welcome!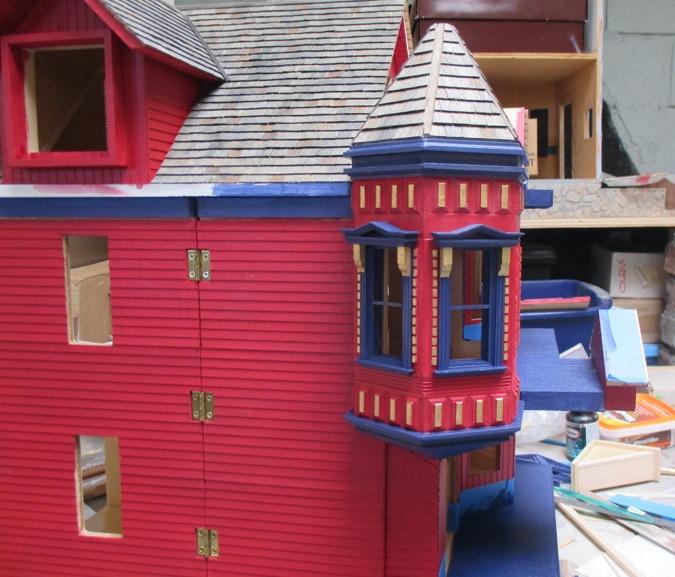 I'm planning to glue dentil cornice under the roof.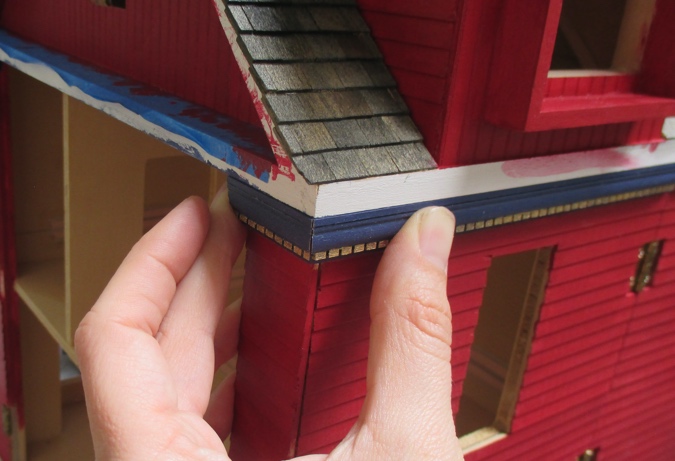 To carry this idea over to the turret, I bought this tiny dentil trim from Victorian Dollhouse Wood Works.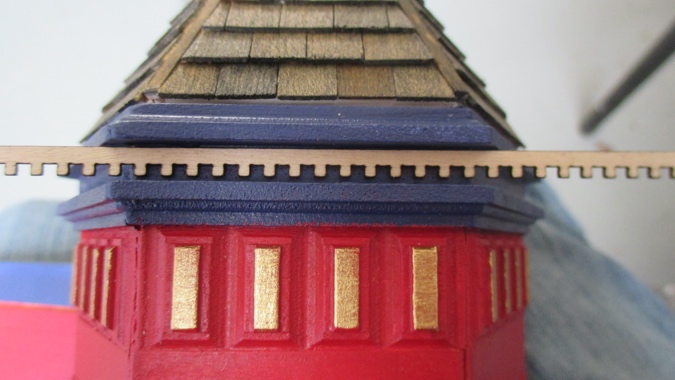 This was hard to glue in straight, especially because I reattached the panel to the house before doing it. (I like to make things difficult!) Some dried glue lumps under the crown molding made an uneven surface for the dentil trim to adhere to. I used toothpicks to move it into position and a few dots of super glue to make pieces to stick while the tacky glue dried.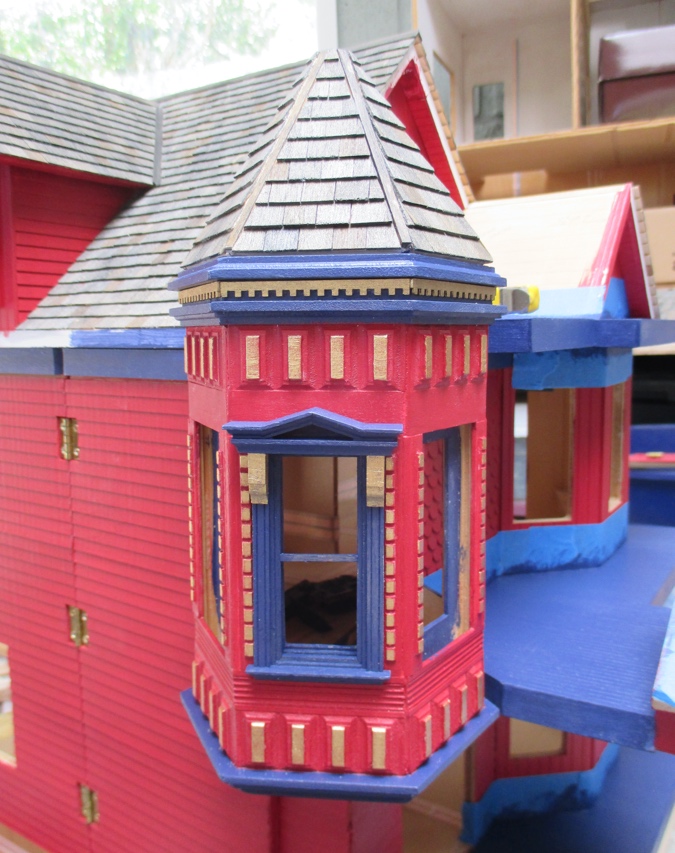 I'm thinking about adding quarter round or another small trim on top of this so it will look more like the dentil cornice, but haven't decided yet.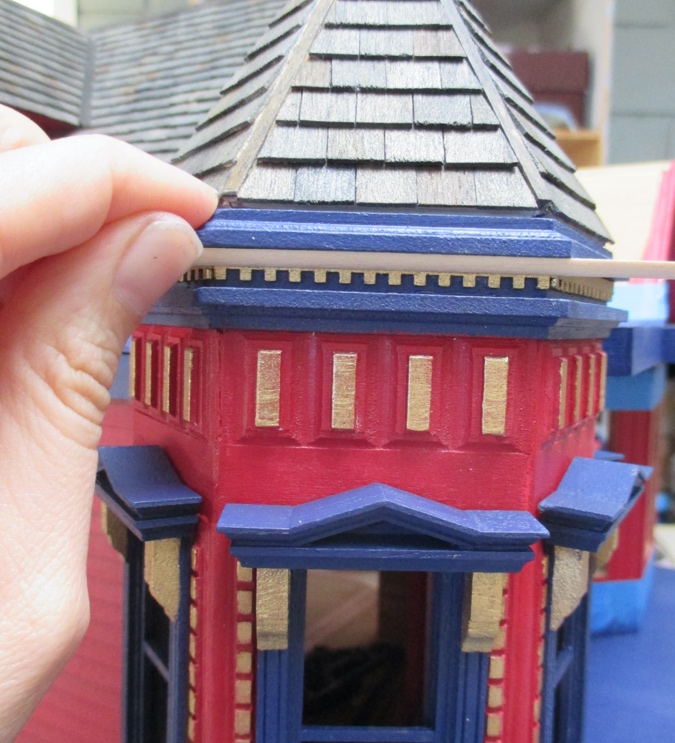 This resin finial came from Lawbre. It's about 1 3/4″ tall, which seemed too tall for the turret. (Sorry I didn't get a better picture of this, I was afraid it would fall off and break so I quickly took the picture and moved on!)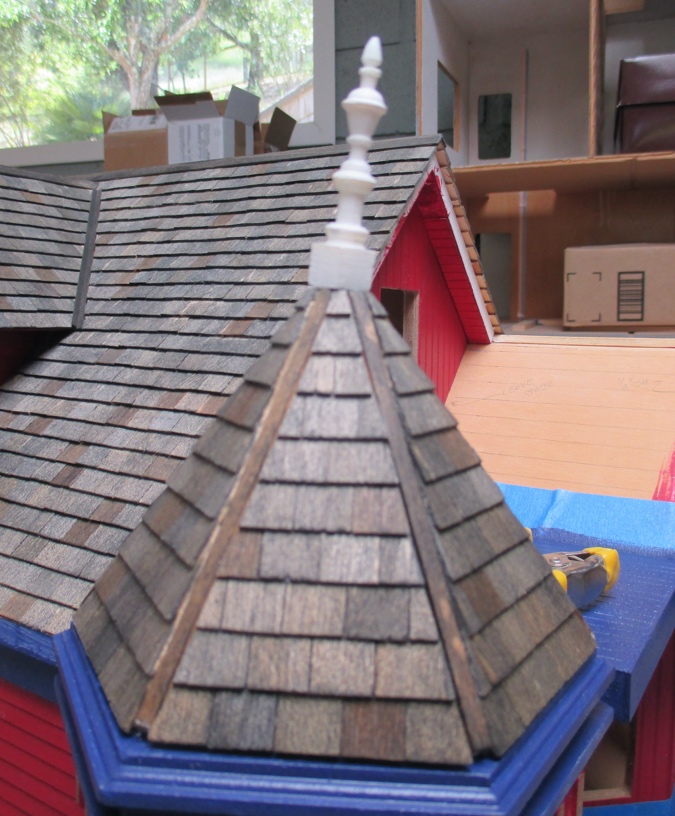 I cut off the square base. Better, but still a bit too tall.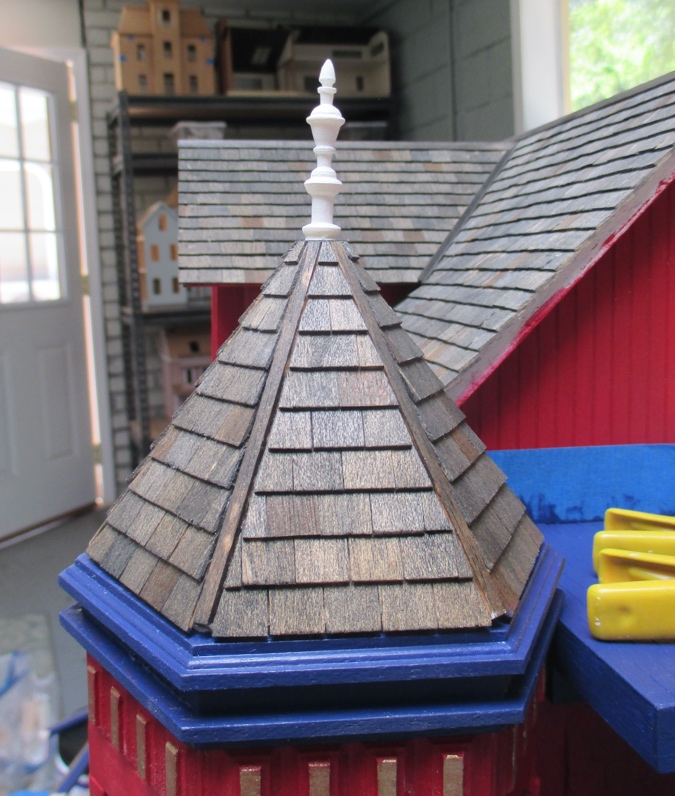 So I cut off the bottom segment. That looks more to scale.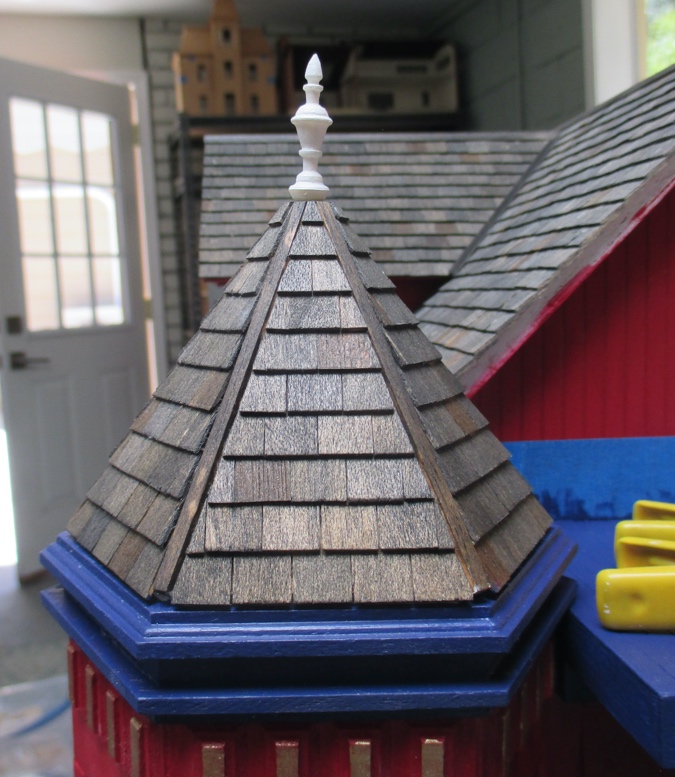 Gluing this to the turret's peak didn't seem like it would be very sturdy. (I broke three finials on the Victorianna's tower roof before that house was finished!) The peak has a small slit where the pieces of wood don't quite meet up. I used my micro drill to drill a hole in the bottom of the finial, and glued in a piece of wire. This will stick down into the turret roof and help prevent the finial from going flying if it gets bumped.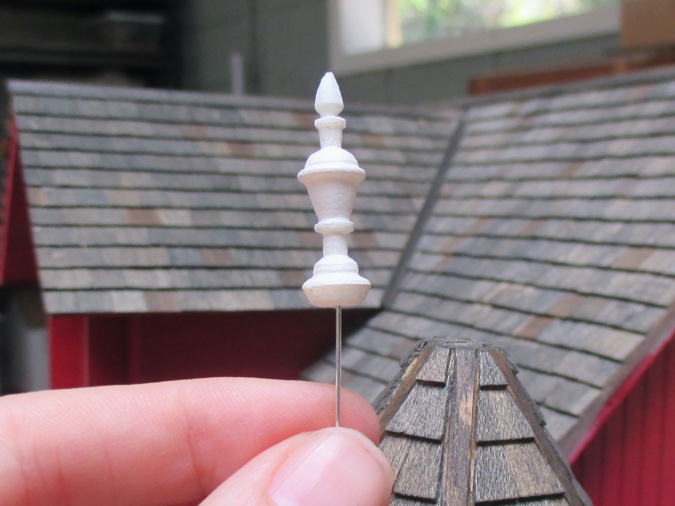 Not glued in yet, but here it is with the gold paint.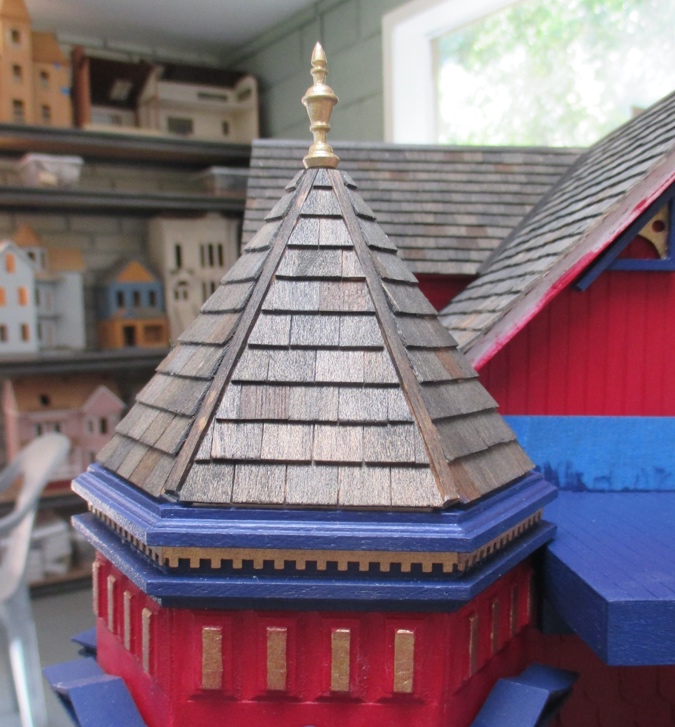 And a pic of the front of the house. Much more trim to come!