Last week when I saw this tutorial from Antique Daisy for making a dresser with fake drawers, it inspired me to make one for the Rosedale. I've been looking for a tall skinny dresser that sort of matches the bed and nightstand I'd built from kits for the bedroom. The corner where I wanted to put it is only about an inch wide and so far I haven't been able to find anything that works in that space, so making my own seemed like the best move. And I hate building drawers, so a dresser with nonworking drawers is even better!
Daisy built hers from a block of wood, but since I didn't have a piece that was the right size handy, I cobbled my dresser together from strip wood that was lying around. First, on the front edge, I glued on narrow pieces of wood to create "frame" to hold in the drawer fronts. (I used the drawer fronts as spacers to glue the trim pieces on, then pried them out so they could be painted separately.)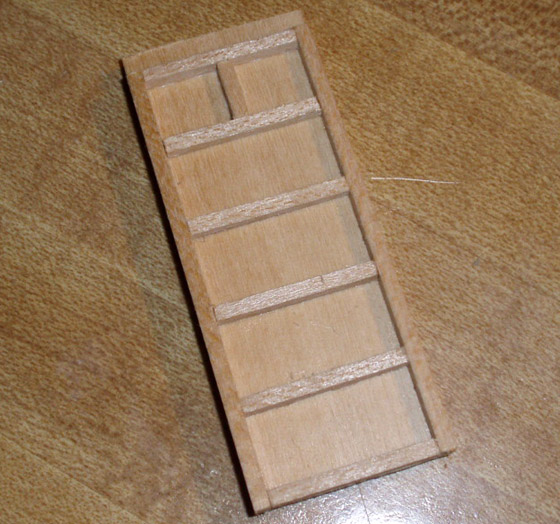 Next I glued the fronts and sides together to form a box. I also glued a thin shim just above the top trim piece, since the crown molding I planned to use at the top was slightly shallower than the trim and I wanted them to line up.
Since I was using spare pieces of wood, I didn't think ahead of time about how thick the dresser would be. (We'll revisit this later!)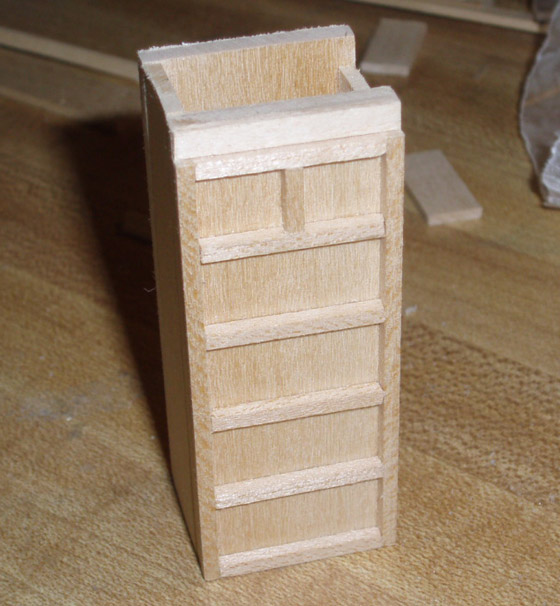 Here it is from the side. You'll notice that the side piece on the right is a bit too short, I didn't have enough wood. That's okay, since the top edge will be covered with crown molding (and I'd planned for that side to face the wall, anyway!)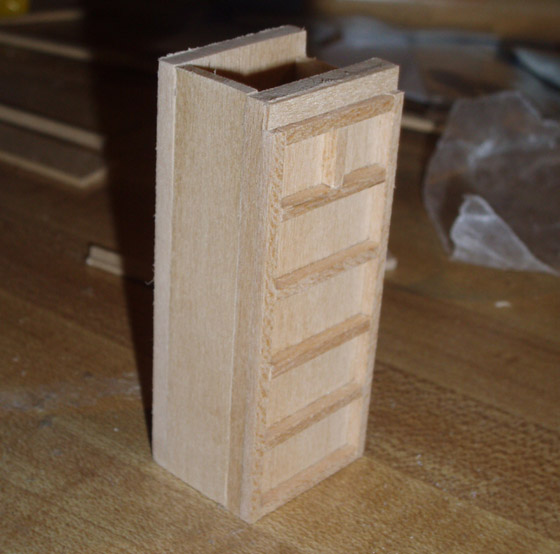 Next I glued crown molding at the top. As usual, the angles completely confused me and I went through almost a whole strip of molding getting it right. Luckily I didn't run out! For the top, all the wood I had was much too bulky, so instead I used a piece of card stock.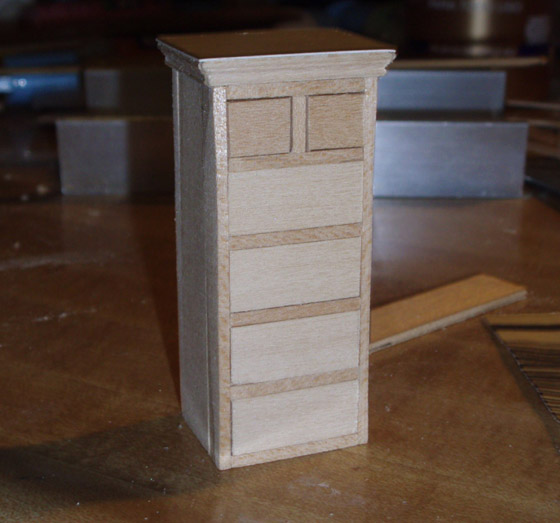 Here's how it looks in the Rosedale. Yuck, I don't like it! For one thing, it sticks out a bit farther than I expected it to. (And this picture was taken after I sanded off about half the back piece using a power sander!) I also don't like that the side, which is where your eye lands when you look into the room, has zero visual interest. (Well, the crown molding's there, but it's not enough to save it.) I also tried turning it so the front faces out, but then the right side was too close to the window.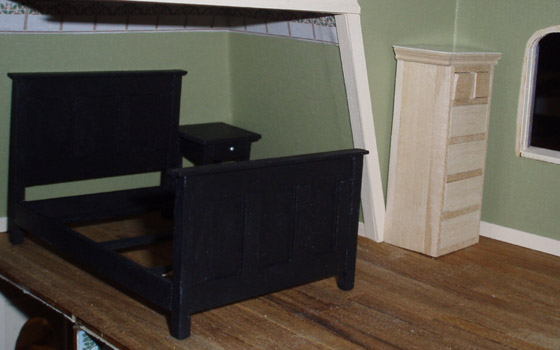 While I was agonizing over this, I stumbled across this lovely dresser on the Greenleaf forum, which was built from the same tutorial. The lightbulb went off… if I use square posts at the corners and have the sides pieces inset a bit, the dresser will look much closer to the paneled bed and will also be more interesting to view from the side. (Okay, that's a project for another time…) But I'd already put several hours of work into this dresser (grr, crown molding!) and I didn't want to scrap it. So I decided to use it in the Fairfield instead.
I painted it purple using one of my favorite Glidden testers. I painted the doors separately thinking they would look more realistic than if I glued them in and then painted. Not sure if this logic holds true.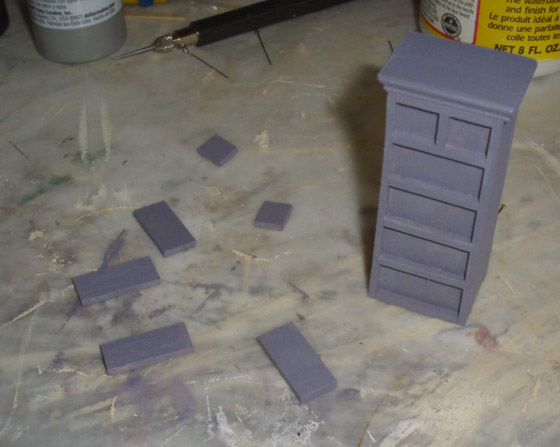 And here it is assembled. I used clear seed beads for the handles, they look like glass. Originally I planned to add feet to the bottom of the dresser but I think it looks fine without them, and it's tall enough already. (It's 2-5/8 inches, which would make it around 5′ 3″ in real life… that's as tall as I am! And if it were me living there, I'd definitely want to be able to see into those top drawers…)
I decided not to prop open one of the drawers like in the tutorial. The other dresser in the Fairfield's bedroom has real working drawers so if I want one slightly open with clothes hanging out for "ambiance," I can do it there.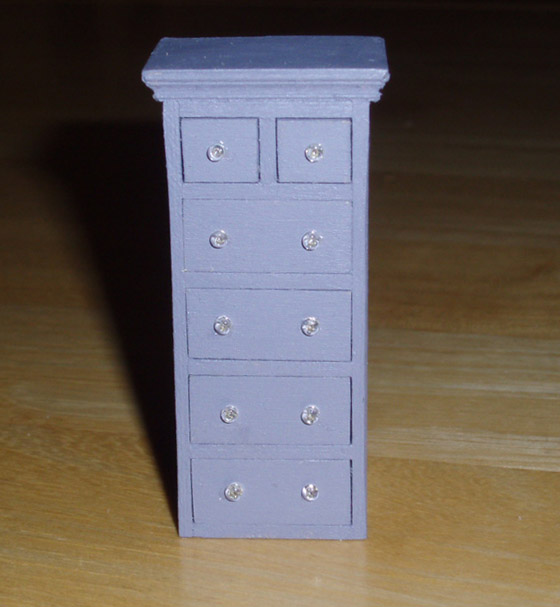 And from the side. The drawers were a snug fit and I only glued in the small ones at the top; the rest fit tightly on their own. The topmost large drawer is maybe a tad too tight, it doesn't have as noticeable a seam as the others. Oh well. I'm probably being too picky.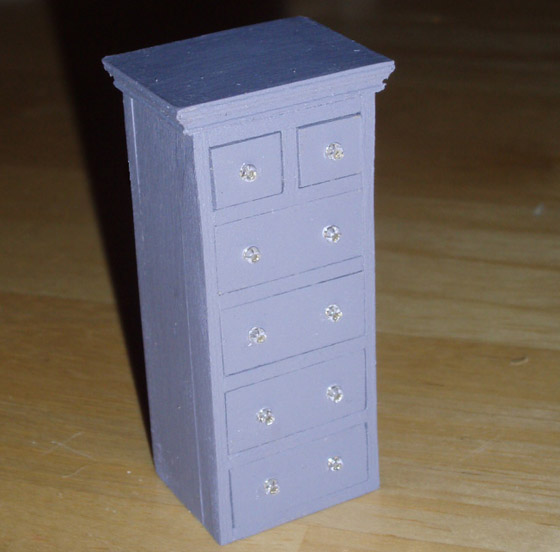 Here it is in the Fairfield bedroom, tucked into the corner beside the chimney. It's actually just the right depth so it sticks out enough to be visible… almost as if I'd planned it that way!