A couple of months ago, Glidden did a promotion where you could get a quart of paint for free, no strings attached. (Well, you had to give them your address so they could send you the paint. Seemed like a fair trade.) I ordered Belgian Waffle, a perfectly nice peachy color, but somehow in the time that passed while I was waiting for it to come, my brain changed it into a shade of yellow, because that's what I've been picturing the whole time I've been building the puzzle house. As it turns out, Belgian Waffle is NOT yellow and is, in fact, the same peachy color as the chip I saw on the Glidden website when I ordered it. Who would have thunk it?
After about five minutes of my brain going OMG, it looks like a Creamsicle!!!!, I got over my yellow-misconception and saw Belgian Waffle for the pretty, peachy color it is. Here's the house with two coats of it.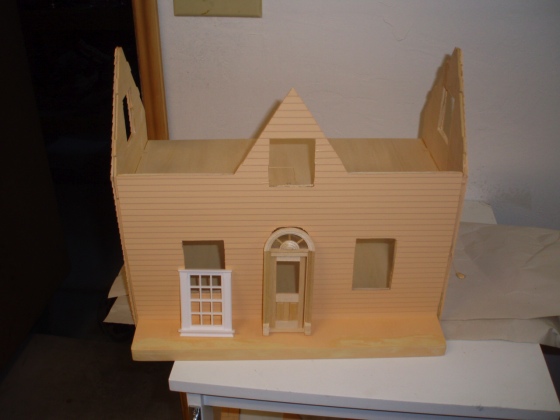 There's some wood filler on the porch that I covered up after taking this picture.
I did that on Monday. Today I picked up some gray paint for the trim. Since the door is wood and the windows styrene, I painted them all with a coat of Gesso first to (hopefully) end up with a finish that looks the same on all of them. Then I did one coat of the gray—I still have to do another coat to even it out, but here's what it looks like. Even with the Gesso, the door came out a little more blue/gray than the windows, but I'm hoping that after the second coat they'll look pretty similar.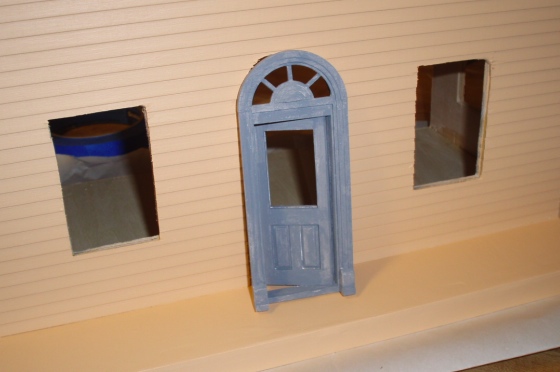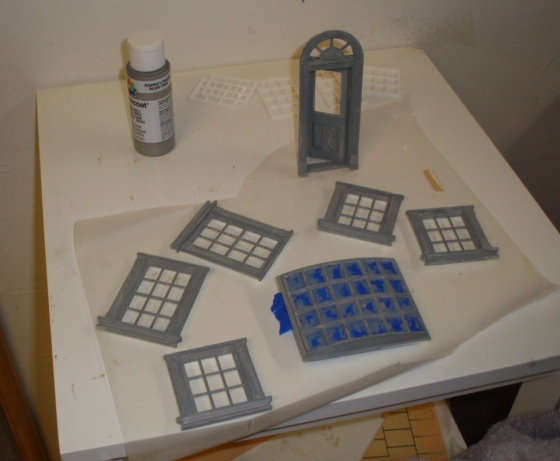 All of the windows except for the bay came with a removable piece that will hold the clear plastic inside the window (you can see them at the top of that last picture). I'm planning to keep those white for the interior. The bay window doesn't have a piece like that, so I taped the back to (hopefully) prevent the gray paint getting on the inside. We'll see if it works…