The Hillside Victorian dollhouse is coming along nicely, but after six months I'm ready to work on something else—something smaller. (It's probably got something to do with the fact that the next step on the Hillside Victorian is to paint a zillion windows… not my favorite task!) I have several half scale kits laying in wait, not to mention the Rosedale isn't quite finished, but I've had two small (in theory) projects calling me for a while and decided to treat myself by picking one of them. One is a toy store set in the Greenleaf Buttercup. The other, which I decided to tackle first, is a log cabin based on Laura Ingalls Wilder's Little House in the Big Woods.
(Hmm, I only just realized that both of these projects are an excuse to relive my childhood. Um, even more so than playing with dollhouses. Okay, never mind…)
I was inspired to do this by Shamrockgirl18 at the Greenleaf forum, who has been building a 1:12 Little House cabin out of a Duracraft kit. I have always been a Laura Ingalls Wilder nut… I used to dress up like her (had the right hair for it!) and play one-room schoolhouse. I've read the whole series of books a zillion times. In the early 1990s I visited family in Minnesota and they humored me with a trip to the Plum Creek dugout site and and Little House on the Prairie gift shop. Good times. More recently, I read a really interesting biography that goes into what's fact and what's fiction in the Little House books, and I treated myself to the full-color collectors editions and reread the whole series again.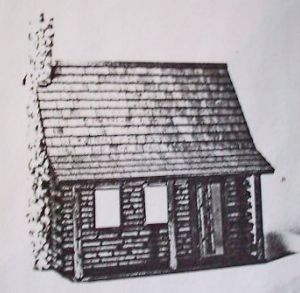 Last summer, I bought a half scale cabin off eBay for $25. It's called the "Sugar and Spice Log Cabin," by Joyce Hagarth, and this black and white picture was the only image with the auction. I couldn't find any info about it online but took a chance.
(By the way, if anyone reading this blog knows anything about this house, please email me! I'd love to learn more about its origins.)
Since then, I have been collecting half scale items and furniture kits to go inside it, and today I dug in on the house itself.
The house I'm modeling this after is the cabin in the "Big Woods" of Wisconsin. In the books it's the first house Laura lived in. (This was also true in real life, except she lived here for just a year before the family moved to Kansas. Then they moved back to this house for a few years before continuing on to Plum Creek, Minnesota. Told you I was a Little House geek!)
The house isn't standing anymore, but there is a replica in Pepin, Wisconsin in the area where the original house was believed to have been.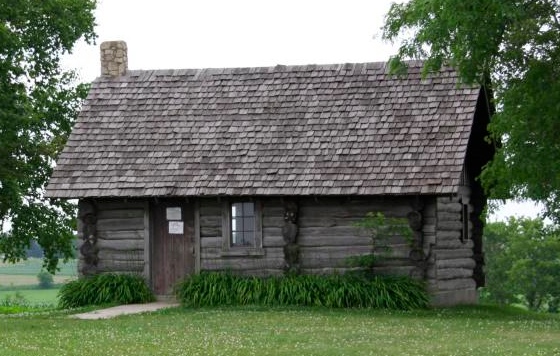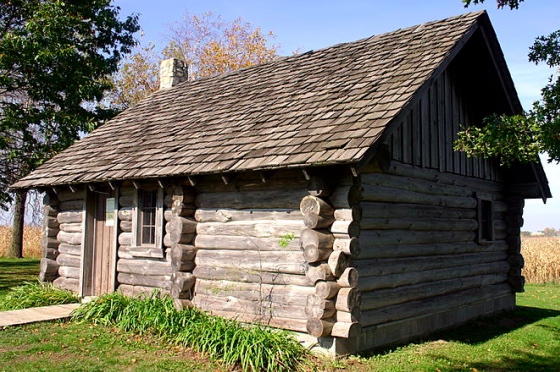 I briefly thought about leaving the porch off my kit, to be more true to the house in Pepin, but it was part of the floor piece and would not have been easy to do. I also thought about swapping the front wall so the door would be on the chimney side, which would have been very easy to do, but I was worried it might bump into the fireplace. So in the end, I didn't change anything.
The kit walls are cut from some nice pieces of plywood, and it came with "logs" for the exterior, shingles, and rocks for the fireplace. The instructions off a typewriter with hand-written diagrams, so I'm guessing this kit is from the eighties. Everything was neatly packaged.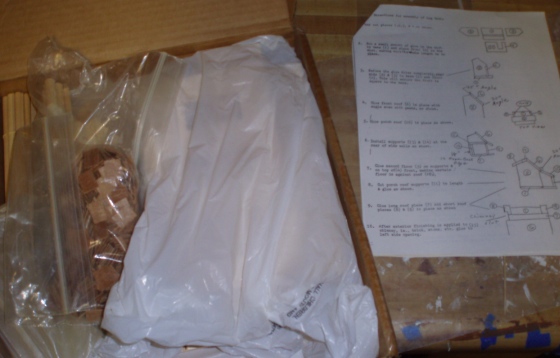 A groove in the floor piece holds the front wall in place (which is why I didn't want to mess around with trying to remove the porch).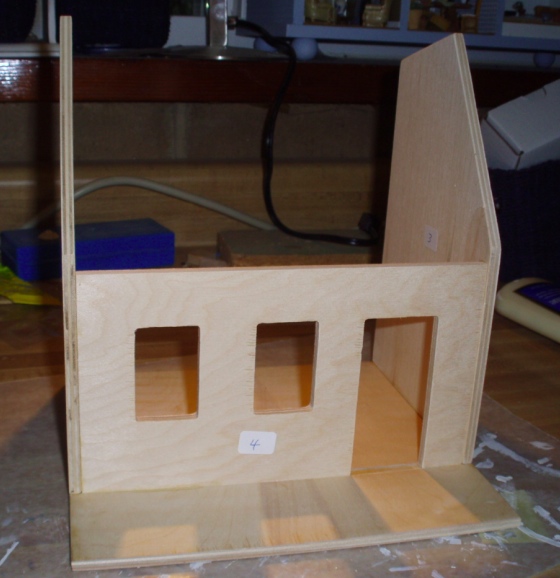 I always think of log cabins as brown, but Little House in the Big Woods specifically states that the house was gray. After trying a slate gray water-based stain that was much too light, I stained the logs with Minwax Ebony. Too dark, compared to the photos of the real house, but I'm planning to "weather" them which will lighten them up a bit.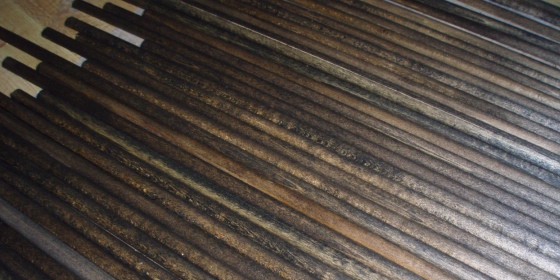 I decided to stain the exterior walls too, just in case anything shows through the logs. Not sure yet what I'll do with the porch but it was easy enough to just stain that at the same time.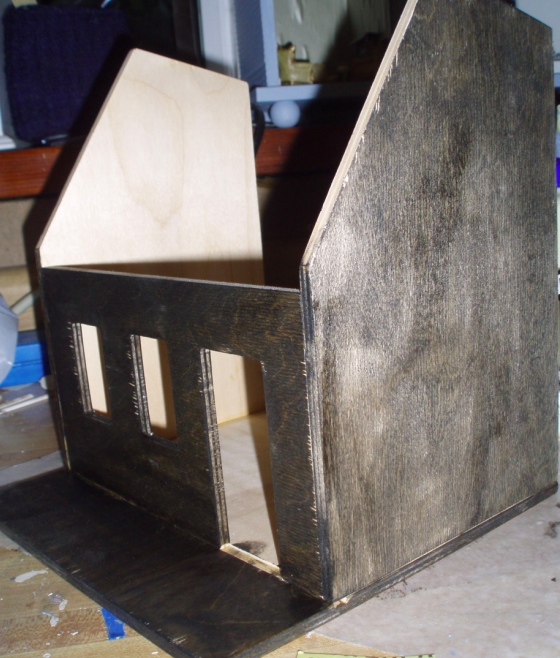 Inside, the walls are smooth plywood. This isn't realistic for a log cabin, since the interior walls should be the same round logs as the exterior walls. After looking at illustrations in the books and pictures online, I decided I will line the walls with skinny sticks so they look like planks… they won't be rounded like the exterior but I think that's okay, especially at this scale. (It's all about illusion!) Initially I thought I should have some gray visible in between the planks to look like mud, like you see here. (That photo is of a replica of the Little House on the Prairie house in Kansas.)
I painted the walls light gray to look like mud. In the end I'm not sure if I'll like striped walls. And even if they are striped, they'd probably need wood filler or grout or something between the boards so the wall isn't full of cracks. (We'll cross that bridge when we come to it, as Ma would say.) So painting them gray might have been a waste of time, but it only took a few minutes. I stained the floor, which will have some sort of floorboards on top of it. Since all of this is going to be covered up, I didn't do a particularly neat job.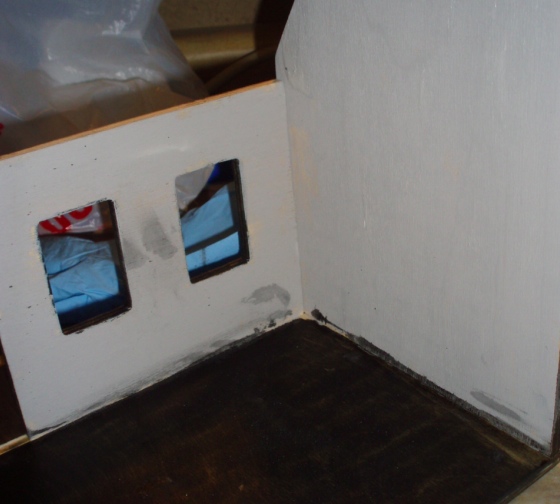 The kit instructions really only describe the order in which to build the house, without saying anything about how or when to apply the siding and chimney stones. Figuring that the chimney would need to be completed before I could do the logs, so the logs could butt up against it, I decided to work on that next while the stain and paint dried. I had such good results with the egg carton stones on my Hillside Victorian, I would have done that again, except the kit came with (real) little stones and I figured I might as well use them.
I started by painting the chimney gray, to look like grout.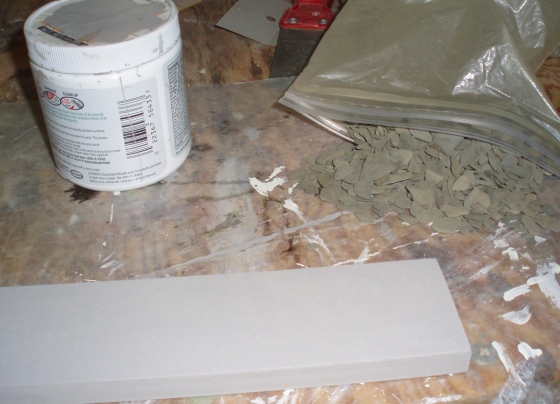 Then I glued stones on one by one. When I dumped out the bag I didn't notice that most of the big ones fell out first. About halfway up the chimney I realized I was running low on big stones. So, near the top, they get smaller and smaller. Hopefully it won't look unbalanced.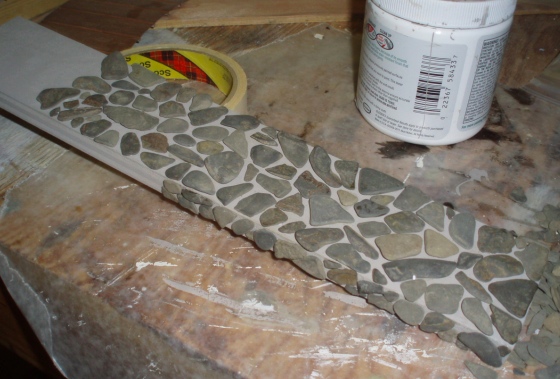 There wasn't much rhyme or reason to how I glued these on. In retrospect, it probably wouldn't be a very stable chimney.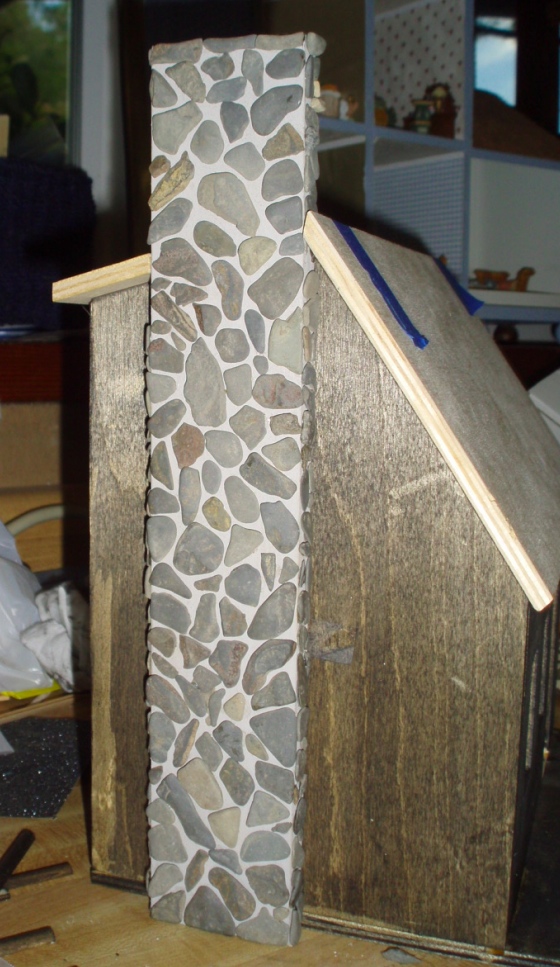 (Meanwhile, Rosy was camped out at the top of the stairs. It was hot today! I brought her down into the garage with me where it's cooler, and she was very good about staying on her swatch of carpet and not sniffing around eating things she shouldn't have.)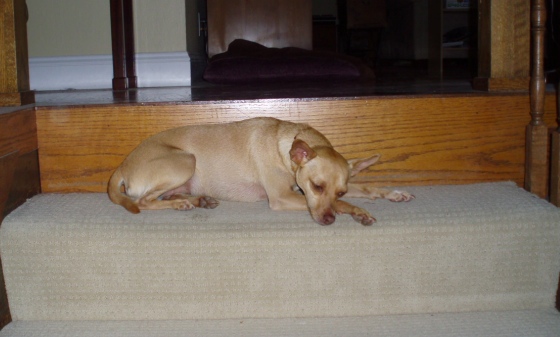 With my egg carton stones, I didn't bother using grout. But these real stones needed it… otherwise they just looked like, well, like stones glued onto a piece of wood. As soon as I started applying it, I wondered if I'd made a big mistake…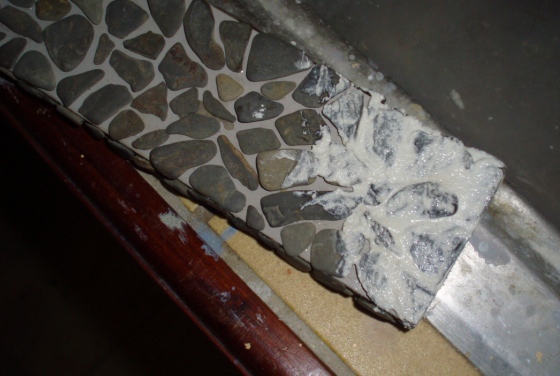 Here it is caked in grout. Yuck!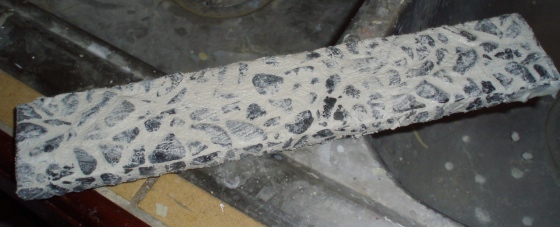 And here with the excess wiped off. Better! The stones are still wet in this picture, so they don't have as much color variation as they did earlier. I'm hoping that'll come back once they're dry.

And voila. I think I will do some sort of gray wash over this, to darken the grout. It kind of looks more like a mosaic than a real chimney. Also since the only stones left are teeny tiny, I'll probably use egg carton for the fireplace. Hopefully it won't look too inconsistent.