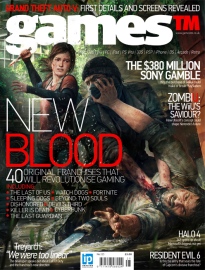 When I visited Double Fine's office to take a look at Ron Gilbert's upcoming game The Cave, he and I spent about an hour talking not just about the new game but also about adventure games in general, and where they're going, and where they came from. It was too good a conversation to keep to myself, so in addition to previewing The Cave for Adventure Gamers, I spun the longer interview into a feature article that appears in this month's Games™. You should be able to find it on sale now in the UK. If you're unlucky enough to be nowhere near a British newsstand, you can buy it online from the publisher (presumably soon, anyway, as it's not up there yet) or get the issue digitally on iPad.
Along with all sorts of juicy tidbits from the guy who created Monkey Island, the article includes a nice timeline of adventure games through the ages. (I can't take the credit for this; it was put together by deputy editor Ashley Day.)
Ron was super fun to talk to and I'm thrilled that I was able to turn our chat into not one, but two great articles. And any self-respecting adventure game fan who isn't excited about The Cave is an idiot. There, I said it.