Now and then, the Dollar Tree has furniture that's roughly 1:12 scale. (Except for beds, which for some reason are closer to half scale.) It usually comes in an ugly red finish, but recently they started carrying raw wood furniture too. I picked up a few pieces today: two dressers and a sideboard.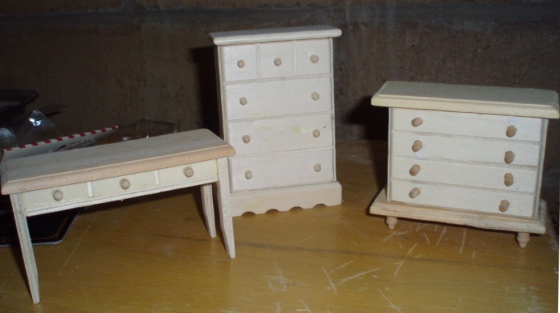 For something that only set me back a dollar, the sideboard has a surprisingly nice top. The edges are neatly beveled and it has a noticeable grain that's more or less to scale. Normally I wouldn't bother staining furniture like this due to the questionable wood and the high potential for glue glops, but I thought it would look nice to stain just the sideboard top, and paint the rest.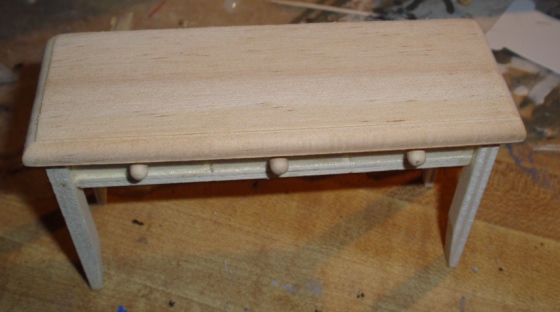 Here's with the stain and one coat of paint. The stain is Minwax Early American, and the paint is Behr Parisian Taupe (a sample jar left over from a recent house project). While staining I accidentally swiped one of the drawer pulls and decided I liked the look, so I initially stained those too.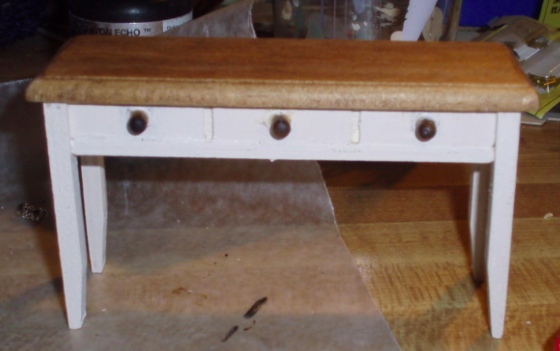 But after the second coat, I was frustrated by my inability to keep paint off the knobs, so I ended up painting them. (The drawers don't open.)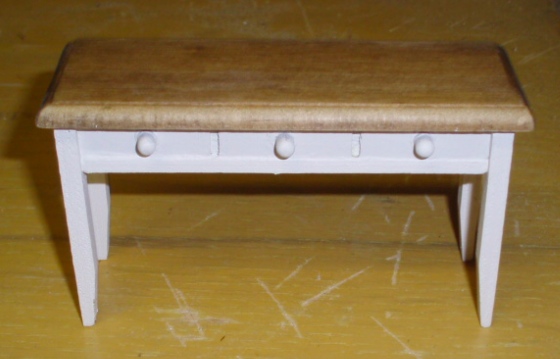 After sanding the top (including some spots that got paint on them), I did a second coat of stain. This time I used Minwax Cherry, for the sole reason that I had a stain pen handy and didn't feel like prying open the can of Early American again. After the stain dried, I buffed it with a coat of finishing wax.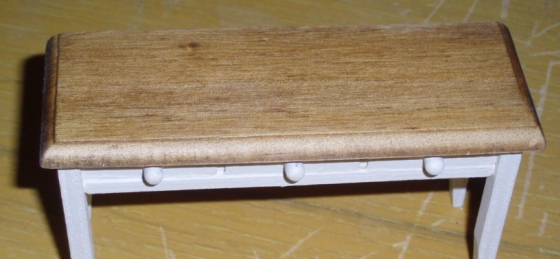 Not bad for a dollar! Here it is in my Cypress and Fog roombox. Not quite right for this setting, obviously, but it has potential.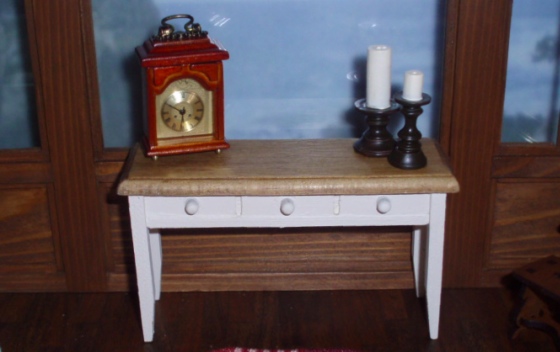 On to the dressers. I wanted to try a crackle finish on these, since I've never done that before, and how better to practice?! I started by painting them a rose / Pepto-Bismo color that came off the oops shelf at Home Depot.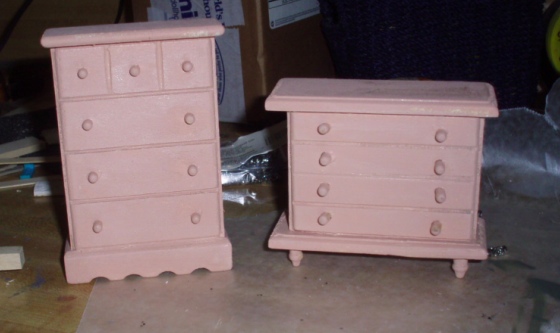 A while ago I got a jar of crackle texture on clearance at Michaels. I never opened it until today, but the airtight seal under the lid was not, in fact, air tight and the stuff had hardened inside the jar. Having never used this before, I wasn't sure what the consistency was supposed to be. I dug some out, added water (probably too much), and applied it with a brush. Over the pink paint, it gave a neat sponged effect that I actually kind of liked.
Here's the small dresser with the texture on it (the big dresser hadn't been "texturized" yet).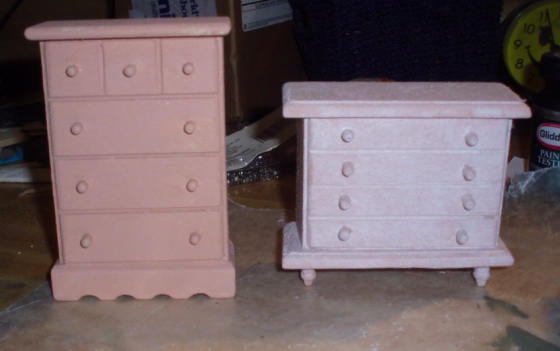 The instructions on the jar were not very specific and didn't say if you should paint over the texture before it dried or after. I waited until after. That might have been the wrong decision.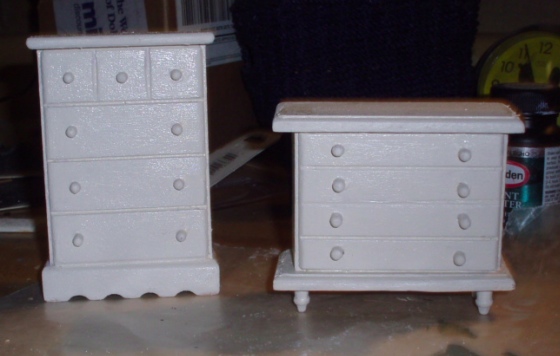 The taupe paint covered up the pink and the texture stuff completely, and no crackling occurred. Of course, with the texture underneath, the finish was very bumpy. I ended up sanding it smooth, purposefully over-sanding some spots so the pink would show through.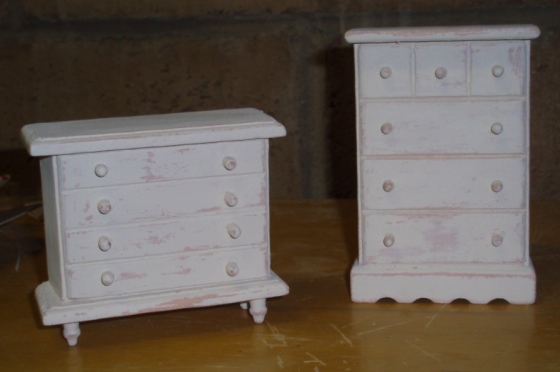 This is my first attempt at shabby chic and I'm not sure if I'm happy with how they turned out. Either way, though, it was money well spent.