I recently built the Gothic dresser and nightstand from SDK Miniatures to go in the bedroom of my Queen Anne Rowhouse, with the bed I scratch built. I bought SDK's Gothic wardrobe too but it turned out to be too big for the room, so instead I put together a Cassidy Creations armoire. I also made a simple mirror to go on top of the dresser.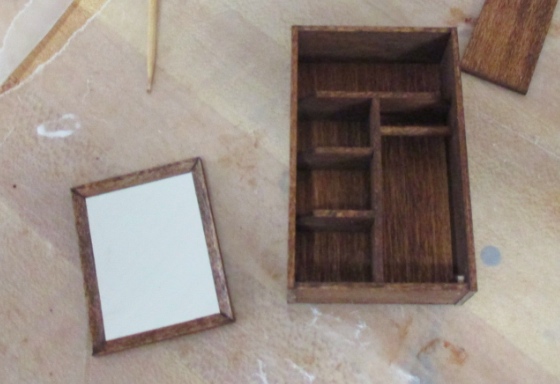 I glued a piece of the same jewelry filament I used on the bed onto the back of the mirror.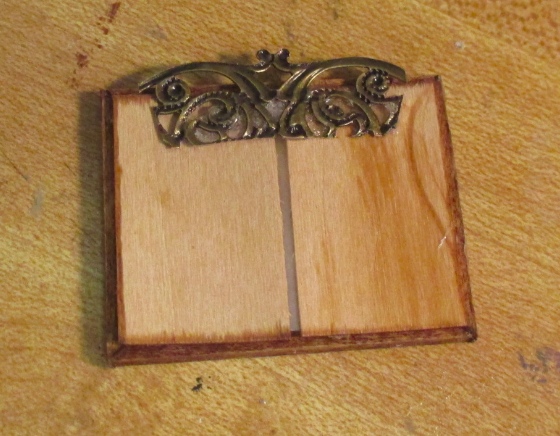 Initially I attached the mirror to the dresser, but it looked funny, so I took it apart and leaned it on top instead.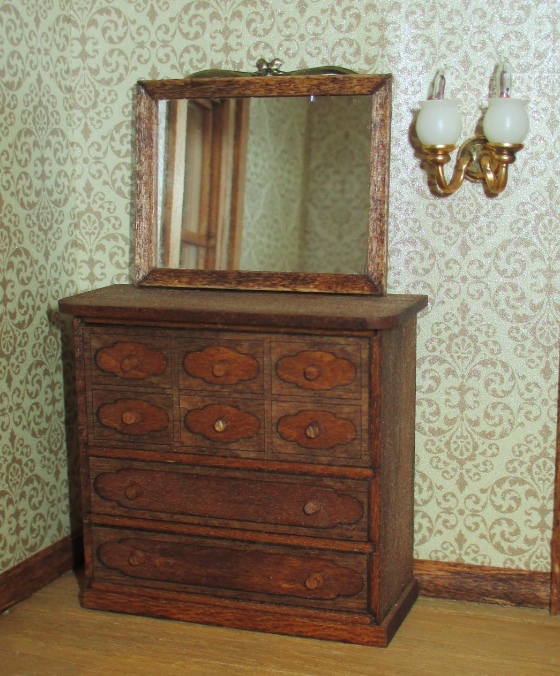 To make the armoire look like it went with the rest of the furniture, I contacted Susan at SDK and special ordered some more Gothic style faceplates. These are the drawer fronts from the wardrobe; turned sideways, they fit nicely on the armoire doors.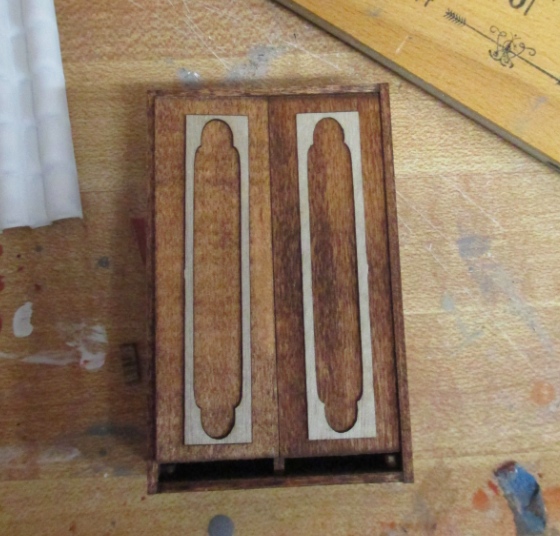 Notice the gap under the doors in the picture above? I messed up gluing this together — the bottom piece was not supposed to be flush with the bottom edges of the sides and back. By the time I realized it, all the shelves were glued in, so it wouldn't have been an easy fix.
I was able to remove the top piece and offset it like the bottom should have been, so the top and bottom were spaced correctly. Then I pulled out the closet rod and flipped the armoire over. When I pulled out the rod, I wasn't able to glue it in place in its new position (my whole thing wasn't quite square and it was slightly too small), so I cut a new one from a toothpick.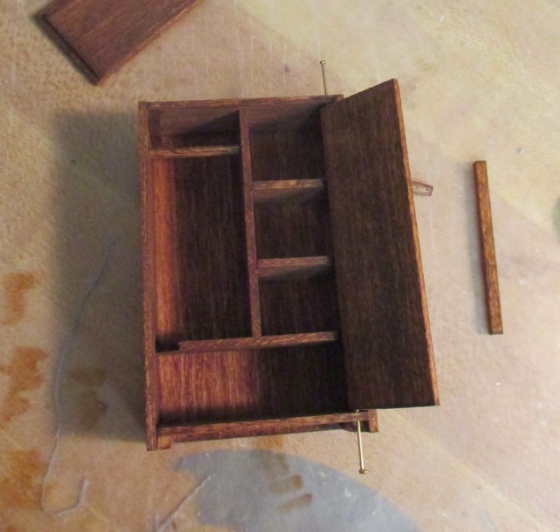 Here's the finished armoire. The knobs are extras that came with the Gothic furniture.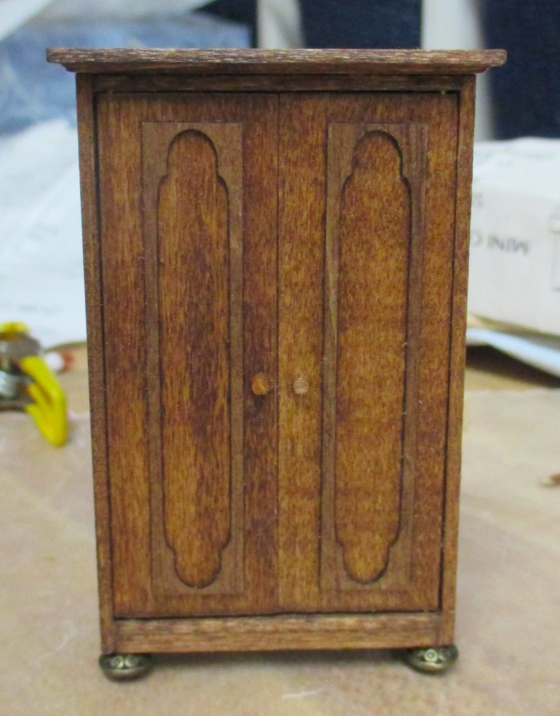 The kit came with small crown molding to use around the bottom of the armoire, but I messed up cutting it and ended up with a piece that was too short. Instead I glued on four beads to use as feet. The antique bronze finish is similar to the filament on the bed and mirror.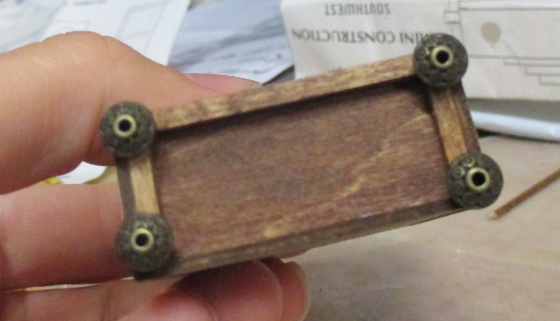 With the doors open. The inside is a little funky, but it'll do, especially since I'm displaying it with the doors closed. Then again, that shelf at the bottom would be a good place to store shoes…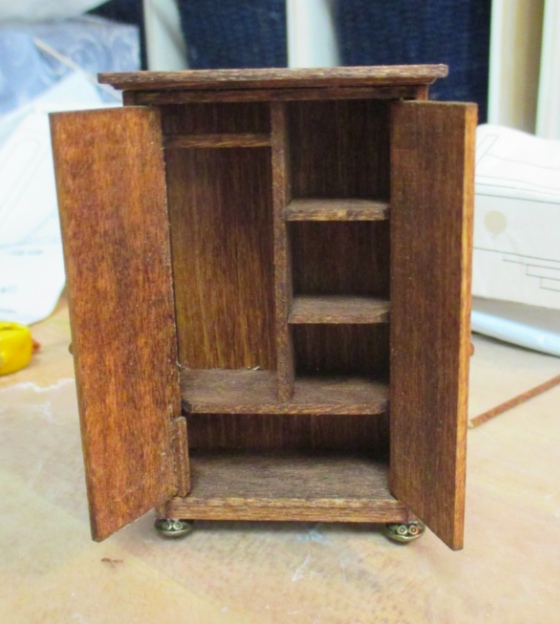 Notice the small piece of trim on the inside left door… when I hinging the doors, I pushed the pins in a bit too much and one popped through the back of the door. The trim piece holds the pin in place.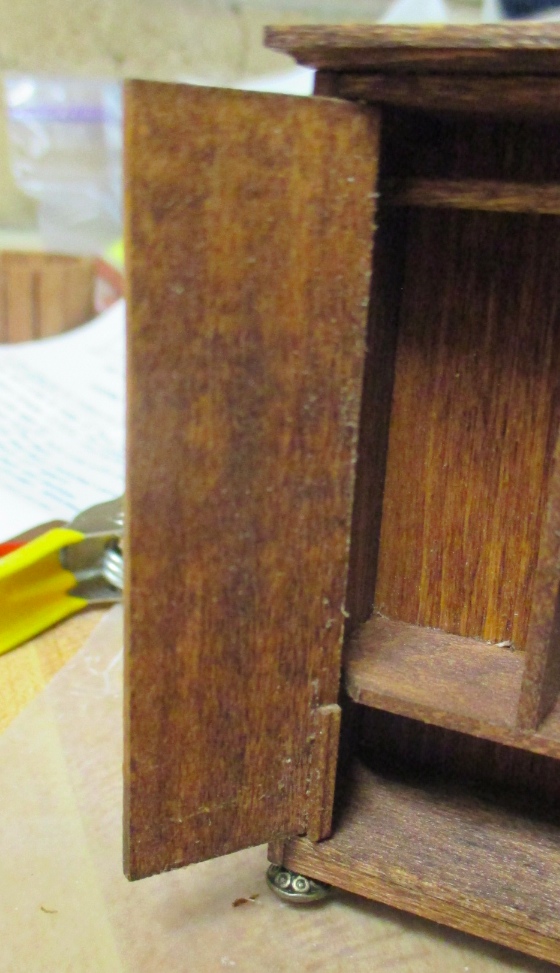 Here's the armoire in place.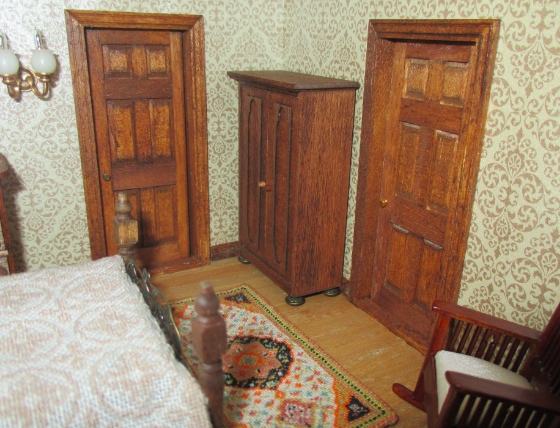 And the dresser and mirror.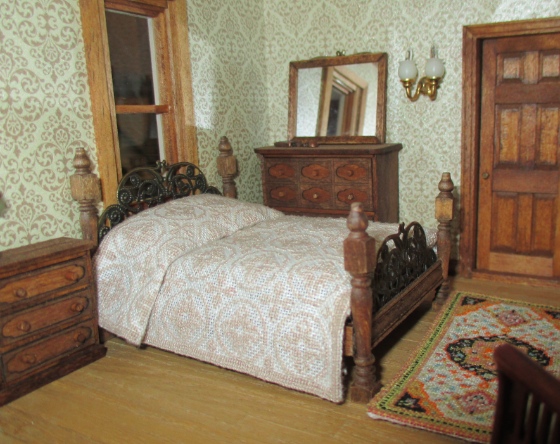 I might add a picture to the wall, a curtain to the window, and some accessories, but otherwise this room's finished!