May 2015: I started the Westville as part of a Greenleaf community build in 2005, and at the time we blogged our progress on the Greenleaf forum. After a few site upgrades the old community blog has become hard to link to and I'm redoing my website anyway, so I decided to move those posts over here and backdate them. Sorry for any weirdness that results!
---
I put on a bit more siding today: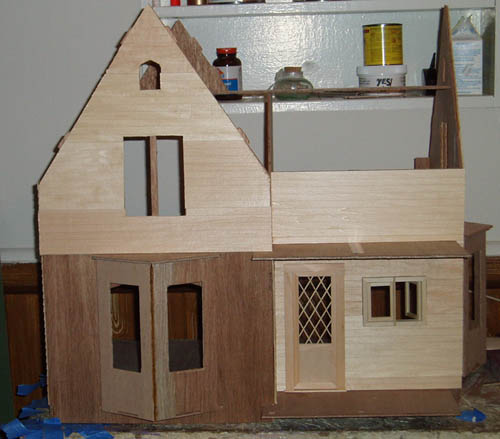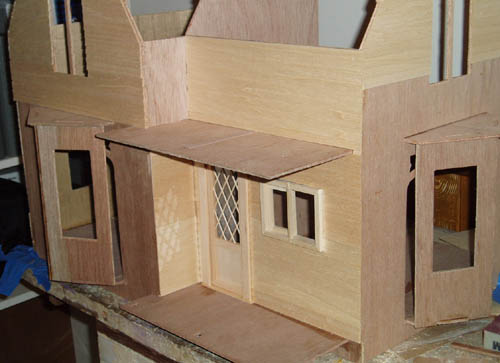 The living room bay isn't permanently glued in. I managed to glue the two walls to each other, without gluing them to the floor and ceiling. This way I can take it out for wallpapering. I haven't glued the narrow pieces onto any of the bays yet.
And here are the humble beginnings of my kitchen cabinets: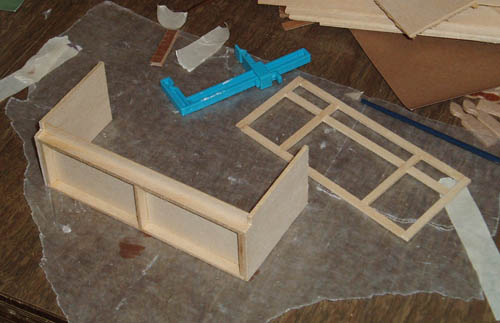 It turns out that the Realife kit I bought off eBay is missing some pieces. The frustrating thing is, the kit doesn't come with an itemized list of parts, so I don't know which pieces are missing. I am missing two sheets, and know which sheets they are, but don't know which pieces are supposed to be on them. I guess anything I need I'll be able to make myself from balsa. I have to pick some up anyway because the bashing I'm doing results in needing some more of certain parts than normally come in the kit, anyway. I am planning to stop by Beverly's tomorrow to buy those, along with the paint I need for the cabinets.
That's all for today… doesn't look like much, but I worked on the house for three or four hours!