I just looked at the dates on the last McKinley pictures I uploaded to the site… it's been over six months! I have not been working on it much. But the rooms have been coming together, slowly but surely, and the electricity is done. Also, the kitchen cabinets are mostly assembled. I decided to leave out the French door in the kitchen so there would be more room for cabinets.
These are the same kits I used in the Orchid. This time I stained instead of painting, which turned out to make assembly easier because the pieces fit together better.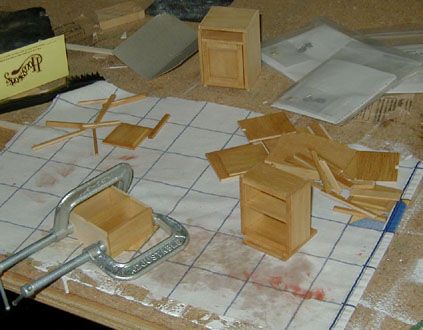 The oven is a tad too short. I'm going to sit it on a little platform so the range is level with the counter top.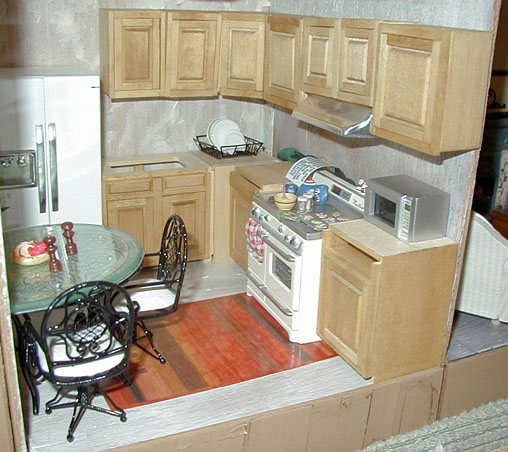 I replaced the table and chairs with black metal ones. This makes the set more like the Pier 1 table and chairs that inspired it.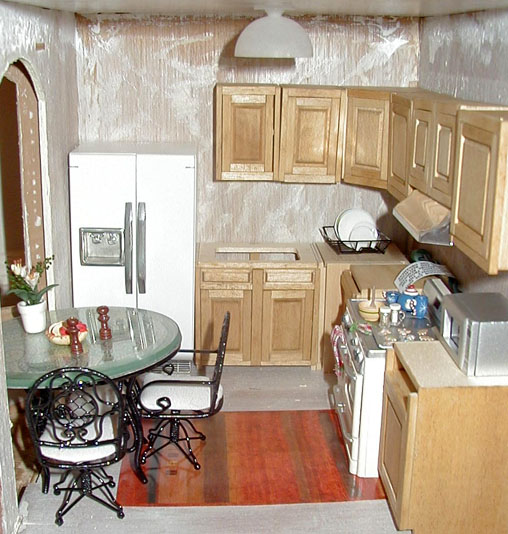 The top cabinets aren't lined up with the bottom right now, but that'll be fixed before I install them permanently by putting strips of balsa between a few of the upper cabinets to space them out. I really like these Houseworks kits because the different sizes make it very easy to customize the layout to fit whatever size and shape the room is. But I never liked that the corner piece that comes with this set doesn't have a cabinet (it's just a flat piece of wood). I got an extra 1.5 inch cabinet and bashed it into the corner piece. Now the corner cabinet looks just like the others!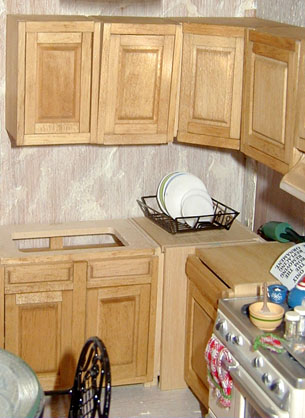 I still need to put the knobs in, sand the drawers to fit a bit better, and add the counter top. I'm planning on a green marble-like finish. I also have to decide on wallpaper and maybe some kind of tile backsplash to go behind the sink.