I did some work this month (not much), but was rather lazy about keeping track. The good news is, the end is truly in sight. Anyway, here's a summary.
Stairs: Painted the underside white, polyurethaned the stairs and banister pieces, then attempted to read the assembly directions. I have to say, I was really disappointed by Houseworks this time. First of all, the directions are impractical (i.e., glue all the flimsy little spindles to the stairs, somehow managing to space them exactly right, then fit the banister on top of the spindles without snapping them off…) Second, some made no sense at all. I probably can't explain how confusing they are without being very confusing myself, so let's just say, as someone who considers herself to have a relatively good handle on the English language, I was utterly befuddled.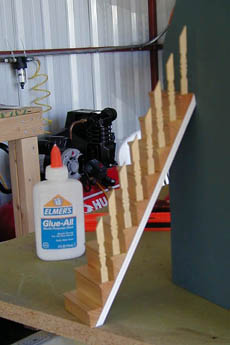 Gables: I was satisfied that they glued together pretty well, despite the lack of a jig. I filled the notches with wood filler and glued some balsa wood to the tops of the gables to make them more pointy. Finally, glued these to the roof.
When it's 100 degrees out, wood filler is much goopier and the tube's much easier to squeeze!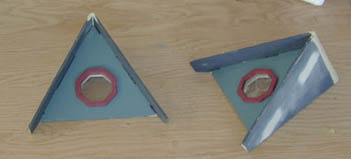 The gables being glued to the roof. Since the roof is warped, I tried weighting it down so they'd glue on straight.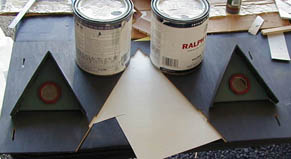 So that was about it for June. Here are some pictures of the house as it looks now (taken before I glued the gables to the roof…)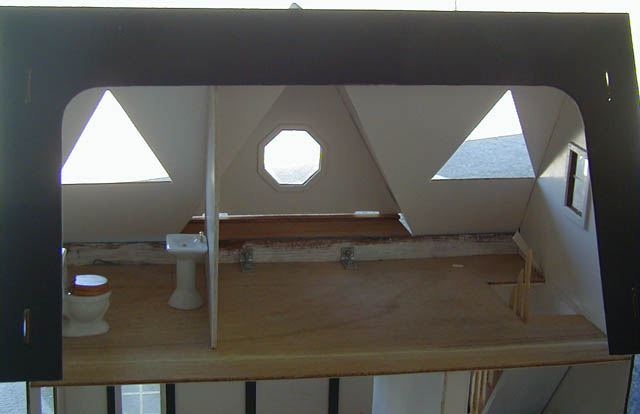 The flooring will go in upstairs as soon as the wiring is done. I'm waiting for some light fixtures and furniture I ordered to come in the mail.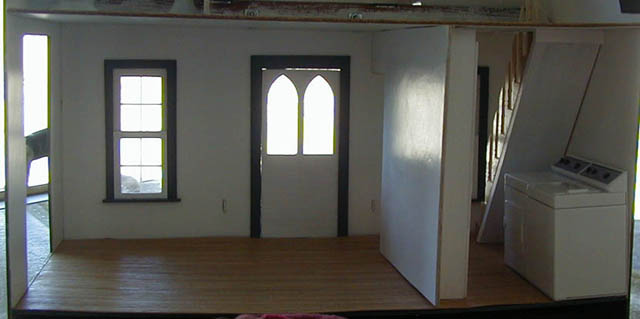 The first floor really sags in the middle. I might try to put something underneath the house to make the floor straighter.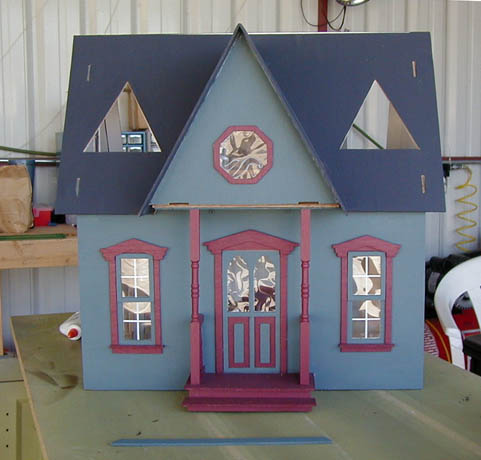 Haven't glued the dormer on yet. When I do, I'll need to do some fudging because it won't fit into the slots. In front of the house, you can see a piece of wood I prepared. This will be glued across the bottom of the dormer, to hide the fact that it doesn't fit perfectly on the top of the porch.