So, it became painfully clear that the stairs that came with my Orchid kit just weren't going to cut it. I tried to make them work. I sanded the pieces so they'd look nice. And once I sanded them they wouldn't fit together properly. The solution? I bought these. And they look a thousand times better than the kit stairs would have.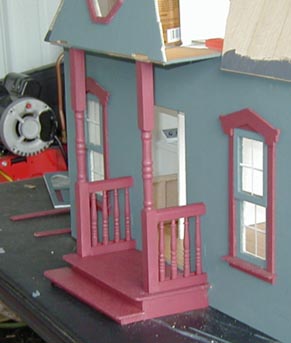 The stairs I bought are a little wider than the ones in the kit. Geoff widened the hole for me with his dremel tool.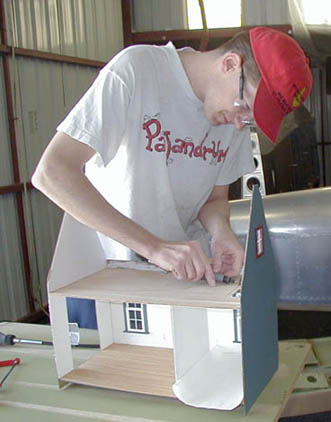 Looks kind of like a real room, doesn't it?!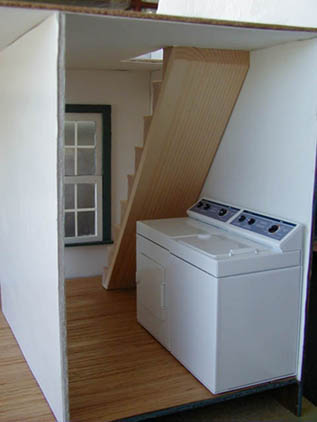 The dormer roof is dry. Geoff's jig seems to have worked pretty well. (What would I do without him?)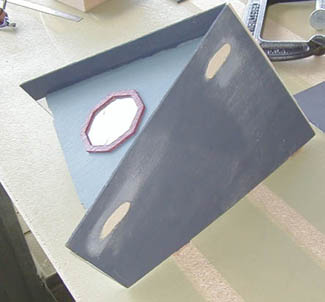 This is, in theory, how the dormer will look attached to the roof. Getting it attached… that's another story!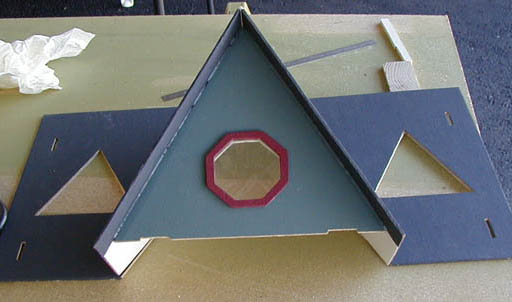 I spent the rest of the day cutting down the walls of the closet, so there would be more space between it and the washer and dryer. Took a picture but it didn't come out too well. Oh, and I finished sanding the front door, so it now fits in the hole. I tried attaching some hinges but found them very hard to work with. Scrapped that idea and just stuck the door in the hole for now. I might try hinging it with pins sticking out of the top and bottom of the door (into the doorway) — this is how the kitchen cabinets are hinged and it seems much easier than using actual hinges.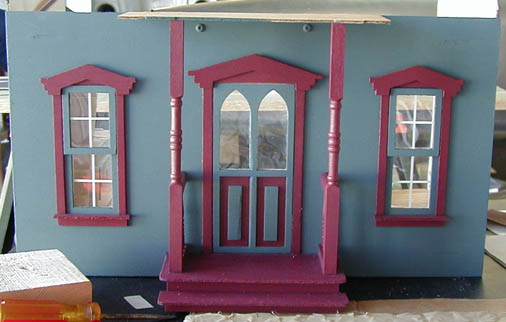 ---
Update, May 18: This weekend I went to a dollhouse show in Petaluma. The most exciting find was some wallpaper that I've been looking for for ages… I used it to paper most (but not all) of the living room in my first house and it's since been discontinued. I only wanted one sheet (and was prepared to pay $1.50 for it) but the lady at the booth insisted I take three sheets for a dollar! I don't need three sheets. Maybe someday I'll be able to pass it on to someone else who had the same problem. Or maybe it'll sit in my apartment gathering dust. Hmm.
The other exciting purchase was a coffee table for the living room of this house. I've never seen anything like it in miniature. It's not exactly wicker, but kind of… bamboo-like? And it has a real glass top. Unfortunately, I didn't get a chance to take a picture. Now I just need to find a living room set to go with it… I saw the green chair and ottomon I liked up close at Dollhouses, Trains, and More and decided I don't like the color after all. So I'm still looking…
Last weekend, right before I left the hangar, I glued the pieces of the closet kit together. This weekend I added the shelf and clothes bar. I didn't paint the inside because you can't really see it, and I'm lazy…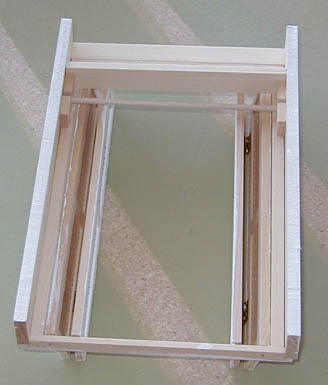 Geoff had been taunting me all week about a "surprise" he had for me… turns out he put two coats of woodfiller on the peak of the dormer (which didn't exactly come to a point). He knows I don't have the patience for woodfiller! I sanded it down and painted the dormer again. It looks all right. (I just keep telling myself that it's the *inside* of the house that's most important…)
The last thing I did was put the two gables together. Didn't use a jig for them because Geoff had already helped me a lot and I didn't want to bother him about it. Didn't seem like it would matter either way… these are essentially just glued to the roof, so I don't see how exact angles will make a difference. (Will I choke on these words? Tune in next month…)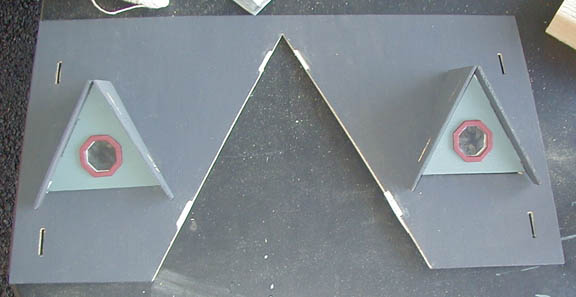 Anyway, that's the latest. Seems like every time I work on this thing I think I'm almost done, and then another month goes by before I get a chance to work on it again. Memorial day weekend I'll be in LA, and the first week in June Geoff and I will be on vacation in Jamaica. So, the poor little house is going to have to wait ANOTHER month…