My oldest friend, Michelle, just had her first baby. (We've known each other since nursery school!) When my sister's kids were born I cross stitched Teresa Wentzler's Castle Sampler and Noah's Ark Sampler, which I loved doing, but I always feel a little presumptuous giving someone a big framed piece with the expectation that they'll want to hang it on the wall.
In late July I saw a package of Anne Cloth (cross stitch afghan fabric) at a thrift store and it gave me the idea to stitch a baby afghan, which I've never done before. I bought the fabric and went online to look for patterns.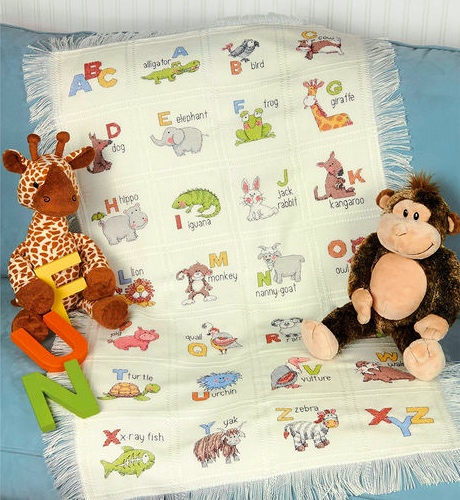 To my surprise I found very few standalone afghan patterns (what's the point of Anne Cloth without patterns to stitch on it?), but I fell in love with Dimensions' Animal ABC Afghan kit. Most of the baby afghans I saw were super cutesy and pastel, but this one has a cartoony Dr. Seuss look with bright colors. And I like that it incorporates the alphabet with animal pictures *and* names, so as the baby grows she'll get different uses out of it — learning letters, then the animals' names, and then even how to read/spell them.
I've been cross stitching for twenty years (yikes!) but these days I hardly ever stitch from kits. I like being able to choose my own fabric and replenish the floss if I run out. (I'm out of wall space for cross stitch, so lately I mostly do petit point for my dollhouses.) Before ordering, I looked around online for pictures and impressions of the Dimensions Animal ABC Afghan kit and wasn't able to find any, so I'm posting my own experience for anyone else who might be considering this kit.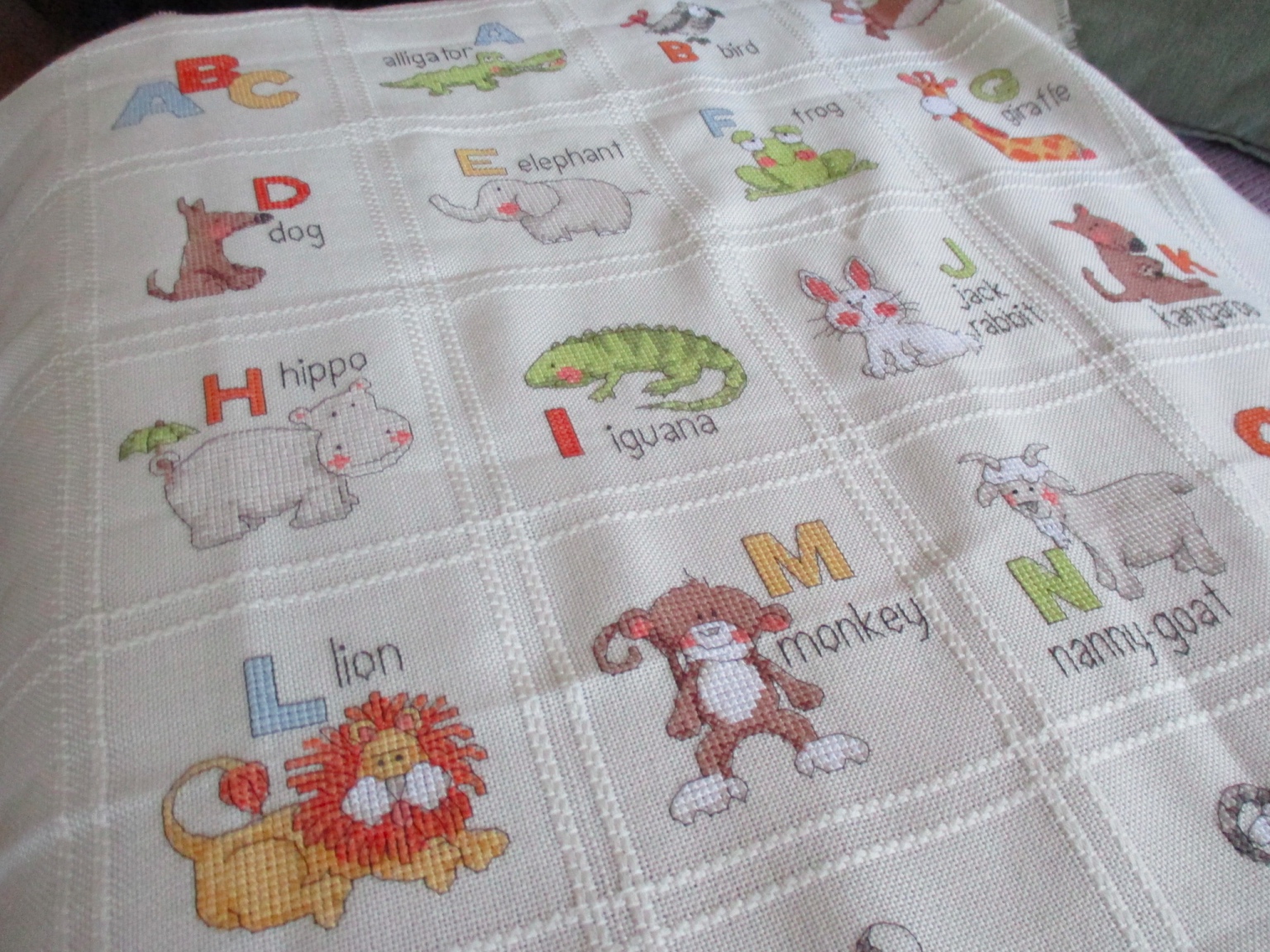 First of all, the materials are everything I'd hoped for — the fabric is soft, the colors vibrant, and the animals adorable. The floss is proprietary to Dimensions and comes pre-sorted on cards so you don't have to pick through a huge knot of colors and figure out which symbols they correspond to (another thing I hate about kits).
From the model picture I'd expected the afghan to be pre-fringed. It isn't. I'm not great with the sewing machine so this made me nervous at first. The instructions say to machine stitch around the outside edge of the panels before starting to stitch. I stubbornly didn't, and it was fine. Some of the threads around the edges did pull out as I was working on the afghan but those need to be pulled out eventually anyway for the fringe.
(Note: It is necessary to machine stitch around the edge eventually, so the afghan won't unravel too far when you add the fringe. It just doesn't have to be the first thing you do.)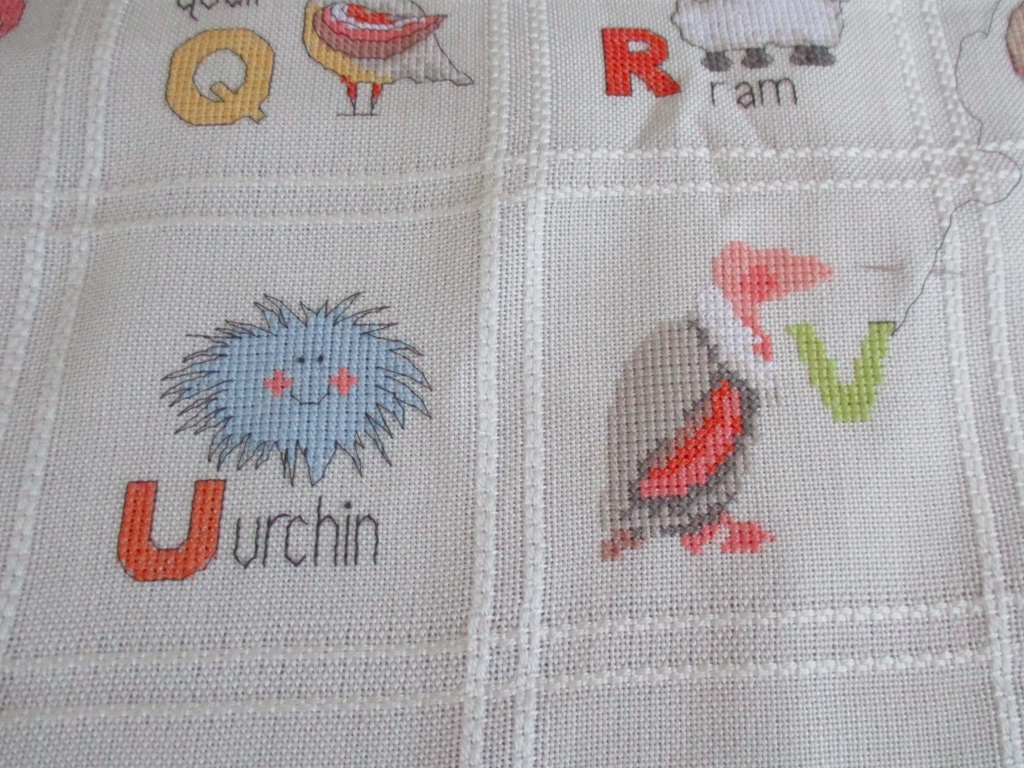 One reason I don't like kits is because they often don't come with enough thread. Even if you're super careful you could run out, and god forbid you make a mistake and have to do a bunch of frogging. The fabric is 14-count and it's stitched over two, which makes for very loose stitches (especially since I'm used to doing petit point over one on 40-count…) The instructions say to stitch with two strands of floss — I wanted to use three, for better coverage on the large fabric, but I didn't want to run out of floss so I didn't chance it.
This kit actually had plenty of floss until I got to the backstitching. All of the backstitching and the animal names are done with Dark Gray, and as I started on the vulture I realized I wouldn't have enough. I found a DMC conversion chart online but the closest DMC shade was noticeably different. The friend I made this for is freakishly good at distinguishing colors, and I knew if I could tell the difference, she'd definitely be able to!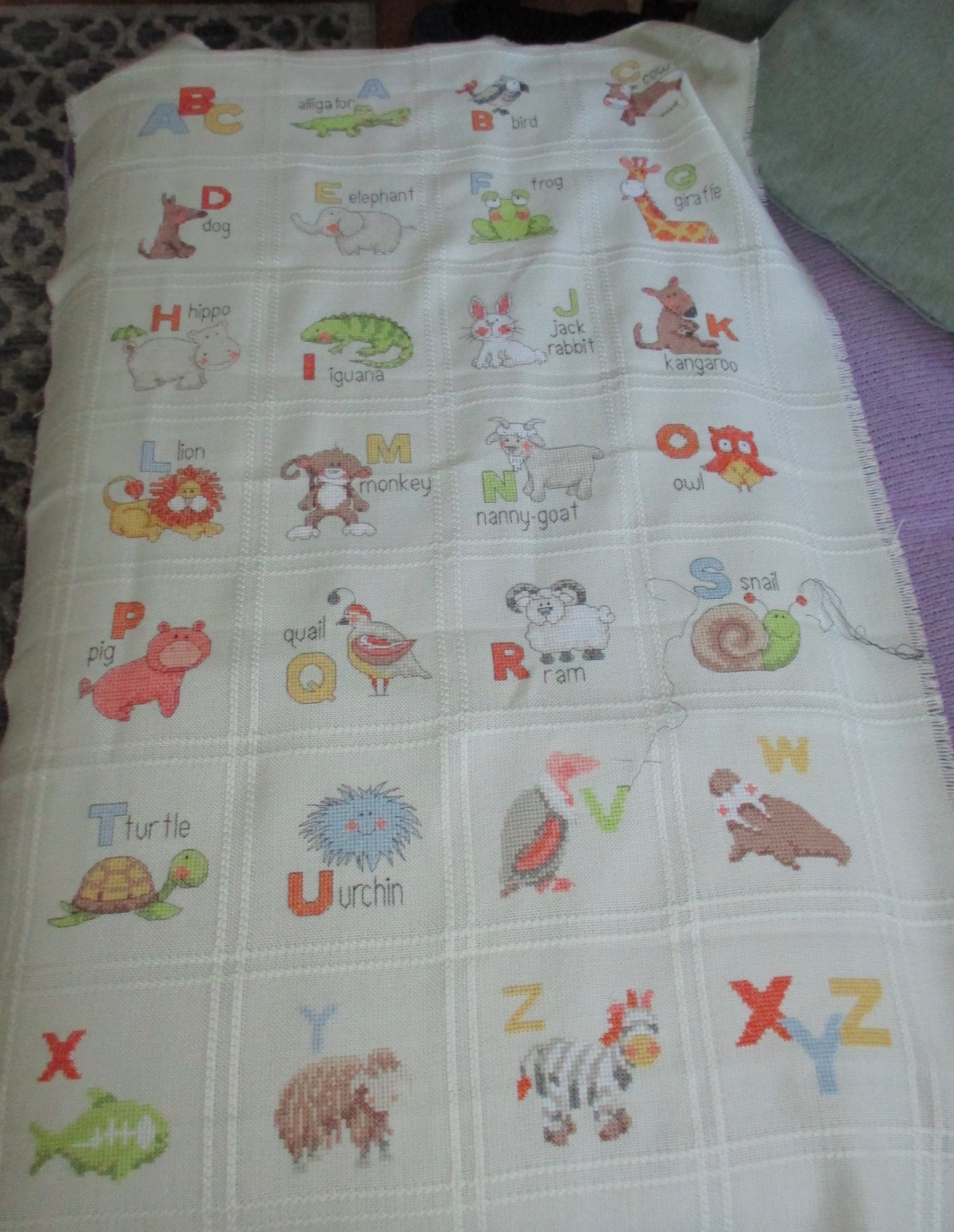 Here's where my experience with Dimensions' Animal ABC kit goes off the rails. Up until this point I'd been stitching like crazy to get it done before the baby was born (her due date was September 2). I started on August 1. On September 3 I emailed Dimensions through their online form to ask for more Dark Gray. I didn't get a response so I called on September 7 (now out of floss). The woman I spoke to said they'd send me more but it would take up to 15 business days. To stick some floss in the mail? Really?
On September 9 I got an email saying my "order had been processed" and the floss was on the way.
On September 12 the baby was born, 10 days late… but no floss, so no gift. :( During the wait, I whipped up some Super Mario bibs using free patterns I found online.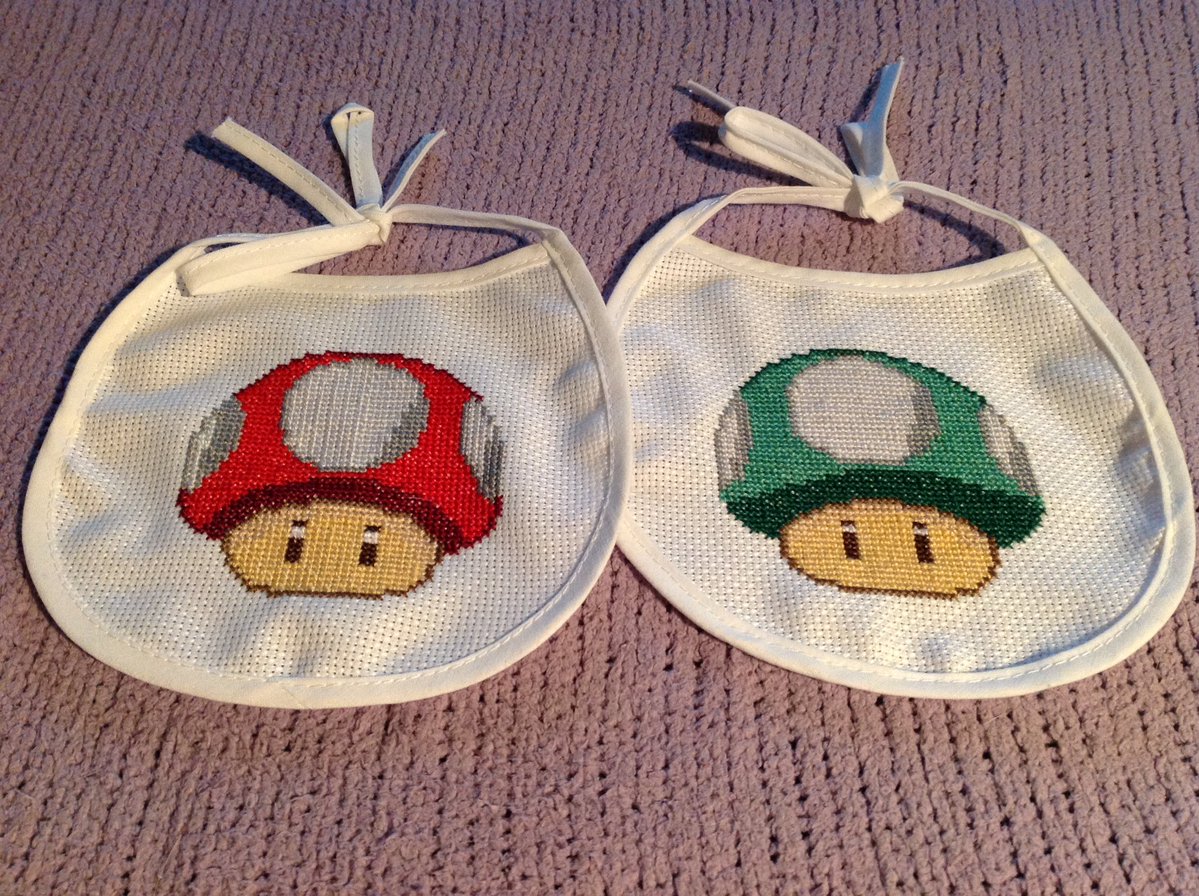 I waited until September 30 — 15 business days after I'd received the email confirmation, and 17 after the phone call — and then I called them again. This time I spoke to a man, who checked the computer and… "Oh, that floss is out of stock." What? Then why did I get an email on September 9 saying it was on the way? He said the "out of stock" note was dated September 12.
At that point I lost it. Not his fault, but what horrible customer service! Clearly they had my email address, they couldn't have notified me? I asked if he could open another kit and send me the floss out of that one, and he said no because they don't keep the kits in their office. Then he said he could look around the office and see if they had any of that color. Uh, yeah, that'd be nice. He put me on hold, then came back and said, "Sorry, we only have five strands." Five? Five would be a windfall! With only six panels left I probably only needed one!
This was a Friday. He stuck it an envelope and I had it by Monday.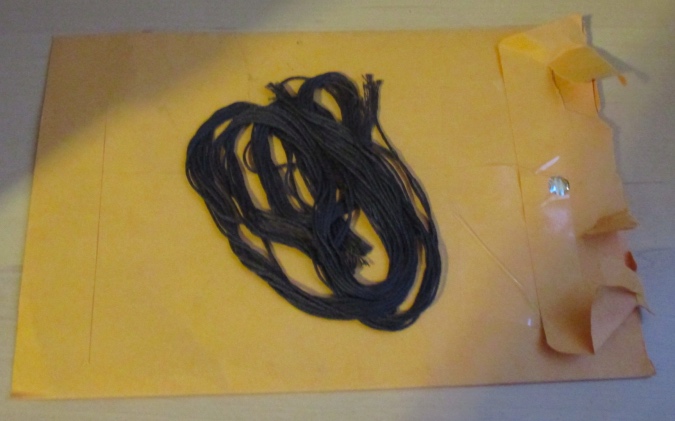 During the imposed waiting period, I had braved the sewing machine and stitched around the edge, in preparation for fringing. Within two days I'd finished the rest of the backstitching and entered the home stretch. My online searches didn't yield definitive instructions for how to finish a cross-stitch afghan, so I hope this info will be helpful to some future stitcher!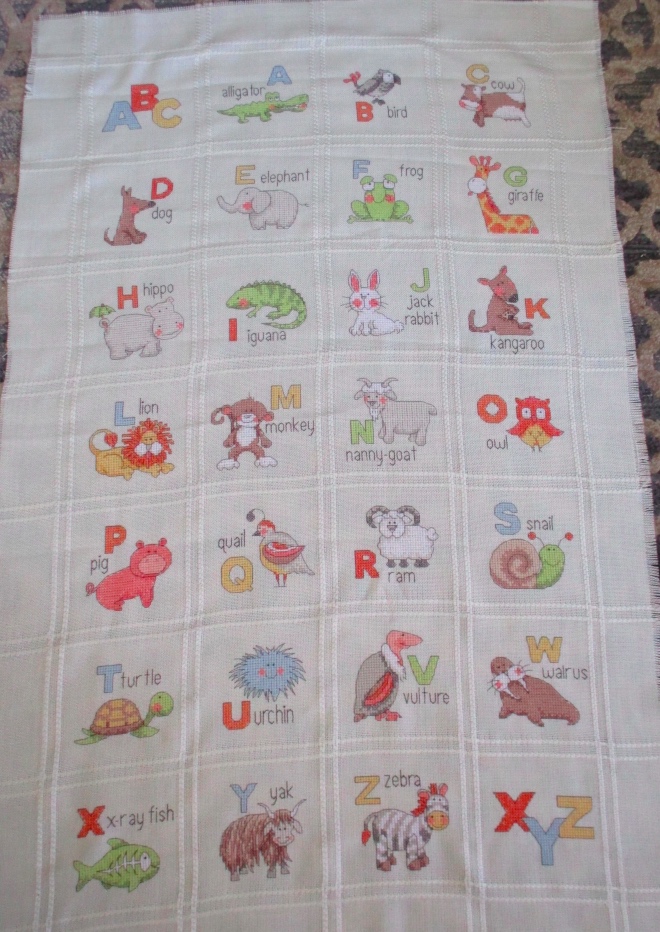 The first step was to wash the afghan. At the same time I'd emailed about the floss, I asked for washing instructions since the kit didn't come any. Dimensions' response was: "Hand wash in lukewarm water with mild dishwashing liquid — not a cleaner intended for fine washables or woolens. Do not bleach or dry clean. Air dry." Hand-washing in dishwashing liquid seemed wholly impractical for a baby blanket, so I took my chances with the washing machine.
I went to Bed Bath & Beyond and bought the largest lingerie bag I could find, and put the afghan inside of it. I washed on gentle with cold water and detergent, and didn't wash anything else with it in case the colors ran. (Thankfully they didn't!) Then I removed it from the bag and dried it on ultra-low for about 15 minutes. It was still very damp so I switched to low, for another 10 minutes. It was still a little damp and I let it air dry the rest of the way.
Next came the fringe. This was unexpectedly fun. I'd previously machine sewn around the edge, as close to the outer edge of the panels as I could get. To fringe it, just pull out all the loose threads. I didn't trim the fabric at all before starting, so this fringe uses the full allowance of excess fabric. If you wanted a shorter fringe you could trim off a few rows before starting to pull threads. (I had wanted to do a knotted fringe, but the fringe wasn't long enough.)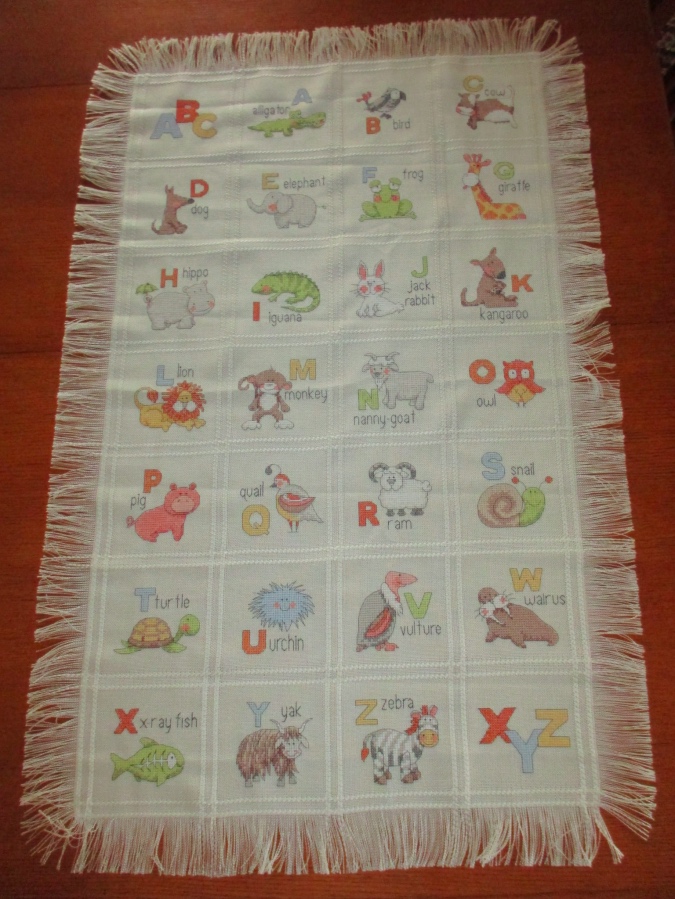 The next step was to finish the back, to protect the stitches. I stitched this using the loop method, which anchors the thread so it can't be pulled out, and at the end of each length of floss I ran the tail under a long area of stitches to firmly anchor it. So, most of the stitching was pretty secure, but the backstitches are a single strand (so I couldn't do the loop method), and the animal names didn't have stitches nearby to anchor the tails under. I was also concerned about the French knots, which kept pulling through the loose 14-count fabric.
For these reasons, and also to make it look neater, I used iron-on fusible interfacing. In the past I've used the light weight version of this stuff for petit point. Since the afghan is heavier and needs to withstand wear, I got medium weight. In hindsight that may have been a mistake, because it made the blanket stiff.
I bought two of the 1-yard packages, and before applying I machine washed and dried them at the same time as the blanket (but not in the lingerie bag). Then I cut the interfacing into 28 squares to fit on the backs of the panels, set up the ironing board, and got to work.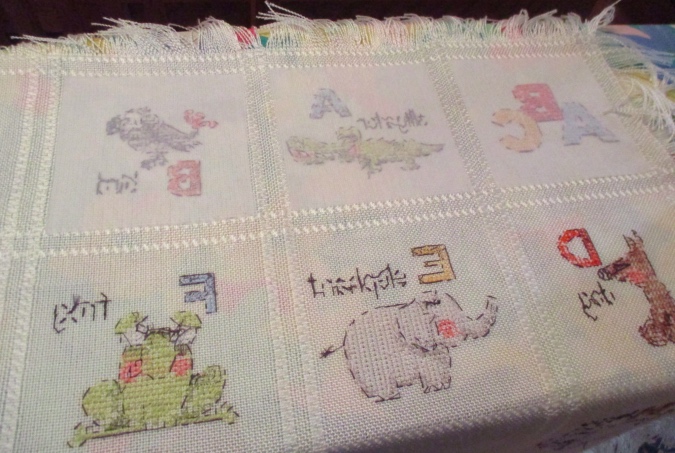 Before doing each panel I checked to make sure there wasn't any missing backstitching and that the French knots were still there. It's a good thing I did — the cow lost her eyes in the wash!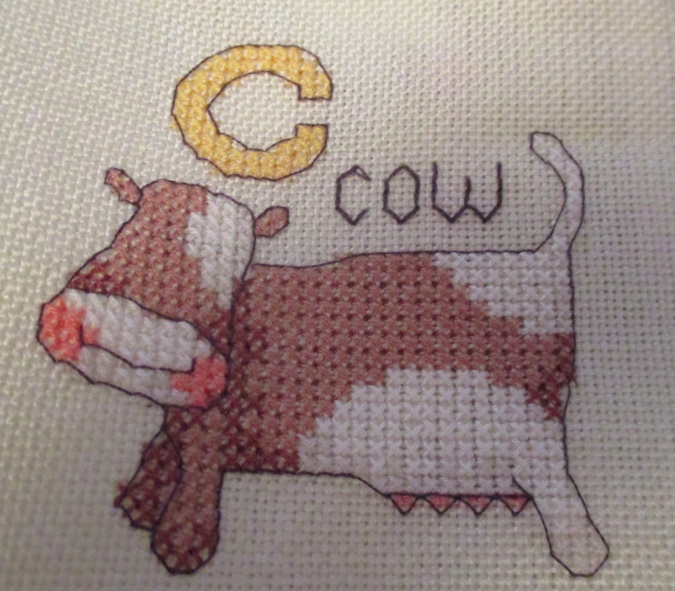 I wish I'd waited to do the fringe until after the interfacing, because some of it ended up under the iron and got ironed into a messy position. After all the interfacing was applied, I turned the iron to a lower setting (with no steam) and ironed the whole blanket, which seemed to soften it up. Still, it is stiffer now than it was before the interfacing went on, and you can see white behind the panels that you don't see behind the borders around the panels.
I'd considered adding a fabric backing instead, but that wouldn't have protected the French knots. If anyone has a better method for dealing with the back of an afghan I'd love to hear about it in the comments.
Overall, this afghan was fun to stitch and I'd like to do another one some day. I might even stitch this design again, but I'd convert the colors to DMC first.