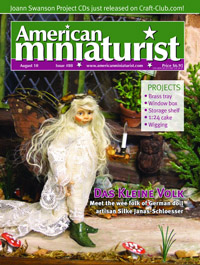 My copy just arrived, so start checking your local mini store for this issue! I wrote a tutorial for the half scale window boxes my mom and I dreamed up for the Fairfield. The window boxes are made from skinny sticks, clay, and sprigs of fake flowers that you can get for cheap at stores like Michaels or the Dollar Tree. All in all it's a quick and cost-effective project—with an end result that looks like it should have cost a lot more!
So far I've only quickly flipped through the issue, but I spotted a few other garden-related goodies, plus a how-to for modern IKEA-like shelving units that I'm going to have to try.
If you don't have a local dollhouse store (tragedy!), the magazine can be purchased online.